Over the weekend, Nikole Hannah-Jones, the author of the New York Times Magazine series "The 1619 Project," attempted to lecture a woman who escaped Mao's communist regime about oppression, Fox News Digital reported.
On Sunday, Hannah-Jones posted a three-part thread on Twitter rejecting "the narrative of American exceptionalism" and arguing that black history is under attack.
"Someone asked me why is Black history, specifically, being targeted. I said it's because our history has always been political *by definition*: Our very presence on these lands is the greatest rebuke to the narrative of American exceptionalism. We give lie to the lie," Hannah-Jones wrote on Sunday.
"Blk history is the most inconvenient to American mythology. In a country founded on ideals of liberty, we were enslaved. The greatest democracy in the world violently suppressed democracy amongst its Black citizens for 100 years after the end of slavery. These truths are hard," she continued.
The controversial journalist insisted that America's "accurate history" has been suppressed.
Xi Van Fleet, a survivor of Mao's Marxist Cultural Revolution in China, replied to Hannah-Jones' Twitter posts by stating, "Yourself and I, an immigrant from China with 200 borrowed dollars in my pocket when I arrived more than 30 yrs ago, are the proof of American Exceptionalism."
In response, Hannah-Jones asked Van Fleet to elaborate and "be specific."
Van Fleet argued, "Natural rights is unique to American founding. Bc of it we were able to abolish slavery, Jim Crow, anti-Chinese laws … to allow individuals to succeed. What is not unique to America is slavery, which still exists today. Ppl fighting for human rights in China are jailed by CCP."
Hannah-Jones fired back by stating that not all people were granted natural rights when America was founded.
"Ma'am, the idea of natural rights may have been unique, but 1/5th of the population was enslaved at our founding and had no 'natural rights,'" Hannah-Jones wrote.
She then asked Van Fleet, "Further, you do not think protesters in the US face state violence and arrest? You think the US has no political prisoners?"
Hannah-Jones recommended that Van Fleet watch an episode of her Hulu show, "The 1619 Project," an adaption of her 2019 series with the New York Times Magazine.
"I'm afraid your vision of America does not match the reality," Hannah-Jones claimed.
"Mine is not a 'vision,'" Van Fleet explained. "Mine is 'lived experience' under the enslavement of Communism, freedom in America, and the current Woke Revolution aiming to undo America."
Van Fleet attributed the end of slavery in America to the country's "persevering principles and humanity."
During a 2021 Loudoun County School Board meeting, Van Fleet spoke out against the district's critical race theory agenda, the Independent Women's Forum reported.
She argued that CRT is "the American version of the Chinese Cultural Revolution" and that the ideology has "roots in cultural Marxism."

⬇️ Top Picks for You ⬇️
Trump Suggests Manhattan DA Bragg 'Dropped' Case Against Him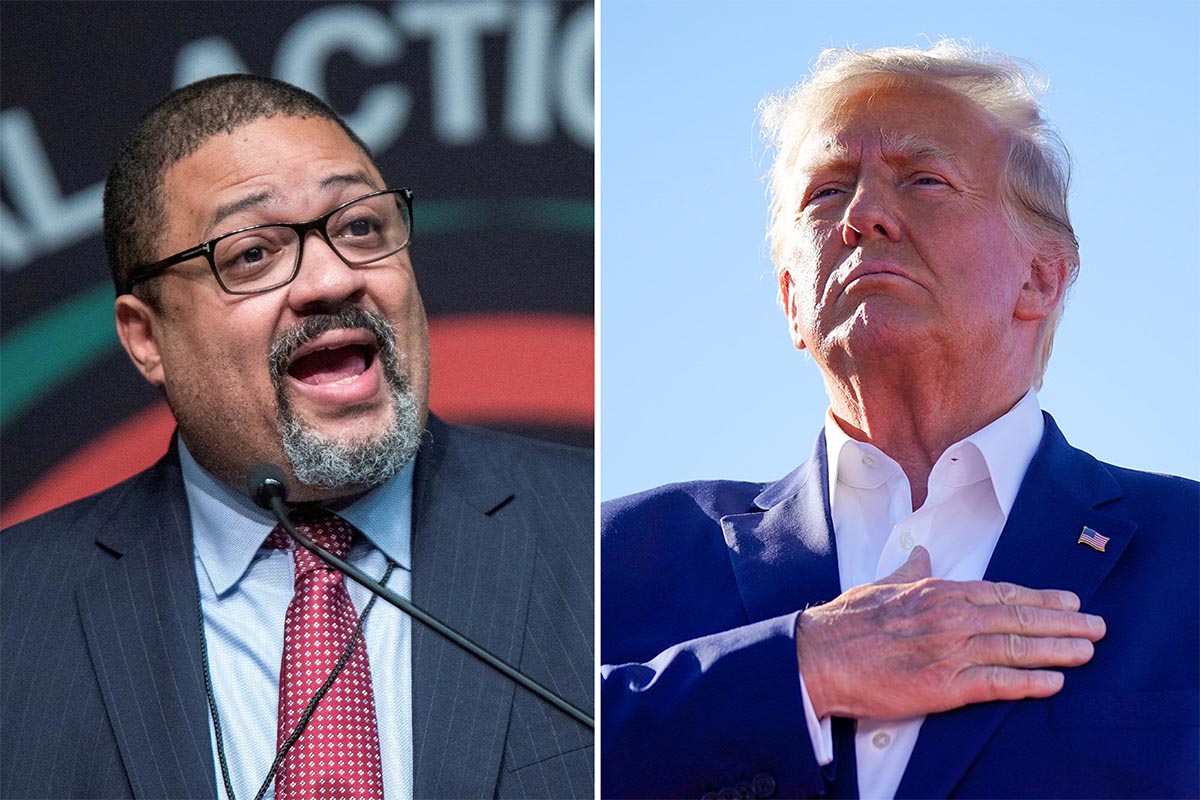 Former President Donald Trump is now suggesting Manhattan District Attorney Alvin Bragg may have dropped his case against him, about a week after he claimed he would be arrested.
After a rally in Waco, Texas, on Saturday, Trump told reporters on his plane, "I think they've already dropped the case … they have absolutely nothing." Trump did not provide evidence for his assertion Saturday.
"It's a fake case. Some fake cases, they have absolutely nothing," the former president said. Trump also reiterated his criticism of Michael Cohen, a former Trump lawyer who has testified against him in the Manhattan grand jury case and previously served time in federal prison on tax fraud and other charges.
Trump also denied mainstream media reports that suggested he was trying to incite violence with his Truth Social posts that criticized Bragg's investigation: "No, I don't like violence and I'm not for violence. But a lot of people are upset."
On Truth Social, the former president made a similar statement regarding his belief Bragg's case is "DEAD." He wrote that the "Witch Hunt against me is DEAD, no evidence at all, & it has been conclusively proven that I did nothing wrong." He dismissed Cohen as a "disbarred lawyer & convicted Felon."
Last week, an attorney in Trump's circle, Robert Costello, told media outlets that he testified before the grand jury and sought to denigrate Cohen's testimony against the 45th president in the investigation, which reportedly is connected to so-called hush money payments that were given to adult performer Stormy Daniels during the 2016 presidential campaign. A lawyer for Cohen, when reached for comment, declined to issue a statement, although Cohen told MSNBC last week that Costello never represented him and disputed his testimony.
Bragg's has not returned a request for comment, and The Epoch Times cannot verify the authenticity of Trump's claims. Previous Epoch Times requests for comment from the DA's office have gone unanswered.
Over the past week, Bragg's office has issued one public statement on the case, and that came in response to a House Republican letter seeking testimony and information about the DA's case or whether his office would arrest Trump. A letter sent by his general counsel said that it was Trump who created a "false expectation" he would be indicted last week, although he provided no other details.
Responding to the House GOP's letter, Bragg's counsel wrote that it "only came after Donald Trump created a false expectation that he would be arrested the next day, and his lawyers reportedly urged you to intervene. Neither fact is a legitimate basis for congressional inquiry."
During the Waco rally, Trump declared that his "enemies are desperate to stop us" and that "our opponents have done everything they can to crush our spirit and to break our will," and that the Manhattan district attorney was investigating him "for something that is not a crime, not a misdemeanor, not an affair."
He added: "But they failed. They've only made us stronger. And 2024 is the final battle, it's going to be the big one. You put me back in the White House, their reign will be over and America will be a free nation once again."
Trump did not make any direct references in his speech to Waco's history, telling the crowd of thousands that he told Lt. Gov Dan Patrick he wanted to hold his rally in a place with overwhelming support, not "one of those 50-50 areas," and said he told Texas officials, "Let's go right into the heart of it."
At several points, Trump criticized Florida Gov. Ron DeSantis, who, despite not announcing it, has long been expected to run for president in 2024 and is seen as Trump's strongest potential challenger for the GOP nomination. Trump called his onetime ally disloyal and said he was "dropping like a rock" in the polls.
In addition to the Manhattan case, Trump is also facing an investigation in Georgia as well as federal investigations into his handling of allegedly classified documents and possible obstruction, as well as statements he made on Jan. 6, 2021. The former president has denied wrongdoing in those instances.