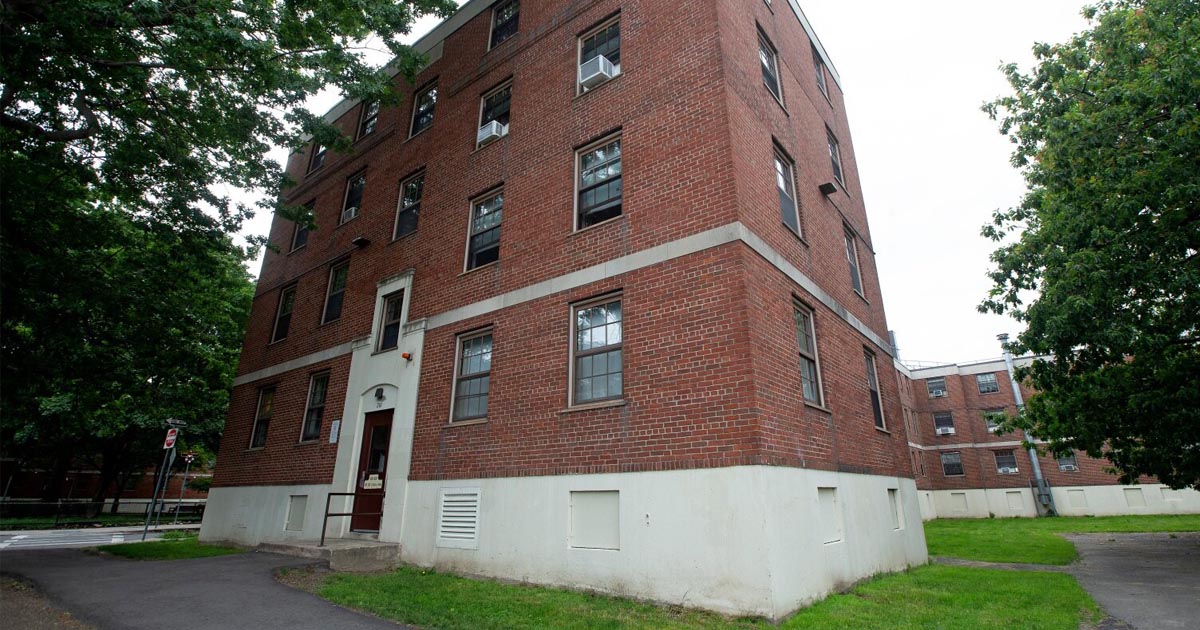 4 Children Found Hidden in Bedroom Behind Drag Party Featuring 'Alcohol, Drugs, Sex Toys,' and a Dead Man
First responders found four children secreted behind a transvestite party in South Boston over the weekend, featuring a corpse, drugs, and sex toys, according to city officials.
A fire department report obtained by the Boston Herald and confirmed by police indicated that firefighters were dispatched Saturday morning to the city-run Mary Ellen McCormack Housing complex after being told a man had gone into cardiac arrest and desperately needed medical attention.
The Herald reported that the Boston Fire Department crews performed CPR on the man, but were unable to revive him.
City Councilor at-large Michael Flaherty, public safety chairman on the council, indicated the man had succumbed to "an apparent overdose."
A BPD spokesman told the Herald, "At about 11:11 AM, on Saturday, June 17th, officers responded to the area of 381 Old Colony Avenue for a death investigation. District Detectives handling, not suspicious, no further information."
While the nature of the man's passing was not suspicious, his environment certainly was.
According to the incident report, "The apartment was in extremely unsanitary conditions. Approximately 6 adults, who appeared to be males, were seen in the apartment."
WCVB-TV noted the men were dressed up in women's clothing.
City Councilor Erin Murphy told WFXT-TV that there was "a lot of drug paraphernalia and sex toys all around and then one of the firefighters said that they heard a cry for help."
The men, at least one of whom was "wearing a wig," were reportedly uncooperative and denied that there were children inside the apartment. Despite their alleged protestation, firefighters found "four children in the back bedroom being hidden by an adult male from first responders."
The children were ages 5 to 10. First responders reportedly indicated that the children were likely being abused and neglected.
Nick Collins, the Democratic state senator who represents the area, stated in a Facebook post, "No child should be exposed to what these children are alleged to have been exposed to."
The Department of Children and Families informed WFXT that the children who live in the home were taken into DCF custody. Fire crews had prompted this secondary rescue by filing a 51A "Report of Child(ren) Alleged to be Suffering from Abuse or Neglect."
Boston City Council president Ed Flynn said of the first responders' findings, "This horrific and inhuman incident demands accountability! It also underscores the need for a complete review of @BHA_Boston inspections and eviction practices, security efforts in developments and protocols to ensure children are safe in every BHA apartment."
Councilor Murphy noted on Twitter that a hearing had been scheduled for later in the month to review Boston Housing Authority safety protocols regarding the properties under their management.
The safety of children in our @BHA_Boston is a responsibility I take as seriously as the safety of my own children. I look forward to the Hearing Order we filed regarding safety protocols & procedures in BHA Housing to ensure the safety & wellbeing of our truly most vulnerable.… pic.twitter.com/1qiERBvrJb

— Erin Murphy (@ErinforBoston) June 20, 2023
The BHA told WCVB that it had received no prior complaints about the unit where this all reportedly took place.
Democratic Gov. Maura Healey, presently working to update Massachusetts' grade-school curriculum to more broadly incorporate gender ideology, said this is "just heartbreaking — a terrible situation."

⬇️ Top Picks for You ⬇️
CIA Has Secret Office That Conducts UFO Retrieval Missions: Whistleblowers
A secretive CIA office has been coordinating the retrieval of crashed UFOs around the world for decades, multiple sources told Daily Mail.
One source said that at least nine apparent 'non-human craft' have been recovered by the US government – some wrecked from a crash, and two completely intact.
Three sources briefed on those alleged top secret operations told Daily Mail that the Office of Global Access (OGA), a wing of the Central Intelligence Agency's Science and Technology Directorate, has played a central role since 2003 in orchestrating the collection of what could be alien spacecraft.
The three sources, who spoke on condition of anonymity to avoid reprisals, have all been briefed by individuals involved in those alleged UFO retrieval missions.
Though the shocking claims sound like they come from a science fiction novel, they are part of a growing body of evidence suggesting the US government could indeed be hiding advanced vehicles that were not made by humans.
Former top intelligence officer David Grusch told Congress as much in an explosive public hearing in July.
The same month, Senate Majority Leader Chuck Schumer sponsored an extraordinary bill to allow disclosure of 'recovered technologies of unknown origin and biological evidence of non-human intelligence' – which has now passed in the Senate.
Sources who spoke to Daily Mail shed light on how the CIA has allegedly coordinated the secret recovery and storage of these alleged crashed or landed UFOs.
'There's at least nine vehicles. There were different circumstances for different ones,' one source briefed by UFO program insiders told DailyMail.com. 'It has to do with the physical condition they're in. If it crashes, there's a lot of damage done. Others, two of them, are completely intact.'
The source said the CIA has a 'system in place that can discern UFOs while they're still cloaked,' and that if the 'non-human' craft land, crash or are brought down to earth, special military units are sent to try to salvage the wreckage.
Another source with knowledge of the OGA's role said that they specialize in allowing the US military to secretly access areas around the world where they would usually be 'denied' – for example behind enemy lines.
'They are basically a facilitator for people to get in and out of countries,' the source said. 'They are very clever at being able to get anywhere in the world they want to.'
Multiple sources briefed on the OGA's activities told DailyMail.com that most of its operations involve more conventional retrieval missions, such as stray nuclear weapons, downed satellites or adversaries' technology.
But they claimed some missions coordinated by the OGA have involved retrieval of UFOs.
'The task at hand is simply to get it into custody and protect the secrecy of it,' one source said. 'The actual physical retrieval is by the military. But it's not kept under military control, because they have to keep too many records. So they start moving it out fairly quickly into private hands.'
Documents published by the National Archives and Records Administration (NARA) in December 2016 showed that the OGA was one of 56 offices in the CIA, with its chief and deputy making up two of a total 286 director-level officials in the spy agency.
An unclassified organizational chart published by the CIA in October 2015 lists the OGA among nine offices in the 'Science and Technology' wing of the agency.
Late CIA expert Jeffrey Richelson wrote in a 2016 book on the agency that the OGA was established in 2003, and cited a CIA description that it 'integrate[s] analysis, technology, and tradecraft to attack the most difficult targets, and to provide worldwide collection capability.'
A 255-word biography of former OGA deputy director Doug Wolfe, published by an aerospace conference in 2017, says that he 'helped start the Office of Global Access'.
Wolfe's bio cryptically adds that he 'was responsible for leading and managing strategic, unwarned access programs that deliver intelligence from the most challenging denied areas' and 'served as program manager with responsibility for the end-to-end system acquisition of an innovative new source and method for the IC [Intelligence Community].'
Two sources told Daily Mail that the OGA coordinates with Special Operations Forces such as SEAL teams or Delta Force under the Pentagon's Joint Special Operations Command (JSOC), or nuclear weapons experts such as the Nuclear Emergency Support Team (NEST), to collect the crashed or landed craft.
But another source, who has briefed members of Congress on alleged crash retrievals, said that NEST had not been involved in any of these operations.
A spokesperson for the agency also denied involvement.
'[NEST] personnel encounter materials from unknown origins on a regular basis,' a spokesperson said. 'In fact, one of NEST's missions is to help determine the origin of nuclear material interdicted outside of regulatory control or used in a nuclear device.
'During its operations, NEST has never encountered any material related to UAP.'
In a written statement, a JSOC spokesperson told Daily Mail: 'We have nothing for you on this.'