Opposition to Kevin McCarthy's bid for House Speaker is growing after nine Republican members wrote a stinging letter warning how electing him would be more of the status quo 'dysfunction' in the lower chamber.
The group said that McCarthy had 14 years in House GOP leadership, and lamented that his election could mean a 'continuation of past, and ongoing, Republican failures.'
On Sunday, McCarthy held a private conference call with Republicans in an attempt to garner support for his speakership vote on Tuesday, January 3, which is when the new Congress takes office.
While McCarthy can only afford to lose four votes if he wants to clinch the Speakership, the call appeared to worsen his outlook from five dissenters last week to 14 total just 24 hours before the vote.
The Republicans who pledged to vote against McCarthy are Representatives:
Scott Perry of Pennsylvania
Paul Gosar of Arizona
Chip Roy of Texas
Dan Bishop of North Carolina
Andy Harris of Maryland
Andrew Clyde of Georgia
Representative-elects Andy Nogales of Tennessee
Anna Paulina Luna of Florida
Eli Crane of Arizona
On New Year's Eve McCarthy wrote a letter entitled 'Restoring the People's House and Ending Business as Usual,' where he admitted to dysfunction in the House of Representatives and pledged to make it right.
'For someone with a 14-year presence in senior House Republican leadership, Mr. McCarthy bears squarely the burden to correct the dysfunction he now explicitly admits across that long tenure,' the nine GOP members wrote in their letter.
They added that his 'statement comes almost impossibly late to address continued deficiencies ahead of the opening of the 118th Congress on January 3rd.'
'At this state, it cannot be a surprise that expressions of vague hopes reflected in far too many of the crucial points still under debate are insufficient. This is especially true with respect to Mr. McCarthy's candidacy for speaker because the times call for radical departure from the status quo – not a continuation of past and ongoing, Republican failures,' the letter stated.
'McCarthy's statement also continues to propose to restrict the availability of the traditional motion to vacate the chair as a means of holding leadership accountable to its promises; we have from the beginning made clear that we will not accept following Nancy Pelosi's example by insulating leadership in this way,' the nine House GOP members said in their letter on Sunday.
'We also note that the statement fails completely to address the issue of leadership working to defeat conservatives in open primaries. The progress made thus far has been helpful and should guide our thinking going forward.'
Members of the House Freedom Caucus, the most conservative group in the House, led the calls for a shake-up in leadership. Rep. Andy Biggs, a former chairman of the caucus, had launched a bid against McCarthy within the party to be the nominee for Speakership, but was defeated in a secret ballot.
Biggs of Arizona, along with Representatives Matt Gaetz of Florida, Ralph Norman of South Carolina, Bob Good of Virginia and Matt Rosendale of Montana were all part of the initial 'Never Kevin' lawmakers publicly expressing their plans to vote against McCarthy in the January 3 elections.
While Perry is vice chair of the Freedom Caucus, the current chairman and co-founder of the caucus, Representative Jim Jordan, is an ally of McCarthy.
He could be the only person who can get through to the detractors.
In recent weeks, Jordan has gone to bat for McCarthy by arguing on several right-leaning media outlet interviews that the current GOP Leader deserves the gavel.
The five original 'Never Kevin' lawmakers have organized to prevent McCarthy from garnering the 218 votes needed to take the gavel from outgoing Democratic House Speaker Nancy Pelosi.
They have also vowed not to be picked off individually by McCarthy and said they would discuss any concessions he offers.
McCarthy announced on the private call Sunday evening that he would give into one of the top demands from detractors, which is shrinking the threshold needed to vote out the Speaker in exchange for his ascent to the position.
Under the current rules, only a member of the House leadership can initiate a motion to remove the Speaker, but McCarthy's proposal would allow any House member to force a vote to remove the Speaker at any time.
Currently, only members of House leadership are able to do so, under rules implemented by Pelosi.

⬇️ Top Picks for You ⬇️
Pro-Life Father Arrested by FBI Acquitted on Federal Charges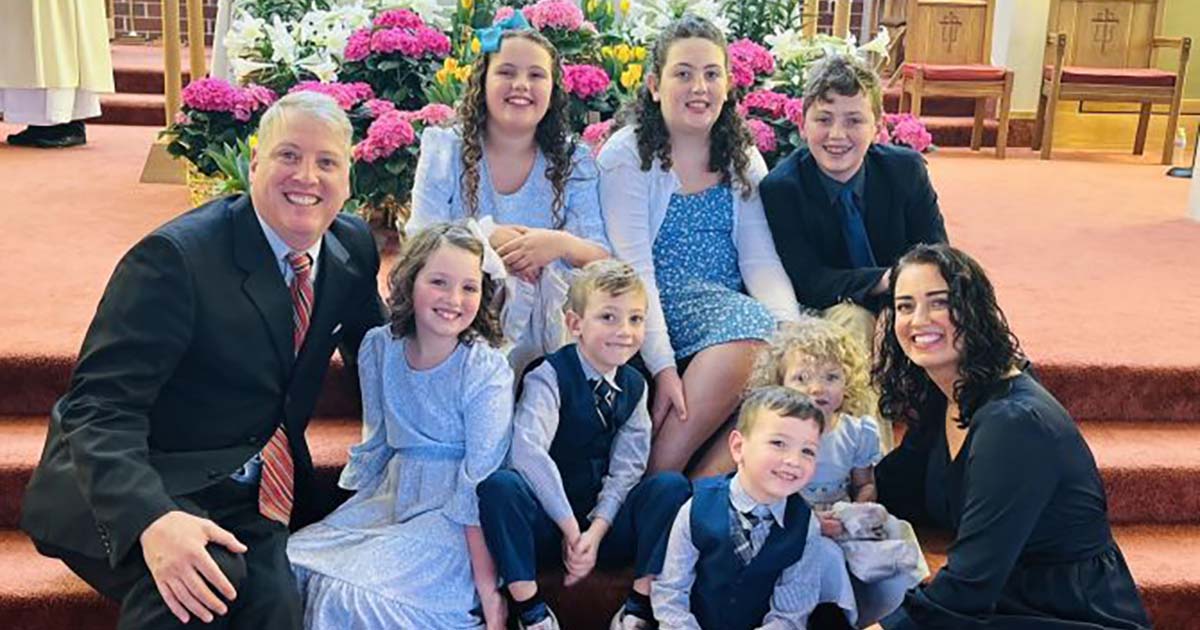 A Catholic pro-life activist facing 11 years in prison for allegedly violating a federal law prohibiting people from blocking others from entering an abortion clinic was acquitted on Monday following a week-long trial.
Mark Houck leads a nonprofit group that counsels women outside of abortion clinics in Philadelphia, Pennsylvania. He was providing sidewalk counseling when, the Department of Justice says, he assaulted an abortion escort twice "because he was a volunteer reproductive health care clinic escort."
"Assault is always a serious offense, and under the [Freedom of Access to Clinic Entrances] FACE Act, if the victim is targeted because of their association with a reproductive healthcare clinic, it is a federal crime," U.S. Attorney Jacqueline Romero said in a DOJ press release. "Our Office and the Department of Justice are committed to prosecuting crimes which threaten the safety and rights of all individuals."
The FACE Act makes it a federal crime to injure, intimidate, or interfere with anyone due to their status as a provider of reproductive health care.
Houck and his attorneys at the Thomas More Society argued, however, that this was "a political prosecution" meant to "send a message" to pro-life Americans.
"And what's clear from the Department of Justice at its highest levels, which is directing this case, [is] that they are trying to send a message to pro-life and people of faith: 'Don't mess with us,'" Thomas More Society vice president Peter Breen told Fox News. "They want to intimidate — they want to cause good people like Mark to stop praying and counseling at the abortion clinics of our country. And that's not going to happen."
Breen told the outlet that the case was thrown out of state court but revived by the Biden administration nearly a year after the incident. Further, Breen said, some 20 FBI agents raided Houck's home when they arrested him, treating him "as if he was a drug lord or a mafia boss."
"If he was truly a danger to the community, they wouldn't have waited a year to prosecute," Breen said. "Serious questions need to be asked of the attorney general. What was he thinking? Why did they do this obscene show of force against a peaceful pillar of the community?"
Houck's lawyers also argued that the DOJ's claim that the FACE Act protects anyone associated with an abortion clinic is inaccurate.
"The FACE Act was never intended to cover disputes between advocates on the public sidewalks outside of our nation's abortion clinics," Breen said in a statement earlier this month. "This new evidence shows clearly that Congress intended to limit the FACE Act to patients and staff working in the clinic, and not to take sides between pro-life and pro-choice counselors and escorts on the sidewalk. The Biden Department of Justice's prosecution of Mark Houck is pure harassment, meant solely to intimidate our nation's pro-life sidewalk counselors who provide vital resources to help pregnant women at risk for abortion."
Houck pleaded not guilty to the charges against him and testified at trial that he and the clinic escort, Bruce Love, had two altercations on the day in question. The first occurred while Houck was counseling two women crossing the street who left Planned Parenthood, Catholic News Agency reported. Love allegedly chased Houck about 100 feet in an attempt to stop him from counseling the women, Life News reported. Houck claimed that Love surprised and made contact with him, causing him to ask, "What are you doing?" and reflexively elbow the escort in the hip to move him out of the way. The prosecution argued that Houck elbowed Love unprovoked because of his status as a clinic escort.
After this, Houck said Love left the clinic and stood near Houck's 12-year-old son while taunting Houck Sr., saying, "You're hurting women. You don't care about women."
Houck said Love also repeatedly disparaged him to his son, who testified on Friday that Love stood about an arm's length away from him near the clinic.
"I moved away… because I was scared," the younger Houck testified, adding that Love told him, "Your dad's a bad person. Your dad's harassing women."
It was after Houck repeatedly told Love to stop harassing his son that Houck said he pushed Love away.
The jury deadlocked on Friday after two-and-a-half hours of deliberation, telling U.S. District Judge Gerald Pappert that they didn't think they could come to a conclusion given more time. Pappert sent the jury home but instructed them to return Monday morning and continue deliberations anyway.
On Monday, the jury acquitted Houck. Following the verdict, Breen released a statement condemning the Biden administration for pursuing his client.
"We are, of course, thrilled with the outcome," Breen said. "Mark and his family are now free of the cloud that the Biden administration threw upon them. We took on Goliath – the full might of the United States government – and won. The jury saw through and rejected the prosecution's discriminatory case, which was harassment from day one. This is a win for Mark and the entire pro-life movement. The Biden Department of Justice's intimidation against pro-life people and people of faith has been put in its place."