Although President Joe Biden has personally denied involvement in his family's international business scheme nine times, a time line of events suggests Joe Biden not only is linked to the family's affairs but is a key member of an "organized crime" operation, as House Oversight Committee Chair James Comer (R-KY) termed it.
Comer recently identified "six specific policy decisions" that Joe Biden made that indicate he could be "compromised."
"Where is the money?" Biden responded in June when asked about his ties to the business. He later said he was joking. "It's a bunch of malarkey."
The following 19-point time line lays out the data points obtained from whistleblowers, the "Laptop from Hell," James Comer, Sen. Chuck Grassley (R-IA), and the Senate 2020 report on the family.
One:
In 2013, Hunter flew to China with Vice President Joe Biden aboard Air Force Two. During the excursion, Hunter introduced the vice president to his business partner Jonathan Li, the CEO of a company linked to Chinese intelligence.
Ten days after the visit to China, Hunter secured a ten percent interest in BHR Partners, a Chinese state-backed investment fund co-founded with Li. The fund's capitalization was $1 billion.
The Bank of China, a state-owned bank, controls BHR Partners. BHR Partners' website boasts 15 billion RMB (renmibi, the official Chinese currency) in various portfolio companies, translating to more than two billion U.S. dollars.
Hunter Biden held a ten percent interest in BHR with the entity Skaneateles LLC. He controlled Skaneateles, according to Chinese public records from Baidu, as the sole governor until its dissolution in September 2021, a Washington, DC, registration indicated. Documents obtained by Breitbart News, first revealed by the nonprofit Marco Polo, show the control of Skaneateles LLC is held by Kevin Morris, Hunter Biden's top attorney, who also paid Hunter Biden's IRS debts.
Two:
Photos from 2014 reveal Joe Biden met with Hunter's Mexican business associates, billionaire Miguel Alemán Velasco and his son Miguel Aleman Magnani, in the vice president's office.
"The then-vice president also flew Hunter and his partner Jeff Cooper on Air Force 2 to Mexico City in 2016 where Hunter arranged to meet Alemán's son for meetings over a 'flippin gigantic' business deal," the Daily Mail reported.
Three:
In 2016, Hunter and Joe Biden flew aboard Air Force Two to Mexico, where Hunter met with a business associate from Mexico City. On the trip, Jeff Cooper, who ran a large litigation firm, SimmonsCooper, invested $1 million in Hunter and James Biden's now-defunct hedge fund. The New York Post reported:
SimmonsCooper also put up $1 million in investment capital for Hunter and his uncle Jim [James] Biden's abortive attempt to run a hedge fund in 2009. When the venture ended, the Bidens returned the money.
Cooper joined the VP's entourage on Air Force Two to Mexico in 2016, when he and Hunter were trying to negotiate an ill-fated petroleum deal with Aleman Magnani.
At 6 p.m. on Feb. 24, 2016, about an hour after "wheels up" from Joint Base Andrews on the five-hour flight to Mexico City, Hunter wrote a plaintive email to Aleman Magnani using Air Force Two's secure, high-speed satellite communications channel. He blind-copied Cooper.
Four:
A photo reportedly taken in 2014 shows Joe Biden golfing with Hunter and Devon Archer, Hunter's fellow board member at the Ukrainian gas company Burisma. Archer, who was imprisoned for fraud, is in talks to comply with the House Oversight Committee's subpoena regarding his knowledge of the Biden family's alleged $10 million Ukraine "bribe" and additional Biden family business transactions.
"The photograph includes a fourth man who has not been identified. However, he is not Burisma's top executive Taras Burdeinyi or founder Mykola Zlochevsky. Photographs of both men can be seen here and here," Reuters reported.
Five:
In 2015, Burisma was under suspicion of money laundering and public corruption. Prosecutor Victor Shokin was investigating the case before his termination due to pressure applied by then-Vice President Joe Biden, who threatened to withhold $1 billion in U.S. aid from Ukraine if the Ukrainian government did not fire Shokin.
Joe Biden later bragged about the firing during a 2018 appearance at the Council of Foreign Relations.
"I said, 'I'm telling you, you're not getting the billion dollars.' I said, 'You're not getting the billion. I'm going to be leaving here in,' I think it was about six hours," Biden told the audience. "I looked at them and said, 'I'm leaving in six hours. If the prosecutor is not fired, you're not getting the money.' Well, son of a bitch. He got fired."
Six:
An FBI informant claims to possess two pieces of evidence that show Joe Biden received $5 million after threatening to withhold aid to Ukraine until Shokin was fired, House Oversight Committee Republicans told reporters after reviewing the bureau's informant file.
Seven:
In 2015, the day after Joe and Hunter Biden met with foreign business partners at Cafe Milano, one of the men emailed Hunter Biden his thanks for the "opportunity to meet your father."
The New York Post reported:
The never-before-revealed meeting is mentioned in a message of appreciation that Vadym Pozharskyi, an adviser to the board of Burisma, allegedly sent Hunter Biden on April 17, 2015, about a year after Hunter joined the Burisma board at a reported salary of up to $50,000 a month.
"Dear Hunter, thank you for inviting me to DC and giving an opportunity to meet your father and spent [sic] some time together. It's realty [sic] an honor and pleasure," the email reads.
An earlier email from May 2014 also shows Pozharskyi, reportedly Burisma's No. 3 executive, asking Hunter for "advice on how you could use your influence" on the company's behalf.
Eight:
Hunter and Joe Biden allegedly "coerced" a Burisma executive into paying them $10 million in bribes, a source familiar with the FBI's informant document confirmed to Breitbart News.
According to Grassley, the FBI informant document said the founder of Burisma, Mykola Zlochevsky, who allegedly paid Joe Biden and his son Hunter Biden, kept 17 audio recordings of his conversations with them as an "insurance policy."
Nine:
In 2015, Hunter and Joe Biden met with business associates from Ukraine, Russia, and Kazakhstan at a popular Washington, DC, restaurant. Joe Biden was then vice president.
The New York Post reported:
Online photos of the interior of Cafe Milano match the background of the shot that shows the Bidens smiling while flanked by Kazakhstani oligarch Kenes Rakishev and Karim Massimov, a former prime minister of Kazakhstan.
Ten:
In 2017, Joe Biden penned a college recommendation letter for a child of Hunter's Chinese business partner, Jonathan Li, with whom Joe Biden met in China.

⬇️ Top Picks for You ⬇️
4th Republican Debate Highlights: GOP Rivals Clash on Stage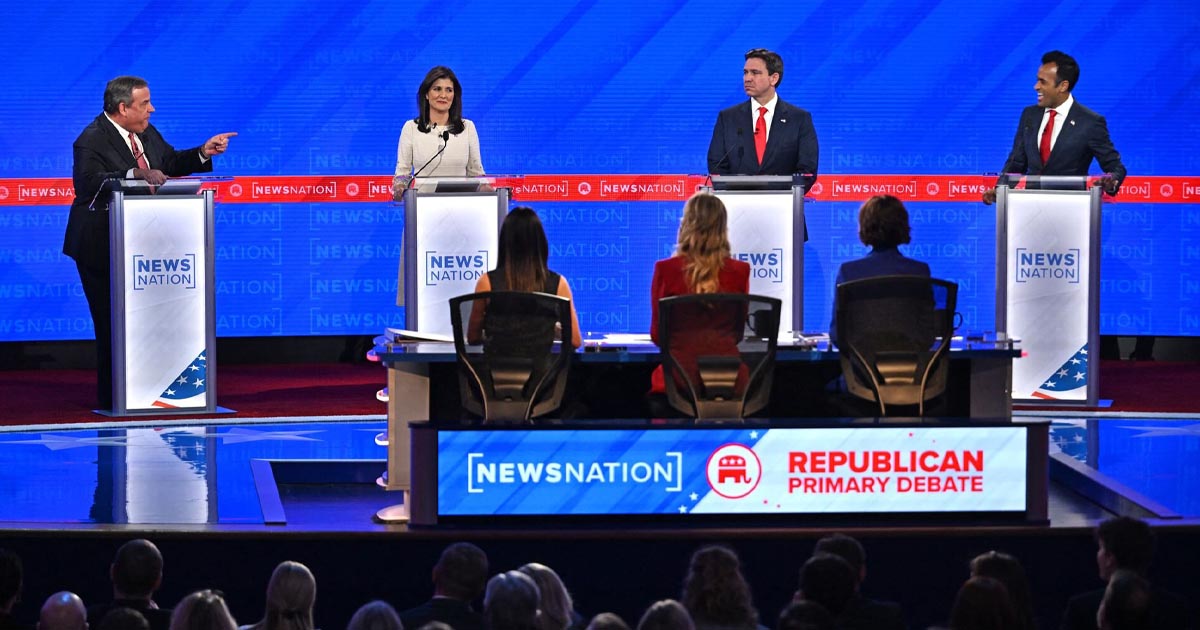 The smallest field yet of GOP candidates faced off Wednesday in the fourth Republican presidential debate of 2023 in Tuscaloosa, Alabama, with the first salvos of the night aimed at former Ambassador to the U.N. Nikki Haley, while former President Donald Trump, who leads the field by a wide margin in the polls, held a closed campaign fundraiser in Florida.
NewsNation hosted the fourth debate with three moderators: NewsNation's Elizabeth Vargas, former Fox News host Megyn Kelly and the Washington Free Beacon's Eliana Johnson.
Four candidates appeared on stage:
Former New Jersey Gov. Chris Christie
Florida Gov. Ron DeSantis
Former U.N. Ambassador Nikki Haley
Businessman Vivek Ramaswamy
The first three debates have not done much to change the dynamics of the race among Republican primary voters. The latest CBS News poll, from early November, showed Trump winning 61% of likely GOP primary voters nationwide, more than all the other candidates combined. DeSantis polled at 18%, Haley at 9%, Ramaswamy at 5%, Sen. Tim Scott at 4% and Christie at 2%.
Here are the highlights from the debate below.
DeSantis and Ramaswamy team up to attack Haley: "I love all the attention, fellas"
DeSantis and Ramaswamy were quick to take shots at Haley, who is rising in the polls as the race for second place heats up.
"She caves anytime the Left comes after her, anytime the media comes after her," DeSantis said.
Ramaswamy later joined in, questioning Haley's wealth since she left government service.
"Nikki, you were bankrupt when you left the U.N. After you left the U.N., you became a military contractor," he said, referring to Haley's stint on the board of Boeing, "whose back you scratched for a very long time and then get foreign multinational speeches like Hillary Clinton is, and now you're a multimillionaire. That math does not add up. It adds up to the fact that you are corrupt."
Ramaswamy also criticized wealthy donors to Haley's campaign, saying they're funding "left-wing causes."
"In terms of these donors that are supporting me, they're just jealous," Haley responded. "They wish that they were supporting them."
DeSantis said, "Nikki will cave to those big donors when it counts."
The pair also went after Haley for proposing that all social media users should be verified by their names online.
"I love all the attention, fellas," Haley said. "Thank you for that."
Christie hammers Ramaswamy in defense of Haley: "The most obnoxious blowhard in America"
Christie offered a forceful defense of Haley against Ramaswamy's insults of her intelligence.
After Ramaswamy claimed that Haley could not name three provinces in eastern Ukraine where she would send U.S. troops, Christie accused the entrepreneur of habitually backing away from comments he makes on the campaign trail when he's confronted by political opponents about his positions.
"This is the fourth debate that you would've been voted in the first 20 minutes as the most obnoxious blowhard in America, so shut the hell up," Christie told Ramaswamy.
The former New Jersey governor accused Ramaswamy of insulting Haley's intelligence, rather than her policy positions — claiming, for example, that she can't identify regions in Ukraine or find Israel on a map.
"If you want to disagree on issues, that's fine, and Nikki and I disagree on some issues," Christie said. "I've known her for 12 years, which is longer than he's even started to vote in the Republican primary, and while we disagree about some issues and disagree about who should be president of the United States, what we don't disagree on is this is a smart, accomplished woman and you should stop insulting her."
Christie went on to criticize Ramaswamy's lack of experience and claimed that while he was serving as the top federal prosecutor in New Jersey, Ramaswamy was "learning about the provinces in Ukraine sitting with his smarta** mouth at Harvard."
"All he knows how to do is insult good people who have committed their lives to public service and not say anything that moves the ball down the field for the United States," Christie said.
Divisions emerge among Republican candidates on parental rights
A question about parental rights and gender-affirming care for young people showed a split between Christie and DeSantis over an issue that has gained traction with Republican voters.
Christie said he favors limited involvement from the government and believes parents should be empowered to make decisions about their children.
"I trust parents," he said.
The former New Jersey governor, who opposes state restrictions on gender-affirming care for transgender youth, asserted it's parents who should be making the decisions about this for their children. He made the point that he and his wife care more for their four children than a government official in a dysfunctional Congress.
"You look at these jokers in Congress — it takes them three weeks to pick a speaker, and up until two days ago, they couldn't promote somebody in the military in the United States Senate who earned their new rank. And we're going to put my children's health and my decisions in their hands for them to make those decisions? For Joe Biden to make those decisions?" Christie said.
He warned parents that if they cede those rights on gender-affirming care for their children to states, it would just be the beginning.
"You start to turn over just a little bit of this authority, the authority they're going to take from you next, you're not going to like," Christie said.
But DeSantis defended restrictions on gender-affirming treatment for minors he signed into law as governor of Florida and warned surgical procedures are "mutilating minors."
"We cannot allow this to happen in this country," he said.
Ramaswamy, meanwhile, suggested the federal government should take action on the issue of gender-affirming surgery.