U.S. officials reportedly believe that they have identified a third Chinese spy balloon that is likely operating in the air right now, but they did not reveal its location.
The news comes after the U.S. military used an F-22 Raptor to take out a Chinese spy balloon off the coast of South Carolina on Saturday using a single air-to-air A9X sidewinder missile fired at an altitude of approximately 58,000 feet. The decision to shoot down the spy balloon came after President Joe Biden allowed it to fly thousands of miles over the continental U.S. during the last several days.
The Washington Post reported that the U.S. officials believe that there is "likely a third operating elsewhere," but they declined to give the balloon's location.
An official told the Post that Beijing was embarrassed by the incident. "They're in a very tough place," the official said. "And they have very few cards to play right now."
The second Chinese spy balloon was detected over South America last week, according to U.S. military officials.
"We are seeing reports of a balloon transiting Latin America," Pentagon spokesperson Brig. Gen. Pat Ryder said in a statement. "We now assess it is another Chinese surveillance balloon."
China was furious after the balloon was shot down, claiming that it was "a clear overreaction and a serious violation of international practice," and that it reserves "the right to make further responses if necessary."
"China expresses its strong dissatisfaction and protest against the US's use of force to attack civilian unmanned aircraft," a statement said. "The Chinese side has repeatedly informed the US side after verification that the airship is for civilian use and entered the US due to force majeure – it was completely an accident."
"China clearly asked the US to handle it properly in a calm, professional and restrained manner. A spokesman for the US Department of Defense also stated that the balloon will not pose a military or personal threat to ground personnel," the Chinese concluded. "China will resolutely safeguard the legitimate rights and interests of relevant companies, while reserving the right to make further necessary reaction."

⬇️ Top Picks for You ⬇️
Biden Dog Bites Another Secret Service Agent; 11th Incident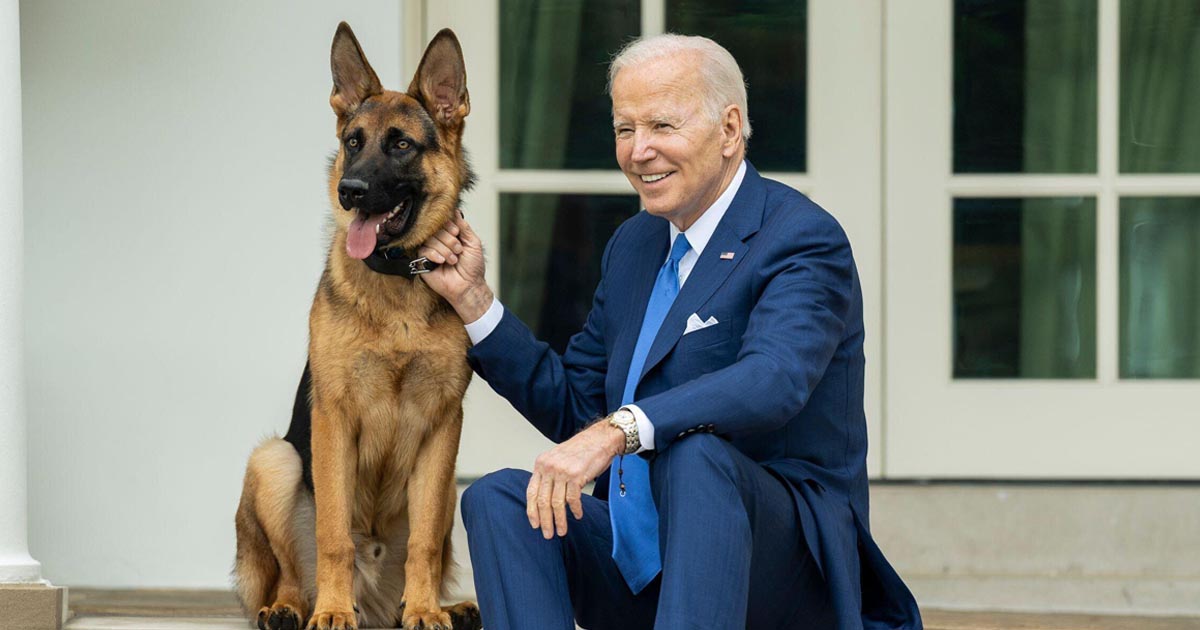 President Joe Biden's younger dog, Commander, bit another US Secret Service agent at the White House Monday evening, CNN has learned, the 11th known biting incident involving the 2-year-old German Shepherd.
"Yesterday around 8 p.m., a Secret Service Uniformed Division police officer came in contact with a First Family pet and was bitten. The officer was treated by medical personnel on complex," USSS chief of communications Anthony Guglielmi told CNN in a statement.
The injured officer spoke with Secret Service Uniformed Division Chief Alfonso M. Dyson Sr. on Tuesday and is doing OK, Guglielmi said.
Commander has been involved in at least 11 biting incidents at the White House and in Delaware, according to CNN reporting and US Secret Service email correspondence, including a November 2022 incident where an officer was hospitalized after the dog clamped down on their arms and thighs.
White House officials said in July that the Bidens were working through new training and leashing protocols for the family pet following the incidents.
Asked by CNN whether the new training had taken place or if any further action would be sought, Elizabeth Alexander, communications director for the first lady, said in a statement that "the First Family continues to work on ways to help Commander handle the often unpredictable nature of the White House grounds."
"The President and First Lady are incredibly grateful to the Secret Service and Executive Residence staff for all they do to keep them, their family, and the country safe," she continued.
Another of Biden's dogs, Major, was involved in biting incidents at the White House. The German Shepherd later moved out of the White House, and Commander arrived at the White House in 2021.
The July email correspondence, obtained through Freedom of Information Act requests by the conservative group Judicial Watch, reflected 10 incidents.
In one incident in October, first lady Dr. Jill Biden "couldn't regain control" of the dog as it charged a member of Secret Service staff.
"I believe it's only a matter of time before an agent/officer is attacked or bit," the staff member warned in an email.
While Secret Service agents are not responsible for the handling of the first family's pets, they can come into frequent contact with the animals.
"This isn't a Secret Service thing. This is a this is a workplace safety issue," CNN contributor and former USSS agent Jonathan Wackrow told CNN.
"There's uniqueness here where it's the residence of the president of the United States, but it's also the workplace for hundreds, thousands of people. And you can't bring a hazard into the workplace. And that's what is essentially happening with this dog. One time you can say it's an accident, but now multiple incidents, it's a serious issue," he added.
Wackrow called it a "significant hazard" for agents on duty at the White House residence.
"I'm sure that the Bidens love the dog. I'm sure that it's a member of the family like every dog is, but you're creating a significant hazard to those who support you – support the office of the president," he said.