An eight-year-old marketing firm out of San Francisco was responsible for Bud Light's partnership with Dylan Mulvaney – and the disastrous tie-up sent the firm into "serious panic mode," The Post has learned.
Captiv8, a San Mateo Calif.-based firm that pairs social-media influencers with major consumer brands, is the outfit that introduced Anheuser-Busch to the 26-year-old transgender actress — resulting in a viral TikTok video that has since become a textbook case of marketing gone wrong, sources close to the situation said.
Nationwide backlash over the video — which unleashed a firestorm when it was posted April 1, showing Mulvaney holding a Bud Light can while taking a bubble bath — sparked anxiety and confusion inside Captiv8's offices during the initial days of the controversy, according to a source with knowledge of the situation.
"There was a lot of chatter" among employees about what blowback the firm might face over the botched campaign, according to the source.
"Internally, the company was in serious panic mode," the source added.
It couldn't immediately be learned whether Captiv8 — which claims to have a database of more than 1 million influencers on YouTube, TikTok, Instagram and Twitter — was also responsible for the now-infamous Bud Light beer can that bore Mulvaney's image. It also wasn't clear whether Captiv8 played a direct role in producing Mulvaney's TikTok video.
Co-founded in 2015 by Krishna Subramanian — a Silicon Valley investor who sold online ad network BlueLithium to Yahoo in 2007 for $300 million — Captiv8 has worked with Walmart, American Express, Twitter and KraftHeinz, according to its website.
Subramanian has made himself available for media interviews as an expert on influencer marketing.
In February, he spoke to The Wall Street Journal about the importance of viral videos around blockbuster ad events including the Super Bowl.
"The best way to think about TikTok is that it's a vehicle that takes a consumer to the checkout line," Subramanian told the paper.
A two-minute video on Captiv8's website depicts a tour of a swanky office where influencers like Zion Clark, an athlete who was born without legs, is seen pumping iron and Olivia Sui, a Chinese-American actress, tells viewers that there are over "30 million creators" on Captiv8's marketplace to "discover."
But that's just a "staged advertisement," according to a source, who said Capitv8's real office is a small space in San Mateo that can accommodate about a dozen staffers. Most of the company's 100-odd employees work remotely.
Captiv8 appears to have returned to "business as usual" following the initial panic set off by the Mulvaney crisis, according to the source.
Bud Light parent Anheuser-Busch InBev, which also didn't respond to requests for comment, has been tight-lipped on the origins of the ill-fated Mulvaney campaign. The company placed two executives — Alissa Heinerscheid, the vice president of marketing, and her boss, Daniel Blake — on leave in April.
After the firestorm erupted, the Belgian-based conglomerate told distributors that Mulvaney's beer can was not produced by Anheuser-Busch or in any of its facilities, and that it had fired the "third-party" ad agency that was behind the Mulvaney video, several distributors told The Post.
"Ad agencies send out hundreds of influencer kits a year, some of which have a customized can included. This was one of those situations," a distributor based in Texas told The Post in April, relating one of Anheuser-Busch's talking points.
In August, Anheuser-Busch retained Anomaly — a New York ad firm that has produced Super Bowl ads — as the creative agency for the Bud Light brand. A spokesperson for Anomaly said it "was not involved in any way with the Dylan Mulvaney campaign for Bud Light."
A day before the Mulvaney partnership was revealed, former Anheuser-Busch executive Heinerscheid had said during a podcast the Bud Light brand had become "fratty" and "out of touch."
"I'm a businesswoman, I had a really clear job to do when I took over Bud Light, and it was 'This brand is in decline, it's been in a decline for a really long time, and if we do not attract young drinkers to come and drink this brand, there will be no future for Bud Light,'" Heinerscheid said.
Most recently, Bud Light sales suffered their worst week ever, falling 25.7% during the week ended May 20 — endangering its status as the US's No. 1 beer brand. The plunge follows a 24.6% decline from the previous week and the sixth straight week sales have been hit , according to Bump Williams Consulting and Nielsen IQ data.
The precipitous drop has narrowed the gap in sales between Bud Light and nearest rival Modelo Especial, which saw its sales surge 9.2% for the week ending May 20, according to the data.

⬇️ Top Picks for You ⬇️
McCarthy to Work with Dems to Pass 45-Day Funding, Avoiding Govt Shutdown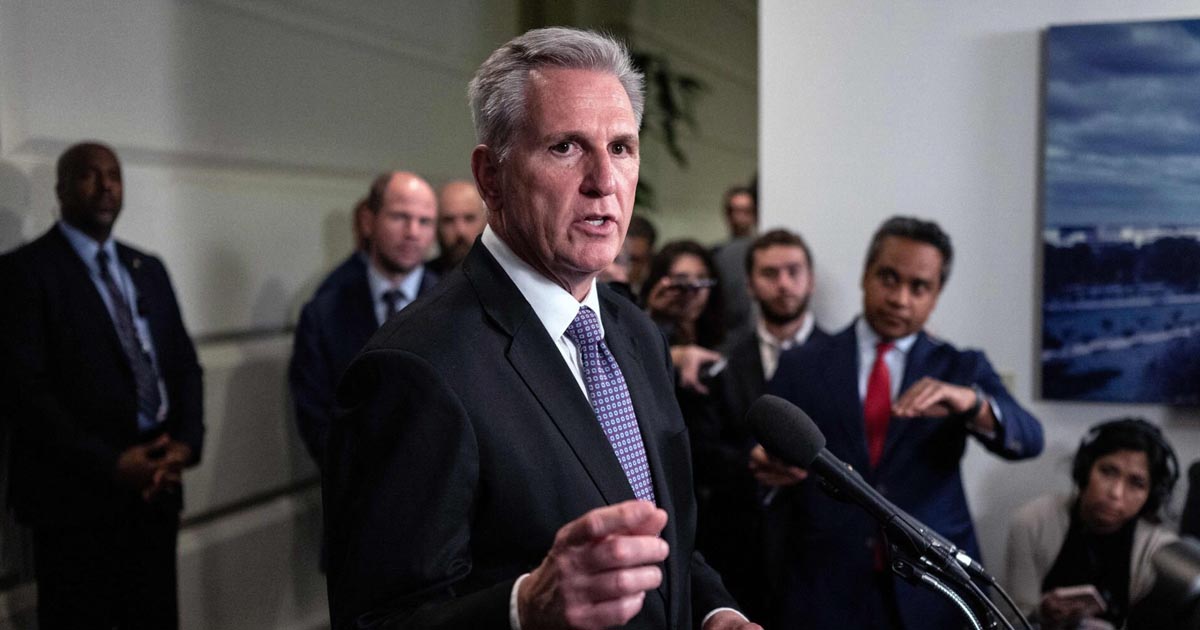 On the brink of a federal government shutdown, Speaker Kevin McCarthy announced a dramatic pivot Saturday, trying to push a 45-day funding bill through the House with Democratic help — a move that could keep government open but most certainly risks his job.
Republican lawmakers met behind closed doors early in the morning with hours to go before the midnight deadline needed to fund government operations or face a disruptive federal closure.
The new approach would leave behind aid to Ukraine, a White House priority opposed by a growing number of GOP lawmakers, but the plan would increase federal disaster assistance by $16 billion, meeting President Joe Biden's full request.
The House was preparing for a quick vote Saturday on the plan, but Democrats hit the brakes, seeking time so they could read the 71-page bill. Across the Capitol, the Senate was opening a rare weekend session and hoping to advance its own stopgap plan, but with money for Ukraine.
"We're going to do our job," McCarthy said after the morning meeting. "We're going to be adults in the room. And we're going to keep government open."
With no deal in place before Sunday, federal workers will face furloughs, more than 2 million active-duty and reserve military troops will work without pay and programs and services that Americans rely on from coast to coast will begin to face shutdown disruptions.
The sudden House action would fund government at current 2023 levels for 45 days, through Nov. 17. It would move closer to the bipartisan approach underway in the Senate, which also would fund the government through that period, while adding $6 billion for Ukraine to fight the war against Russia and $6 billion for U.S. disaster relief.
"A bipartisan, a bicameral solution is the only way forward," said Rep. Rosa DeLauro, the top Democrat on the House Appropriations Committee. She and other Democrats decried cutting Ukraine aid.
McCarthy, R-Calif., will be forced to rely on Democrats for passage because the speaker's hard-right flank has said it will oppose any short-term measure. McCarthy was setting up a process for voting that will require a two-thirds supermajority, about 290 votes in the 435-member House for passage. Republicans hold a 221-212 majority, with two vacancies.
Relying on Democratic votes and leaving his right-flank behind is something that the hard-right lawmakers have warned will risk McCarthy's job as speaker. They are almost certain to quickly file a motion to try to remove McCarthy from that office, though it is not at all certain there would be enough votes to topple the speaker.
"If somebody wants to remove me because I want to be the adult in the room, go ahead and try," McCarthy said of the threat to oust him. "But I think this country is too important."
The quick pivot comes after the collapse Friday of McCarthy's earlier plan to pass a Republican-only bill with steep spending cuts up to 30% to most government agencies that the White House and Democrats rejected as too extreme.
"Our options are slipping away every minute," said one senior Republican, Rep. Mario Diaz-Balart of Florida.
Meanwhile, the Senate was marching ahead on its package with support from both Democrats and Republicans.
"Congress has only one option to avoid a shutdown — bipartisanship," said Senate Majority Leader Chuck Schumer, D-N.Y.
Senate Republican leader Mitch McConnell of Kentucky echoed the sentiment, warning his own hard-right colleagues there is nothing to gain by shutting down the federal government.
"It heaps unnecessary hardships on the American people, as well as the brave men and women who keep us safe," McConnell said.
The federal government is heading straight into a shutdown that poses grave uncertainty for federal workers in states all across America and the people who depend on them — from troops to border control agents to office workers, scientists and others.
Families that rely on Head Start for children, food benefits and countless other programs large and small are confronting potential interruptions or outright closures. At the airports, Transportation Security Administration officers and air traffic controllers are expected to work without pay, but travelers could face delays in updating their U.S. passports or other travel documents.
An earlier McCarthy plan to keep the government open collapsed Friday due to opposition from a faction of 21 hard-right holdouts despite steep spending cuts of nearly 30% to many agencies and severe border security provisions.
The White House has brushed aside McCarthy's overtures to meet with Biden after the speaker walked away from the debt deal they brokered earlier this year that set budget levels.
Catering to his hard-right flank, McCarthy had returned to the spending limits the conservatives demanded back in January as part of the deal-making to help him become the House speaker.
After Friday's vote, McCarthy's chief Republican critic, Rep. Matt Gaetz of Florida, said the speaker's bill "went down in flames as I've told you all week it would."