The California marketing firm behind Bud Light's disastrous tie-up with Dylan Mulvaney fired more than a dozen employees – days after top brass boasted about a lavish junket to an award ceremony on the French Riviera, The Post has learned.
San Mateo-based Captiv8 — which The Post exclusively identified as the ad agency behind Anheuser-Busch's short-lived partnership with the trans influencer — flew executives and guests on a private jet to the annual Cannes-Lions festival in June.
Captiv8 booked the private charter on a boutique French airline called La Compagnie which features 76 lay-flat seats and a "bespoke plane experience," according to a press release about the trip.
Upon returning from the marketing industry's Oscars-like event, CEO Krishna Subramanian offered a recap of their trip during a company-wide Zoom meeting on July 3, multiple sources told The Post.
The presentation allegedly included photos of the giddy travelers aboard the luxury jet, as well as the yachts, pool parties and villas they visited in the south of France.
Two days later, however, the "tone-deaf" Subramanian handed out pink slips to 13 workers, about 5% of Captiv8's more than 200 employees, a Captiv8 employee told The Post.
"They said they were investing in the future of the company and building relationships," one current worker who survived the purge told The Post, adding, "Maybe they could have saved jobs instead of blowing all of this money" in Cannes.
After the layoffs, Subramanian told remaining staffers on another company-wide Zoom call that the ad agency was "examining budgets" and "evaluating finances," according to sources.
"The timing was terrible," said one fired employee who did not want to be identified out of fear of losing their severance package.
"You wouldn't expect to be laid off after such an extravagant trip."
"If you get more business in Cannes then you don't downsize and cut your manpower," added the devastated worker, who has young children.
The company — which has clients that include McDonald's, Disney, Toyota, Nordstrom, Macy's and OceanSpray — said the layoffs represent "less than 5% of our employee base" and that it is "actively hiring for a range of roles."
The Captiv8 rep told The Post the layoffs were carried out after regular performance reviews.
"We assess the productivity of our employees with regular cadence and these layoffs were part of a continuous strategy that ensures our continued success," the spokesperson said.
"We want to emphasize that these decisions, which were not made lightly, were driven by a strategic assessment of our team with our business priorities in mind, and not by financial challenges."
The company said the junket was "paid for in tandem with our brand partners and clients, having no impact on the company's overall bottom line."
The trip is a "meaningful business development lever for Captiv8," a spokesperson told The Post.
Captiv8 invited influencers including David Dobrik, Josh Richards and Robyn Delmonte (aka Girl Boss Town), along with the chief marketing officers of a number of companies that work with Captiv8, according to insiders and social media posts about the trip.
Passengers were showered with swag that included skin and beauty products, electronics, designer sunglasses and a jeans jacket, along with wine and Champagne, according to social media posts about the trip.
Captiv8 has grown into an award-winning firm by pairing social media influencers with major consumer brands — like it allegedly did when Mulvaney hoisted a can of Bud Light bearing his image in post to Instagram on April 1.
Bud Light's parent, Anheuser-Busch, has never identified Captiv8 in its public comments about the origins of the campaign, blaming an anonymous third-party marketer for sending the personalized tallboy.
Captiv8 has remained tightlipped about its work with the brewer.
The backlash and boycotts since Mulvaney touted Bud Light have cost Anheuser-Busch nearly $400 million, according to the beer giant's quarterly earnings report.

⬇️ Top Picks for You ⬇️
Biden Got Recurring $1,380 Payment from Hunter's Firm Starting in 2018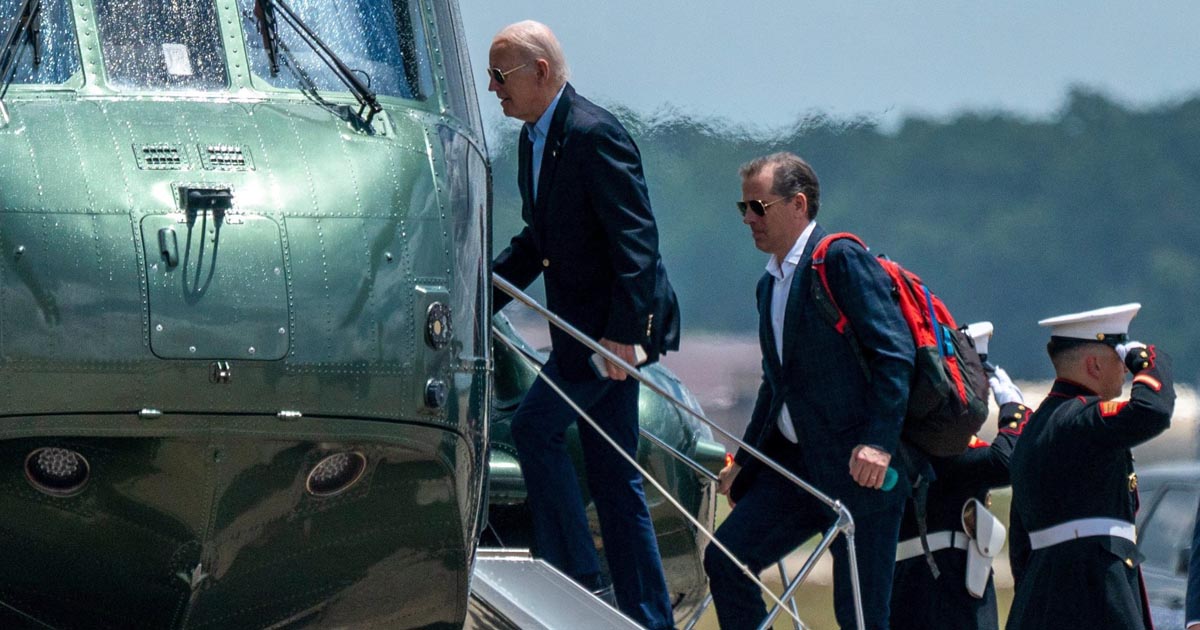 President Biden received a recurring payment of $1,380 from his son Hunter's law firm beginning in late 2018 shortly after a bank money laundering officer warned that the same account was receiving millions of dollars in Chinese government-linked funds without "any services rendered."
A bank order shows that Owasco PC set up a "monthly" transfer to then-former Vice President Joseph R. Biden Jr., with a voided check for the future president included in the documentation, which was released Monday by the House Oversight Committee.
A source told The Post that at least three recurring payments were made — on Sept. 17, Oct. 15 and Nov. 15, 2018 — totaling $4,140 to the elder Biden from Owasco PC, according to the bank records of the firm.
"President Biden and his family must be held accountable for this blatant corruption," Oversight Committee Chairman James Comer (R-Ky.) said in a video release.
"Today, the House Oversight Committee is releasing subpoenaed bank records that show Hunter Biden's business entity, Owasco PC, made direct monthly payments to Joe Biden. This wasn't a payment from Hunter Biden's personal account but an account for his corporation that received payments from China and other shady corners of the world," Comer said.
"At this moment, Hunter Biden is under an investigation by the Department of Justice for using Owasco PC for tax evasion and other serious crimes. And based on whistleblower testimony, we know the Justice Department made a concerted effort to prevent investigators from asking questions about Joe Biden. I wonder why?"
Earlier that year, a January 2019 email from assistant Katie Dodge to Hunter Biden annotated various expenses including "Ford Raptor — Reimbursement to JRB — $1380."
The provenance of the funds is unclear, however, and additional records show that Hunter Biden was knee-deep in two of his most controversial business relationships at the time, with Ukraine's Burisma Holdings and CEFC China Energy.
The evidence emerged as House Republicans prepare to question first brother James Biden on Wednesday and Hunter next week about the president's role in his family's dealings in countries such as China and Ukraine — with a possible floor vote to authorize the ongoing impeachment inquiry this month.
While a presidential candidate, Joe Biden denied that he ever discussed business with his relatives, but evidence has since shown that he met with his relatives' associates from both the Burisma and CEFC ventures.
Documents from the first son's abandoned laptop show that Burisma board adviser Vadym Pozharskyi sought "bank reference" information on Sept. 14, 2018 — one day before the initial transfer to Joe Biden was sought. However, the transaction was not executed for another two days, apparently due to a later-than-expected form submission.
Joe Biden met Pozharskyi at an April 17, 2015, dinner at DC's Café Milano. An unproven FBI informant tip said that Burisma owner Mykola Zlochevsky claimed in 2016 he was "coerced" into paying $10 million in bribes to the Bidens for their assistance in ousting prosecutor Viktor Shokin.
Hunter also was on the tail end of disbursing millions of dollars received from CEFC China Energy — one of two major Biden family dealings with Chinese government-linked firms.
On June 26, 2018 — less than three months before Joe Biden began to receive the monthly transfers — an internal Bank Secrecy Act expert warned colleagues that the institution should reconsider its relationship with Hunter as a result of Owasco PC seeming to receive Chinese funds without "any services rendered."
CEFC transferred $5 million to another Biden family-linked entity, Hudson West III, in August 2017 after Hunter warned a China-based associate of his father's wrath if a business deal was aborted. Much of the large transfer later went to Hunter's Owasco PC.
Prior bank records released by the Oversight Committee indicate that Joe Biden received payments of $40,000 and $200,000 from his brother James, who also was involved in the CEFC venture and other foreign-focused enterprises.
Comer alleged that the $40,000 transferred to Joe Biden's bank account on Sept 3, 2017, was from "laundered" Chinese funds.
James Biden paid Joe Biden $200,000 on March 1, 2018 — the same day that James received a $200,000 transfer from troubled rural hospital company Americore after pledging to use his political connections to secure a Middle Eastern investor, according to bankruptcy filings.
The White House says there's evidence that both transfers were loan repayments, but Republicans argue they have not seen loan agreement documents and note that the funds distributed to James came from a law firm, rather than Joe Biden himself, further clouding the picture.