Democratic California Rep. Adam Schiff on Thursday announced his candidacy for the U.S. Senate seat currently held by Sen. Dianne Feinstein, D-Calif.
"Our democracy is at great risk. Because GOP leaders care more about power than anything else," Schiff tweeted, sharing a video announcing his campaign. "We're in the fight of our lives—a fight I'm ready to lead as California's next U.S. Senator."
Schiff was re-elected to a seventh term in November, now representing California's 30th Congressional District. A high-profile lawmaker, he was the chairman of the House Intelligence committee between 2019 and 2022 and a foil for Republicans during the first impeachment investigation against former President Donald Trump.
His campaign announcement video highlights his record going after Trump, whom he refers to as a "dangerous demagogue." Former House Speaker Nancy Pelosi appointed Schiff as a lead impeachment manager for Trump's impeachment trial in 2020, and he led a team of seven House lawmakers who presented evidence to the Senate arguing in favor of convicting Trump on charges of abusing the power of his office and obstructing Congress and removing him from office.
Republicans heavily criticized Schiff for his actions as the lead investigator in Trump's impeachment inquiry. House Speaker Kevin McCarthy has said that Schiff "openly lied to the American people" and abused his authority as chairman of the House Intelligence panel. In September 2019, Schiff infuriated Republicans by grossly exaggerating the contents of a telephone call in which Trump allegedly coerced Ukrainian President Volodymyr Zelenskyy to investigate his 2020 rival Joe Biden and his son Hunter. He later described his summary of Trump's phone call as a "parody."
In retaliation for Schiff's conduct, McCarthy removed him from the Intelligence Committee in the 118th Congress.
Schiff joins Rep. Katie Porter, D-Calif., who announced she is running for the seat earlier this month.
Feinstein, 89, has not yet announced plans to run for re-election. She is currently the oldest serving senator and is widely expected to announce in the coming months that she will not seek another term in office.

⬇️ Top Picks for You ⬇️
Biden Dog Bites Another Secret Service Agent; 11th Incident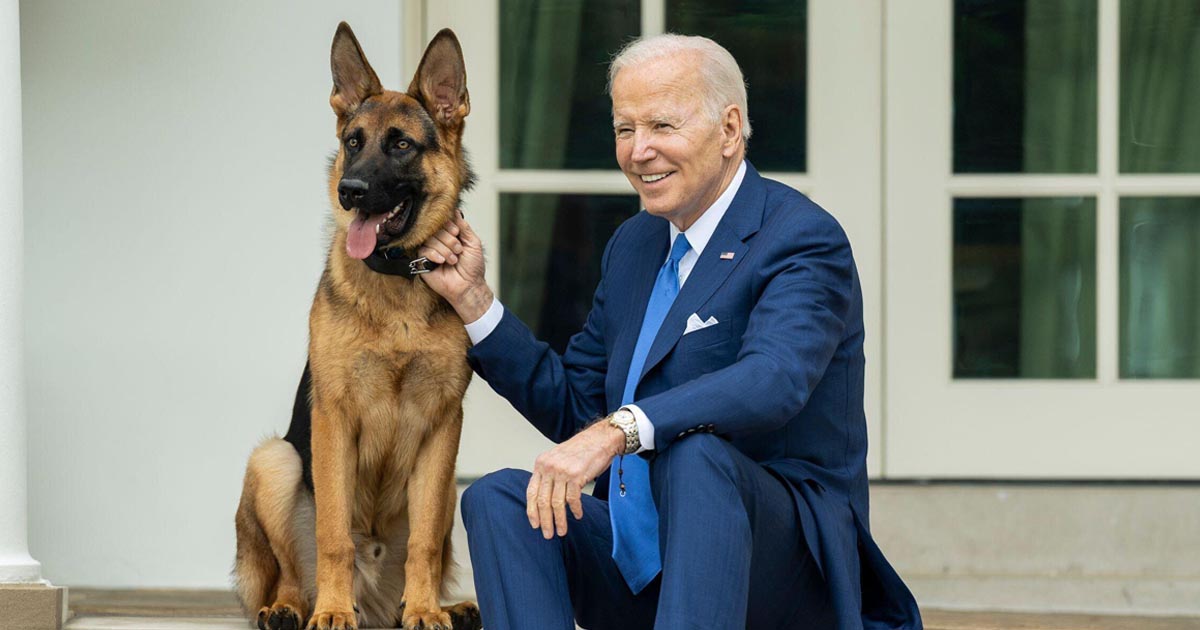 President Joe Biden's younger dog, Commander, bit another US Secret Service agent at the White House Monday evening, CNN has learned, the 11th known biting incident involving the 2-year-old German Shepherd.
"Yesterday around 8 p.m., a Secret Service Uniformed Division police officer came in contact with a First Family pet and was bitten. The officer was treated by medical personnel on complex," USSS chief of communications Anthony Guglielmi told CNN in a statement.
The injured officer spoke with Secret Service Uniformed Division Chief Alfonso M. Dyson Sr. on Tuesday and is doing OK, Guglielmi said.
Commander has been involved in at least 11 biting incidents at the White House and in Delaware, according to CNN reporting and US Secret Service email correspondence, including a November 2022 incident where an officer was hospitalized after the dog clamped down on their arms and thighs.
White House officials said in July that the Bidens were working through new training and leashing protocols for the family pet following the incidents.
Asked by CNN whether the new training had taken place or if any further action would be sought, Elizabeth Alexander, communications director for the first lady, said in a statement that "the First Family continues to work on ways to help Commander handle the often unpredictable nature of the White House grounds."
"The President and First Lady are incredibly grateful to the Secret Service and Executive Residence staff for all they do to keep them, their family, and the country safe," she continued.
Another of Biden's dogs, Major, was involved in biting incidents at the White House. The German Shepherd later moved out of the White House, and Commander arrived at the White House in 2021.
The July email correspondence, obtained through Freedom of Information Act requests by the conservative group Judicial Watch, reflected 10 incidents.
In one incident in October, first lady Dr. Jill Biden "couldn't regain control" of the dog as it charged a member of Secret Service staff.
"I believe it's only a matter of time before an agent/officer is attacked or bit," the staff member warned in an email.
While Secret Service agents are not responsible for the handling of the first family's pets, they can come into frequent contact with the animals.
"This isn't a Secret Service thing. This is a this is a workplace safety issue," CNN contributor and former USSS agent Jonathan Wackrow told CNN.
"There's uniqueness here where it's the residence of the president of the United States, but it's also the workplace for hundreds, thousands of people. And you can't bring a hazard into the workplace. And that's what is essentially happening with this dog. One time you can say it's an accident, but now multiple incidents, it's a serious issue," he added.
Wackrow called it a "significant hazard" for agents on duty at the White House residence.
"I'm sure that the Bidens love the dog. I'm sure that it's a member of the family like every dog is, but you're creating a significant hazard to those who support you – support the office of the president," he said.