Famed American '90s-era rapper Afroman is being sued by seven members of a local Ohio sheriff's office for invasion of privacy, among other claims, after the performer featured security footage of the plaintiffs raiding his home in music videos and social media posts.
Afroman, whose legal name is Joeseph Foreman, is best known for his hit songs, including "Because I Got High" and "Colt 45."
In August 2022, local media reported Foreman had his home in the Tri-State area raided by four deputies, two sergeants, and a detective from the Adams County Sheriff's Office last summer based on a search warrant claiming suspicion of drug trafficking and kidnapping. At the time of the search, Foreman accused authorities of traumatizing his children and destroying property while others held AR-15 rifles.
The Adams County Prosecutor's Office later said the raid failed after authorities did not submit criminal evidence to press charges, which the sheriff's office never filed.
Foreman produced two songs — "Lemon Pound Cake" and "Will You Help Me Repair My Door" — based on the experience, with accompanying music videos that highlighted the video footage from his wife's cell phone and their home surveillance system, which shows the faces of the seven plaintiffs named in the lawsuit without their consent, which constitutes a misdemeanor violation under Ohio state law.
The plaintiffs argue that Foreman used their likeness and depictions "without the authorization of any of the plaintiffs to do so" and the seven authorities "suffered humiliation, ridicule, mental distress, embarrassment and loss of reputation" from the music videos and social media posts.
"In some instances, it has made it more difficult and even more dangerous for Plaintiffs to carry out their official duties because of comments made and attitude expressed toward them by members of the public," the lawsuit reads, adding authorities have received death threats "by anonymous members of the public who have seen some of Defendant's above-described postings."
The lawsuit also says that Foreman used the footage to promote his tours, brand, social media posts, and more.
Cincinnati attorney Robert Klingler filed the suit in Adams County Common Pleas Court on March 13 against Foreman, Hungry Hustler Records, Media Access Inc., and three John Doe defendants. Although more law enforcement was involved in the August 2022 raid, only seven are named in the complaint.
According to the lawsuit, the plaintiffs argue they are entitled to all profits from Foreman's songs, music videos, and live ticket events, including promoting Foreman's "Afroman" brand. The plaintiffs also ask for an injunction to remove all videos and posts containing their identities.
In an Instagram post on Wednesday, Foreman said he plans on countersuing the plaintiffs for the "undeniable damage this had on my clients, family, career, and property."
Foreman further blasted Adams County authorities in a rant to TMZ, calling the judge racist for signing a "fictitious false" warrant, which he says put the county sheriff's "in a position to attempt to kill" him.
"After the Adams County Sheriff burglarized, vandalized, and destroyed my property — they became thieves and stole my money," Foreman said. "After they stole my money, they became criminals. After they became criminals, they lost their right to privacy."
Investigators told Foreman following the raid that authorities confiscated a vape pen, a joint, and $4,000 in cash that investigators believed to be the proceeds of drug trafficking. However, Foreman asserts the cash came from his music. Local media reported that when the sheriff's office returned the money to Foreman, authorities were about $400 short.
"My house is my property," he added. "My video camera films everything on my property."
TMZ reported an investigation conducted by the Clermont County Sheriff's Office resolved that the Adams County sheriffs miscounted the money seized and returned the correct amount.
Foreman accused authorities of being "criminals camouflaged by law enforcement" for allegedly vandalizing his property and stealing money from his house. He said he used the surveillance camera footage to identify those involved in the raid.
"I use my footage of my property to raise money," he said. "To pay for the damages they [have] done and to identify the criminals operating inside of the sheriff department that stole my money, ransack my house, and disconnected my video cameras."
Local media reported the plaintiffs are seeking to stop Foreman from using their likeness and personas for future commercial use while asking for more than $25,000 in damages, which they say is the profited amount.
They also asked for this lawsuit to head to a trial by jury.

⬇️ Top Picks for You ⬇️
Republicans Launch Contempt Process Against FBI Director After Viewing Biden 'Bribery' Document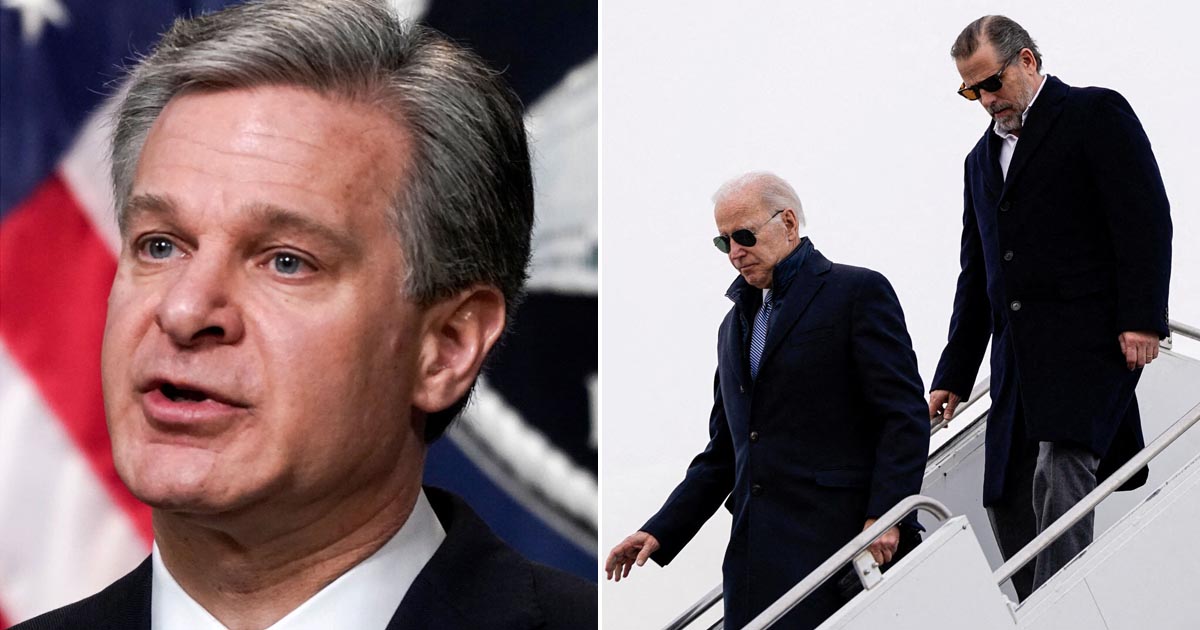 House Republicans are officially starting contempt of Congress charges against FBI Director Chris Wray for failing to turn over Biden 'bribery' document they claim shows then-Vice President Joe Biden was involved in a $5 million 'criminal' scheme with a foreign national.
The escalation comes after the Republican and Democratic leaders of the House Oversight Committee were granted access by the FBI Monday to view the FD-1023 form in a secure facility within the Capitol. The document apparently details an 'arrangement' for an exchange of money for policy decisions.
The Republicans issued a subpoena for the FD-1023 form last month and FBI Director Chris Wray was given a hard deadline of May 30 to hand over the unclassified document, which he did not comply with.
After reviewing the document Monday, Comer told reporters the accusations contained in the form 'suggests a pattern of bribery' consistent with findings the committee has put out publicly.
It's called 'money laundering,' he said, saying it fits within the pattern of over $1 million in Romanian-linked payments to the Biden family revealed last month.
In early May, Republicans released a report digging in on over $10 million received by Biden family members from foreign actors, including previously undisclosed $1 million in Romanian-linked payments, and a 'web' of 20 companies created while President Joe Biden was vice president and pushing anti-corruption efforts abroad.
He also said the FBI record was 'not disproven' and is currently being used in an ongoing investigation that is being conducted by the Department of Justice in Delaware into Hunter Biden's finances.
The 'confidential human source' is a 'trusted, highly credible informant' who has been used by the FBI for over 10 years and has been paid over six figures, continued Comer.
The chairman added that contempt proceedings will begin this Thursday.
'At the briefing, the FBI again refused to hand over the unclassified record to the custody of the House Oversight Committee, and we will now initiate contempt of Congress hearings this Thursday.'
Last week, Comer and Sen. Chuck Grassley, R-Iowa, spoke with Wray by phone and the FBI director offered to let them and Ranking Member Rep. Jamie Raskin, D-Md., view the documents at the FBI headquarters in an attempt to stave off the contempt threat.
'During today's call, Director Wray offered to provide the Committee's Chairman and Ranking Member an opportunity to review information responsive to the subpoena in a secure manner to accommodate the committee, while protecting the confidentiality and safety of sources and important investigative sensitivities,' said the FBI in a statement.
'The FBI has continually demonstrated its commitment to working with the Committee to accommodate its request, from scheduling briefings and calls to now allowing the Chair to review information in person. The FBI remains committed to cooperating with the Committee in good faith.'
Comer also informed Wray that he was also narrowing the breadth of the subpoena for the document by providing two additional terms that may be referenced in the record: 'June 30, 2020' and 'five million.'
Raskin blasted the Republicans' handling of the document in a reporter gaggle following Monday's briefing, calling it 'second-hand hearsay.'
He said former U.S. Attorney Scott Brady for the Western District of Pennsylvania and then-Attorney General Bill Barr did not find any reason to escalate the investigation into all 'allegations related to Ukraine' based on the FD-1023 form.
'I am just surprised that my colleagues want to try to litigate this in public, much less hold the Director of the Federal Bureau of Investigation in contempt for complying with the request when there was a whole process that was undertaken, and that process came to its natural end as I understand it,' Raskin said.
He would not directly confirm that the foreign national alleged in the memo being sought by Republicans is from Ukraine.
Raskin did agree with his Republican colleagues that the whistleblower is considered 'credible.'
The White House has also pushed back, calling the Republican-led investigation 'unfounded' and 'politically motivated.'