A baggage handler for an American Airlines regional carrier died Saturday after reportedly being sucked through the engine of a jet at an Alabama airport, authorities said.
The gruesome tragedy occurred at the Montgomery Regional Airport at around 3 p.m. The victim, who was not immediately identified, worked for Piedmont Airlines, a subsidiary of American Airlines. The Federal Aviation Administration and the National Transportation Safety Board are investigating, according to AL.com.
"We are devastated by the accident involving a team member of Piedmont Airlines, an American Airlines regional carrier, at Montgomery Regional Airport (MGM)," a spokesperson for American Airlines said. "Our thoughts and prayers are with the family and our local team members. We are focused on ensuring that all involved have the support they need during this difficult time."
According to Reuters, two sources briefed on the incident said the employee died in "an accident involving one of the airplane's engines that was running."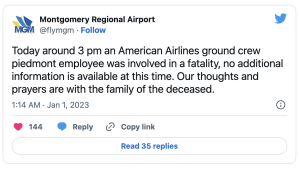 The aircraft was reportedly an Embraer 175, a narrow-body plane designed to carry up to 124 passengers and used frequently for short- to medium-range routes.
Airport Executive Director Wade Davis issued a statement following the tragic accident.
"We are saddened to hear about the tragic loss of a team member of the AA/Piedmont Airlines," Davis said.
The airport resumed normal operations Saturday evening, the airport tweeted.
The "worker was fatally injured on the ramp at Montgomery Regional Airport where American Airlines Flight 3408, an Embraer E175, was parked," the FAA said in a statement to AL.com.
A preliminary report from the FAA is expected on Monday, according to the agency.
Although extremely rare, such incidents have occurred in the past. According to Aerocorner.com, jet engines use a powerful compressor to suck up to 1.2 million tons of air per second through them, even while idling or powering up. The suction created is strong enough to pull a human through the engine if he or she gets too close. Baggage, tools, and birds have all been sucked through the engines.

⬇️ Top Picks for You ⬇️
WATCH: Footage Of Attack On Paul Pelosi Released
San Francisco law enforcement officials released body camera footage Friday from the October attack on Rep. Nancy Pelosi's (D-CA) husband, Paul Pelosi.
A San Francisco judge ordered that the footage be made public after a coalition of news outlets filed a motion to release the footage on January 11.
The footage shows police knocking on the door of the home before either Pelosi or DePape opened it.
"What's going on man?" an officer asks.
"Everything is good," DePape responds as he wrestled for control of a hammer with Pelosi.
"Drop the hammer!" the officer then says.
"Umm, nope," DePape responded before gaining control of the hammer and striking Pelosi.
"Oh, s—!" one of the officers says as police rushed in to stop DePape during the attack.
#EXCLUSIVE
Just released police body camera video shows moments David DePape attacked Paul Pelosi at his# San Francisco home

WARNING: VIDEO IS GRAPHIC#PaulPelosi #BREAKING@Nbcbayarea pic.twitter.com/rQZriBvOCm

— Bigad Shaban (@BigadShaban) January 27, 2023
Paul Pelosi was attacked on October 28 by a nudist activist who broke into the Pelosi residence seeking to kidnap the then-House speaker, prosecutors said in a pretrial hearing. The activist, who prosecutors identified as 42-year-old David DePape, attacked Paul Pelosi after not being able to locate his wife.
DePape has pleaded not guilty on all charges, which include both state and federal charges. He is expected to appear in state court on February 23 to set a date for his trial. He is being held in jail without bail.
Authorities said that San Francisco police entered the Pelosi residence around 2:30 a.m. local time on the night of the attack. An assailant and Pelosi struggled over a hammer, and then the assailant "violently" assaulted Pelosi, the police said.
After the attack, Pelosi was taken to a hospital where he underwent "successful surgery to repair a skull fracture and serious injuries to his right arm and hands," a spokesman for Nancy Pelosi said at the time.
DePape broke into the house shouting "Where's Nancy?" a court affidavit said.
DePape told first responders at the scene that he was sick of the "level of lies" from politicians in Washington, D.C., and "came here to have a little chat with [Paul Pelosi's] wife," according to a court filing.
"I didn't really want to hurt him, but you know this was a suicide mission. I'm not going to stand here and do nothing even if it cost me my life," DePape said, according to the filing.
DePape allegedly intended to attack other high profile figures as well. Police said DePape intended to target President Joe Biden's son Hunter, Democratic California Gov. Gavin Newsom, and actor Tom Hanks.