In a recent draft paper co-authored by Sean Kirkpatrick, head of the Pentagon's All-domain Anomaly Resolution Office (AARO), and Harvard professor Avi Loeb, the possibility of unexplained aerial phenomena being extraterrestrial probes from a mothership is discussed.
While this theory is highly unsubstantiated in academic circles, Kirkpatrick's involvement signals the Pentagon's openness to scientific debate on the subject.
The official in charge of a secretive Pentagon effort to investigate unexplained aerial incursions has co-authored an academic paper that presents an out-of-this-world theory: Recent objects could actually be alien probes from a mothership sent to study Earth.
In a draft paper dated March 7, Sean Kirkpatrick, head of the Pentagon's All-domain Anomaly Resolution Office, and Harvard professor Avi Loeb teamed up to write that the objects, which appear to defy all physics, could be "probes" from an extraterrestrial "parent craft."
It's unusual for government officials, especially those involved in the nascent effort to collect intelligence on recent sightings, to discuss the possibility of extraterrestrial life, although top agency officials don't rule it out when asked.
After Loeb posted it online, the paper gained notoriety from a post on Military Times and has also circulated among science-focused news outlets.
More than half of the five-page paper is devoted to discussing the possibility that the unexplained objects DoD is studying could be the "probes" in the mothership scenario, including most of the page-long introduction. One section is titled: "The Extraterrestrial Possibility" and another "Propulsion Methods."
Kirkpatrick's involvement in the academic paper demonstrates that the Pentagon is open to scientific debate of the origins of UFOs, an important signal to send to the academic world, experts said. But they add that his decision to attach his name to a theory considered in most academic circles to be highly unsubstantiated also raises questions about AARO's credibility.
The paper explains that interstellar objects such as the cigar-shaped "Oumuamua" that scientists spotted flying through the galaxy in 2017 "could potentially be a parent craft that releases many small probes during its close passage to Earth."
The paper goes on to compare the probes to "dandelion seeds" that could be separated from the parent craft by the sun's gravitational force. It examines the physics of how the smaller craft could move through the Earth's atmosphere to reach the surface, where they could be spotted by humans.
The paper notes that the "probes" could use starlight to "charge their batteries" and the Earth's water as fuel. It also speculates on the motive for aliens to send exploratory probes to Earth.
"What would be the overarching purpose of the journey? In analogy with actual dandelion seeds, the probes could propagate the blueprint of their senders," the authors write. "As with biological seeds, the raw materials on the planet's surface could also be used by them as nutrients for self-replication or simply scientific exploration."
The authors acknowledge that they do not know for sure that there are any functioning extraterrestrial crafts near Earth. But the Galileo Project, Loeb's privately funded academic effort to look for UFOs, intends to investigate this possibility, they write.
The AARO team at the Pentagon was created last year to replace a task force within the Office of Naval Intelligence previously looking into UFOs. AARO was established by Congress to serve as the focal point for the governmentwide investigation into hundreds of reports of "unidentified aerial phenomena," including many that appear to perform highly advanced maneuvers.
Kirkpatrick is a respected science and intelligence professional, with more than two decades of experience studying physics and working in the defense intelligence space. He has held top positions in DoD, U.S. Space Command, the National Security Council, and across the intelligence agencies, winning several awards for his work. Before his current position, his most recent assignment was as chief scientist at DIA's missile and space intelligence center.

⬇️ Top Picks for You ⬇️
Biden Got Recurring $1,380 Payment from Hunter's Firm Starting in 2018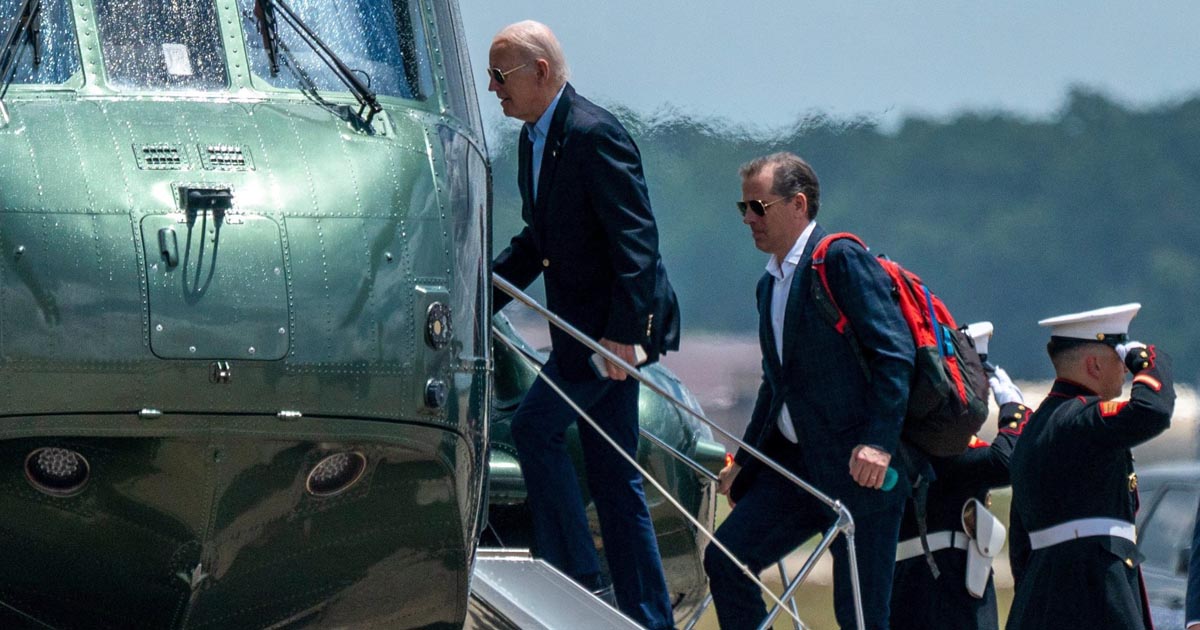 President Biden received a recurring payment of $1,380 from his son Hunter's law firm beginning in late 2018 shortly after a bank money laundering officer warned that the same account was receiving millions of dollars in Chinese government-linked funds without "any services rendered."
A bank order shows that Owasco PC set up a "monthly" transfer to then-former Vice President Joseph R. Biden Jr., with a voided check for the future president included in the documentation, which was released Monday by the House Oversight Committee.
A source told The Post that at least three recurring payments were made — on Sept. 17, Oct. 15 and Nov. 15, 2018 — totaling $4,140 to the elder Biden from Owasco PC, according to the bank records of the firm.
"President Biden and his family must be held accountable for this blatant corruption," Oversight Committee Chairman James Comer (R-Ky.) said in a video release.
"Today, the House Oversight Committee is releasing subpoenaed bank records that show Hunter Biden's business entity, Owasco PC, made direct monthly payments to Joe Biden. This wasn't a payment from Hunter Biden's personal account but an account for his corporation that received payments from China and other shady corners of the world," Comer said.
"At this moment, Hunter Biden is under an investigation by the Department of Justice for using Owasco PC for tax evasion and other serious crimes. And based on whistleblower testimony, we know the Justice Department made a concerted effort to prevent investigators from asking questions about Joe Biden. I wonder why?"
Earlier that year, a January 2019 email from assistant Katie Dodge to Hunter Biden annotated various expenses including "Ford Raptor — Reimbursement to JRB — $1380."
The provenance of the funds is unclear, however, and additional records show that Hunter Biden was knee-deep in two of his most controversial business relationships at the time, with Ukraine's Burisma Holdings and CEFC China Energy.
The evidence emerged as House Republicans prepare to question first brother James Biden on Wednesday and Hunter next week about the president's role in his family's dealings in countries such as China and Ukraine — with a possible floor vote to authorize the ongoing impeachment inquiry this month.
While a presidential candidate, Joe Biden denied that he ever discussed business with his relatives, but evidence has since shown that he met with his relatives' associates from both the Burisma and CEFC ventures.
Documents from the first son's abandoned laptop show that Burisma board adviser Vadym Pozharskyi sought "bank reference" information on Sept. 14, 2018 — one day before the initial transfer to Joe Biden was sought. However, the transaction was not executed for another two days, apparently due to a later-than-expected form submission.
Joe Biden met Pozharskyi at an April 17, 2015, dinner at DC's Café Milano. An unproven FBI informant tip said that Burisma owner Mykola Zlochevsky claimed in 2016 he was "coerced" into paying $10 million in bribes to the Bidens for their assistance in ousting prosecutor Viktor Shokin.
Hunter also was on the tail end of disbursing millions of dollars received from CEFC China Energy — one of two major Biden family dealings with Chinese government-linked firms.
On June 26, 2018 — less than three months before Joe Biden began to receive the monthly transfers — an internal Bank Secrecy Act expert warned colleagues that the institution should reconsider its relationship with Hunter as a result of Owasco PC seeming to receive Chinese funds without "any services rendered."
CEFC transferred $5 million to another Biden family-linked entity, Hudson West III, in August 2017 after Hunter warned a China-based associate of his father's wrath if a business deal was aborted. Much of the large transfer later went to Hunter's Owasco PC.
Prior bank records released by the Oversight Committee indicate that Joe Biden received payments of $40,000 and $200,000 from his brother James, who also was involved in the CEFC venture and other foreign-focused enterprises.
Comer alleged that the $40,000 transferred to Joe Biden's bank account on Sept 3, 2017, was from "laundered" Chinese funds.
James Biden paid Joe Biden $200,000 on March 1, 2018 — the same day that James received a $200,000 transfer from troubled rural hospital company Americore after pledging to use his political connections to secure a Middle Eastern investor, according to bankruptcy filings.
The White House says there's evidence that both transfers were loan repayments, but Republicans argue they have not seen loan agreement documents and note that the funds distributed to James came from a law firm, rather than Joe Biden himself, further clouding the picture.