A California baker – who identified as an anarchist and social justice advocate – died after she was the victim of a brutal theft. Family and friends don't want the criminals who are linked to her death to be prosecuted because that would allegedly go against the woman's values.
Jennifer Angel went to a Wells Fargo bank branch in Oakland on Monday afternoon. A car pulled in front of her vehicle and blocked her from leaving, Angel's fiance, Ocean Mottley, told the San Francisco Chronicle.
A spokesperson with the Oakland Police Department said that around 12:30 p.m., "an individual broke into" Angel's car while she was in it and stole an item, then ran back "to a waiting vehicle."
Angel chased after the thief and got caught in the door of the fleeing car. She was reportedly dragged down the street for more than 50 feet, hitting her head several times.
She was rushed to Highland Hospital, where she was put into a medically-induced coma. Angel underwent emergency surgery, and part of her skull was removed to help with severe swelling in her brain.
Jennifer died from her injuries sustained in the robbery on Thursday. Doctors confirmed that Angel had lost all brain function.
Family and friends of Angel issued a statement.
"It's with very heavy hearts that we announce that Oakland baker, small business owner, social justice activist, and community member Jen Angel has been medically declared to have lost all brain function and will not regain consciousness. Her official time of death was 5:48 p.m.," the statement began.
The family and friends said, "We know Jen would not want to continue the cycle of harm by bringing state-sanctioned violence to those involved in her death or to other members of Oakland's rich community. As a long-time social movement activist and anarchist, Jen did not believe in state violence, carceral punishment, or incarceration as an effective or just solution to social violence and inequity."
The statement said that Angel "worked toward an ecologically sustainable" society, where "people are free and equal."
The friends and family proclaimed that the criminals involved in Jennifer's death should not be prosecuted.
"If the Oakland Police Department does make an arrest in this case, the family is committed to pursuing all available alternatives to traditional prosecution, such as restorative justice," the statement declared.
The family and friends said that Jennifer's death should not be used to "further inflame narratives of fear, hatred, and vengeance, nor to advance putting public resources into policing, incarceration, or other state violence that perpetuates the cycles of violence that resulted in this tragedy."
Angel's friend Emily Harris told KGO-TV, "We are really trying to orient towards her brilliant life, and that actually, she is not a person who would support the policing and imprisonment of the people who harmed her."
"Feels like absolutely an opportunity to stand in her values, and support the world that she wants," Harris said. "By actually showing that something different than actual policing and prosecution is possible, and is how we can have accountability."
The Oakland Police Department is asking for the public's assistance to find the suspects, and anyone with information on the crime should call 510-238-3326. Crime Stoppers of Oakland is offering up to $7,500 for information leading to the arrest of the criminals, and tips can be provided at 510-777-8572.

⬇️ Top Picks for You ⬇️
Trump Suggests Manhattan DA Bragg 'Dropped' Case Against Him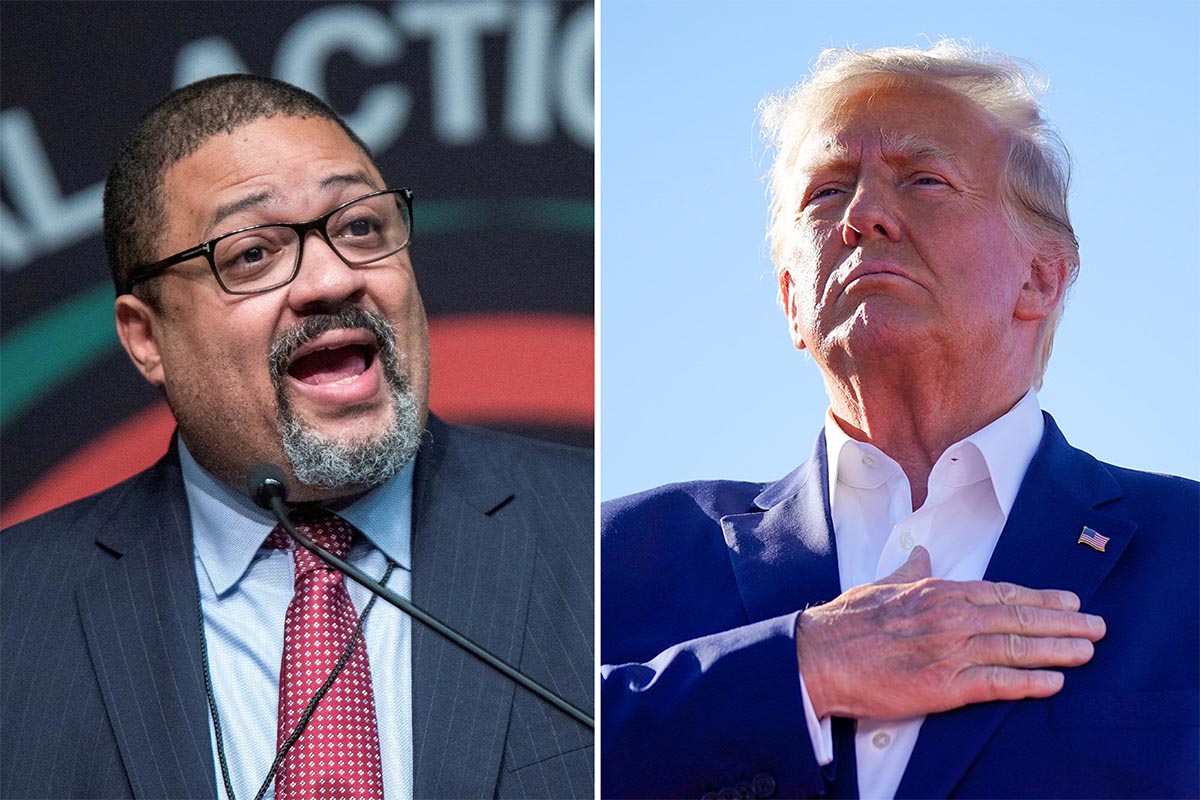 Former President Donald Trump is now suggesting Manhattan District Attorney Alvin Bragg may have dropped his case against him, about a week after he claimed he would be arrested.
After a rally in Waco, Texas, on Saturday, Trump told reporters on his plane, "I think they've already dropped the case … they have absolutely nothing." Trump did not provide evidence for his assertion Saturday.
"It's a fake case. Some fake cases, they have absolutely nothing," the former president said. Trump also reiterated his criticism of Michael Cohen, a former Trump lawyer who has testified against him in the Manhattan grand jury case and previously served time in federal prison on tax fraud and other charges.
Trump also denied mainstream media reports that suggested he was trying to incite violence with his Truth Social posts that criticized Bragg's investigation: "No, I don't like violence and I'm not for violence. But a lot of people are upset."
On Truth Social, the former president made a similar statement regarding his belief Bragg's case is "DEAD." He wrote that the "Witch Hunt against me is DEAD, no evidence at all, & it has been conclusively proven that I did nothing wrong." He dismissed Cohen as a "disbarred lawyer & convicted Felon."
Last week, an attorney in Trump's circle, Robert Costello, told media outlets that he testified before the grand jury and sought to denigrate Cohen's testimony against the 45th president in the investigation, which reportedly is connected to so-called hush money payments that were given to adult performer Stormy Daniels during the 2016 presidential campaign. A lawyer for Cohen, when reached for comment, declined to issue a statement, although Cohen told MSNBC last week that Costello never represented him and disputed his testimony.
Bragg's has not returned a request for comment, and The Epoch Times cannot verify the authenticity of Trump's claims. Previous Epoch Times requests for comment from the DA's office have gone unanswered.
Over the past week, Bragg's office has issued one public statement on the case, and that came in response to a House Republican letter seeking testimony and information about the DA's case or whether his office would arrest Trump. A letter sent by his general counsel said that it was Trump who created a "false expectation" he would be indicted last week, although he provided no other details.
Responding to the House GOP's letter, Bragg's counsel wrote that it "only came after Donald Trump created a false expectation that he would be arrested the next day, and his lawyers reportedly urged you to intervene. Neither fact is a legitimate basis for congressional inquiry."
During the Waco rally, Trump declared that his "enemies are desperate to stop us" and that "our opponents have done everything they can to crush our spirit and to break our will," and that the Manhattan district attorney was investigating him "for something that is not a crime, not a misdemeanor, not an affair."
He added: "But they failed. They've only made us stronger. And 2024 is the final battle, it's going to be the big one. You put me back in the White House, their reign will be over and America will be a free nation once again."
Trump did not make any direct references in his speech to Waco's history, telling the crowd of thousands that he told Lt. Gov Dan Patrick he wanted to hold his rally in a place with overwhelming support, not "one of those 50-50 areas," and said he told Texas officials, "Let's go right into the heart of it."
At several points, Trump criticized Florida Gov. Ron DeSantis, who, despite not announcing it, has long been expected to run for president in 2024 and is seen as Trump's strongest potential challenger for the GOP nomination. Trump called his onetime ally disloyal and said he was "dropping like a rock" in the polls.
In addition to the Manhattan case, Trump is also facing an investigation in Georgia as well as federal investigations into his handling of allegedly classified documents and possible obstruction, as well as statements he made on Jan. 6, 2021. The former president has denied wrongdoing in those instances.