At Least 30 Dead After Major Storm Unleashed More Than 60 Tornadoes Across the South and Midwest
At least 30 people are dead after powerful tornadoes ripped through parts of the Midwest and South over the weekend.
Confirmed or suspected tornadoes in 11 states destroyed homes and businesses, splintered trees and laid waste to neighborhoods on Friday night. It could take days to make a count of all the tornadoes from recent days.
Among the five dead in Indiana are Brett Kincaid, 53, and Wendy Kincaid, 47, from Rossville, Indiana, whose bodies were found at the McCormick's Creek State Park campground, where they had been camping, according to the Indiana Department of Natural Resources.
Thirteen deaths were reported in Tennessee, where an EF-2 tornado tore through several counties, according to the National Weather field office in Nashville.
The dead also included at least nine in one Tennessee county and four in Illinois. Other deaths from the storms that hit Friday night into Saturday were reported in Alabama and Mississippi.
Illinois Gov. J.B. Pritzker on Sunday traveled to Belvidere to visit the Apollo Theatre, which partially collapsed as about 260 people were attending a heavy metal concert. A 50-year-old man was pulled from the rubble; he later died.
The governor said 48 others were treated in hospitals, with five in critical condition.
WTHR reported that Brett and Wendy Kincaid, who were killed in their camper Friday night when the storm hit McCormick's Creek State Park campground in Owen County, had been avid campers.
Their bodies were found on Saturday, according to Indiana conservation officers who said the storms devastated the area, specifically the campground, which remains closed.
Gov. Pritzker planned to travel later to Crawford County, about 230 miles south of Chicago, where three people were killed and eight injured when a tornado hit around New Hebron.
'We've had emergency crews digging people out of their basements because the house is collapsed on top of them, but luckily they had that safe space to go to,' Sheriff Bill Rutan said at a news conference.
That tornado was not far from where three people died in Indiana's Sullivan County, about 95 miles southwest of Indianapolis.
Several people were rescued overnight, with reports of as many as 12 people injured.
'I'm really, really shocked there isn´t more as far as human issues,' said Sullivan Mayor Clint Lamb, adding that recovery 'is going to be a very long process.'
The National Weather Service confirmed Sunday that a tornado was responsible for storm damage near Bridgeville, Delaware, where severe weather prompted warnings and damaged numerous homes and shut down roads.
One person was found dead inside a house heavily damaged by the storm Saturday night, Delaware State Police reported.
Earlier storms tore a path through the Arkansas capital, collapsing the roof of a packed concert venue in Illinois and stunning people throughout the region Saturday with the damage's scope.
'That means that there is now assistance from the federal government to support the incredible efforts that are already underway from the state and the local communities,' FEMA Administrator Deanne Criswell said in Little Rock, Arkansas, after visiting some of the hardest hit areas.
Arkansas Gov. Sarah Huckabee Sanders had already declared a state of emergency and activated the National Guard. At least five people were killed in her state.

⬇️ Top Picks for You ⬇️
Senate Democrats Authorize Supreme Court Ethics Subpoenas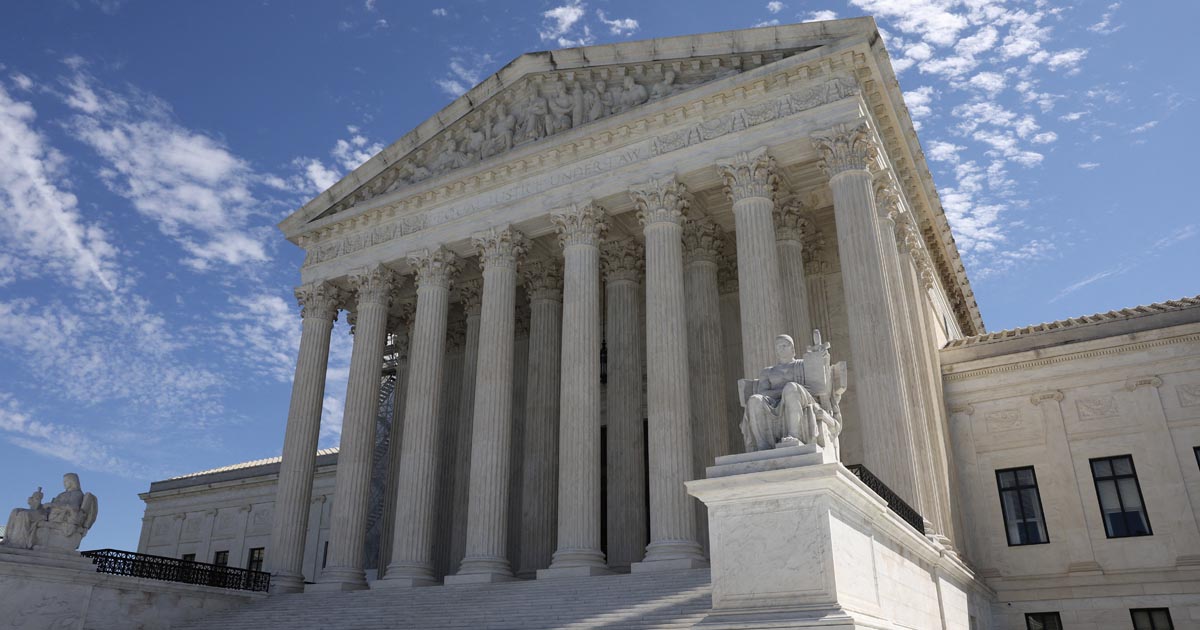 A Democratic-led U.S. Senate panel on Thursday authorized subpoenas to two influential conservatives – Harlan Crow and Leonard Leo – as part of an ethics inquiry spurred by reports of undisclosed largesse directed to some conservative Supreme Court justices.
The Judiciary Committee voted to authorize the subpoenas for Crow, a billionaire Republican donor and benefactor of conservative Justice Clarence Thomas, and Leo, a legal activist who was instrumental in compiling Republican former President Donald Trump's list of potential Supreme Court nominees.
Republican senators walked out of the contentious committee meeting in protest while Democrats cast votes. Some Republicans later questioned the vote's legitimacy, accusing Democrats of violating procedural rules.
"The subpoena clearly wasn't legal," Republican Senator John Kennedy, a committee member, said after the vote.
Senator Dick Durbin, the panel's chairman, said subpoenas were necessary due to the refusal by Crow and Leo for months to voluntarily comply with its previous requests for information. This included itemized lists of all gifts, transportation and lodging provided to any Supreme Court justice.
Durbin also renewed his criticism of a new code of conduct announced by the court on Nov. 13 and promised to continue to pursue the committee's ethics investigation.
"Without an enforcement mechanism, this code of conduct, while a step in a positive direction, cannot restore the public's faith in the court," Durbin said.
Senator Lindsey Graham, the committee's top Republican, told the meeting that Democrats were engaged in a "jihad" against the Supreme Court, whose 6-3 conservative majority has handed major defeats to liberals in recent years on matters including abortion, gun rights and student debt relief.
"When you say you don't want to destroy the Roberts Court, I don't believe you," Graham said, referring to the court under the leadership of conservative Chief Justice John Roberts. "I don't believe a word you're saying."
The committee vote authorized Durbin to issue the subpoenas, which he could do unilaterally, according to a Democratic committee staffer.
If the subpoena recipients fail to comply, Democrats would need 60 votes in the 100-seat Senate to initiate a civil enforcement action, meaning they would need the support of some Republicans. The Democrats also would have the option to make a referral to the U.S. Justice Department, which could choose to pursue criminal contempt proceedings against the subpoena recipients.
Lawyers for Leo and Crow in letters to the committee have criticized the committee's information requests as lacking a proper legal justification. Crow's lawyer had proposed turning over a narrower range of information but Democrats rebuffed that offer, according to the panel's Democratic members.
The news outlet ProPublica reported this year on Thomas's failure to disclose luxury trips and real estate transactions involving Crow, a Texas businessman.
The outlet also reported that Leo helped organize a luxury fishing trip in Alaska attended by conservative Justice Samuel Alito, who failed to disclose taking a private jet provided by billionaire hedge fund manager Paul Singer. Trump chose all three of his appointees to the court from lists of candidates that Leo played a key role in drawing up.
Thomas has said he believed the Crow-funded trips were "personal hospitality" and thus exempt from disclosure requirements, and that his omission of the real estate transaction was inadvertent.
Alito, regarding the flight, said that Singer had "allowed me to occupy what would have otherwise been an unoccupied seat."