While Wall Street entered a new bull market last week, one prominent analyst is not convinced the good times will last.
Bank of America Chief Investment Strategist Michael Hartnett wrote in a note on Friday that he doesn't believe it's the start of a 'brand, new shiny bull market' but that stocks are headed for 'big rally before big collapse.'
However, Hartnett, a persistent bear, admitted in the note that his pessimistic predictions for for the first half of 2023 have turned out to be wrong, with the S&P 500 up more than 15 percent since the start of the year.
The benchmark index entered bull market territory on June 8, when it hit a gain of more than 20 percent from the recent lows seen in mid-October.
But Hartnett warned investors to be wary of three warning signs for markets: further Federal Reserve rate hikes, rising Treasury yields, and an unemployment rate that rises above 4 percent.
Wall Street's recent rally has been primarily driven by tech megacaps, and enthusiasm over artificial intelligence.
But fears of missing out on a broader rally are driving formerly doubtful investors back into the market.
Many who had whittled down stock holdings during 2022's painful decline are shifting gears and going back into buying mode.
The National Association of Active Investment Managers' exposure index last week hit its highest level since late 2021, while cash levels among global fund managers surveyed this month by Bank of America fell to their lowest point since January 2022.
Positioning among discretionary investors, a cohort that includes fund managers to individual investors, moved above neutral earlier this month for the first time since February, Deutsche Bank data showed.
Meanwhile, options investors are buying calls – bets that stock prices will rise in the future – at levels not seen in years.
A record 1.8 million S&P 500 calls traded on Thursday, helping lift the one-month moving average of calls-to-puts to the highest in at least four years, Trade Alert data showed.
'If you've been fighting this market, you're very likely exhausted,' said Emily Roland, co-chief investment strategist at John Hancock Asset Management, who has been increasing overall equity allocations.
The latest market gains have also been fueled by the resilience of the US economy, which has so far avoided recession despite the Federal Reserve's aggressive monetary policy tightening to fight inflation.
Now, some Wall Street banks are revising forecasts for how high stocks can go.
Among the latest is Goldman Sachs, whose strategists raised their year-end S&P 500 target to 4,500 from 4,000, citing expectations the economy is likely to avoid a downturn in the next 12 months.
The index ended on Friday at 4,409.59, up 23 percent from its October lows.
Willie Delwiche, investment strategist at Hi Mount Research, said improving sentiment is poised to support stocks, provided it does not become too extreme.
'Shifting from pessimism to optimism is actually what gives lifeblood to bull markets,' he said. 'You run into trouble when you get to excessive levels, but … we're not there.'

⬇️ Top Picks for You ⬇️
Senate Democrats Authorize Supreme Court Ethics Subpoenas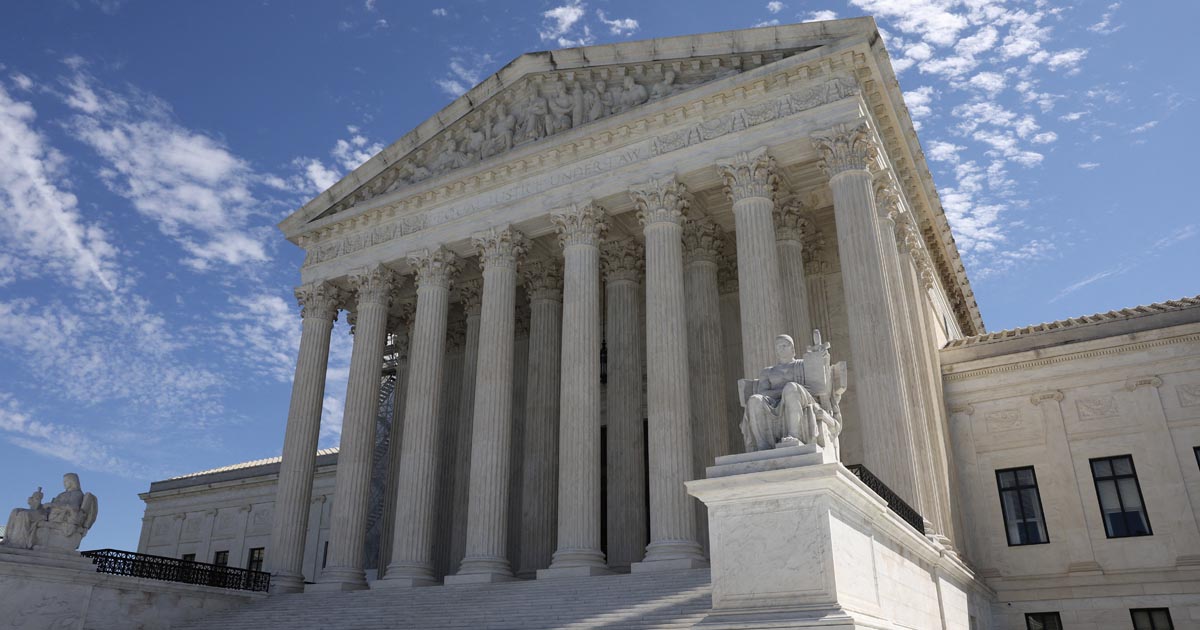 A Democratic-led U.S. Senate panel on Thursday authorized subpoenas to two influential conservatives – Harlan Crow and Leonard Leo – as part of an ethics inquiry spurred by reports of undisclosed largesse directed to some conservative Supreme Court justices.
The Judiciary Committee voted to authorize the subpoenas for Crow, a billionaire Republican donor and benefactor of conservative Justice Clarence Thomas, and Leo, a legal activist who was instrumental in compiling Republican former President Donald Trump's list of potential Supreme Court nominees.
Republican senators walked out of the contentious committee meeting in protest while Democrats cast votes. Some Republicans later questioned the vote's legitimacy, accusing Democrats of violating procedural rules.
"The subpoena clearly wasn't legal," Republican Senator John Kennedy, a committee member, said after the vote.
Senator Dick Durbin, the panel's chairman, said subpoenas were necessary due to the refusal by Crow and Leo for months to voluntarily comply with its previous requests for information. This included itemized lists of all gifts, transportation and lodging provided to any Supreme Court justice.
Durbin also renewed his criticism of a new code of conduct announced by the court on Nov. 13 and promised to continue to pursue the committee's ethics investigation.
"Without an enforcement mechanism, this code of conduct, while a step in a positive direction, cannot restore the public's faith in the court," Durbin said.
Senator Lindsey Graham, the committee's top Republican, told the meeting that Democrats were engaged in a "jihad" against the Supreme Court, whose 6-3 conservative majority has handed major defeats to liberals in recent years on matters including abortion, gun rights and student debt relief.
"When you say you don't want to destroy the Roberts Court, I don't believe you," Graham said, referring to the court under the leadership of conservative Chief Justice John Roberts. "I don't believe a word you're saying."
The committee vote authorized Durbin to issue the subpoenas, which he could do unilaterally, according to a Democratic committee staffer.
If the subpoena recipients fail to comply, Democrats would need 60 votes in the 100-seat Senate to initiate a civil enforcement action, meaning they would need the support of some Republicans. The Democrats also would have the option to make a referral to the U.S. Justice Department, which could choose to pursue criminal contempt proceedings against the subpoena recipients.
Lawyers for Leo and Crow in letters to the committee have criticized the committee's information requests as lacking a proper legal justification. Crow's lawyer had proposed turning over a narrower range of information but Democrats rebuffed that offer, according to the panel's Democratic members.
The news outlet ProPublica reported this year on Thomas's failure to disclose luxury trips and real estate transactions involving Crow, a Texas businessman.
The outlet also reported that Leo helped organize a luxury fishing trip in Alaska attended by conservative Justice Samuel Alito, who failed to disclose taking a private jet provided by billionaire hedge fund manager Paul Singer. Trump chose all three of his appointees to the court from lists of candidates that Leo played a key role in drawing up.
Thomas has said he believed the Crow-funded trips were "personal hospitality" and thus exempt from disclosure requirements, and that his omission of the real estate transaction was inadvertent.
Alito, regarding the flight, said that Singer had "allowed me to occupy what would have otherwise been an unoccupied seat."