National Institute of Health (NIH) officials have re-activated a previously terminated $576,290 federal grant to EcoHealth Alliance to study how outbreaks of deadly viruses like SARS, MERS, and now COVID-19 originate from wildlife and transfer to humans. Funding was suspended by former President Trump's administration 3 years ago.
The move has prompted one Republican lawmaker to demand that NIH explain the decision he described as "absolutely reckless."
"Most emerging human viruses come from wildlife, and coronaviruses in particular represent a significant threat to public health and biosecurity in the U.S. and globally, as was demonstrated by the SARS, MERS, and COVID-19 outbreaks," is how the NIH describes the purpose of the renewed grant.
The renewed grant is to be administered through the NIH's National Institute for Allergies and Infectious Diseases (NIAID), the research arm headed for several decades by the recently retired Dr. Anthony Fauci. The description was made public by Rep. Morgan Griffith (R-Va.), who is chairman of the House Energy and Commerce Committee's Oversight and Investigations Subcommittee.
"This project seeks to understand what factors allow bat-origin coronaviruses, including close relatives to SARS, to jump into the human population by studying their evolutionary diversity, the patterns of spillover in people that live in high-risk communities, and analyzing characteristics of bat coronaviruses that could allow them to emerge," the grant description continues.
EcoHealth issued a celebratory statement declaring that the NIH decision "reflects a reversal of the previous termination and suspension of a [grant] awarded in 2019, but halted in April 2020 due to concerns about continuing collaborative laboratory research with the Wuhan Institute of Virology (WIH)."
Several U.S. agencies and independent scientists have concluded that a leak from within the WIV lab is the most likely source of the COVID-19 pandemic that, to date, has killed more than 1.1 million Americans since January 2020 and in excess of six million people world-wide.
EcoHealth defenders, including Fauci, have argued that the most likely origin of the COVID-19 virus is through a transference from bats to humans via sale of the creatures' meat in a market near WIH.
The WIH lab has been the scene of extensive gain-of-function research by Chinese scientists, much of it funded in whole or part prior to the pandemic by NIH grants through EcoHealth. The NIH has awarded seven grants totaling more than $4.1 million to EcoHealth to study various aspects of SARS, MERS, and other coronavirus diseases.
EcoHealth said in its statement that its agreement with NIH requires researchers to conduct all of their studies outside of China and in conjunction with a Singapore-based health facility, as well as other measures designed to address concerns about the lack of proper safety procedures at WIH and its connection with the Chinese military.
"The specific aims have been revised in consultation with NIAID and NIH staff, and respond to any ongoing concerns by removing all on-the-ground work in China and all recombinant virus culture or infection experiments. We have also agreed to all additional oversight mechanisms applied by NIH," EcoHealth said.
"The renewed work will involve collaboration only between EcoHealth Alliance and the Duke-National University of Singapore Medical School, with the following specific aims: (1) identifying high-spillover risk bat SARSr-CoV sequences in southern China and assessing drivers of recombination; (2) conducting community- and clinic-based surveillance of archived pre-COVID-19 human samples to identify SARSr-CoV spillover events, routes of exposure, and potential public health consequences; and (3) characterizing SARSr-CoV binding, ability to evade therapeutics/vaccines, and identifying spillover hotspots," the EcoHealth statement continued.
Those revisions may not satisfy congressional critics of NIH's decade of funding for such research by EcoHealth.
"It's absolutely reckless that the NIH has renewed a grant for EcoHealth Alliance given their negligence and the breach of their contract with the NIH on the coronavirus research done at the Wuhan Institute of Virology. It is now believed likely that COVID-19 was the result of a lab incident at the Wuhan Institute," Griffith said in a May 8 statement.
"From my observations, EcoHealth Alliance has not been contrite about their failures. And even worse, they have refused to cooperate with Congress in our attempts to get information about the research they were doing at the Wuhan Institute," Griffith said.
"Until they can demonstrate a willingness to work with Congress to resolve outstanding questions and fulfill all of the terms of their federal contracts, paid for with American taxpayer dollars, all funding should remain suspended, and no new contracts should be awarded," he said.
Griffith, alongside House Energy and Commerce Committee Chairman Cathy McMorris Rodgers (R-Wash.) and Subcommittee on Health Chairman Rep. Brett Guthrie (R-Ky.), pushed NIH in an April 25, 2022, letter to Acting Director Lawrence Tabak to investigate EcoHealth President Peter Daszak for multiple alleged failures to comply with federal grant regulations and stipulations.
"Our review of EcoHealth Alliance's reports about its humanized mice experiments at the Wuhan Institute of Virology (WIV) using funds from the National Institutes of Health (NIH) shows pervasive discrepancies, inconsistencies, and omissions in its progress reports and renewal application that raise serious questions about scientific and ethical misconduct, violations of NIH policies and regulations, and possible false statements and fraud."

⬇️ Top Picks for You ⬇️
Tucker Carlson Returns With New Show: 'Tucker on Twitter'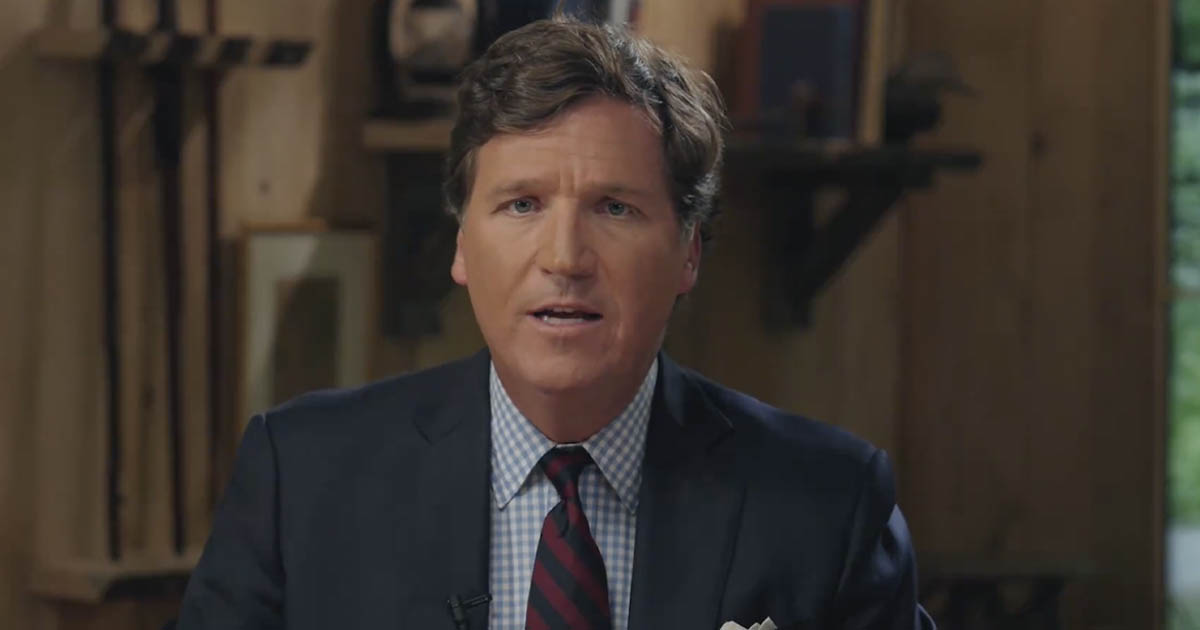 Former Fox News host and Daily Caller co-founder Tucker Carlson brought his show to Twitter for the first time Tuesday by posting a monologue about the Ukraine war and how the media is covering it.
Carlson spoke about the latest developments in the Russian war against Ukraine, beginning with a major dam explosion inside Russian-occupied territory Tuesday morning.
"This morning, it looks like somebody blew up the Kakhovka Dam in southern Ukraine. The rushing wall of water wiped out entire villages, destroyed a critical hydropower plant, and as of tonight, puts the largest nuclear reactor in Europe in danger of melting down. So, if this was intentional, it was not a military tactic — it was an act of terrorism," Carlson began.
The Ukrainian and Russian governments accused each other of intentionally destroying the dam as an act of sabotage, according to The Washington Post.
"Blowing up the dam may be bad for Ukraine, but it hurts Russia more. And for precisely that reason, the Ukrainian government has considered destroying it. In December, The Washington Post quoted a Ukrainian general saying his men had fired American-made rockets at the dam's floodgate, as a test strike," Carlson stated.
Carlson transitioned to discussing The Washington Post's story showing the U.S. knew about Ukrainian plans to attack the Nord Stream 2 gas pipeline months before it was destroyed. The Post's story was based on an intelligence leak on social media platform Discord.
"So, really, once the facts start coming in, it becomes much less of a mystery what might have happened to the dam. Any fair person would conclude that the Ukrainians probably blew it up — just as you would assume they blew up Nord Stream, the Russian natural gas pipeline, last fall. And in fact, the Ukrainians did do that, as we now know. It's not like Vladimir Putin is anxious to wage war on himself," he said.
Carlson proceeded to mock the corporate media's coverage of the Nordstream 2 explosion for immediately blaming Russia for the attack without considering whether Ukraine blew up the pipeline.
"Oh, but that's where you're wrong, Mr. and Mrs. Cable News Consumer. Vladimir Putin is exactly that sort of man — the sort of man who'd shoot himself to death in order to annoy you. We know this from the American media, which wasted no time this morning in accusing the Russians of sabotaging their own infrastructure," Carlson remarked.
"No one who's paid to cover these things seemed to entertain even the possibility it could have been the Ukrainians who did it. No chance of that. Ukraine, as you may have heard, is led by a man called Zelensky, and we can say for a dead certain fact that he was not involved. He couldn't have been. Zelensky is too decent for terrorism," Carlson added.
He followed up by ridiculing Republican South Carolina Sen. Lindsey Graham and Republican Presidential candidate Nikki Haley because of their unwavering support for Ukrainian President Volodymyr Zelenskyy and his country. Afterwards, he broadened his media criticism beyond the scope of the Ukraine war to other issues where narratives must never be questioned.
"But mostly they just ignore the stories that matter. What's happened to the hundreds of billions of US dollars we've sent to Ukraine? No clue. Who organized those BLM riots three years ago? No one's gotten to the bottom of that. What exactly happened on 9/11? Well, it's still classified. How did Jeffrey Epstein make all that money? How did he die? How about JFK? And so endlessly on. Not only are the media not interested in any of this, they're actively hostile to anybody who is. In journalism, curiosity is the gravest crime," Carlson said.
Carlson pointed to the intelligence officer who blew the whistle Monday on alleged UFOs possessed by the U.S. government as a recent example of the pressing stories the media ignores.
"So if you're wondering why our country seems so dysfunctional, this is a big part of the reason. Nobody knows what's happening. A small group of people control accesses to all relevant information. And the rest of us don't know. We're allowed to yap all we want about racism, but go ahead and talk about something that really matters and see what happens. If you keep it up, they'll make you be quiet. Trust us. That's how they maintain control," he continued.
Carlson concluded his monologue with a teaser about future Twitter broadcasts if the platform maintains its commitment to free speech under owner Elon Musk.
"That's how most of us now live here in the United States — manipulated by lies, silenced by taboos. It is unhealthy and is dehumanizing, and we're tired of it. As of today, we've come to Twitter, which we hope will be the shortwave radio under the blankets. We're told there are no gatekeepers here. If that turns out to be false, we'll leave. But in the meantime, we are grateful to be here. We'll be back with much more very soon."
Watch:
Ep. 1 pic.twitter.com/O7CdPjF830

— Tucker Carlson (@TuckerCarlson) June 6, 2023