The White House announced Tuesday an additional $3.9 billion in student loan forgiveness, this time for borrowers who attended defunct ITT Technical Institute.
The latest round brings Joe Biden's student loan forgiveness total to $32 billion since taking office – but progressive are still pushing for the president to cancel all existing federal student loans.
Borrowers are also still waiting to hear if federal loan pause will be extended for a fifth time as the latest deadline approaches.
At the start of September, students with outstanding federal loans will, for the first time since the start of the pandemic in March 2020, start having to repay. That is, unless Biden extends the pause.
There are only 15 days until the end of August, which is the latest student loan forbearance deadline.
While 208,000 ITT Tech borrowers saw their loans forgiven, the Education Department (DOE) claims it is looking to improve several other student loan forgiveness programs.
Education Secretary Miguel Cardona said: 'It is time for student borrowers to stop shouldering the burden from ITT's years of lies and false promises.'
'The evidence shows that for years, ITT's leaders intentionally misled students about the quality of their programs in order to profit off federal student loan programs, with no regard for the hardship this would cause,' he added.
In addition to 'targeted loan forgiveness' efforts the DoE 'is also working on new regulations that will permanently improve a variety of the existing student loan forgiveness programs, significantly reduce monthly payments, and provide greater protections for students and taxpayers against unaffordable debts,' according to a Department press release.
To date, 1.6 million borrowers have seen relief approved by the Biden administration under the targeted forgiveness model.
The $32 billion total in Biden's higher education loan relief includes $13 billion for 1 million borrowers from institutions the Department claims took advantage of the students, including in relation to deceptive practices and school closures.
Another $9.6 billion was forgiven under Biden's administration for 175,000 borrowers through the Public Service Loan Forgiveness Program and $9 billion for disability discharges for more than 425,000 individual borrowers.
The nearly $4 billion in relief announced on Tuesday discharges all remaining federal student loans for borrowers who attended ITT Tech from January 1, 2005 through its closure in September 2016.
Biden Whistleblower Exposes Secret Night Flights of Illegal Immigrant Children
In a recent interview, an anonymous whistleblower who works as a "travel youth care worker" for a federally funded contractor, shared that tens of thousands of unaccompanied migrant children are being bussed and flown throughout the US and being handed off to unvetted adult "sponsors."
The employee, who works for the government contracted company, MVM Inc., said that the company's main focus is getting unaccompanied minors from "Point A, shelters," to "Point B, sponsors," across the US.
However, due to the overwhelming number of border crossings, the employee shared that new hires for MVM Inc. are not being given proper background checks, "a lot of people" get hired, and "their background hasn't even come in yet."
He also explained that due to the mass amount of migrant children being escorted, employees are not properly vetting the adults they're handing these kids off to.
An email sent to employees of MVM Inc. highlighted multiple issues that were brought to the MVM site manager's attention, including "TSs (Travel Escorts) taking the liberty of accepting alternate documents without FFS approval."
The whistleblower goes on to explain that, "It's an email where they're pinpointing that, hey you guys are accepting stuff, IDs that were not approved. You guys are approving these people who are not on the list or were not approved."
"Sometimes there are people who are not even on any documents for the child, and it tends to happen where these sponsors will show up and they will say, 'oh, I'm here for the kid,' but it's really the sister or a neighbor, cause the sponsor didn't feel like going."
When asked why an adult would want to sponsor one of these children, he shared that the US Dept of Health and Human Services (HHS) provides migrant children with a form of documentation.
The employee shared that when he drops off a child, "The sponsor will say 'Hey, my sister was able to get her driver's license in LA. They were able to get her driver's license in New York City with this paper. Do you have it?" He further explains that the child sponsors can also use this paper as their own form of identification to acquire a driver license in sanctuary cities such as New York or Los Angeles.
This interview also gave insight into the number of unaccompanied minors illegally crossing into the US in the Texas region of the border.
The whistleblower explains that charter flights and buses are utilized to bring these children across the US. "When it's charter planes, we move anywhere between 200 to 300 kids on one plane," he explains, "It won't just be one plane, it'll be two, three planes at a time that leave."
The whistleblower explained the charter flights that bring these children across the US, start with a drop off in Texas before moving onto New York, California, and Washington, reaching a final destination in Oregon or a nearby state.
He goes on to share that in just his office alone employees will move up to 5,000 children per week. MVM Inc. has three other offices throughout Texas in El Paso, Houston and San Antonio. Between all four offices, the whistleblower speculates that around eight to 10,000 children are being moved per week, with estimates reaching up to 40,000 per month.
On top of children being given to improperly vetted adults, the whistleblower also shared that due to the lack of identification for these children, adults or alleged cartel members are often placed in the same shelter as them.
He goes on to detail how the kids will make statements such as, "that kid threatened me in there…he also mentioned he is not the age that he says that he is." He further explains that, "the kids talk amongst themselves and they know who to stay away from."
Lately, Democratic mayors such as Muriel Bowser of DC and Eric Adams of New York have been complaining about Republicans governors bussing thousands of migrants to their states. When asked if it was Republicans to blame for the uptick in illegal immigrants or companies like MVM Inc., the whistleblower shared, "It's us. We've been doing it since Biden came into the administration, a little bit before that. And it picked up way a lot when Biden came into office."
MVM previously signed a federal contract for $136 million back in 2021. When asked to confirm this, the employee responded with "correct," elaborating that things like flights or food are paid for, with the payment ranging from "$2,000 to $5,000 to pay for a trip of two coworkers, two transport workers, and two kids. But a lot of times groups are five kids, three coworkers, and it's multiple offices."
This federal contract was reported on by The Daily Beast in May of 2021, titled "Biden Showers Cash on Ex-CIA Contractor to Transfer Migrants."
The article reveals that MVM Inc. was awarded a $136 million contract by the Biden administration, "for the transport of migrant families and unaccompanied minors in government custody." MVM Inc. has also previously served as a contractor for the CIA and NSA in Iraq.
In response to a request for comment, MVM Inc. said, "Your proposed story leverages some serious allegations that are factually incorrect."
"First, MVM is not responsible for sponsor vetting – so this allegation is patently false," they said, pointing in the direction of the Office of Refugee Resettlement for questions. "Separately, background checks are required for employment with MVM."
Judge Who Signed Off on Trump Raid Sets Hearing Date on Unsealing Key Document
The federal magistrate judge who granted the FBI a warrant to conduct an unprecedented search of former President Donald Trump's Mar-a-Lago home has made another crucial decision.
Judge Bruce Reinhart, noted for making prior anti-Trump social media posts, set a Thursday court date to hear arguments regarding whether to release the search warrant affidavit that listed the specific reasons why the Justice Department sought to conduct the raid.
Reinhart "announced Tuesday he'd set an in-person hearing in West Palm Beach — at which the Justice Department is expected to argue against disclosure of the document," the New York Post reported.
Several news organizations as well as conservative government watchdog organization Judicial Watch are seeking the release of the warrant affidavit, as well as Trump's legal team.
In a late Monday statement, Trump said that "in the interest of TRANSPARENCY, I call for the immediate release of the completely Unredacted Affidavit pertaining to this horrible and shocking BREAK-IN."
Trump added: "Also, the Judge on this case should recuse!" — likely a reference to Reinhart's past financial donations to the presidential campaigns of Barack Obama in 2008 and onetime Trump rival Jeb Bush in 2015.
The DOJ, meanwhile, announced opposition to publicizing the affidavit but agreed to the release of documents that were less revealing.
The Post adds:
South Florida US Attorney Juan Gonzalez and Justice Department counterintelligence chief Jay Bratt said in a court filing that publishing the document would reveal cooperating witnesses and violate required grand jury secrecy.
"If disclosed, the affidavit would serve as a roadmap to the government's ongoing investigation, providing specific details about its direction and likely course, in a manner that is highly likely to compromise future investigative steps," they wrote in a court filing.
"The fact that this investigation implicates highly classified materials further underscores the need to protect the integrity of the investigation," they added.
Last week, Attorney General Merrick Garland said he personally approved the raid, with The Wall Street Journal reporting Tuesday that the AG anguished over the decision for "weeks" — a claim that appears to be at odds with previous reporting suggesting that the DOJ and FBI had to move quickly because of top-secret documents including, potentially, nuclear secrets, may have been in the open at Trump's estate.
Following the raid, the fallout from Republicans was swift.
Sen. Rand Paul of Kentucky, for instance, is calling for a repeal of The Espionage Act of 1917, a World War I-era law he says has been used variously over the past century to politically persecute opponents.
Paul's move to ditch the Espionage Act comes amid questions over whether documents in Trump's possession were actually classified; he has said he declassified everything shortly before leaving office, which is a long-standing presidential prerogative.
"The espionage act was abused from the beginning to jail dissenters of WWI. It is long past time to repeal this egregious affront to the 1st Amendment," Paul tweeted without mentioning the former president specifically.
The espionage act was abused from the beginning to jail dissenters of WWI. It is long past time to repeal this egregious affront to the 1st Amendment.

Repeal the Espionage Act – The Future of Freedom Foundation https://t.co/3KCgujpS9z

— Rand Paul (@RandPaul) August 13, 2022
Paul included a link to a piece published at the Future of Freedom Foundation that calls for repealing the law from 2019.
In it, Jacob G. Hornberger, the foundation's founder and president, makes the case that the statute is "tyrannical" and has been used in the past to punish government whistleblowers:
World War I is the gift that just keeps on giving. Although the U.S. government's intervention into this senseless, immoral, and destructive war occurred 100 years ago, the adverse effects of the war continue to besiege our nation. Among the most notable examples is the Espionage Act, a tyrannical law that was enacted two months after the U.S. entered the war and which, unfortunately, remained on the books after the war came to an end. In fact, it is that World War I relic that U.S. officials are now relying on to secure the criminal indictment of Julian Assange, the WikiLeaks head who released a mountain of evidence disclosing the inner workings and grave wrongdoing on the part of the U.S. national-security establishment, especially with respect to the manner in which it has waged it undeclared forever wars in the Middle East and Afghanistan.
Eric Trump Reveals His Family Has Footage of What Really Happened During FBI Raid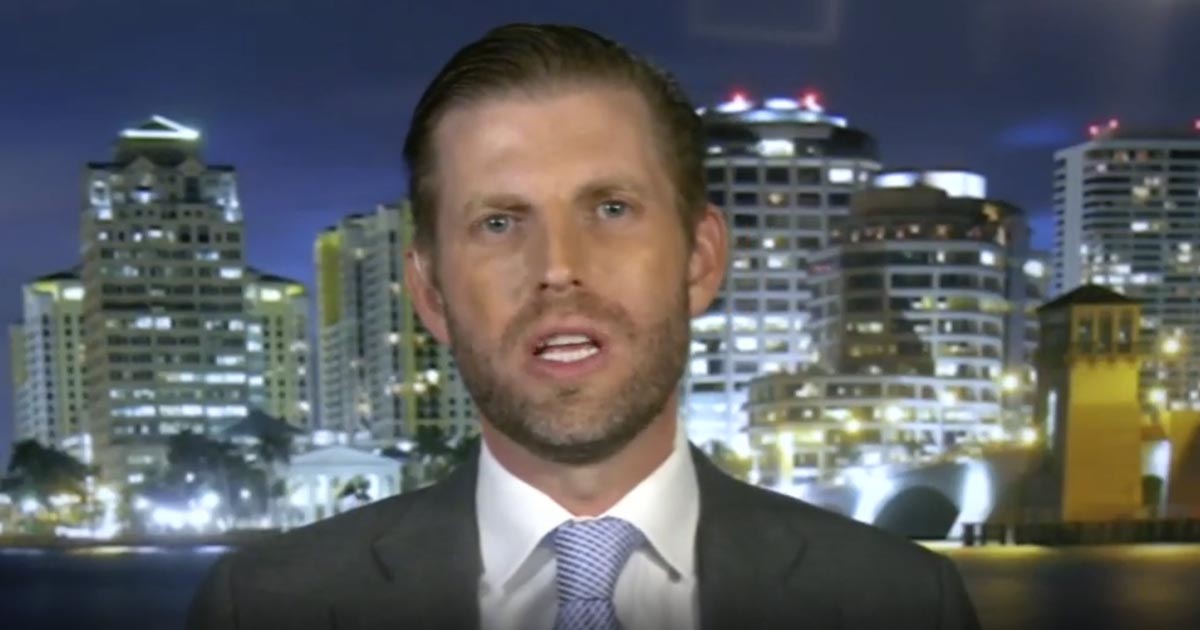 A once-somnolent America is now seething in the aftermath of the FBI raid at former President Donald Trump's home in South Florida's Mar-a-Lago Club, according to his son, Eric.
Since the raid last week, Justice Department officials have indicated it was necessary to recover classified documents that went with Trump to Florida after he left the White House. The former president has said the FBI raid was a form of persecution that invaded the privacy of his family members.
In an interview Monday night with Fox News host Sean Hannity, Trump's son Eric Trump touched on the surveillance tapes that exist documenting what the FBI agents did as they searched the Trump estate. Eric Trump had said that staff refused an FBI request to turn off the surveillance cameras.
The interview is below:
"Will you — you still have the surveillance tape, is that correct? Will you — are you allowed to share that with the country?" Hannity said, about the 4:30 mark in the video.
"Absolutely, Sean. At the right time," Eric Trump said.
"That's why cops wear body cams. They don't tell you to turn off cameras. They want transparency. And that's not what happened here."
"And you know for a fact they asked for the cameras to be turned off," Hannity said.
"They asked for the cameras to be turned off," Trump said.
Eric Trump said as a result of the raid, "my father's poll numbers have absolutely gone through the roof."
He said the night before on the show two individuals "were trying to buy [wife] Lara and I dinner to apologize for what the United States government has done to our family, Sean."
"I mean, you wouldn't believe the energy out there," he said. "I've been through all these firestorms over the years. I've never seen America more mad than it is right now.
"People are not buying the sham in the country," he said.
He also said he called the "weaponization" of the FBI has resulted in Americans calling their country a "police state," he said.
"They're targeting Donald Trump. They're targeting his family. They're targeting eveyone around him," Eric Trump said.
Eric Trump called the raid a "fishing expedition."
On Monday, the former president noted the anger sweeping America over the raid, according to Fox News.
"The country is in a very dangerous position. There is tremendous anger like I've never seen before, over all of the scams, and this new one — years of scams and witch hunts, and now this," Donald Trump said in a Fox interview.
"There has never been a time like this where law enforcement has been used to break into the house of a former president of the United States, and there is tremendous anger in the country — at a level that has never been seen before, other than during very perilous times," he said.
"People are so angry at what is taking place," Trump told Fox. "Whatever we can do to help — because the temperature has to be brought down in the country. If it isn't, terrible things are going to happen."