President Joe Biden leaves on Sunday for Europe, where he will spend time in three nations tending to alliances that have been tested by Russia's invasion of Ukraine.
After arriving at night in London, Biden will meet the next day with King Charles III for the first time since he was crowned. Next is the centerpiece of the trip, the NATO summit in Vilnius, Lithuania. Alliance leaders will debate the war and revise plans for dealing with Russian aggression.
The final stop is in Helsinki, where Biden on Thursday is expected to celebrate the expanding alliance, with Finland as the newest member of NATO.
His national security adviser, Jake Sullivan, said the trip would "showcase the president's leadership on the world stage."
A look at Biden's agenda and the issues he will face:
London
Biden arrives in London on Sunday night and is expected to have a full schedule of meetings Monday.
"There's always a lot to talk about with the U.K.," said Max Bergmann, a former State Department official who leads the Europe Program at the Center for Strategic and International Studies.
Biden will hold talks with Prime Minister Rishi Sunak at 10 Downing St. Sunak is facing an election by the end of next year. His Conservative Party is lagging badly behind the opposition in opinion polls.
Despite Sunak's shaky political standing, he has fostered close ties with Biden and it will be their sixth meeting since Sunak took office last October.
Bergmann said Sunak's tenure has been a nice change of pace after "there were some concerns about Boris Johnson," one of Sunak's predecessors, "being a loose cannon."
Biden will visit the king at Windsor Castle, a royal residence outside London. Biden did not attend Charles' coronation — first lady Jill Biden went in his place — so this will be their first encounter since then.
They're expected to discuss climate change, an issue that has been a focus for both leaders, and how to finance initiatives to address the problem.
Vilnius
Biden will spend two days in the capital of Lithuania, which is hosting the annual NATO summit. He will participate in meetings with leaders and deliver a speech from Vilnius University.
The alliance has been reinvigorated by the war in Ukraine, and members have been pouring military hardware into the country to help repel Russia's invasion.
Biden on Friday defended what he said was a "difficult decision" to provide cluster munitions to Ukraine, a move his administration said was key to the fight and buttressed by Ukraine's promise to use the controversial bombs carefully. Biden is likely to face questions from allies on why the U.S. would send a weapon into Ukraine that more than two-thirds of NATO members have banned because it has a track record for causing many civilian casualties.
For Secretary-General Jens Stoltenberg, the summit "will send a clear message: NATO stands united, and Russia's aggression will not pay."
But NATO has also struggled to bridge divides over important issues. Finland was welcomed into the alliance this year, but Sweden's membership has been held up by Turkey and Hungary.
There are also disagreements over how quickly to extend an invitation to Ukraine to join NATO.
Countries on NATO's eastern flank want to move quickly, viewing it as a way to deter Russian aggression. The U.S. and others advocate a more cautious approach.
One issue has already been settled, at least for the time being. Stoltenberg's term has been extended for a year because members could not agree on a new leader.
Sen. Thom Tillis, who will attend the summit, likened the alliance to a gathering of dozens of family members who bicker and clash but nonetheless remain united.
"At the end of the day, you know you're family," said Tillis, R-N.C.
Tillis is leading a bipartisan delegation along with Sen. Jeanne Shaheen, D-N.H., who said NATO is more powerful than before.
"It's the strongest military alliance in our history, and I think it only has gotten stronger as a result of U.S. leadership, as the result of Stoltenberg's leadership and as the result of the threat from Vladimir Putin to all of the NATO allies and other countries in Europe and around the world and to the international order," she said.
Helsinki
After two nights in Vilnius, Biden visits Helsinki. The stop is a bit of a victory lap, but could also be a reminder of unfinished business.
The Nordic country in April became the 31st member of NATO, ending its history of nonalignment and demonstrating how Russia's invasion of Ukraine has backfired in Europe.
Finland was supposed to join alongside its neighbor Sweden, whose admission has stalled because of Turkey and Hungary. NATO requires unanimous consent of all its members to expand.
Swedish Prime Minister Ulf Kristersson visited the White House on Wednesday and met with Biden to keep up the pressure for membership. But there is little hope that the issue will be resolved in Vilnius.
The White House is billing Biden's visit to Helsinki as a "U.S.-Nordic Leaders Summit."
It's a much different occasion from the last time a U.S. president visited Helsinki five years ago.
During that trip, Donald Trump held a news conference with Putin and brushed off concerns about Russian meddling in Trump's election victory.
Now Biden is heading to the city to demonstrate how his administration has held the line against Moscow and expanded Western defenses.

⬇️ Top Picks for You ⬇️
Venezuela Is Preparing to Invade Oil-Rich Neighbor Guyana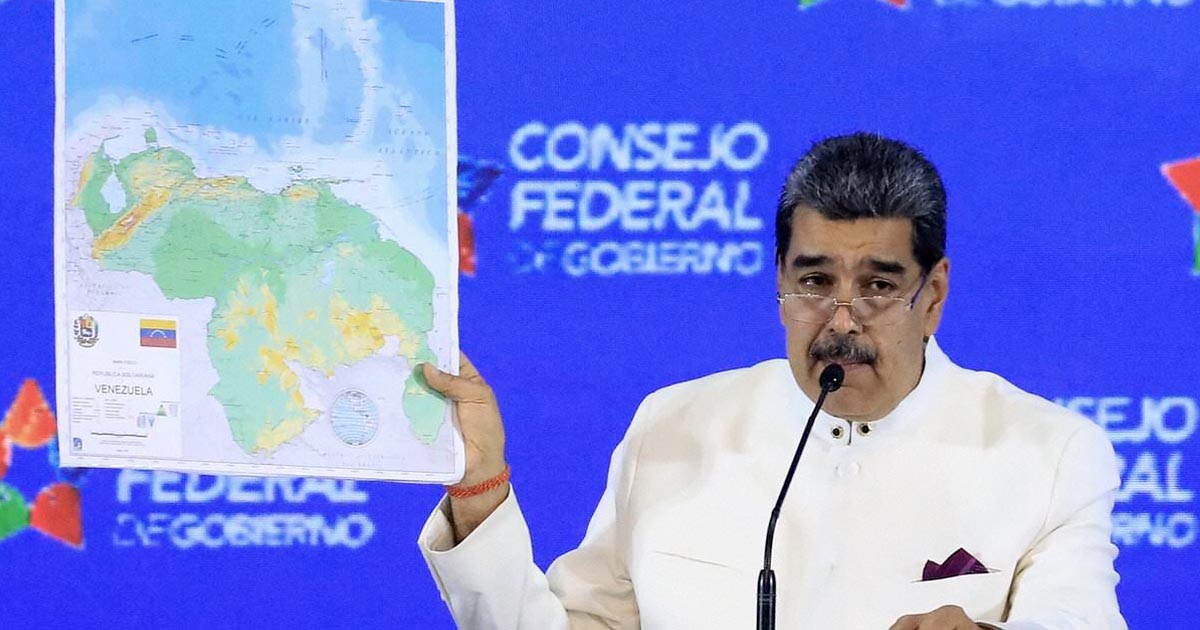 Venezuela's president on Tuesday published a new map of the region showing two thirds of neighboring Guyana 'reclaimed' by Caracas and ordered the state-owned energy companies to 'immediately' begin exploration in the area, as fears rose that Nicolas Maduro could start a war.
Venezuela has claimed Guyana's Esequiba region for over 100 years – ever since the border of the present-day country was drawn up, in 1899. But on Sunday, with his own popularity falling in the face of a newly-unified opposition, Maduro organized a 'referendum' on whether to pursue Venezuela's claim to the territory.
Voters were asked if they agreed with creating a Venezuelan state in the Esequiba region, providing its population with Venezuelan citizenship, and 'incorporating that state into the map of Venezuelan territory.'
The Maduro-controlled Venezuelan National Electoral Council said voters chose 'yes' more than 95 percent of the time on each of five questions on the ballot, and on Tuesday Maduro published his new map.
He has appointed a general, Alexis Rodríguez Cabello, as head of the region and on Tuesday dispatched him to the town of Tumeremo, a remote mining town in the jungle, 120 miles from the border.
Esequiba, about the size of Florida, is rich in minerals and accounts for two thirds of the territory of Guyana – an English speaking nation, which gained its independence from Britain in 1966. Guyana is the only English-speaking country in South America.
Venezuela protested an oil tender announced by Guyana in September, arguing that the offshore areas are subject to dispute and the companies awarded the fields will not have the rights to explore them.
Guyana has denounced Sunday's referendum as pretext to annex the land: in the days running up to it, the Venezuelan defense minister Vladimir Padrino Lopez, known for his ties to his counterparts in Russia and Iran, posted a video of Venezuela troops on parade, waving flags saying 'Guyana Esequiba', colored in the Venezuelan flag.
President Irfaan Ali called the move by Maduro 'reckless' and said his country plans to alert both regional and world leaders of Maduro's attempt to disrupt the peace in the hemisphere.
'It is unfortunate that President Maduro would choose the road of defying an international court order. This speaks volumes about the way in which President Maduro prefers to operate and also points to the fact that he's unconcerned about the peace and security of this region,' he told The Miami Herald.
'The order of the [U.N. court] made it very clear that Venezuela cannot act or take any action that would disrupt the status quo and the status quo is that Guyana exercises governance and control of Essequibo,' he said.
He added that he is seeking the support of the United Nations Security Council, the United States, the Caribbean Community, the Organization of American States and other countries to ensure Guyana's territory is 'not violated.'
'We once again call on Venezuela to retract from this reckless, adventurous move and to allow international law and the ruling of the [U.N. court] to guide our action,' Ali added.
El pueblo y su #FANB están movilizados, decididos e imperturbables a recuperar nuestra Guayana Esequiba, nos mueve el amor infinito a la patria y a cada milímetro del sagrado territorio venezolano, el cual defenderemos por todas las vías y por todos los medios que estén a nuestro… pic.twitter.com/B60slT8xSs

— Vladimir Padrino L. (@vladimirpadrino) November 29, 2023
Guyana has appealed to the International Court of Justice, the United Nations' top court, which on Friday ordered Venezuela not to take any action to change the status quo until the panel can rule on the two countries' competing claims. Any decision could take years.
Meanwhile, Guyana is nervously eyeing its giant neighbor to the north.
Venezuela's military, backed by Russia, Iran and Cuba, massively outnumbers tiny Guyana's: the Venezuelan military counts 123,000 active personnel versus only 3,400 for Guyana, according to an analysis in Brazil's Folha de Sao Paulo newspaper.
Guyana is also dwarfed by Venezuela in weaponry, with Venezuela having 514 armored vehicles compared to only six owned by Guyana.
Such an attack would draw a strong international response, with the lead likely played by Brazil, which borders both Venezuela and Guyana and whose military is significantly larger and more professional than either country's.
At the end of November, Brazil's defense ministry said it 'has intensified defensive actions' along its northern border.
'The Ministry of Defense has been monitoring the situation. Defensive actions have been intensified in the northern border region of the country, promoting a greater military presence,' it said in a statement.