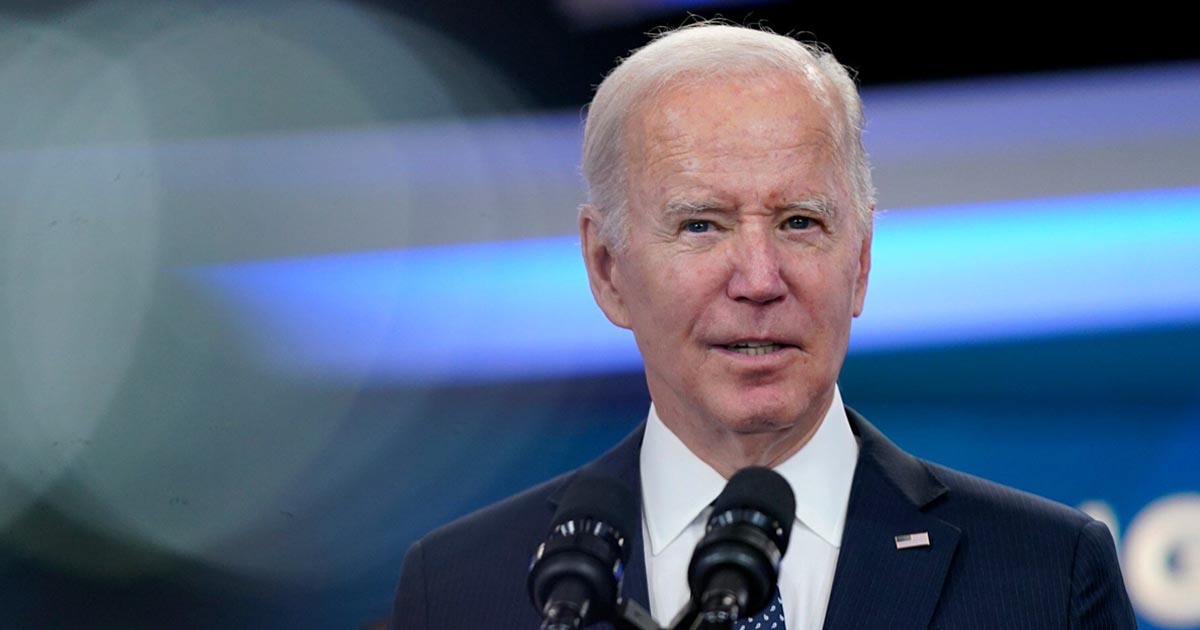 Biden Unveils New Restrictions on Air Conditioners Despite Backlash Over Gas Stove Restrictions
Energy Secretary Jennifer Granholm unveiled new climate and efficiency restrictions on air conditioners despite widespread criticism the Biden administration received after officials recently announced restrictions on gas stoves.
The new energy efficiency standards, which will apply to room air conditioners and portable air cleaners, will enter into effect next year. The Energy Department contended that the new rules will assist with "tackling the climate crisis," as well as save consumers $25 billion over the next three decades. Room air conditioners are more commonly called window air conditioners.
"Today's announcement builds on the historic actions President Biden took last year to strengthen outdated energy efficiency standards, which will help save on people's energy bills and reduce our nation's carbon footprint," Granholm said in a press release. She added that the Energy Department will "continue to engage with our public and private sector partners to finalize additional proposals like today's that lower household energy costs and deliver the safer, healthier communities that every American deserves."
The rules are the first federal standards for portable air cleaners. The Energy Department asserted that the regulations mark a consensus among "manufacturers, the manufacturing trade association, efficiency advocates, consumer advocacy groups, states, and utilities."
The policies come weeks after multiple senior officials in the Biden administration repeatedly backtracked on new energy efficiency standards for gas stoves amid mounting criticism. Controversy over the potential regulations emerged earlier this year when Consumer Product Safety Commission Commissioner Richard Trumka Jr. said in an interview that gas stoves are a "hidden hazard" and declared that "any option is on the table" for a nationwide ban. Consumer Product Safety Commission Chairman Alex Hoehn-Saric later posted a statement asserting that neither he nor the agency planned to outlaw gas stoves.
The Energy Department then unveiled forthcoming efficiency standards which would impact approximately "half of the total gas cooking top market." Proposed regulations would introduce a new "maximum integrated annual energy consumption" standard for gas stoves, marking a change from previous regulations that prohibited constant burning pilot lights in gas stoves, but placed no limits on energy consumption. Officials noted that "products achieving these standard levels are already commercially available for all product classes covered by this proposal" and cited "important and robust" climate benefits in documents justifying the new rules.
Some 38% of households in the United States use gas stoves for cooking, with the figure approaching 70% for states such as California and New Jersey, according to data from the Energy Information Administration. Those who use gas stoves often cite the easier temperature control offered by the appliances relative to electric alternatives.
Granholm defended the consideration of new efficiency standards for gas stoves during remarks this week before the House Appropriations Committee. "This does not impact the majority, and it certainly does not say that anybody who has a gas stove would have their gas stove taken away," she told lawmakers. "There's no ban on gas stoves. I have a gas stove. It is just about making the existing electric and gas stoves, and all the other appliances, more efficient."

⬇️ Top Picks for You ⬇️
Alan Dershowitz Analyzes Classified Documents Criminal Charge Against Trump
OPINION by Alan Dershowitz:
It seems likely that former President Donald Trump will allege that he declassified the documents that he took to Mar-a-Lago before he left office.
If that claim is presented to the courts, either by legal pleadings or testimony, it will raise several related issues. The first is a question of law, the second is an issue of evidence, and the third is one of procedure.
Let's begin with the law.
There could be little dispute that a president, while in office, has the power to declassify any previously classified documents or material. As the head of the executive branch, he has the last word on what remains classified or declassified. It is possible, though not beyond dispute, that Congress could constrain that power if it enacted clear legislation.
Some would argue that the Constitution precludes the legislative branch from limiting the power of the executive, but that is moot at the moment because Congress has not enacted statutes that specifically prevent the president from declassifying material.
Some think they should, as a matter of policy, formalize the declassification process so as to make it transparent. But absent such legislation, it seems clear that the authority to classify and declassify is an executive function, and the president is the executive. So if Mr. Trump did declassify documents that were then moved to Mar-a-Lago, mere possession of such documents would not be a crime.
The next question is, did Mr. Trump in fact declassify these documents? If he claims he did, it will be up to the government to challenge that assertion. It could do so in several ways. It could offer evidence designed to disprove Mr. Trump's claim. But proving a negative — in this case, that he did not declassify the documents — is always difficult.
Theoretically, there could be evidence that Mr. Trump told an associate that he was taking classified material with him, knowing it was still classified. It is extremely unlikely, however, that any such evidence exists.
The government could also claim that absent any evidence either way, it must be presumed that a document once classified remains classified. But that ignores the fact that a statement by Mr. Trump to the contrary, if given under oath, would be evidence. And if Mr. Trump decides not to testify, there may be no admissible evidence either way.
In addition, the government could argue that the circumstantial evidence, especially the failure to announce any declassification until the criminal investigation began, can be weighed against his allegation. This is a weak argument, especially if there is no requirement in the law that declassification be announced or recorded.
These factual disputes would have to be resolved by 12 jurors if the government were to present sufficient evidence to warrant its submission to a jury.
The third basic issue, and the one that could determine the outcome of any criminal case, is closely related to the second: Who has the burden of proof on the claim of declassification? That is an issue of legal procedure.
In the usual criminal prosecution, the government has the heavy burden of proving every element of the crime beyond a reasonable doubt. The status of the documents as classified is an element of crimes that prohibit the unauthorized possession of classified material. The government may claim that the question of whether documents once classified have been declassified is a matter of law to be decided by the judge. That is a weak argument under the Fifth and Sixth amendments and their history.
The bottom line is that if Mr. Trump or his lawyers allege — even without his testifying — that he declassified the documents, a criminal charge of unauthorized possession of classified documents would be difficult to prove. That doesn't mean that a prosecutor could not get a grand jury to indict this particular ham sandwich. It does mean that it's unlikely that a conviction against Mr. Trump would be sustainable.
The government is certainly aware of these difficulties, so it may be seeking to indict Mr. Trump on some process crime, such as obstruction of justice. But it will be difficult to establish that Mr. Trump crossed the line from vigorously and lawfully defending his conduct to engaging in criminal obstruction.
No citizen is required to cooperate in a Department of Justice criminal investigation, as President Biden and others have commendably done. Nor can he actively obstruct such an investigation by unlawful means. The government will have a hard time proving beyond a reasonable doubt that Mr. Trump willfully crossed this line.
Based on what we know, we believe that there is no legitimate basis for a criminal indictment of Mr. Trump based on the material that was found at Mar-a-Lago.