Three more pro-life activists were found guilty on Friday and immediately incarcerated for their role in an abortion clinic blockade that took place in Washington, DC, in October of 2020.
Pro-life activists Joan Andrews Bell, 74; Jonathan Darnel, 40; and Jean Marshall, 72, were found guilty of violating the Freedom of Access to Clinic Entrances (FACE) Act and conspiracy against rights for blocking access to the Washington Surgi-Clinic, a clinic infamous for late-term abortions. The guilty verdict comes after five other pro-life activists involved in the same blockade were found guilty on all charges in late August.
"This overreaching of power and authority by Biden's DOJ is egregious and must be stopped. Nonviolent pro-life actions should not be a federal crime, and peaceful people with a desire to save lives should not be jailed for over a decade. Some of these Rescuers could be facing death by incarceration. We must repeal the FACE Act now!" said Caroline Taylor Smith, executive director of PAAU (Progressive Anti-Abortion Uprising), a leftwing pro-life group.
🧵‼️🌹BREAKING NEWS: THREE MORE ANTI-ABORTION RESCUERS FOUND GUILTY IN FACE CASE IN WASHINGTON, DC, SEVERE PUNISHMENTS FOR PEACEFUL ACTS OF LOVE

— #RepealFACE Updates (@PAAURepealFACE) September 15, 2023
During the blockade some activists "simply kneeled and prayed…some passed out pro-life literature and counseled abortion-minded women, and others roped and chained themselves together inside the facility," attorneys for Lauren Handy, PAAU's director of activism and one of the five activists found guilty in August, previously said of the incident. The FACE Act prohibits "violent, threatening, damaging, and obstructive conduct intended to injure, intimidate, or interfere with the right to seek, obtain, or provide reproductive health services."
The three activists, along with Handy, Heather Idoni, William Goodman, Herb Geraghty, and John Hinshaw could face a potential "maximum sentence of 11 years in prison, three years of supervised release, and a fine of up to $350,000," according to the Department of Justice (DOJ).
Another activist, 32-year-old Jay Smith, previously accepted a plea deal and was sentenced to ten months in prison, and activist Paulette Harlow, 73, is awaiting trial on similar charges, according to the Department of Justice.
The DOJ indicted the activists for the 2020 blockade just five days after Handy and PAAU's founder and former executive director Terrisa Bukovinac allegedly discovered the remains of approximately 115 aborted babies in a waste box from the Washington Surgi-Clinic on March 25, 2022, five of whom they say may have been partially aborted or killed after birth in violation of federal law.
The Metropolitan Police Department of the District of Columbia told Breitbart News this month that it is investigating the discovery of the babies but not the clinic's abortionist, Dr. Cesare Santangelo.
Attorneys representing Handy with the Thomas Moore Society previously said that Santangelo's Washington Surgi-Center "has long been the subject of controversy and suspicion, with reason to believe that the late-term abortionist was leaving born-alive infants without care. This is integral to understanding Lauren's motive that day in October 2020."
"In 2013, Lauren viewed an undercover video published by Live Action, exposing Santangelo. That video left a lasting impact on her and ignited her passion for pro-life advocacy," according to her attorneys. "She quit college, moved across the country, and dedicated her life's work to advocating against abortion. Lauren could never forget the grim reality she had seen and heard on that undercover video, and the horrible live-birth abortions—i.e., the refusal of care after the child survives an abortion—she reasonably believes occur inside Santangelo's abortion facility."
Her attorneys are referring to Live Action's undercover video of Santangelo, in which he was allegedly recorded saying he would not assist a baby that is born alive in a botched abortion.
"We would do things – we would – we would not help it," he told an undercover investigator in 2013:
Let's say. We wouldn't – we wouldn't uh, intubate, let's say. Ok? Yeah, we wouldn't do any extra – you know? … It would be, you know, uh – a person that would be – a terminal person in the hospital, let's say – that had cancer. You know? You wouldn't do any extra procedures to help that person survive.
WATCH: Undercover in Late-Term Abortion Industry
U.S. District Court Judge Colleen Kollar-Kotelly, who presided over both trials, did not allow the Live Action video or photo evidence of the 115 aborted babies to be used as evidence. She also prohibited defendants from arguing their actions were protected by the First Amendment or were committed in defense of a third person, unborn children.
On Monday, the three pro-life activists had "expressed faith and firmness of resolve while awaiting their verdict," according to Life Site News.
"I just want to say thank you for being here," Bell said. "Thank you for all of you who are praying for the little babies and for our case."
The Biden DOJ is unjustly targeting 74-year-old Joan Bell for peacefully protecting preborn babies from being brutally killed in the womb. Despite her non-violent actions, they are trying to put her in prison for up to 11 years.

Joan is known as the "matriarch of pro-life… pic.twitter.com/5myn3GUM8X

— Live Action (@LiveAction) September 15, 2023
Marshall asked pro-life activists to "unite with them," even if they are unsupportive of the rescue movement. Darnel urged supporters to realize the importance of the rescue movement and added that going to jail is not "the end of your life or the end of your effectiveness."
"It's just jail, a normative part of following God in a nation that hates Him," he said.
Buffalo, N.Y.: The local office for pregnancy resource center CompassCare was firebombed & destroyed in an attack on June 7. "Jane was here" was written, referencing #antifa terrorist group Jane's Revenge. The group's manifesto promises more attacks. https://t.co/yRgIy9NwPZ pic.twitter.com/4iilspFBdA

— Andy Ngô 🏳️‍🌈 (@MrAndyNgo) June 7, 2022
Since the Supreme Court's Dobbs decision, the DOJ has notably charged more pro-life activists under the FACE Act than pro-abortion activists, despite the fact that FBI director Christopher Wray admitted last November that approximately 70 percent of abortion-related threats of violence in the United States since the Dobbs decision have been against pro-life groups.
Associate Attorney General Vanita Gupta also admitted in December in remarks at the Justice Department's Civil Rights Division's 65th Anniversary that the end of Roe v.Wade dialed up "the urgency" of the DOJ's work, including the "enforcement of the FACE Act, to ensure continued lawful access to reproductive services."

⬇️ Top Picks for You ⬇️
McCarthy to Work with Dems to Pass 45-Day Funding, Avoiding Govt Shutdown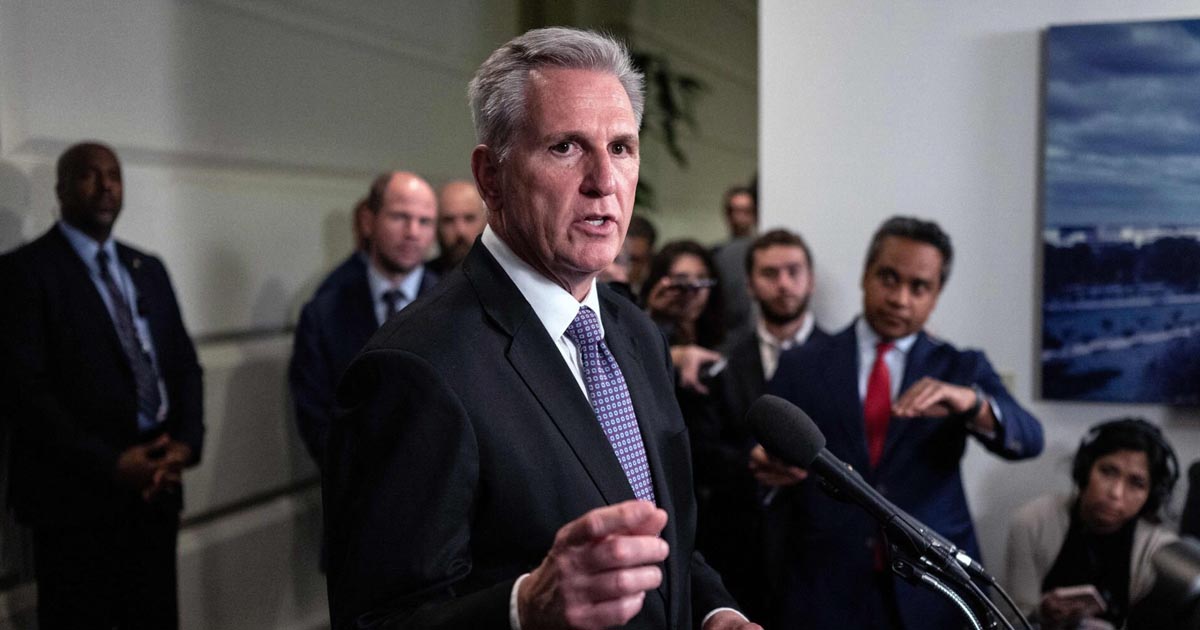 On the brink of a federal government shutdown, Speaker Kevin McCarthy announced a dramatic pivot Saturday, trying to push a 45-day funding bill through the House with Democratic help — a move that could keep government open but most certainly risks his job.
Republican lawmakers met behind closed doors early in the morning with hours to go before the midnight deadline needed to fund government operations or face a disruptive federal closure.
The new approach would leave behind aid to Ukraine, a White House priority opposed by a growing number of GOP lawmakers, but the plan would increase federal disaster assistance by $16 billion, meeting President Joe Biden's full request.
The House was preparing for a quick vote Saturday on the plan, but Democrats hit the brakes, seeking time so they could read the 71-page bill. Across the Capitol, the Senate was opening a rare weekend session and hoping to advance its own stopgap plan, but with money for Ukraine.
"We're going to do our job," McCarthy said after the morning meeting. "We're going to be adults in the room. And we're going to keep government open."
With no deal in place before Sunday, federal workers will face furloughs, more than 2 million active-duty and reserve military troops will work without pay and programs and services that Americans rely on from coast to coast will begin to face shutdown disruptions.
The sudden House action would fund government at current 2023 levels for 45 days, through Nov. 17. It would move closer to the bipartisan approach underway in the Senate, which also would fund the government through that period, while adding $6 billion for Ukraine to fight the war against Russia and $6 billion for U.S. disaster relief.
"A bipartisan, a bicameral solution is the only way forward," said Rep. Rosa DeLauro, the top Democrat on the House Appropriations Committee. She and other Democrats decried cutting Ukraine aid.
McCarthy, R-Calif., will be forced to rely on Democrats for passage because the speaker's hard-right flank has said it will oppose any short-term measure. McCarthy was setting up a process for voting that will require a two-thirds supermajority, about 290 votes in the 435-member House for passage. Republicans hold a 221-212 majority, with two vacancies.
Relying on Democratic votes and leaving his right-flank behind is something that the hard-right lawmakers have warned will risk McCarthy's job as speaker. They are almost certain to quickly file a motion to try to remove McCarthy from that office, though it is not at all certain there would be enough votes to topple the speaker.
"If somebody wants to remove me because I want to be the adult in the room, go ahead and try," McCarthy said of the threat to oust him. "But I think this country is too important."
The quick pivot comes after the collapse Friday of McCarthy's earlier plan to pass a Republican-only bill with steep spending cuts up to 30% to most government agencies that the White House and Democrats rejected as too extreme.
"Our options are slipping away every minute," said one senior Republican, Rep. Mario Diaz-Balart of Florida.
Meanwhile, the Senate was marching ahead on its package with support from both Democrats and Republicans.
"Congress has only one option to avoid a shutdown — bipartisanship," said Senate Majority Leader Chuck Schumer, D-N.Y.
Senate Republican leader Mitch McConnell of Kentucky echoed the sentiment, warning his own hard-right colleagues there is nothing to gain by shutting down the federal government.
"It heaps unnecessary hardships on the American people, as well as the brave men and women who keep us safe," McConnell said.
The federal government is heading straight into a shutdown that poses grave uncertainty for federal workers in states all across America and the people who depend on them — from troops to border control agents to office workers, scientists and others.
Families that rely on Head Start for children, food benefits and countless other programs large and small are confronting potential interruptions or outright closures. At the airports, Transportation Security Administration officers and air traffic controllers are expected to work without pay, but travelers could face delays in updating their U.S. passports or other travel documents.
An earlier McCarthy plan to keep the government open collapsed Friday due to opposition from a faction of 21 hard-right holdouts despite steep spending cuts of nearly 30% to many agencies and severe border security provisions.
The White House has brushed aside McCarthy's overtures to meet with Biden after the speaker walked away from the debt deal they brokered earlier this year that set budget levels.
Catering to his hard-right flank, McCarthy had returned to the spending limits the conservatives demanded back in January as part of the deal-making to help him become the House speaker.
After Friday's vote, McCarthy's chief Republican critic, Rep. Matt Gaetz of Florida, said the speaker's bill "went down in flames as I've told you all week it would."