A 14-year-old who spent most of his life blind can now see after an enterprising Miami doctor had the world's first topical gene therapy reformulated as eye drops.
The medication was recently approved as a topical gel to be rubbed onto skin lesions caused by a sporadic disease that leaves behind severe wounds and scar tissue, sometimes resulting in the fusing together of fingers and toes.
The disease, which can also cause scar tissue buildup on eyeballs, belongs to a larger group of rare disorders called epidermolysis bullosa (EB) affecting about one in every 50,000 children.
The patient is Antonio Vento Carvajal who was born with dystrophic epidermolysis bullosa causing flaws in the gene responsible for producing collagen 7, a protein that holds layers of the skin together. Scarring on his corneas had accumulated over time, causing his vision to deteriorate so much that he did not feel safe walking around.
Mr Carvajal participated in a clinical trial testing the topical gel for EB-related skin lesions with much success. His doctor Alfonso Sabater, encouraged by Antonio's progress, posited that the gel which used a deactivated herpes virus to deliver working copies of a collagen-producing gene could be reconfigured as eye drops – and he was right.
The patient's eyes recovered from the latest round of surgery and, with the help of the drops, his vision has been restored to near perfection.
Dystrophic epidermolysis bullosa (DEB) is one of the major forms of epidermolysis bullosa that hampers the production of collagen encoded in the COL7A1 gene. Roughly 3,000 people in the world have it.
Collagen makes up the skin's anchoring fibrils, or special structures in the skin and other tissues that act like strong glue to hold the outer layer of the skin – the epidermis – together with the layer beneath called the dermis.
Without a fully functioning COL7A1 gene, the connection between both layers of the skin becomes weaker, making them exceedingly fragile to the point where the slightest bit of friction can lead to blisters and open sores vulnerable to infection.
Those same anchoring fibrils in the skin also reside in the cornea, the transparent part of the eyeball. People with DEB who have a faulty collagen-producing gene also lack that crucial connective tissue between layers of the cornea, making painful abrasions and a build-up of scar tissue more likely.
Mr Carvajal, who came with his family from Cuba in 2012 on a special visa to receive treatment for the rare disorder, was enrolled in a clinical trial for the therapy known as Vyjuvek, which uses an inactivated version of a herpes-simplex virus to deliver working copies of that gene to the patient's body.
They used an inactive herpes-simplex virus type 1 (HSV-1) as the viral vector – a genetically modified virus that is used to deliver therapeutic genes to the patient's cells – because it has more space on its genome compared to other vectors to ferry large DNA sequences.
HSV is also highly efficient at entering cells and delivering its genetic material.
Surgeries attempting to remove the build-up of scar tissue on the teen's eyes and restore his vision at least partially had proven unsuccessful, with the tissue growing back every time.
But Mr Carvajal's doctor Alfonso Sabater of the University of Miami Health System's Bascom Palmer Eye Institute, impressed with the therapy's ability to heal his patient's skin, approached the medicine's manufacturer Krystal Biotech about reconfiguring it in such as way as to be dispensed safely into the patient's eyes.
Dr Sabater told Ophthalmology Times in May: 'We presented this case, and they were very interested in our patient and helped us develop the formulation for ocular treatment. So we approached the FDA, and in a few months, we were able to get approval for compassionate use of this medication on our patient.'
Suma Krishnan, president of R&D at Krystal for his part said: 'It didn't hurt to try it.'
Dr Sabater's dogged attempts to find a treatment for his patient's eyes culminated in the drops that have proven so successful as of late.
Mr Carvajal underwent surgery on his right eye last summer, after which Dr Sabater began treating him with the drops, which use the same liquid as the skin version just without the added gel. The scar tissue has not grown back. Today, his vision in his right eye is nearly perfect at 20/25.
Dr Sabater recently began treating Mr Carvajal's left eye, which had even more scar tissue than the right. The health of that eye is steadily improving, with vision power measuring close to 20/50.
The patient goes to see Dr Sabater for his monthly eye drops, all the while wearing long sleeves and pants to cover his vulnerable skin from assault. The slightest touch could wound him.
He still uses the topical gel for his skin sores, which was approved by the Food and Drug Administration in May.
After spending much of his young life legally blind, Antonio can now enjoy typical teen pasttimes such as playing videos with his friends. He is also more confident walking around in the world than before.
But just because people can technically access the medication to treat their EB, it does not mean they will necessarily be able to. Like most gene therapies, Vyjuvek is prohibitively expensive if you're not lucky enough to participate in a clinical trial with an annual cost of about $631,000 per patient. Insurance may not cover all or even part of that cost.
Price tag aside, the development of a gene therapy that addresses the root cause of a disease rather than just the symptoms by delivering a functional copy of the defective gene or modifying the patient's own genes is exciting, according to doctors.
And because gene therapies can be tailored to fit a particular patient's physiology, the overall chances of success are greater while those of severe adverse effects are markedly lower.

⬇️ Top Picks for You ⬇️
"Allahu Akbar": Paris Attack Near Eiffel Tower Leaves One Dead and Two Injured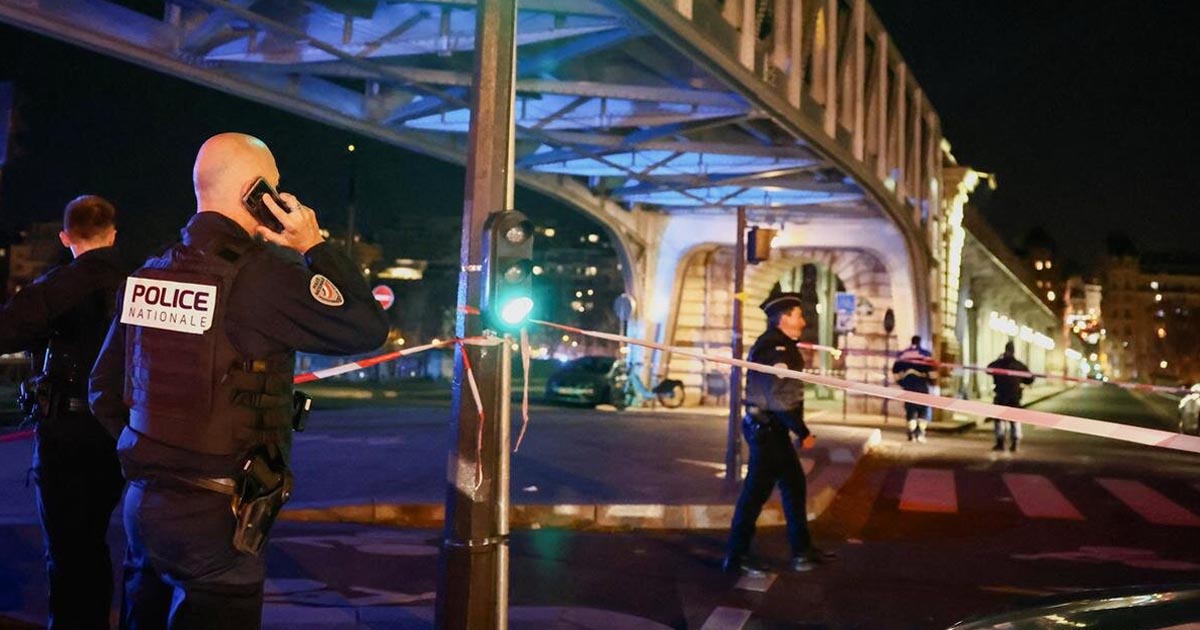 A tourist has been stabbed to death while a British man is reportedly among two others badly injured after a knifeman screaming 'Allahu Akbar' launched a frenzied attack in central Paris last night.
Witnesses reported hearing people screaming for 'help' as they ran away from the hammer and knife-wielding man.
One victim, a tourist with dual German and Filipino nationality, was slashed in the back and shoulder by the attacker last night. The man, who had not been named, was found in cardiorespiratory arrest before he passed away.
The second victim of the attack was British, and was out walking with his wife when Armand R. attacked him from behind.
'The family were on the Avenue President Kennedy when they were set upon,' said an investigating source, who added: 'A hammer was used to hit the man over the head.'
The Englishman was rushed to hospital, where his condition was later described as 'stable'. A third victim was also badly hurt in a hammer attack, said the source.
Sources said the arrested man was 'immobilised with an electric stun gun' as he ran up the Avenue du Parc de Passy – as French prime minister Elisabeth Borne vowed: 'We will not give in to terrorism. Never.'
The bloodbath happened on the Grenelle quay, close to the Eiffel Tower in the 15th arrondissement of the French capital.
Joseph S., 37 years old, a supermarket manager who asked not to give his last name, was sat in a bar when he heard screams and people shouting 'help, help' as they ran.
A man wielding an object attacked a man who had fallen down, and within 10 minutes the police arrived, he told AFP.
The Paris prosecutor's office said the attacker is French and was born in 1997, and has been arrested in an investigation into murder and attempted murder. The anti-terrorism prosecutor's office has been put in charge of an investigation.
The suspect had already been sentenced to four years in prison in 2016 for planning another attack, French Interior Minister Gerald Darmanin revealed.
'A man attacked a couple who were foreign tourists. A German tourist who was born in the Philippines died from the stabbing,' he said.
A taxi driver who witnessed the scene intervened, Darmanin said. The attacker then crossed the Seine attacking others and injuring one with a hammer, while police chased in pursuit.
'He had threatened them very violently… he will now have to answer for his actions before justice,' Darmanin said.
The attacker was reportedly known to police for 'radical Islamism'. He was on an 'S-File' which means he should have been under surveillance, after telling people that he wanted to die as a martyr.
A police source said that the attacker was known for psychiatric disorders and had said he could not stand Muslims being killed in the world. It's understood he was upset about the situation in Gaza between Israel and Hamas.
In 2016, he was arrested by the French national security agency before carrying out an attack.
Interior Minister Gerald Darmanin confirmed last night that one person died and another was injured. The minister wrote on X: 'The police have just courageously arrested an assailant attacking passersby in Paris, around the Quai de Grenelle.
'One deceased person and one injured person treated by the Paris fire brigade. Please avoid the area.'
French President Emmanuel Macron on Saturday said he was sending his condolences to the family of a German killed in a 'terror attack' in Paris.
The suspected attacker was 'quickly' arrested and justice should now be done 'in the name of the French people', he wrote on X.
Transport Minister Clement Beaune said that Paris was 'in mourning'. He wrote on X: 'Thoughts and solidarity with the families and loved ones of the victims. Thank you to our security and emergency forces for their rapid and decisive intervention.'
The attacker was arrested soon afterwards, and is currently in custody and facing a possible murder charge.
Officers said there was no early indication as to the motive of the stabbing, but it follows a series of bomb, gun and knife attacks carried out by Islamic State and al-Qaeda operatives in France, dating back to early 2015 – many of whom have shouted 'Allahu Akbar' while carrying out their crimes.
The deadliest single terrorist attack ever in the country came in November 2015 when 130 people were killed in Paris.
Suicide bombers pledging allegiance to ISIS targeted the Stade de France, cafes, restaurants and the Bataclan music venue, where 90 died.
Earlier in the year, two Paris-born gunmen linked to Al-Qaeda broke into the offices of the Charlie Hebdo satirical magazine, leaving 17 people dead inside and three outside.
In July 2016, 86 people were called and more than 400 injured when a 19 tonne truck was deliberately driven into crowds on the seafront promenade at Nice, which is just 20 miles from Cannes.
The terrorist turned out to be a Tunisian immigrant who was shot dead by police.
During the same month, two Isis terrorists murdered an 86-year-old Catholic priest during a church service in Normandy.
And in October 2020, three people were stabbed to death by a Tunisian immigrant in the Notre Dame basilica in Nice.
There have also been frequent knife attacks on the forces of law and order, leading to the deaths of serving police.
Saturday night's incident in central Paris occurred less than eight months before the French capital hosts the Olympic Games and could raise questions about security at the global sporting event.
Paris plans an unprecedented opening ceremony on the Seine river that may draw as many as 600,000 spectators.