A well-known Black Lives Matter activist allegedly ruined a fellow University of Virginia student's reputation, accusing her of referring to George Floyd protesters as "speed bumps" and threatening to run them over — only to later admit she may have "misheard" the offending comments, according to a report.
UVA student Zyahna Bryant, then 19, was already a high-profile activist when she encountered fellow student Morgan Bettinger at the July 2020 protest.
What happened next sparked a social media hate campaign in which Bettinger was denounced as a "Nazi;" school investigations; and a bid by Bryant to have Bettinger expelled, according to the outlet Reason Magazine.
Bettinger, the daughter of a police officer, pulled up near a local George Floyd demonstration and found the street blocked by protesters.
A truck driver had parked his vehicle to protect the demonstrators, prompting Bettinger to at one point tell him, "It's a good thing that you are here, because otherwise, these people would have been speed bumps," Reason magazine reported.
"I had no interest in walking over to him to speak to him," she told authorities, according to Reason, "but out of being polite, when he spoke to me I answered."
The "speed bumps" remark was said in gratitude, Bettinger noted, to thank the driver for guarding the demonstrators, who had taken over a busy street.
The driver later corroborated Bettinger's remark to local cops.
"Not once did anything from the past, of even the rally, Unite the Right rally, cross my mind," she said.
"It was simply a comment made to a [dump] truck driver who was sitting and blocking the road, and just saying, like, 'It's good you're here.'"
Bryant took it quite differently, according to the outlet.
Bettinger, she claimed, was threatening demonstrators, and got in her car and cried after she was confronted.
The incident drew attention after Bryant, a student and social justice activist, took to Twitter.
Her version of what happened was retweeted more than 1,000 times.
"The woman in this truck approached protesters in #Charlottesville, and told us that we would make 'good speed bumps,'" Bryant wrote.
"She then called the police and started crying saying we were attacking her."
Bryant also posted videos — not of the alleged "speed bump" comment itself, but of its aftermath.
In the footage, Bettinger backs down the street in her car while Bryant and several other protesters follow.
"It's a Karen, it's a Karen," Bryant taunted, according to Reason.
The story was picked up by local media and spread like wildfire.
Bettinger was identified online the next morning and was barraged with insults and accusations from UVA students.
One student tweeted that Bettinger was a "f–king Nazi."
The next day, Bryant began demanding that school administrators expel Bettinger.
"EMAIL these UVA deans now to demand that Morgan face consequences for her actions and that UVA stop graduating racists," she tweeted.
Bryant herself filed a complaint with the University Judiciary Committee, a student-run disciplinary system, alleging Bettinger had threatened students' health and safety.
Bettinger was the subject of multiple investigations in the months that followed, Reason reported.
"I was completely consumed. My phone did not stop blowing up," Bettinger told the magazine.
"I didn't sleep for nights."
A student disciplinary hearing concluded that Bettinger was guilty of making a legal threat against the protesters.
But a second probe found Bryant probably didn't even hear firsthand what Bettinger uttered, and considered her evidence shaky, according to Reason.
Bettinger eventually graduated from UVA but with a permanent mark on her record, Reason reported.
No witnesses corroborated Bryant's claim that Bettinger derided protesters as "good f–king speed bumps" — even though it happened in front of more than 30 people, according to the outlet, which also reviewed documents previously not made public in the case.
Bryant was a celebrated activist at UVA.
She got national attention after writing a 2016 petition demanding that Charlottesville take down its statue of Robert E. Lee.
By summer 2020, she was on Teen Vogue's "21 under 21" list, had spoken alongside Bernie Sanders, and had been profiled in such outlets as The New Yorker and The New York Times.
Since the UVA incident, Bryant's profile has only grown. She was the subject of a positive Washington Post profile in 2021 and was named to Ebony magazine's "Power 100" list.
Bettinger said that even though she was ultimately vindicated, the damage has already been done.
She's planning a lawsuit against the school, Reason reported.
"This whole situation has had a huge impact on my life," Bettinger says.
"The university has never had to answer for what their actions have done."

⬇️ Top Picks for You ⬇️
Republicans Launch Contempt Process Against FBI Director After Viewing Biden 'Bribery' Document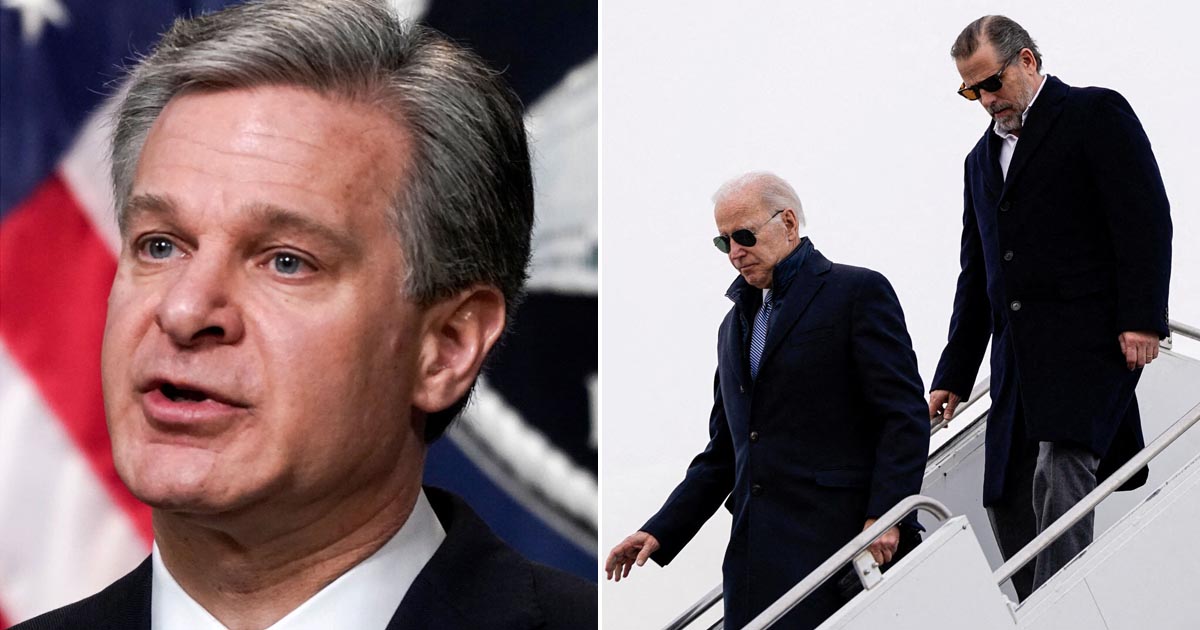 House Republicans are officially starting contempt of Congress charges against FBI Director Chris Wray for failing to turn over Biden 'bribery' document they claim shows then-Vice President Joe Biden was involved in a $5 million 'criminal' scheme with a foreign national.
The escalation comes after the Republican and Democratic leaders of the House Oversight Committee were granted access by the FBI Monday to view the FD-1023 form in a secure facility within the Capitol. The document apparently details an 'arrangement' for an exchange of money for policy decisions.
The Republicans issued a subpoena for the FD-1023 form last month and FBI Director Chris Wray was given a hard deadline of May 30 to hand over the unclassified document, which he did not comply with.
After reviewing the document Monday, Comer told reporters the accusations contained in the form 'suggests a pattern of bribery' consistent with findings the committee has put out publicly.
It's called 'money laundering,' he said, saying it fits within the pattern of over $1 million in Romanian-linked payments to the Biden family revealed last month.
In early May, Republicans released a report digging in on over $10 million received by Biden family members from foreign actors, including previously undisclosed $1 million in Romanian-linked payments, and a 'web' of 20 companies created while President Joe Biden was vice president and pushing anti-corruption efforts abroad.
He also said the FBI record was 'not disproven' and is currently being used in an ongoing investigation that is being conducted by the Department of Justice in Delaware into Hunter Biden's finances.
The 'confidential human source' is a 'trusted, highly credible informant' who has been used by the FBI for over 10 years and has been paid over six figures, continued Comer.
The chairman added that contempt proceedings will begin this Thursday.
'At the briefing, the FBI again refused to hand over the unclassified record to the custody of the House Oversight Committee, and we will now initiate contempt of Congress hearings this Thursday.'
Last week, Comer and Sen. Chuck Grassley, R-Iowa, spoke with Wray by phone and the FBI director offered to let them and Ranking Member Rep. Jamie Raskin, D-Md., view the documents at the FBI headquarters in an attempt to stave off the contempt threat.
'During today's call, Director Wray offered to provide the Committee's Chairman and Ranking Member an opportunity to review information responsive to the subpoena in a secure manner to accommodate the committee, while protecting the confidentiality and safety of sources and important investigative sensitivities,' said the FBI in a statement.
'The FBI has continually demonstrated its commitment to working with the Committee to accommodate its request, from scheduling briefings and calls to now allowing the Chair to review information in person. The FBI remains committed to cooperating with the Committee in good faith.'
Comer also informed Wray that he was also narrowing the breadth of the subpoena for the document by providing two additional terms that may be referenced in the record: 'June 30, 2020' and 'five million.'
Raskin blasted the Republicans' handling of the document in a reporter gaggle following Monday's briefing, calling it 'second-hand hearsay.'
He said former U.S. Attorney Scott Brady for the Western District of Pennsylvania and then-Attorney General Bill Barr did not find any reason to escalate the investigation into all 'allegations related to Ukraine' based on the FD-1023 form.
'I am just surprised that my colleagues want to try to litigate this in public, much less hold the Director of the Federal Bureau of Investigation in contempt for complying with the request when there was a whole process that was undertaken, and that process came to its natural end as I understand it,' Raskin said.
He would not directly confirm that the foreign national alleged in the memo being sought by Republicans is from Ukraine.
Raskin did agree with his Republican colleagues that the whistleblower is considered 'credible.'
The White House has also pushed back, calling the Republican-led investigation 'unfounded' and 'politically motivated.'