Prosecutors played 15 seconds of police bodycam footage reportedly showing David DePape's alleged attack on Democratic House Speaker Nancy Pelosi's husband, Paul Pelosi.
Attorneys released the footage Wednesday during DePape's appearance in court. The clip showed the moment when police arrived in response to an intrusion at Pelosi's San Francisco residence, KRON4 reported. The footage allegedly showed DePape attacking Pelosi with a hammer as police arrived on the scene, as well as the moment DePape was charged and arrested.
Reporters present in court while the clip played could only hear the video, because the screen faced toward the judge, according to KRON4.
"Good morning, what's going on man?" an officer said to DePape upon entry, according to KRON4.
"Everything's good," DePape allegedly replied in the footage.
"Drop the hammer!" the officer demanded.
"Uh nope," he said.
There was an audible struggle as DePape allegedly struck Pelosi with a hammer, KRON4 continued. One officer ran at DePape and brought him to the ground, according to the outlet, where the suspect allegedly lay unconscious in a pool of blood.
I'm waiting to be allowed inside the courtroom for David DePape's preliminary hearing. San Francisco deputies constructed this barricade blocking news reporters from barging in too early. Prosecutors just went in. @kron4news pic.twitter.com/axFQ9py7LS

— Amy Larson (@AmyLarson25) December 14, 2022
Deputy Public Defender Adam Lipson reportedly asked San Francisco Police Department officer Kyle Cagney if Pelosi appeared to be injured when the police arrived at his residence. Cagney said Pelosi appeared to be unharmed, according to KRON4.
San Francisco Police Department Lt. Carla Hurley previously conducted an hour-long interview with Pelosi at San Francisco General Hospital on Oct. 30. She was called to the witness stand during DePape's court appearance Wednesday.
Pelosi reportedly told Hurley that DePape woke him up at 2:10 a.m. and repeatedly asked "Where's Nancy?"
"[Pelosi] asked [the alleged suspect], why do you want to talk to Nancy? He replied, she was second-in-line for the Presidency and they are all corrupt and we need to take them out," Hurley continued, according to KRON4.
Pelosi then called 911 on speakerphone, Hurley told the court, according to KRON4. DePape was allegedly holding a hammer and plastic zip cords and kept repeating he could "take" Pelosi "out." Pelosi answered the door when police arrived.
DePape approached Pelosi's right side with the hammer, leading Pelosi to grab the handle of the weapon, Hurley told the court, according to the outlet. Pelosi allegedly told Hurley his last memory of the incident is of the suspect yanking the hammer out of his hand before he, Pelosi, woke up on the floor in a pool of blood.
The court played a tape of Hurley conducting an interview with DePape on Oct. 28.
"Do you know why you are in custody?" Hurley asked.
"Oh absolutely. I'm not trying to get away with it. I know exactly what I did," DePape told Hurley, according to KRON4. "The lies are insane. People in Washington. It originates with Hillary. Honestly, day in and day out, the person on TV lying every day was [Nancy] Pelosi. It's fucking insane the crime spree the Democrats have been on, persecuting the rival campaign."
"Do you mean the Trump campaign?" Hurley asked.
"Yes, Trump. [The Democrats] go from one crime to another crime. It's a whole fucking four years. It's unacceptable," DePape reportedly answered.
DePape allegedly said he intended to hold the House Speaker "hostage" and "break her kneecaps" if she told him lies.
"Did you really think that she would tell the truth?" Hurley asked.
"No," DePape said, according to KRON4.
The Department of Justice charged DePape on Oct. 31 with attempting to kidnap a U.S. official, as well as assaulting a U.S. official's immediate family member with intent to retaliate against the official on account of the performance of official duties. He faces up to 50 years in prison if convicted on the two counts.

⬇️ Top Picks for You ⬇️
Biden Dog Bites Another Secret Service Agent; 11th Incident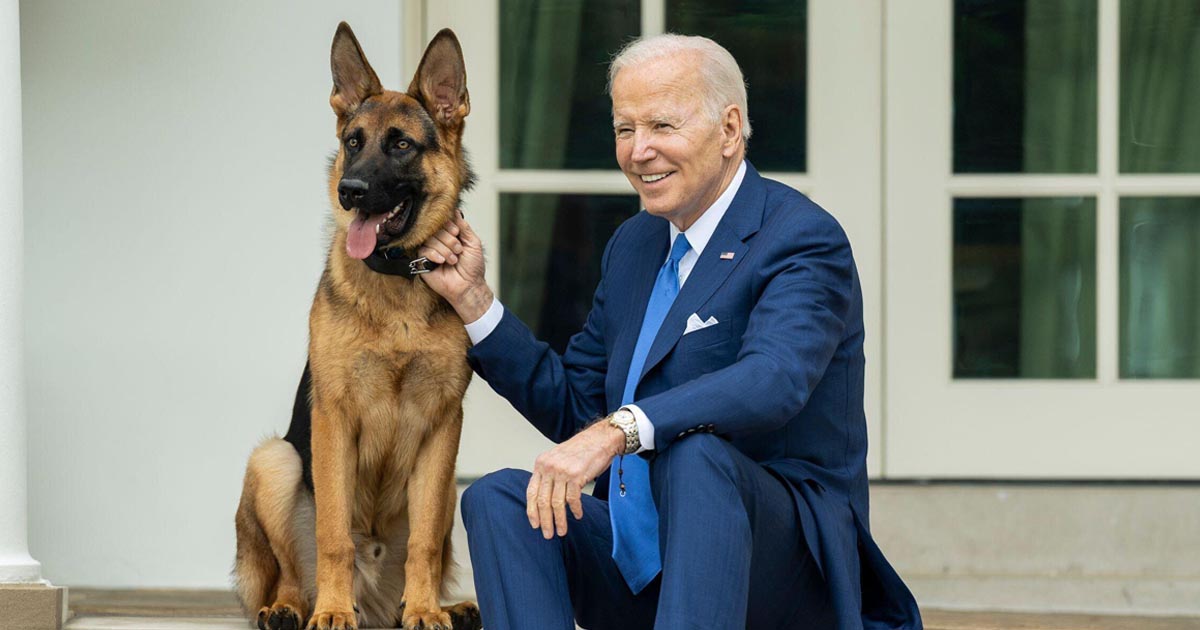 President Joe Biden's younger dog, Commander, bit another US Secret Service agent at the White House Monday evening, CNN has learned, the 11th known biting incident involving the 2-year-old German Shepherd.
"Yesterday around 8 p.m., a Secret Service Uniformed Division police officer came in contact with a First Family pet and was bitten. The officer was treated by medical personnel on complex," USSS chief of communications Anthony Guglielmi told CNN in a statement.
The injured officer spoke with Secret Service Uniformed Division Chief Alfonso M. Dyson Sr. on Tuesday and is doing OK, Guglielmi said.
Commander has been involved in at least 11 biting incidents at the White House and in Delaware, according to CNN reporting and US Secret Service email correspondence, including a November 2022 incident where an officer was hospitalized after the dog clamped down on their arms and thighs.
White House officials said in July that the Bidens were working through new training and leashing protocols for the family pet following the incidents.
Asked by CNN whether the new training had taken place or if any further action would be sought, Elizabeth Alexander, communications director for the first lady, said in a statement that "the First Family continues to work on ways to help Commander handle the often unpredictable nature of the White House grounds."
"The President and First Lady are incredibly grateful to the Secret Service and Executive Residence staff for all they do to keep them, their family, and the country safe," she continued.
Another of Biden's dogs, Major, was involved in biting incidents at the White House. The German Shepherd later moved out of the White House, and Commander arrived at the White House in 2021.
The July email correspondence, obtained through Freedom of Information Act requests by the conservative group Judicial Watch, reflected 10 incidents.
In one incident in October, first lady Dr. Jill Biden "couldn't regain control" of the dog as it charged a member of Secret Service staff.
"I believe it's only a matter of time before an agent/officer is attacked or bit," the staff member warned in an email.
While Secret Service agents are not responsible for the handling of the first family's pets, they can come into frequent contact with the animals.
"This isn't a Secret Service thing. This is a this is a workplace safety issue," CNN contributor and former USSS agent Jonathan Wackrow told CNN.
"There's uniqueness here where it's the residence of the president of the United States, but it's also the workplace for hundreds, thousands of people. And you can't bring a hazard into the workplace. And that's what is essentially happening with this dog. One time you can say it's an accident, but now multiple incidents, it's a serious issue," he added.
Wackrow called it a "significant hazard" for agents on duty at the White House residence.
"I'm sure that the Bidens love the dog. I'm sure that it's a member of the family like every dog is, but you're creating a significant hazard to those who support you – support the office of the president," he said.