Prosecutors played 15 seconds of police bodycam footage reportedly showing David DePape's alleged attack on Democratic House Speaker Nancy Pelosi's husband, Paul Pelosi.
Attorneys released the footage Wednesday during DePape's appearance in court. The clip showed the moment when police arrived in response to an intrusion at Pelosi's San Francisco residence, KRON4 reported. The footage allegedly showed DePape attacking Pelosi with a hammer as police arrived on the scene, as well as the moment DePape was charged and arrested.
Reporters present in court while the clip played could only hear the video, because the screen faced toward the judge, according to KRON4.
"Good morning, what's going on man?" an officer said to DePape upon entry, according to KRON4.
"Everything's good," DePape allegedly replied in the footage.
"Drop the hammer!" the officer demanded.
"Uh nope," he said.
There was an audible struggle as DePape allegedly struck Pelosi with a hammer, KRON4 continued. One officer ran at DePape and brought him to the ground, according to the outlet, where the suspect allegedly lay unconscious in a pool of blood.
I'm waiting to be allowed inside the courtroom for David DePape's preliminary hearing. San Francisco deputies constructed this barricade blocking news reporters from barging in too early. Prosecutors just went in. @kron4news pic.twitter.com/axFQ9py7LS

— Amy Larson (@AmyLarson25) December 14, 2022
Deputy Public Defender Adam Lipson reportedly asked San Francisco Police Department officer Kyle Cagney if Pelosi appeared to be injured when the police arrived at his residence. Cagney said Pelosi appeared to be unharmed, according to KRON4.
San Francisco Police Department Lt. Carla Hurley previously conducted an hour-long interview with Pelosi at San Francisco General Hospital on Oct. 30. She was called to the witness stand during DePape's court appearance Wednesday.
Pelosi reportedly told Hurley that DePape woke him up at 2:10 a.m. and repeatedly asked "Where's Nancy?"
"[Pelosi] asked [the alleged suspect], why do you want to talk to Nancy? He replied, she was second-in-line for the Presidency and they are all corrupt and we need to take them out," Hurley continued, according to KRON4.
Pelosi then called 911 on speakerphone, Hurley told the court, according to KRON4. DePape was allegedly holding a hammer and plastic zip cords and kept repeating he could "take" Pelosi "out." Pelosi answered the door when police arrived.
DePape approached Pelosi's right side with the hammer, leading Pelosi to grab the handle of the weapon, Hurley told the court, according to the outlet. Pelosi allegedly told Hurley his last memory of the incident is of the suspect yanking the hammer out of his hand before he, Pelosi, woke up on the floor in a pool of blood.
The court played a tape of Hurley conducting an interview with DePape on Oct. 28.
"Do you know why you are in custody?" Hurley asked.
"Oh absolutely. I'm not trying to get away with it. I know exactly what I did," DePape told Hurley, according to KRON4. "The lies are insane. People in Washington. It originates with Hillary. Honestly, day in and day out, the person on TV lying every day was [Nancy] Pelosi. It's fucking insane the crime spree the Democrats have been on, persecuting the rival campaign."
"Do you mean the Trump campaign?" Hurley asked.
"Yes, Trump. [The Democrats] go from one crime to another crime. It's a whole fucking four years. It's unacceptable," DePape reportedly answered.
DePape allegedly said he intended to hold the House Speaker "hostage" and "break her kneecaps" if she told him lies.
"Did you really think that she would tell the truth?" Hurley asked.
"No," DePape said, according to KRON4.
The Department of Justice charged DePape on Oct. 31 with attempting to kidnap a U.S. official, as well as assaulting a U.S. official's immediate family member with intent to retaliate against the official on account of the performance of official duties. He faces up to 50 years in prison if convicted on the two counts.

⬇️ Top Picks for You ⬇️
Trump Indicted in Classified Docs Probe — Here's Everything We Know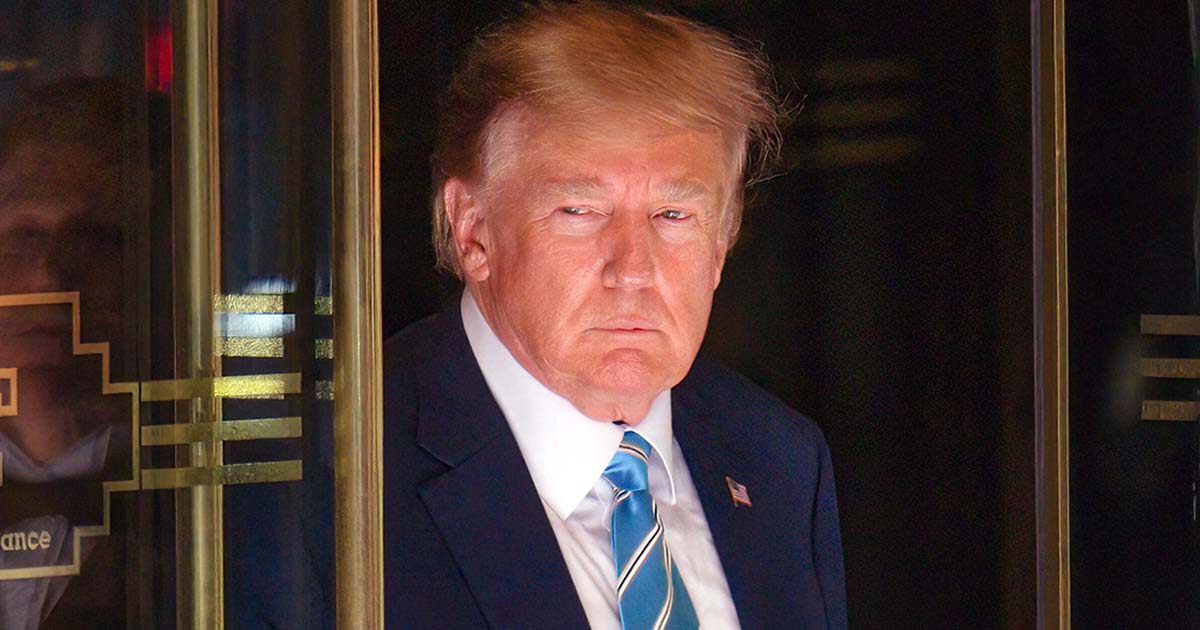 Former President Donald Trump said Thursday that his legal team has been told he's been indicted in an investigation into his handling of classified documents. Trump has been summoned to appear in federal court in Miami on Tuesday afternoon.
TRUMP STATEMENT:
The corrupt Biden Administration has informed my attorneys that I have been Indicted, seemingly over the Boxes Hoax, even though Joe Biden has 1850 Boxes at the University of Delaware, additional Boxes in Chinatown, D.C., with even more Boxes at the University of Pennsylvania, and documents strewn all over his garage floor where he parks his Corvette, and which is "secured" by only a garage door that is paper thin, and open much of the time.
I have been summoned to appear at the Federal Courthouse in Miami on Tuesday, at 3 PM. I never thought it possible that such a thing could happen to a former President of the United States, who received far more votes than any sitting President in the History of our Country, and is currently leading, by far, all Candidates, both Democrat and Republican, in Polls of the 2024 Presidential Election. I AM AN INNOCENT MAN!
This is indeed a DARK DAY for the United States of America. We are a Country in serious and rapid Decline, but together we will Make America Great Again!
7 CHARGES:
Trump has been charged with seven counts in the indictment, according to another source familiar with the matter.
"We're learning from our sources that there appears to be at least seven counts here. This ranges from everything from the willful retention of national defense information to conspiracy to a scheme to conceal to false statements and representations," ABC News' Katherine Faulders reported during a special report on the network.
MEDIA SWARMS MIAMI COURTHOUSE
Earlier today, dozens of out-of-town reporters, photographers and TV camera crews gathered in front of the downtown federal courthouse in hopes of getting a morsel of news from a secret grand jury which has been reviewing evidence in the Justice Department's probe into Trump's handling of classified materials at his Mar-a-Lago estate in Palm Beach.
THE BACKSTORY:
Special counsel Jack Smith has been overseeing the investigation into Trump's handling of classified documents since he was appointed to the role in November.
Trump's attorneys met earlier this week with Justice Department officials, including Smith. Experts widely viewed the meeting as a sign that Smith's investigation was winding down.
On May 6, 2021, the National Archives first alerted Trump that it was seeking approximately two dozen boxes of records be returned to it as required by the Presidential Records Act. The National Archives warned Trump in late 2021 that they could escalate the issue to prosecutors or Congress if he continued to refuse to hand over the documents. He was also warned by former Trump White House lawyer Eric Herschmann that he could face serious legal jeopardy if he did not comply.
In January 2022, about 15 of the boxes were returned, at which time officials discovered there were hundreds of pages of classified material in the boxes. Federal law enforcement was notified of the discovery and later came to believe that there were more materials that had not been turned over, and a criminal investigation was subsequently launched.
In May 2022, a federal grand jury issued a subpoena seeking additional classified documents and, a few weeks later, the DOJ visited Mar-a-Lago and Trump's legal team signed a written statement claiming that all the classified material had been returned. Over the course of the summer, investigators interviewed members of Trump's staff and subpoenaed surveillance footage from the property.
On August 8, the FBI raided Mar-a-Lago recovered 27 boxes, 11 of which contained classified documents. Four sets were marked "Top Secret," the highest level of classification the government can give information; three were marked "Secret," the second-highest level, while another three were marked "Confidential," the lowest classification level.  The remaining set was marked "Various classified/TS/SCI documents," which is the abbreviation for "top secret/sensitive compartmented information," a special category meant to protect the nation's most important secrets — which if revealed publicly would harm US interests.