Bud Light is serving as an official sponsor of the Toronto Pride parade, where video footage shows naked men standing around and riding bicycles in clear view of children attending the event.
The footage, captured by Beth Baisch of the Post Millennial, shows dozens of attendees riding past a large cheering crowd. The fully naked bikers, some covered in paint or tattoos, wave back at the crowd. One naked man high-fives an onlooker while another peddles a recumbent bike with a gold blow-up swan adorned around his neck.
A second video shows a group of naked men with hats standing in a circle amidst the crowd. Several children walk past the group of men with their families.
Another clip shows a person wearing a giant penis costume that covers his entire head. The camera captures a young girl sitting in a stroller and staring toward the phallic-costumed individual.
Other videos show a group of naked men playing and rinsing themselves off alongside a fountain surrounded by kids. Meanwhile, a stage, clearly adorned with Bud Light branding, featured scantily clad dancers wearing fishnets, nipple stickers and strange sock-like masks.
Bud Light makes an appearance at the Toronto Pride Parade. They are sponsors of the event.

Footage by TPM's @BethBaisch pic.twitter.com/Qqr9b5jLPb

— The Post Millennial (@TPostMillennial) June 25, 2023
The company's website notes that this year's sponsorship is representative of a longstanding partnership with the Pride event.
"Bud Light Canada has been a proud partner of Pride Toronto for the last 10 years. This year, we're commemorating this milestone with Pride Toronto by featuring them on our can design, as well as continuing as the official beer sponsor of the festival," the beer brand's website states.
According to the website, Bud Light Canada also provides $100,000 to various organizations that support the LGBTQUA2S+ community across Canada and has created a range of commemorative Pride beer cans to celebrate the collaboration.
Another group of nudists take part in the Toronto Pride Parade.

Footage by @BethBaisch pic.twitter.com/Qu83pZZXsE

— The Post Millennial (@TPostMillennial) June 25, 2023
The partnership comes nearly three months after Bud Light received massive backlash for partnering with trans activist Dylan Mulvaney. The decision angered consumers and the brand saw a significant decrease in sales, resulting in billions of dollars in lost market value.
In early April, Anheuser-Busch CEO Brendan Whitworth attempted to douse the flames with a lengthy statement to customers.
"We never intended to be part of a discussion that divides people. We are in the business of bringing people together over a beer," he said in part. "My time serving this country taught me the importance of accountability and the values upon which America was founded: freedom, hard work and respect for one another. As CEO of Anheuser-Busch, I am focused on building and protecting our remarkable history and heritage."
Despite losing business, Bud Light continued to anger customers for co-sponsoring an "all-ages Pride event" in Flagstaff, Arizona, on June 17.
The party, called "Pride in the Pines," included drag queens and other performers, and listed Bud Light as one of the companies sponsoring the June 17 event. (Bud Light was initially mentioned prominently in one of the posters.) The event is listed as a "family festival event" and a family-friendly, "safe space" for all visitors.

⬇️ Top Picks for You ⬇️
Biden Got Recurring $1,380 Payment from Hunter's Firm Starting in 2018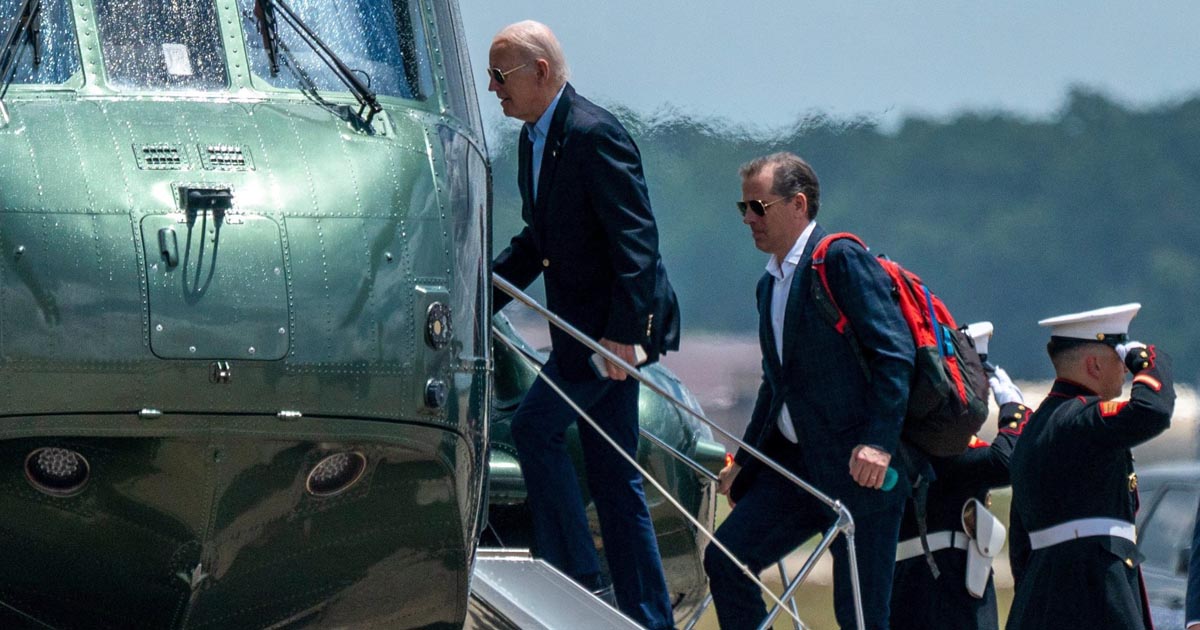 President Biden received a recurring payment of $1,380 from his son Hunter's law firm beginning in late 2018 shortly after a bank money laundering officer warned that the same account was receiving millions of dollars in Chinese government-linked funds without "any services rendered."
A bank order shows that Owasco PC set up a "monthly" transfer to then-former Vice President Joseph R. Biden Jr., with a voided check for the future president included in the documentation, which was released Monday by the House Oversight Committee.
A source told The Post that at least three recurring payments were made — on Sept. 17, Oct. 15 and Nov. 15, 2018 — totaling $4,140 to the elder Biden from Owasco PC, according to the bank records of the firm.
"President Biden and his family must be held accountable for this blatant corruption," Oversight Committee Chairman James Comer (R-Ky.) said in a video release.
"Today, the House Oversight Committee is releasing subpoenaed bank records that show Hunter Biden's business entity, Owasco PC, made direct monthly payments to Joe Biden. This wasn't a payment from Hunter Biden's personal account but an account for his corporation that received payments from China and other shady corners of the world," Comer said.
"At this moment, Hunter Biden is under an investigation by the Department of Justice for using Owasco PC for tax evasion and other serious crimes. And based on whistleblower testimony, we know the Justice Department made a concerted effort to prevent investigators from asking questions about Joe Biden. I wonder why?"
Earlier that year, a January 2019 email from assistant Katie Dodge to Hunter Biden annotated various expenses including "Ford Raptor — Reimbursement to JRB — $1380."
The provenance of the funds is unclear, however, and additional records show that Hunter Biden was knee-deep in two of his most controversial business relationships at the time, with Ukraine's Burisma Holdings and CEFC China Energy.
The evidence emerged as House Republicans prepare to question first brother James Biden on Wednesday and Hunter next week about the president's role in his family's dealings in countries such as China and Ukraine — with a possible floor vote to authorize the ongoing impeachment inquiry this month.
While a presidential candidate, Joe Biden denied that he ever discussed business with his relatives, but evidence has since shown that he met with his relatives' associates from both the Burisma and CEFC ventures.
Documents from the first son's abandoned laptop show that Burisma board adviser Vadym Pozharskyi sought "bank reference" information on Sept. 14, 2018 — one day before the initial transfer to Joe Biden was sought. However, the transaction was not executed for another two days, apparently due to a later-than-expected form submission.
Joe Biden met Pozharskyi at an April 17, 2015, dinner at DC's Café Milano. An unproven FBI informant tip said that Burisma owner Mykola Zlochevsky claimed in 2016 he was "coerced" into paying $10 million in bribes to the Bidens for their assistance in ousting prosecutor Viktor Shokin.
Hunter also was on the tail end of disbursing millions of dollars received from CEFC China Energy — one of two major Biden family dealings with Chinese government-linked firms.
On June 26, 2018 — less than three months before Joe Biden began to receive the monthly transfers — an internal Bank Secrecy Act expert warned colleagues that the institution should reconsider its relationship with Hunter as a result of Owasco PC seeming to receive Chinese funds without "any services rendered."
CEFC transferred $5 million to another Biden family-linked entity, Hudson West III, in August 2017 after Hunter warned a China-based associate of his father's wrath if a business deal was aborted. Much of the large transfer later went to Hunter's Owasco PC.
Prior bank records released by the Oversight Committee indicate that Joe Biden received payments of $40,000 and $200,000 from his brother James, who also was involved in the CEFC venture and other foreign-focused enterprises.
Comer alleged that the $40,000 transferred to Joe Biden's bank account on Sept 3, 2017, was from "laundered" Chinese funds.
James Biden paid Joe Biden $200,000 on March 1, 2018 — the same day that James received a $200,000 transfer from troubled rural hospital company Americore after pledging to use his political connections to secure a Middle Eastern investor, according to bankruptcy filings.
The White House says there's evidence that both transfers were loan repayments, but Republicans argue they have not seen loan agreement documents and note that the funds distributed to James came from a law firm, rather than Joe Biden himself, further clouding the picture.