A New York federal judge sentenced Colorado businessman Tim Shea to more than five years behind bars Tuesday on convictions for his role in the We Build the Wall fundraiser, a charity that cheated $25 million from private donors who thought they were funding the construction of former President Donald Trump's border wall.
U.S. District Judge Analisa Torres presided over the hearing, noting when she imposed the sentence that Shea had taken responsibility for his actions "to a certain degree."
The Obama-appointed judge said Shea's efforts to deceive donors and then cover up the fraud hurts everyone "by eroding the public's faith in the political process."
Shea, 52, was charged with counts of conspiracy to commit wire fraud, conspiracy to commit money laundering and falsification of records.
Each of the three criminal counts carried a maximum penalty of 20 years in prison, but Judge Torres imposed a sentence of 63 months on each count to be served concurrently.
The 63 month sentence was exactly what prosecutors had requested, a downward variance from the 9 to 11.25 year sentencing range recommended by the probation office.
Shea will voluntarily surrender in October.
U.S. Attorney for the Southern District of New York Damian Williams applauded the conclusion of the federal We Build the Wall case.
"Timothy Shea abused the trust of donors to 'We Build the Wall,' stole hundreds of thousands of dollars in donations to line his own pockets, and attempted to obstruct the federal investigation of his criminal conduct," Williams said in a statement Tuesday afternoon.
Prosecutors originally brought the case back in August 2020, indicting Shea and Steve Bannon, the former Trump campaign strategist, as well as Air Force veteran Brian Kolfage and venture capitalist Andrew Badolato.
Following guilty pleas from Kolfage and Badolato, and Bannon's presidential pardon from Trump, Shea was the last man standing in the federal case. He went to trial on the three counts in May 2022 but the proceedings ended in a mistrial thanks to a holdout juror. The jury in his October 2022 retrial quickly reached unanimous guilty verdict on all counts.
We Build the Wall began on the public promise that 100% of funds raised would go toward construction of a wall along the U.S.-Mexico border. It quickly raised some $25 million in private donations on GoFundMe but built a mere 3 miles of fencing.
The remainder of the fundraiser money, according to charging papers, was kicked back to line pockets of its founders. Prosecutors said Kolfage alone used more than $1 million in We Build the Wall donations to pay for a boat, a 2018 Land Rover Range Rover, a golf cart, jewelry, cosmetic surgery and other assets.
At trial, prosecutors said Shea and his We Build the Wall cohorts treated the fundraiser as a "bottomless piggybank they looted for whatever they wanted to do."
Prosecutors showed bank records at trial illustrating that Shea's wife, Amanda, received money transferred through her husband's shell company, and quoted her as telling her We Build The Wall cohorts of the charity: "It'll be a gold mine for sure."
Though Shea's wife held herself out on Twitter as CFO of We Build the Wall, she has not been charged.
Both Sheas made thousands of dollars from We Build the Wall merchandise and also steered donor money into launching Trump-themed energy drink company, Winning Energy, which sells cans that boast "12 oz. of liberal tears," the government told jurors at trial.
Judge Torres ordered Shea to give up $1.8 million in forfeiture, to be paid after his release from prison in monthly installments equal to 15% of his gross income.
Shea told Judge Torres on Tuesday he regrets "all the of the We Build The Wall stuff."
"I wish I hadn't been involved in any of that," he said at the sentencing hearing, standing up with both hands slipped into his pants pockets.
Shea was represented at his sentencing hearing by Thomas Nooter, who took over after Shea's trial attorney, veteran defense lawyer John Meringolo, abruptly died last November at age 48.
Kolfage, the triple-amputee Iraq war veteran who served as the public face of the We Build the Wall campaign, was sentenced to four years and three months behind bars on his guilty plea.
Although a last-minute pardon from then-President Donald Trump spared Bannon from liability on the federal charges, Manhattan prosecutors brought state charges against the former Breitbart News executive chairman last September.
Presidential pardons apply only to federal crimes, not state offenses. Bannon will stand trial in May 2024 in New York state supreme court.

⬇️ Top Picks for You ⬇️
"Allahu Akbar": Paris Attack Near Eiffel Tower Leaves One Dead and Two Injured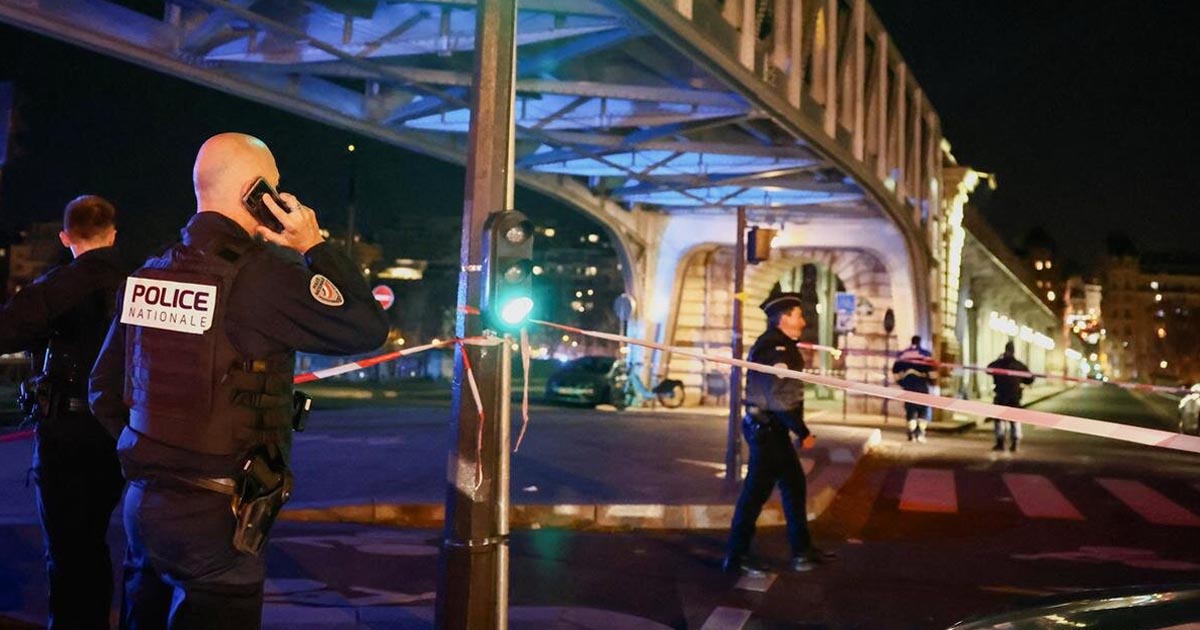 A tourist has been stabbed to death while a British man is reportedly among two others badly injured after a knifeman screaming 'Allahu Akbar' launched a frenzied attack in central Paris last night.
Witnesses reported hearing people screaming for 'help' as they ran away from the hammer and knife-wielding man.
One victim, a tourist with dual German and Filipino nationality, was slashed in the back and shoulder by the attacker last night. The man, who had not been named, was found in cardiorespiratory arrest before he passed away.
The second victim of the attack was British, and was out walking with his wife when Armand R. attacked him from behind.
'The family were on the Avenue President Kennedy when they were set upon,' said an investigating source, who added: 'A hammer was used to hit the man over the head.'
The Englishman was rushed to hospital, where his condition was later described as 'stable'. A third victim was also badly hurt in a hammer attack, said the source.
Sources said the arrested man was 'immobilised with an electric stun gun' as he ran up the Avenue du Parc de Passy – as French prime minister Elisabeth Borne vowed: 'We will not give in to terrorism. Never.'
The bloodbath happened on the Grenelle quay, close to the Eiffel Tower in the 15th arrondissement of the French capital.
Joseph S., 37 years old, a supermarket manager who asked not to give his last name, was sat in a bar when he heard screams and people shouting 'help, help' as they ran.
A man wielding an object attacked a man who had fallen down, and within 10 minutes the police arrived, he told AFP.
The Paris prosecutor's office said the attacker is French and was born in 1997, and has been arrested in an investigation into murder and attempted murder. The anti-terrorism prosecutor's office has been put in charge of an investigation.
The suspect had already been sentenced to four years in prison in 2016 for planning another attack, French Interior Minister Gerald Darmanin revealed.
'A man attacked a couple who were foreign tourists. A German tourist who was born in the Philippines died from the stabbing,' he said.
A taxi driver who witnessed the scene intervened, Darmanin said. The attacker then crossed the Seine attacking others and injuring one with a hammer, while police chased in pursuit.
'He had threatened them very violently… he will now have to answer for his actions before justice,' Darmanin said.
The attacker was reportedly known to police for 'radical Islamism'. He was on an 'S-File' which means he should have been under surveillance, after telling people that he wanted to die as a martyr.
A police source said that the attacker was known for psychiatric disorders and had said he could not stand Muslims being killed in the world. It's understood he was upset about the situation in Gaza between Israel and Hamas.
In 2016, he was arrested by the French national security agency before carrying out an attack.
Interior Minister Gerald Darmanin confirmed last night that one person died and another was injured. The minister wrote on X: 'The police have just courageously arrested an assailant attacking passersby in Paris, around the Quai de Grenelle.
'One deceased person and one injured person treated by the Paris fire brigade. Please avoid the area.'
French President Emmanuel Macron on Saturday said he was sending his condolences to the family of a German killed in a 'terror attack' in Paris.
The suspected attacker was 'quickly' arrested and justice should now be done 'in the name of the French people', he wrote on X.
Transport Minister Clement Beaune said that Paris was 'in mourning'. He wrote on X: 'Thoughts and solidarity with the families and loved ones of the victims. Thank you to our security and emergency forces for their rapid and decisive intervention.'
The attacker was arrested soon afterwards, and is currently in custody and facing a possible murder charge.
Officers said there was no early indication as to the motive of the stabbing, but it follows a series of bomb, gun and knife attacks carried out by Islamic State and al-Qaeda operatives in France, dating back to early 2015 – many of whom have shouted 'Allahu Akbar' while carrying out their crimes.
The deadliest single terrorist attack ever in the country came in November 2015 when 130 people were killed in Paris.
Suicide bombers pledging allegiance to ISIS targeted the Stade de France, cafes, restaurants and the Bataclan music venue, where 90 died.
Earlier in the year, two Paris-born gunmen linked to Al-Qaeda broke into the offices of the Charlie Hebdo satirical magazine, leaving 17 people dead inside and three outside.
In July 2016, 86 people were called and more than 400 injured when a 19 tonne truck was deliberately driven into crowds on the seafront promenade at Nice, which is just 20 miles from Cannes.
The terrorist turned out to be a Tunisian immigrant who was shot dead by police.
During the same month, two Isis terrorists murdered an 86-year-old Catholic priest during a church service in Normandy.
And in October 2020, three people were stabbed to death by a Tunisian immigrant in the Notre Dame basilica in Nice.
There have also been frequent knife attacks on the forces of law and order, leading to the deaths of serving police.
Saturday night's incident in central Paris occurred less than eight months before the French capital hosts the Olympic Games and could raise questions about security at the global sporting event.
Paris plans an unprecedented opening ceremony on the Seine river that may draw as many as 600,000 spectators.