The chilling final text of a British billionaire trapped inside the Titanic-bound submersible that vanished deep below the water off Newfoundland on Sunday revealed that weather had been bad for sea travel in the days leading up to the trip.
A day before the OceanGate Expeditions-operated sub was launched, renowned world explorer Hamish Harding sent his friend, retired NASA astronaut Col. Terry Virts, an update on his grand voyage set to drop 12,500 feet beneath the surface to view the famous shipwreck.
"Hey, we're headed out tomorrow, it looks good, the weather's been bad so they've been waiting for this," Harding, 58, messaged Virts.
While sharing the final message with ITV's "Good Morning," Virts said he and his adventure-seeking friend "don't really talk about risks."
"He understood the risks for sure, there's no doubt about that," Virts added.
"He went down to the deepest part of the ocean, set a few world records … at the Mariana Trench [the deepest part of the ocean] and we talked quite a bit about the risks and the different things that they were going to be able to do. So he was very excited about it," he said.
A day before the expedition took off, Harding shared his excitement about the trip on Instagram.
The deep-sea voyage was poised to be only the latest in Harding's impressive travel resume, with the explorer having been one of six astronauts to visit space aboard the Blue Origin mission last year.
Harding, who boasts three Guinness World Records for his daring exploits, has also made multiple trips to the South Pole, including one with retired Apollo astronaut Buzz Aldrin, who became the oldest person to reach the pole at 86.
Four others are stuck aboard the submersible with Harding, including one of Pakistan's wealthiest men, Shahzada Dawood, 48, and his son Sulaiman Dawood, 19.
It's unclear who else was aboard the ship, although Harding wrote in a social media post that he would be joined by Frenchy navy diver P.H. Nargeolet, who previously led several expeditions to the Titanic.
OceanGate Expeditions, the private company that launched the vessel, offers private tours of the Titanic wreckage site for $250,000 a person.
The company touts its eight-day trip to the Titanic as a "chance to step outside of everyday life and discover something truly extraordinary."
The vessel — which cannot submerge and return to port on its own like a submarine — was reported missing Sunday night after it failed to return to its support ship on time.
Coast Guard crews said Monday night they have just 70 to 96 hours to locate the missing sub and rescue the five people aboard before the vessel runs out of oxygen.
The search is focused on an area about 900 miles off the coast of Cape Cod at a depth of roughly 13,000 feet — making it the deepest-ever rescue mission in history if successful.
Experts, however, have cautioned that few craft can reach that depth and even if they could, it's unlikely they could attach to the submersible and tow it up to the ocean's surface.
Both aircraft and ships are involved in the search for the vessel.
Authorities are also working to get a remotely operated vehicle that can plunge to depths of up to 20,000 feet to the site of the missing sub, according to an adviser to OceanGate, David Concannon.

⬇️ Top Picks for You ⬇️
Senate Democrats Authorize Supreme Court Ethics Subpoenas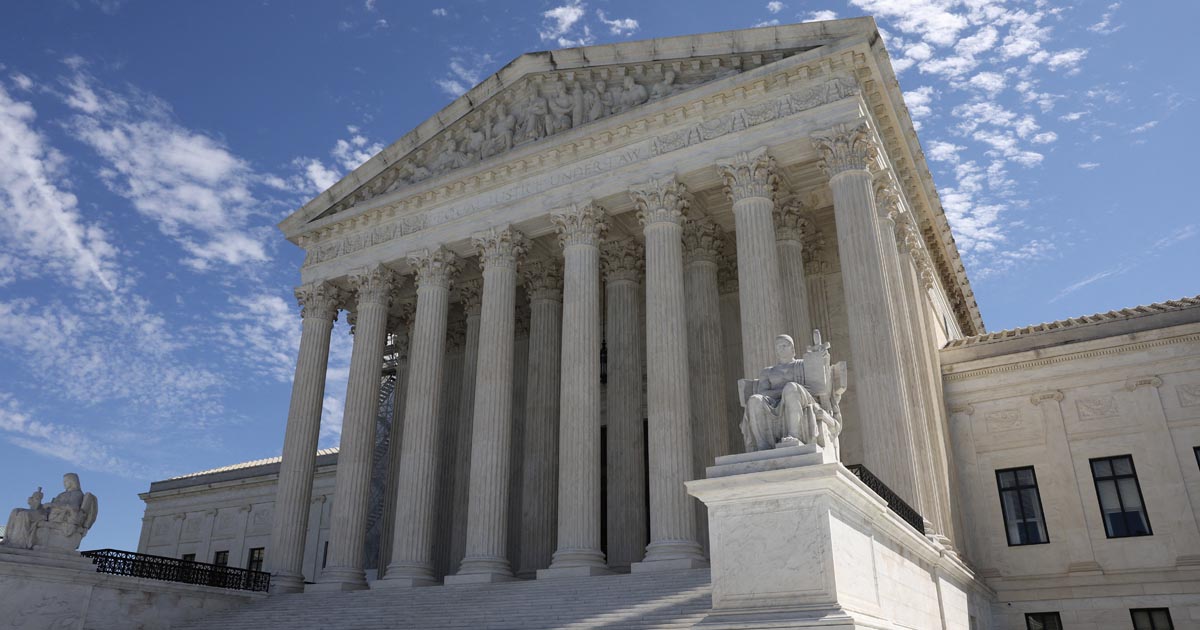 A Democratic-led U.S. Senate panel on Thursday authorized subpoenas to two influential conservatives – Harlan Crow and Leonard Leo – as part of an ethics inquiry spurred by reports of undisclosed largesse directed to some conservative Supreme Court justices.
The Judiciary Committee voted to authorize the subpoenas for Crow, a billionaire Republican donor and benefactor of conservative Justice Clarence Thomas, and Leo, a legal activist who was instrumental in compiling Republican former President Donald Trump's list of potential Supreme Court nominees.
Republican senators walked out of the contentious committee meeting in protest while Democrats cast votes. Some Republicans later questioned the vote's legitimacy, accusing Democrats of violating procedural rules.
"The subpoena clearly wasn't legal," Republican Senator John Kennedy, a committee member, said after the vote.
Senator Dick Durbin, the panel's chairman, said subpoenas were necessary due to the refusal by Crow and Leo for months to voluntarily comply with its previous requests for information. This included itemized lists of all gifts, transportation and lodging provided to any Supreme Court justice.
Durbin also renewed his criticism of a new code of conduct announced by the court on Nov. 13 and promised to continue to pursue the committee's ethics investigation.
"Without an enforcement mechanism, this code of conduct, while a step in a positive direction, cannot restore the public's faith in the court," Durbin said.
Senator Lindsey Graham, the committee's top Republican, told the meeting that Democrats were engaged in a "jihad" against the Supreme Court, whose 6-3 conservative majority has handed major defeats to liberals in recent years on matters including abortion, gun rights and student debt relief.
"When you say you don't want to destroy the Roberts Court, I don't believe you," Graham said, referring to the court under the leadership of conservative Chief Justice John Roberts. "I don't believe a word you're saying."
The committee vote authorized Durbin to issue the subpoenas, which he could do unilaterally, according to a Democratic committee staffer.
If the subpoena recipients fail to comply, Democrats would need 60 votes in the 100-seat Senate to initiate a civil enforcement action, meaning they would need the support of some Republicans. The Democrats also would have the option to make a referral to the U.S. Justice Department, which could choose to pursue criminal contempt proceedings against the subpoena recipients.
Lawyers for Leo and Crow in letters to the committee have criticized the committee's information requests as lacking a proper legal justification. Crow's lawyer had proposed turning over a narrower range of information but Democrats rebuffed that offer, according to the panel's Democratic members.
The news outlet ProPublica reported this year on Thomas's failure to disclose luxury trips and real estate transactions involving Crow, a Texas businessman.
The outlet also reported that Leo helped organize a luxury fishing trip in Alaska attended by conservative Justice Samuel Alito, who failed to disclose taking a private jet provided by billionaire hedge fund manager Paul Singer. Trump chose all three of his appointees to the court from lists of candidates that Leo played a key role in drawing up.
Thomas has said he believed the Crow-funded trips were "personal hospitality" and thus exempt from disclosure requirements, and that his omission of the real estate transaction was inadvertent.
Alito, regarding the flight, said that Singer had "allowed me to occupy what would have otherwise been an unoccupied seat."