China is building sophisticated cyber weapons to "seize control" of enemy satellites, rendering them useless for data signals or surveillance during wartime, according to a leaked US intelligence report.
The US assesses that China's push to develop capabilities to "deny, exploit or hijack" enemy satellites is a core part of its goal to control information, which Beijing considers to be a key "war-fighting domain."
The CIA-marked document, which was issued this year and has been reviewed by the Financial Times, was one of dozens allegedly shared by a 21-year-old US Air Guardsman in the most significant American intelligence disclosures in more than a decade.
A cyber capability of this nature would far exceed anything Russia has deployed in Ukraine, where electronic warfare teams have taken a brute-force approach with little effect.
These attacks, first developed in the 1980s, attempt to drown out signals between low-orbit SpaceX satellites and their on-ground terminals by broadcasting on similar frequencies from truck-borne jamming systems such as the Tirada-2.
China's more ambitious cyber attacks aim to mimic the signals that enemy satellites receive from their operators, tricking them into either being taken over completely or malfunctioning during crucial moments in combat.
The classified US document said this cyber capability would allow China "to seize control of a satellite, rendering it ineffective to support communications, weapons, or intelligence, surveillance, and reconnaissance systems." The US has never disclosed whether it has similar capabilities.
Taiwan, which has taken note of how indispensable satellite communications have been to the Ukrainian military, is seeking to build out communications infrastructure that can survive an attack from China.
It is courting investors to establish its own satellite provider, while experimenting with non-geostationary satellite receivers in 700 locations around Taiwan to guarantee bandwidth in the event of war or disasters, the Financial Times reported in January.
In a sign of how crucial satellite communications have become in warfare, a Russian cyber attack succeeded in rendering thousands of Ukrainian military routers from US-based Viasat ineffective in the hours before it launched its full-scale invasion on February 24 last year. A Ukrainian official described the attack at the time as "catastrophic."
It also knocked out service to thousands of Viasat customers in Poland, Italy, and Germany, where several hundred wind turbines were affected.
The Viasat hack, while sophisticated, involved breaking into the company's computer systems and sending out instructions to the modems that caused them to malfunction.
China's goals, according to the leaked assessment, are far more advanced. They would seek to knock out the ability of satellites—which tend to operate in interconnected clusters—to communicate with each other, to relay signals and orders to weapons systems, or to send back visual and intercepted electronic data, according to experts.
US military officials have warned that China has made significant progress in developing military space technology, including in satellite communications.
General B Chance Saltzman, commander of the US Space Force, told Congress last month that Beijing was aggressively pursuing counter-space capabilities in an effort to realize its "space dream" of becoming the foremost power beyond the Earth's atmosphere by 2045.
"China continues to aggressively invest in technology meant to disrupt, degrade, and destroy our space capabilities," he said.
Saltzman said China's military had deployed 347 satellites, including 35 launched in the past six months, aimed at monitoring, tracking, targeting, and attacking US forces in any future conflict.
Charlie Moore, a retired Air Force general who served as deputy of US cyber command, said China was making huge efforts to counter the asymmetric advantage that the US had in the cyber and space domains.
"China understands the superiority that the United States has in the space and cyber domains, so they are very interested in not only improving their own capabilities but in capitalizing on what we refer to as a first-mover advantage in both domains," said Moore, now a visiting professor at Vanderbilt University in Tennessee.
"They are working on all the capabilities that they want to have from a defensive and offensive standpoint, and from an ISR [intelligence, surveillance, and reconnaissance] standpoint. They're firing on all cylinders," he said.

⬇️ Top Picks for You ⬇️
Republicans Launch Contempt Process Against FBI Director After Viewing Biden 'Bribery' Document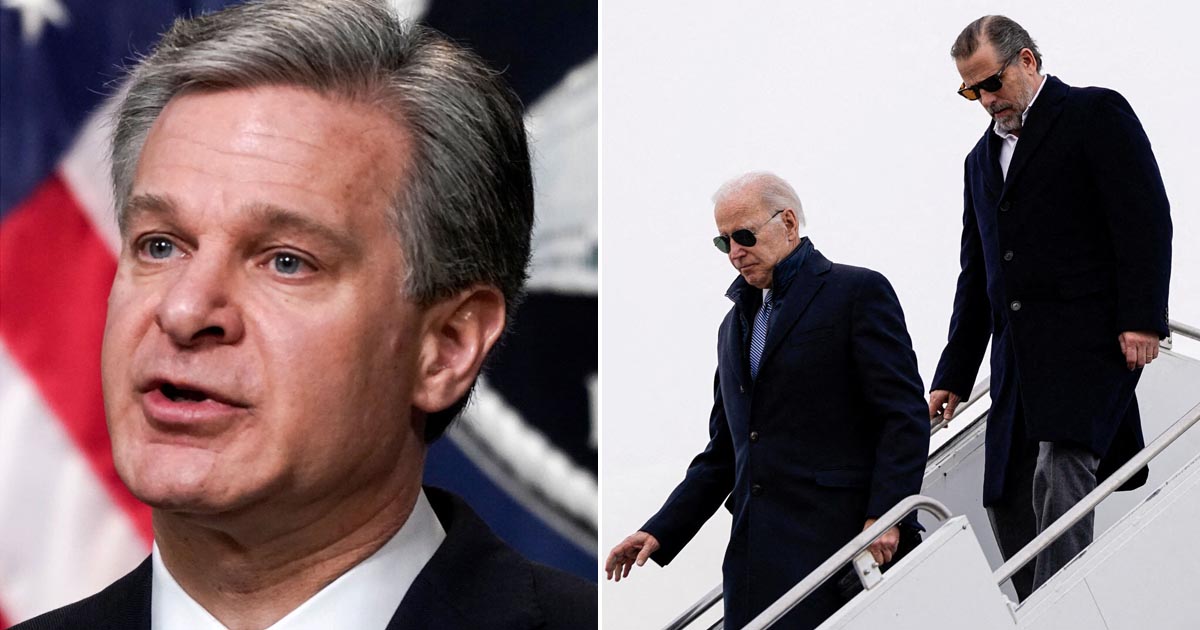 House Republicans are officially starting contempt of Congress charges against FBI Director Chris Wray for failing to turn over Biden 'bribery' document they claim shows then-Vice President Joe Biden was involved in a $5 million 'criminal' scheme with a foreign national.
The escalation comes after the Republican and Democratic leaders of the House Oversight Committee were granted access by the FBI Monday to view the FD-1023 form in a secure facility within the Capitol. The document apparently details an 'arrangement' for an exchange of money for policy decisions.
The Republicans issued a subpoena for the FD-1023 form last month and FBI Director Chris Wray was given a hard deadline of May 30 to hand over the unclassified document, which he did not comply with.
After reviewing the document Monday, Comer told reporters the accusations contained in the form 'suggests a pattern of bribery' consistent with findings the committee has put out publicly.
It's called 'money laundering,' he said, saying it fits within the pattern of over $1 million in Romanian-linked payments to the Biden family revealed last month.
In early May, Republicans released a report digging in on over $10 million received by Biden family members from foreign actors, including previously undisclosed $1 million in Romanian-linked payments, and a 'web' of 20 companies created while President Joe Biden was vice president and pushing anti-corruption efforts abroad.
He also said the FBI record was 'not disproven' and is currently being used in an ongoing investigation that is being conducted by the Department of Justice in Delaware into Hunter Biden's finances.
The 'confidential human source' is a 'trusted, highly credible informant' who has been used by the FBI for over 10 years and has been paid over six figures, continued Comer.
The chairman added that contempt proceedings will begin this Thursday.
'At the briefing, the FBI again refused to hand over the unclassified record to the custody of the House Oversight Committee, and we will now initiate contempt of Congress hearings this Thursday.'
Last week, Comer and Sen. Chuck Grassley, R-Iowa, spoke with Wray by phone and the FBI director offered to let them and Ranking Member Rep. Jamie Raskin, D-Md., view the documents at the FBI headquarters in an attempt to stave off the contempt threat.
'During today's call, Director Wray offered to provide the Committee's Chairman and Ranking Member an opportunity to review information responsive to the subpoena in a secure manner to accommodate the committee, while protecting the confidentiality and safety of sources and important investigative sensitivities,' said the FBI in a statement.
'The FBI has continually demonstrated its commitment to working with the Committee to accommodate its request, from scheduling briefings and calls to now allowing the Chair to review information in person. The FBI remains committed to cooperating with the Committee in good faith.'
Comer also informed Wray that he was also narrowing the breadth of the subpoena for the document by providing two additional terms that may be referenced in the record: 'June 30, 2020' and 'five million.'
Raskin blasted the Republicans' handling of the document in a reporter gaggle following Monday's briefing, calling it 'second-hand hearsay.'
He said former U.S. Attorney Scott Brady for the Western District of Pennsylvania and then-Attorney General Bill Barr did not find any reason to escalate the investigation into all 'allegations related to Ukraine' based on the FD-1023 form.
'I am just surprised that my colleagues want to try to litigate this in public, much less hold the Director of the Federal Bureau of Investigation in contempt for complying with the request when there was a whole process that was undertaken, and that process came to its natural end as I understand it,' Raskin said.
He would not directly confirm that the foreign national alleged in the memo being sought by Republicans is from Ukraine.
Raskin did agree with his Republican colleagues that the whistleblower is considered 'credible.'
The White House has also pushed back, calling the Republican-led investigation 'unfounded' and 'politically motivated.'