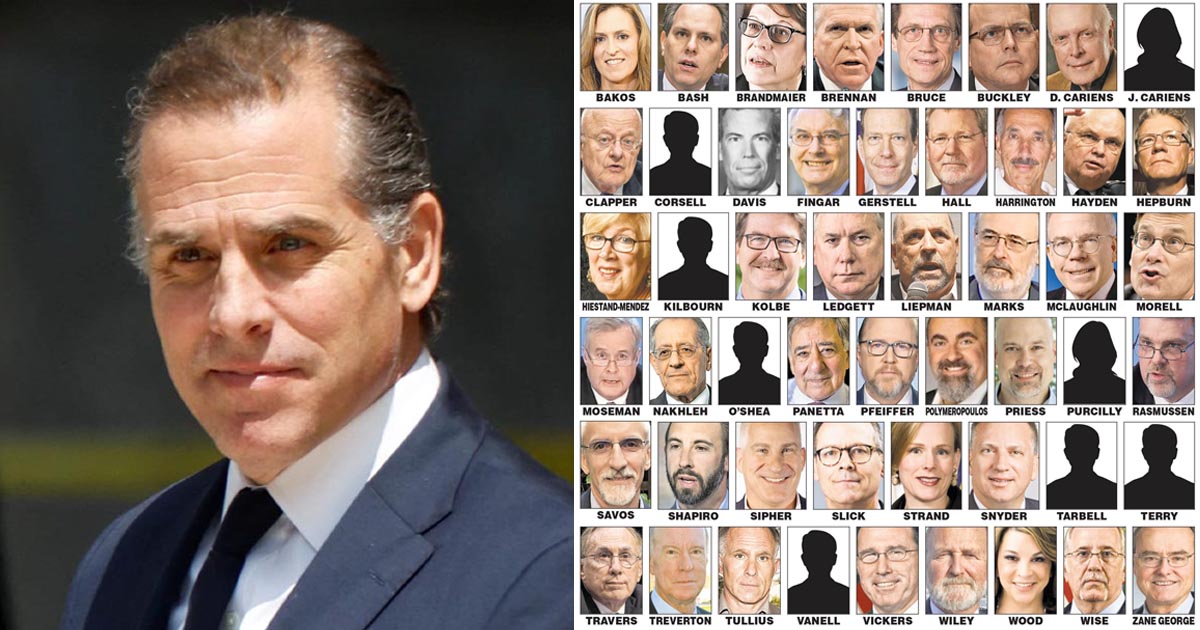 CIA Sued for Working with the Biden Campaign to Produce 'Dirty 51' Intel Letter Calling Hunter's Laptop Disinformation
The CIA has been sued for its role in helping to craft a letter from 51 intelligence officials discrediting Hunter Biden's laptop as Russian disinformation.
The letter that was signed by 51 intel officials in 2020 immediately before the presidential election falsely claimed that Hunter Biden's laptop had all the 'classic earmarks of a Russian information operation.'
A Republican report released in May showed that the CIA was actively involved in getting signatures for the letter which 'was a political operation to help elect' Joe Biden in November 2020.
Government watchdog group Judicial Watch filed a Freedom of Information Act (FOIA) lawsuit Thursday after it failed to receive requested documents from the agency regarding the internal crafting of the letter.
The GOP report alleges that a CIA employee 'may have helped in the effort to solicit signatures for the statement' and accuses former Deputy CIA director and Acting CIA Director Mike Morell and the Biden campaign of conspiring to quickly get the letter approved.
One signer of the statement, former CIA analyst David Cariens, 'disclosed to the Committees that a CIA employee affiliated with the agency's Prepublication Classification Review Board (PCRB) informed him of the existence of the statement and asked if he would sign it,' the House investigative report notes.
The CIA employee allegedly 'asked' Cariens if he would sign the statement, to which he agreed.
'The Committees have requested additional material from the CIA, which has ignored the request to date,' the report continues.
On October 19, 2020, Morell allegedly sent the CIA the final version of the letter to the Prepublication Classification Review for review and called it a 'rush job' so it could be approved.
The new report also revealed that former Director of National Intelligence James Clapper provided editorial advice to 'strengthen the verbiage.'
On October 18, emails included in the report show Clapper emailing Morrell his intention to sign onto the letter.
He also offered a key phrase to include, writing: 'I have one editorial suggestion for the letter: I think it would strengthen the verbiage if you say this has all the classic earmarks of a Soviet/Russian information operation rather than the 'feel' of a Russian operation.
Morrell replied that Clapper's suggestion was accepted and 'It was a good one.'
Morrell testified before the House Judiciary Committee that an Oct. 17 call with Biden's current Secretary of State Antony Blinken had 'absolutely' triggered his interest in coordinating the letter.
However, Blinken has insisted that he was not behind the infamous letter, insisting that he doesn't 'do politics.'
'One of the great benefits of this job is that I don't do politics, don't engage in it,' the secretary of State said. 'But with regard to that letter -it wasn't my idea, I didn't ask for it, didn't solicit it,' Blinken said on Fox News.
At the time he was allegedly behind the letter Blinken was not secretary of state but a Biden campaign adviser.
Asked by Fox News on if he accepted the laptop's legitimacy after most major news organizations have verified it, Blinken said he would not talk politics.
'I'm not not engaging in politics. I've got a lot on my agenda. Some things that we just talked about, trying to help the Russian aggression against engaging with our allies, partners around the world and dealing with some of the challenges posed by China. We have a situation now in Sudan, this has fully occupied my time.'
Biden and his campaign at the time cited the letter to discredit Hunter Biden's laptop as a 'Russian disinformation campaign.'
The then-presidential candidate cited it during a debate with Trump just a few days after its publication on October 22, 2020 to deflect scrutiny of his son's alleged foreign influence peddling schemes.
Then-Director of National Intelligence John Ratcliffe said at the time that Hunter's laptop was actually 'not part of a Russian disinformation campaign' and had made that clear to the FBI and the larger intelligence community.
The Republican report also detailed how the CIA coordinated with the Biden campaign to shop the letter around and gain press coverage.
Former CIA senior adviser Nick Shapiro drafted a media pitch that he sent to a number of outlets including Politico – which ended up writing the initial story – the Washington Post and the Associated Press.
Current White House deputy press secretary Andrew Bates, who was serving as Biden campaign rapid response director at the time, was included on emails from Shapiro regarding the push to disseminate the letter to the media.

⬇️ Top Picks for You ⬇️
Over 5K Federal-Only Ballots Cast in Arizona 2020 Election Without US Citizenship Proof
More than 5,600 federal-only ballots were cast in the 2020 presidential election in Arizona, without proof of U.S. citizenship required by the voters who cast them, according to data from the state's counties.
Arizona is a state with the unusual situation of bifurcated elections, in which residents who provide proof of U.S. citizenship can vote in all elections while the others may vote only in federal elections, resulting in ballots cast by voters who haven't proven their U.S. citizenship.
Arizona law requires residents registering to vote in the state to provide proof of U.S. citizenship.
However, after the Supreme Court ruled in 2013 that Arizona must accept U.S. voter registration forms because of federal requirements under the 1993 National Voter Registration Act, the state allows residents registering to vote who don't provide proof of citizenship to receive ballots for federal races only.
Federal voter registration forms require those filling them out only to sign a sworn declaration that they are U.S. citizens.
When residents of Arizona register to vote or update their registration, an election system accesses their driver's license records to verify whether they have proof of citizenship.
Those without documentation are ineligible to vote in state elections and registered as "federal-only" voters, according to the Associated Press.
Last year, Arizona enacted a law that requires counties to check federal-only voters for citizenship against multiple databases. The counties must reject any federal applications if they find the individual is not a U.S. citizen, and any official knowingly ignoring the requirement could receive a felony charge.
The Justice Department sued Arizona over the law in July 2022, claiming it is "a textbook violation of the National Voter Registration Act," according to Assistant Attorney General Kristen Clarke of the agency's Civil Rights Division. The agency also claims the law violates the Civil Rights Act of 1964.
Former Arizona Assistant Attorney General Jennifer Wright told Just the News on Thursday that she believes Arizona is "one of the only states to have bifurcated elections" because the U.S. Election Assistance Commission didn't allow the state to require driver's licenses for voter registration, despite other states having the requirement.
Wright said that when a person registers to vote, their name is supposed to be compared to the U.S. Citizenship and Immigration Services' SAVE database by county recorders to determine if they're non-citizens.
While there is not a system in place to ensure that the recorders are checking for non-citizens when registering voters, state law requires them to only register residents and certify that the voter roster is correct, she added, citing A.R.S. 16-183 and A.R.S. 16-169A.
If non-citizens register to vote before becoming naturalized citizens, then it could hinder their naturalization.
In fact, according to a report by the Public Interest Legal Foundation earlier this year, the most likely reason for a foreign national to admit that they have been registered to vote is that "they want to remain in the United States as future naturalized citizens."
In the naturalization application process, foreign nationals are asked whether they have prematurely registered to vote. If there are voter registration records, then "they are often ordered by immigration officials to get said records cancelled," according to the report.
PILF's report also found that in Maricopa County, voter registrations for 222 foreign nationals have been canceled since 2015, with nine of them casting 12 ballots over four federal elections.
Below is a list of 13 of the 15 Arizona counties that provided information to Just the News regarding the number of federal-only ballots cast in the 2020 and 2022 general elections and the number of federal-only voters registered in both elections.
Cochise County required a public records request to obtain the information and informed Just the News on Wednesday that the request for the federal-only ballots and voter information was no. 125 in the queue.
However, according to state law, "the county recorder shall report to the secretary of state and shall prominently post on the recorder's website the number of persons who are registered to vote using the federal or state voter registration form and who have not provided proof of citizenship to the county recorder and, after each general election, shall post on the recorder's website the number of ballots cast by those persons who were eligible to vote a ballot containing federal offices only."
At least 5,697 federal-only ballots were cast in the 2020 presidential election in Arizona, most of which came from Maricopa County. Only some of the counties specified as to whether all the federal-only ballots cast were also accepted.
The 2020 presidential election results showed former President Donald Trump with 10,457 votes less than President Joe Biden in the state.
Information for some counties regarding federal-only registered voters came from the numbers reported to the Arizona Secretary of State's Office about a month before the elections, which includes both active and inactive voters (specified below as "all federal-only voters"). Other counties provided federal-only registered voters that were active. Voters are eventually moved to 'inactive' status if voting materials sent to their address are returned undeliverable.
Apache County:
All federal-only voters registered in 2020: 162
All federal-only voters registered in 2022: 97
Cochise County:
All federal-only voters registered in 2020: 288
All federal-only voters registered in 2022: 297
Coconino County:
Federal-only ballots accepted and counted in 2020: 335
Federal-only ballots accepted and counted in 2022: 116
All federal-only voters registered in 2020: 2,381
All federal-only voters registered in 2022: 2,841
Gila County:
Federal-only ballots cast and accepted in 2020: 23
Federal-only ballots cast and accepted in 2022: 5
All federal-only voters registered in 2020: 88
All federal-only voters registered in 2022: 67
Graham County:
Federal-only ballots cast and counted in 2020: 8
Federal-only ballots cast and counted in 2022: 5
All federal-only voters registered in 2020: 40
All federal-only voters registered in 2022: 45
Greenlee County:
Federal-only ballots cast in 2020 and accepted: 4
Federal-only ballots cast in 2022 and accepted: 1
All federal-only voters registered in 2020: 9
All federal-only voters registered in 2022: 6
La Paz County:
Federal-only ballots cast in 2020: 11
Federal-only ballots cast in 2022: 0
All federal-only voters registered in 2020: 27
All federal-only voters registered in 2022: 16
Maricopa County:
Federal-only ballots cast in 2020: 8,114, with 4,484 of those accepted and counted
Federal-only ballots cast in 2022: 2,749
Federal-only voters registered in 2020: 14,298
All federal-only voters registered in 2022: 27,441
Mohave County:
Federal-only ballots cast in 2020: 257
Federal-only ballots cast in 2022: 80
All federal-only voters registered in 2020: 707
All federal-only voters registered in 2022: 484
Navajo County:
Federal-only ballots cast and counted in 2020: 14
Federal-only ballots cast and counted in 2022: 2
Federal-only voters registered in 2020: 46
Federal-only voters registered in 2022: 82
Pima County:
Federal-only voters in 2020: 1,942
Federal-only ballots cast in 2022: 27 provisional and conditional provisional ballots counted
All federal-only voters registered in 2020: 7,211
All federal-only voters registered in 2022: 9,095
Pinal County:
Federal-only ballots accepted and counted in 2020: 96
Federal-only ballots accepted and counted in 2022: 49
All federal-only voters registered in 2020: 1,369
All federal-only voters registered in 2022: 1,233
Santa Cruz County:
Federal-only ballots cast in 2020: 7
Federal-only ballots cast in 2022: 5
Federal-only voters registered in 2020: 30
Federal-only voters registered in 2022: 30
Yavapai County:
Federal-only ballots cast and accepted in 2020: 279
Federal-only ballots cast and accepted in 2022: 63
Federal-only voters registered in 2020: 509
Federal-only voters registered in 2022: 226
Yuma County:
Federal-only ballots cast in 2020: 179
Federal-only ballots cast in 2022: 53
Federal-only voters registered in 2020: 333
Federal-only voters registered in 2022: 403