Egypt has slammed Netflix for presenting Cleopatra as black in its new docudrama – accusing the streaming giant of 'falsifying Egyptian history'.
Netflix had been accused of 'blackwashing' history by casting the black actress as the pharaoh in the new series about the Macedonian-Greek ruler.
African Queens: Queen Cleopatra stars 37-year-old English actress Adele James as the titular character.
Producer Jada Pinkett Smith said she wanted to tell the story because 'we don't often get to see or hear stories about black queens.'
The trailer, released two weeks ago, claims that Cleopatra was black with 'curly hair', which has infuriated Egyptians who slapped down the claim.
One historian claims in the preview: 'I remember my grandmother saying to me: I don't care what they tell you in school, Cleopatra was black.'
But now the Ministry of Tourism and Antiquities in Egypt has hit back in a lengthy statement with evidence they claim proves Cleopatra had a 'light complexion' with 'Hellenistic characteristics'.
Dr Mustafa Waziri, Secretary-General of the Supreme Council of Archeology, said the appearance of Cleopatra in the upcoming series was 'a falsification of Egyptian history and a blatant historical misconception'
Dr Waziri said: 'The film is classified as a documentary and not a drama, the order that the owners of its industry have to investigate accuracy and refer to historical and scientific facts in order to ensure that the history and civilizations of peoples is not falsified.
He added archaeologists and anthropologists should have been referred to when making the series.
Alongside their lengthy statement, the Ministry of Tourism and Antiquities attached images of artefacts and coins with Cleopatra's depiction on them.
They said they did this to show off her 'hellenic (greek) features, in terms of light complexion, drawn nose and fluffy lips.'
Dr Waziri said the state of rejection that the film witnessed before its screening comes from defending the history of Queen Cleopatra, which is an important and authentic part of ancient Egyptian history.
Dr. Nasser Mekkawy, Head of the Egyptian Department of Archeology at Cairo University added that Cleopatra's appearance would have been light-skinned due to her Macedonian origins
He said that Cleopatra descended from an ancient Macedonian dynasty that ruled Egypt for nearly 300 years.
The Ministry also said that anthropology studies and DNA studies conducted on mummies and bones confirmed that Egyptians do not bear the features of South-Saharan Africans.
Egyptians reacted with horror to the denial of records which show Cleopatra was Macedonian-Greek.
An Egyptian lawyer filed a case with the country's public prosecutor demanding Netflix be shutdown.
Cairo's former antiquities minister Zahi Hawass condemned the documentary as 'completely fake. Cleopatra was Greek, meaning that she was light-skinned, not black.'
Hawass said the only rulers of Egypt known to have been black were the Kushite kings of the 25th Dynasty (747-656 BC).
'Netflix is trying to provoke confusion by spreading false and deceptive facts that the origin of the Egyptian civilization is black,' he added and called on his countrymen to take a stand against the streaming giant.
Lawyer Mahmoud al-Semary filed a complaint with the public prosecutor demanding that he take 'the necessary legal measures' to block access to Netflix.
He alleged the show featured content that violated Egypt's media laws and accused Netflix of trying to 'promote the Afrocentric thinking … which includes slogans and writings aimed at distorting and erasing the Egyptian identity.'
Egyptian actress and singer Somaya Elkhashab tweeted: 'Identifying Queen Cleopatra as black for fulfilling modern African American fantasies is pure theft of egyptian history and yet an attempt to rewrite history's greats.
Cleopatra was famously played by white English actress Elizabeth Taylor opposite Richard Burton as Mark Anthony in Joseph L. Mankiewicz's historical epic from 1963.
Earlier this week, Queen Cleopatra director Tina Gharavi responded to the claims of 'blackwashing' by penning an op-ed for Variety amid the pushback after the debut of the trailer.
In her Variety piece, Gharavi pointed to the late Taylor playing the role in the 1963 film Cleopatra, and pointing out the cultural appropriation she picked up on as a child.
'I remember as a kid seeing Elizabeth Taylor play Cleopatra,' she wrote. ' I was captivated, but even then, I felt the image was not right. Was her skin really that white?
'With this new production, could I find the answers about Cleopatra's heritage and release her from the stranglehold that Hollywood had placed on her image?'
Gharavi said that she was born in Iran and is Persian, noting that 'Cleopatra's heritage has been attributed at one time or another to the Greeks, the Macedonians and the Persians.'
The director laid out the facts about the heritage of the historical figure in detail, which she said helped her narrow the field for casting purposes.
'The known facts are that her Macedonian Greek family – the Ptolemaic lineage – intermarried with West Asian's Seleucid dynasty and had been in Egypt for 300 years,' she said.
'Cleopatra was eight generations away from these Ptolemaic ancestors, making the chance of her being white somewhat unlikely.
'After 300 years, surely, we can safely say Cleopatra was Egyptian. She was no more Greek or Macedonian than Rita Wilson or Jennifer Aniston. Both are one generation from Greece.'
Gharavi said that she came to the conclusion that it would amount to 'a political act … to see Cleopatra portrayed by a black actress.'
The trailer for the series, due to launch May 10, notes that Cleopatra belonged to the Ptolemaic dynasty but then goes on to dispute her heritage.
Netflix had to turn comments off on the official trailer, after it was met with controversy.

⬇️ Top Picks for You ⬇️
Tucker Carlson Returns With New Show: 'Tucker on Twitter'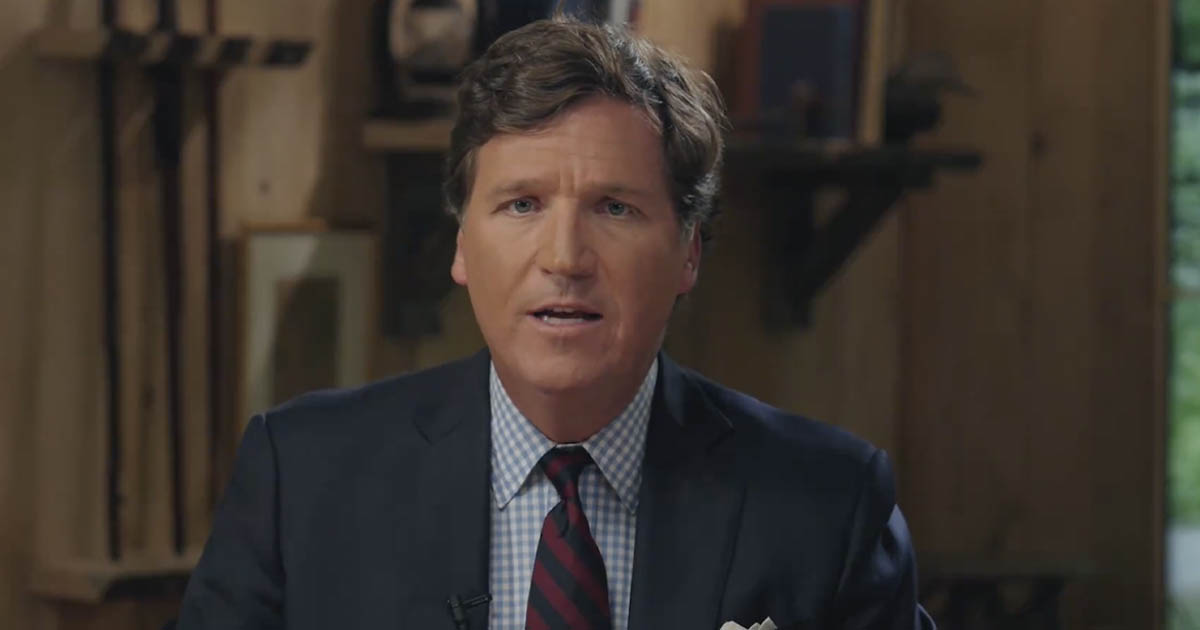 Former Fox News host and Daily Caller co-founder Tucker Carlson brought his show to Twitter for the first time Tuesday by posting a monologue about the Ukraine war and how the media is covering it.
Carlson spoke about the latest developments in the Russian war against Ukraine, beginning with a major dam explosion inside Russian-occupied territory Tuesday morning.
"This morning, it looks like somebody blew up the Kakhovka Dam in southern Ukraine. The rushing wall of water wiped out entire villages, destroyed a critical hydropower plant, and as of tonight, puts the largest nuclear reactor in Europe in danger of melting down. So, if this was intentional, it was not a military tactic — it was an act of terrorism," Carlson began.
The Ukrainian and Russian governments accused each other of intentionally destroying the dam as an act of sabotage, according to The Washington Post.
"Blowing up the dam may be bad for Ukraine, but it hurts Russia more. And for precisely that reason, the Ukrainian government has considered destroying it. In December, The Washington Post quoted a Ukrainian general saying his men had fired American-made rockets at the dam's floodgate, as a test strike," Carlson stated.
Carlson transitioned to discussing The Washington Post's story showing the U.S. knew about Ukrainian plans to attack the Nord Stream 2 gas pipeline months before it was destroyed. The Post's story was based on an intelligence leak on social media platform Discord.
"So, really, once the facts start coming in, it becomes much less of a mystery what might have happened to the dam. Any fair person would conclude that the Ukrainians probably blew it up — just as you would assume they blew up Nord Stream, the Russian natural gas pipeline, last fall. And in fact, the Ukrainians did do that, as we now know. It's not like Vladimir Putin is anxious to wage war on himself," he said.
Carlson proceeded to mock the corporate media's coverage of the Nordstream 2 explosion for immediately blaming Russia for the attack without considering whether Ukraine blew up the pipeline.
"Oh, but that's where you're wrong, Mr. and Mrs. Cable News Consumer. Vladimir Putin is exactly that sort of man — the sort of man who'd shoot himself to death in order to annoy you. We know this from the American media, which wasted no time this morning in accusing the Russians of sabotaging their own infrastructure," Carlson remarked.
"No one who's paid to cover these things seemed to entertain even the possibility it could have been the Ukrainians who did it. No chance of that. Ukraine, as you may have heard, is led by a man called Zelensky, and we can say for a dead certain fact that he was not involved. He couldn't have been. Zelensky is too decent for terrorism," Carlson added.
He followed up by ridiculing Republican South Carolina Sen. Lindsey Graham and Republican Presidential candidate Nikki Haley because of their unwavering support for Ukrainian President Volodymyr Zelenskyy and his country. Afterwards, he broadened his media criticism beyond the scope of the Ukraine war to other issues where narratives must never be questioned.
"But mostly they just ignore the stories that matter. What's happened to the hundreds of billions of US dollars we've sent to Ukraine? No clue. Who organized those BLM riots three years ago? No one's gotten to the bottom of that. What exactly happened on 9/11? Well, it's still classified. How did Jeffrey Epstein make all that money? How did he die? How about JFK? And so endlessly on. Not only are the media not interested in any of this, they're actively hostile to anybody who is. In journalism, curiosity is the gravest crime," Carlson said.
Carlson pointed to the intelligence officer who blew the whistle Monday on alleged UFOs possessed by the U.S. government as a recent example of the pressing stories the media ignores.
"So if you're wondering why our country seems so dysfunctional, this is a big part of the reason. Nobody knows what's happening. A small group of people control accesses to all relevant information. And the rest of us don't know. We're allowed to yap all we want about racism, but go ahead and talk about something that really matters and see what happens. If you keep it up, they'll make you be quiet. Trust us. That's how they maintain control," he continued.
Carlson concluded his monologue with a teaser about future Twitter broadcasts if the platform maintains its commitment to free speech under owner Elon Musk.
"That's how most of us now live here in the United States — manipulated by lies, silenced by taboos. It is unhealthy and is dehumanizing, and we're tired of it. As of today, we've come to Twitter, which we hope will be the shortwave radio under the blankets. We're told there are no gatekeepers here. If that turns out to be false, we'll leave. But in the meantime, we are grateful to be here. We'll be back with much more very soon."
Watch:
Ep. 1 pic.twitter.com/O7CdPjF830

— Tucker Carlson (@TuckerCarlson) June 6, 2023