Colombian officials have released further information about what is thought to be a second Chinese spy balloon after it was spotted over Latin America.
Sightings of mysterious Chinese balloons have alarmed governments across the Americas since one was first spotted over the continental U.S. in late January.
On the morning of February 3, the Colombian Air Force said it had detected an object at an altitude of above 55,000 feet after it entered the country's airspace.
The air force said on February 4 that an object with "characteristics similar to those of a balloon" was above the "northern sector of the country, mobilizing at an average speed of 25 knots."
It continued: "Through defense systems, the Colombian Air Force tracked the object until it left [Colombian] airspace. In this way, it was determined that it did not represent a threat to national security and defense, as well as to aviation safety."
Investigations have been undertaken to establish the origin of the object.
While Chinese business opportunities have expanded in Colombia in recent years, the country reportedly does not have strong political ties with Beijing.
According to the Center for Strategic and International Studies: "Colombia's political and security relationship with the PRC [People's Republic of China] has been limited.
"This arguably reflects Bogotá's perception that deepening political and security ties with the PRC might damage its close and important relationship with the United States.
"Nonetheless, despite perceptions that the PRC is more of a threat than an opportunity in the commercial arena, the presence of Chinese companies and their representatives in the country has expanded remarkably."
Pentagon officials confirmed on Friday that they were aware there was another balloon flying over the Americas.
Images shared on Twitter appeared to show the second balloon passing over Colombia and Venezuela.
A Chinese spy balloon that had been spotted above the U.S. was brought down off the coast of South Carolina.
While President Joe Biden had given the authorization to shoot it down on Wednesday, it was decided to postpone bringing the balloon down until it posed less risk to the public.
A February 4 Pentagon press release said: "Military commanders had determined downing the balloon while over land posed an undue risk to people across a wide area due to the size and altitude of the balloon and its surveillance payload."
The Pentagon said China launched the balloon in an attempt to surveil strategic sites in the U.S.
According to The Washington Post, officials have said it is highly likely a third Chinese spy balloon is operating somewhere but did not give further details.
Chinese officials and state media responded to the U.S. reaction to the balloon with criticism and anger.
The Chinese Foreign Ministry described it as a "civilian airship" that was mostly used to monitor the weather, an explanation rejected by the Biden administration.
Relations between the U.S. and China are tense following Beijing's provocations towards Taiwan, which it regards as part of its sovereign territory. Taiwan itself strongly rejects such claims.
The spy balloon has sent relations plummeting further and led Secretary of State Antony Blinken to announce he had canceled a trip to Beijing, which would have been the first high-level meeting between the U.S. and China in years.
Biden has come under fire from his detractors over his handling of the spy balloon issue and Republican senators took to Twitter to express their disappointment with his decision to not shoot the balloon down earlier.
Tennessee Republican Senator Marsha Blackburn tweeted on Friday: "First, shoot down the Chinese spy balloon over the United States.
"Second, shoot down the one over Latin America. Third, rebuild our military to stop China's global domination."

⬇️ Top Picks for You ⬇️
Trump Suggests Manhattan DA Bragg 'Dropped' Case Against Him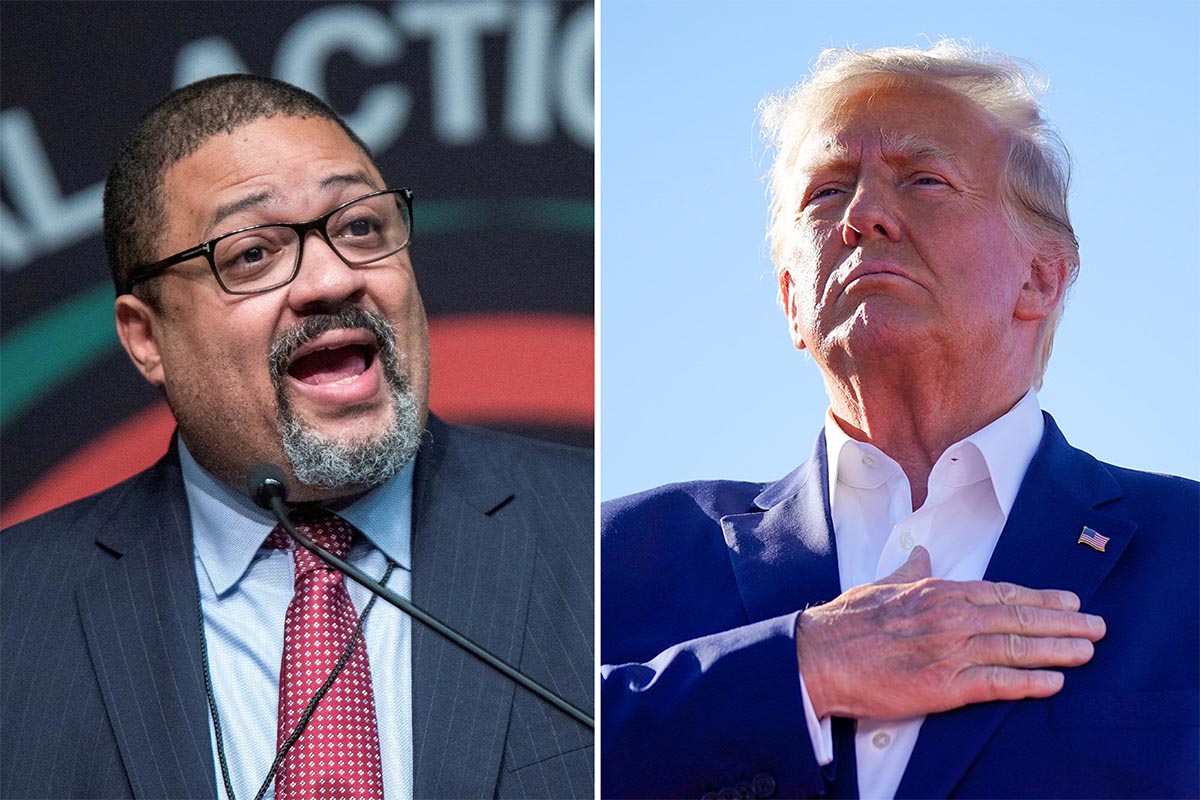 Former President Donald Trump is now suggesting Manhattan District Attorney Alvin Bragg may have dropped his case against him, about a week after he claimed he would be arrested.
After a rally in Waco, Texas, on Saturday, Trump told reporters on his plane, "I think they've already dropped the case … they have absolutely nothing." Trump did not provide evidence for his assertion Saturday.
"It's a fake case. Some fake cases, they have absolutely nothing," the former president said. Trump also reiterated his criticism of Michael Cohen, a former Trump lawyer who has testified against him in the Manhattan grand jury case and previously served time in federal prison on tax fraud and other charges.
Trump also denied mainstream media reports that suggested he was trying to incite violence with his Truth Social posts that criticized Bragg's investigation: "No, I don't like violence and I'm not for violence. But a lot of people are upset."
On Truth Social, the former president made a similar statement regarding his belief Bragg's case is "DEAD." He wrote that the "Witch Hunt against me is DEAD, no evidence at all, & it has been conclusively proven that I did nothing wrong." He dismissed Cohen as a "disbarred lawyer & convicted Felon."
Last week, an attorney in Trump's circle, Robert Costello, told media outlets that he testified before the grand jury and sought to denigrate Cohen's testimony against the 45th president in the investigation, which reportedly is connected to so-called hush money payments that were given to adult performer Stormy Daniels during the 2016 presidential campaign. A lawyer for Cohen, when reached for comment, declined to issue a statement, although Cohen told MSNBC last week that Costello never represented him and disputed his testimony.
Bragg's has not returned a request for comment, and The Epoch Times cannot verify the authenticity of Trump's claims. Previous Epoch Times requests for comment from the DA's office have gone unanswered.
Over the past week, Bragg's office has issued one public statement on the case, and that came in response to a House Republican letter seeking testimony and information about the DA's case or whether his office would arrest Trump. A letter sent by his general counsel said that it was Trump who created a "false expectation" he would be indicted last week, although he provided no other details.
Responding to the House GOP's letter, Bragg's counsel wrote that it "only came after Donald Trump created a false expectation that he would be arrested the next day, and his lawyers reportedly urged you to intervene. Neither fact is a legitimate basis for congressional inquiry."
During the Waco rally, Trump declared that his "enemies are desperate to stop us" and that "our opponents have done everything they can to crush our spirit and to break our will," and that the Manhattan district attorney was investigating him "for something that is not a crime, not a misdemeanor, not an affair."
He added: "But they failed. They've only made us stronger. And 2024 is the final battle, it's going to be the big one. You put me back in the White House, their reign will be over and America will be a free nation once again."
Trump did not make any direct references in his speech to Waco's history, telling the crowd of thousands that he told Lt. Gov Dan Patrick he wanted to hold his rally in a place with overwhelming support, not "one of those 50-50 areas," and said he told Texas officials, "Let's go right into the heart of it."
At several points, Trump criticized Florida Gov. Ron DeSantis, who, despite not announcing it, has long been expected to run for president in 2024 and is seen as Trump's strongest potential challenger for the GOP nomination. Trump called his onetime ally disloyal and said he was "dropping like a rock" in the polls.
In addition to the Manhattan case, Trump is also facing an investigation in Georgia as well as federal investigations into his handling of allegedly classified documents and possible obstruction, as well as statements he made on Jan. 6, 2021. The former president has denied wrongdoing in those instances.