Former President Donald Trump revealed Thursday that the "MAJOR ANNOUNCEMENT" that he teased earlier in the week — which some of his supporters thought could be anything ranging from his announcing a bid for House Speaker to announcing who he would want to be his VP pick should he win the GOP primary — was a series of digital trading cards.
"I'm doing my first official Donald J. Trump NFT collection right here and right now; they're called Trump Digital Trading Cards," Trump said in a promotional video. "Here's one of the best parts: Each card comes with an automatic chance to win amazing prizes like dinner with me. I don't know if that's an amazing prize, but it's what we have."
Trump said that if you buy one of his digital trading cards, you will "join a very exclusive community."
The problem with NFTs (non-fungible tokens), which are pieces of digital art that are supposed to be unique, is that NFTs have collapsed in value in recent months in large part due to cryptocurrencies taking a massive hit over the last year, a trend that has been accelerated by the collapse of FTX.
Compounding those problems were the designs of Trump's digital cards, which many of his own supporters criticized. His supporters, and others, also criticized the overall decision to launch the initiative.
The following are some notable responses from conservatives:
Jesse Kelly, radio host: "Trump teasing a 'major announcement' and then labeling his NFT 'major announcement' only to have his hardcore fans act like that wasn't the real announcement is the perfect example what this thing has become. Demand improvement. Put the pom poms down. We need a better Trump."
John Cardillo, political commentator: "I supported Trump for years but this is ridiculous. Pushing a worthless NFT for $99 a week before Christmas on the heels of the #FTX collapse is beyond wrong. Calling it a 'MAJOR ANNOUNCEMENT' is just weird. Who advised him to do this?"
Luke Rudkowski, political commentator: "Hey guys, are you dealing with real life problems like the crashing of the economy the fear of nuclear war the destruction of our mental & physical health that has been deteriorating b/c of direct government intervention. DON'T WORRY just buy a Trump NFT!"
Daniel Bostic, political commentator: "If this is the #MAJORANNOUNCEMENT it is embarrassing and a slap in the face to Trump's base. People are struggling and losing their country. They're begging for real action – not childish stunts like this."
Steve Deace, podcast host: "DeSantis out here launching grand juries, while Trump be out here selling trading cards. Come on, man."
Bryson Gray, political commentator: "Trump's major announcement was about digital trading cards. Can we be honest about that being a let down?"
John Nolte, Breitbart columnist: "Anyone dumb enough to buy """"digital""" trading cards should probably wear a helmet and never procreate."
Hodgetwins, political commentators: "Man…when all Patriots are looking for is hope for the future of our country and Trump hypes everybody up with a 'BIG ANNOUNCEMENT'. Then drops a low quality NFT collection video as the 'announcement', it just pushes people away…Damn."
Caleb Hull, digital strategist: "Whoever thought this was a good idea needs to be fired."
Kingsley Cortes, former Trump campaign: "I regret to inform you that we are so not back."

⬇️ Top Picks for You ⬇️
Trump Indicted in Classified Docs Probe — Here's Everything We Know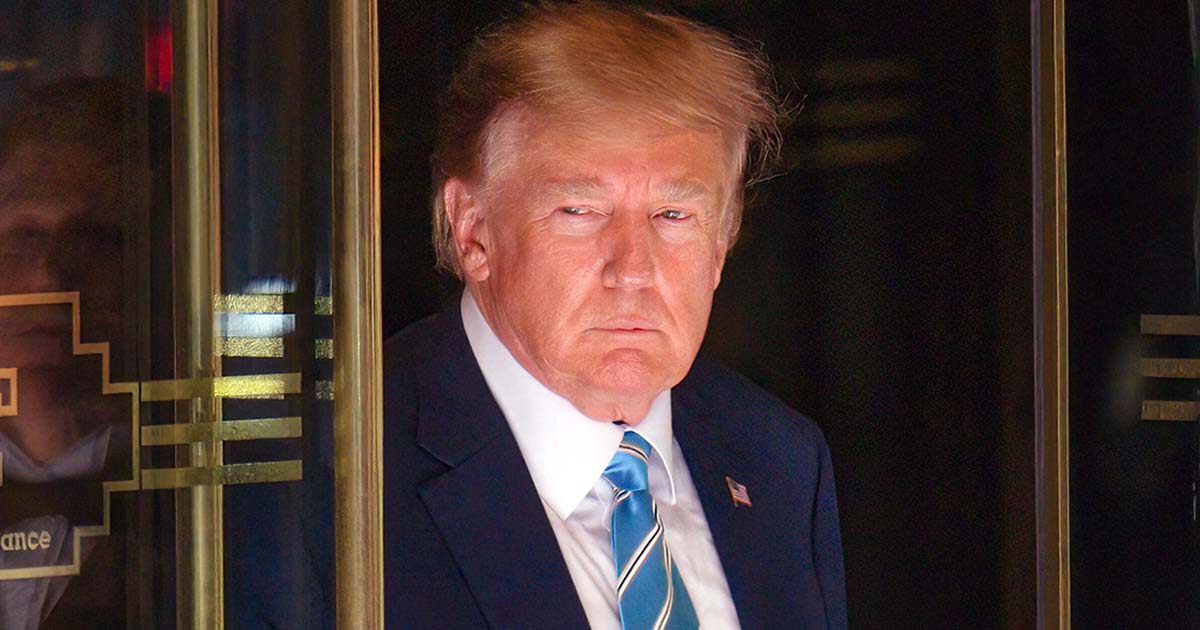 Former President Donald Trump said Thursday that his legal team has been told he's been indicted in an investigation into his handling of classified documents. Trump has been summoned to appear in federal court in Miami on Tuesday afternoon.
TRUMP STATEMENT:
The corrupt Biden Administration has informed my attorneys that I have been Indicted, seemingly over the Boxes Hoax, even though Joe Biden has 1850 Boxes at the University of Delaware, additional Boxes in Chinatown, D.C., with even more Boxes at the University of Pennsylvania, and documents strewn all over his garage floor where he parks his Corvette, and which is "secured" by only a garage door that is paper thin, and open much of the time.
I have been summoned to appear at the Federal Courthouse in Miami on Tuesday, at 3 PM. I never thought it possible that such a thing could happen to a former President of the United States, who received far more votes than any sitting President in the History of our Country, and is currently leading, by far, all Candidates, both Democrat and Republican, in Polls of the 2024 Presidential Election. I AM AN INNOCENT MAN!
This is indeed a DARK DAY for the United States of America. We are a Country in serious and rapid Decline, but together we will Make America Great Again!
7 CHARGES:
Trump has been charged with seven counts in the indictment, according to another source familiar with the matter.
"We're learning from our sources that there appears to be at least seven counts here. This ranges from everything from the willful retention of national defense information to conspiracy to a scheme to conceal to false statements and representations," ABC News' Katherine Faulders reported during a special report on the network.
MEDIA SWARMS MIAMI COURTHOUSE
Earlier today, dozens of out-of-town reporters, photographers and TV camera crews gathered in front of the downtown federal courthouse in hopes of getting a morsel of news from a secret grand jury which has been reviewing evidence in the Justice Department's probe into Trump's handling of classified materials at his Mar-a-Lago estate in Palm Beach.
THE BACKSTORY:
Special counsel Jack Smith has been overseeing the investigation into Trump's handling of classified documents since he was appointed to the role in November.
Trump's attorneys met earlier this week with Justice Department officials, including Smith. Experts widely viewed the meeting as a sign that Smith's investigation was winding down.
On May 6, 2021, the National Archives first alerted Trump that it was seeking approximately two dozen boxes of records be returned to it as required by the Presidential Records Act. The National Archives warned Trump in late 2021 that they could escalate the issue to prosecutors or Congress if he continued to refuse to hand over the documents. He was also warned by former Trump White House lawyer Eric Herschmann that he could face serious legal jeopardy if he did not comply.
In January 2022, about 15 of the boxes were returned, at which time officials discovered there were hundreds of pages of classified material in the boxes. Federal law enforcement was notified of the discovery and later came to believe that there were more materials that had not been turned over, and a criminal investigation was subsequently launched.
In May 2022, a federal grand jury issued a subpoena seeking additional classified documents and, a few weeks later, the DOJ visited Mar-a-Lago and Trump's legal team signed a written statement claiming that all the classified material had been returned. Over the course of the summer, investigators interviewed members of Trump's staff and subpoenaed surveillance footage from the property.
On August 8, the FBI raided Mar-a-Lago recovered 27 boxes, 11 of which contained classified documents. Four sets were marked "Top Secret," the highest level of classification the government can give information; three were marked "Secret," the second-highest level, while another three were marked "Confidential," the lowest classification level.  The remaining set was marked "Various classified/TS/SCI documents," which is the abbreviation for "top secret/sensitive compartmented information," a special category meant to protect the nation's most important secrets — which if revealed publicly would harm US interests.