Police released a photo of a fourth suspect in the wild subway beatdown of Fox News meteorologist Adam Klotz — who revealed in a new interview how members of the violent crew egged each other on to "put him to sleep."
The surveillance image, released by the NYPD Monday night, shows a young-looking man in a black jacket and light sweater. The suspect is still on the loose and believed to be connected to the brutal early Saturday attack on Klotz, 37, on a southbound No. 1 train near 18th Street.
Three of the suspects — two 15-year-olds and a 17-year-old — were arrested soon after the attack and then released, cops said.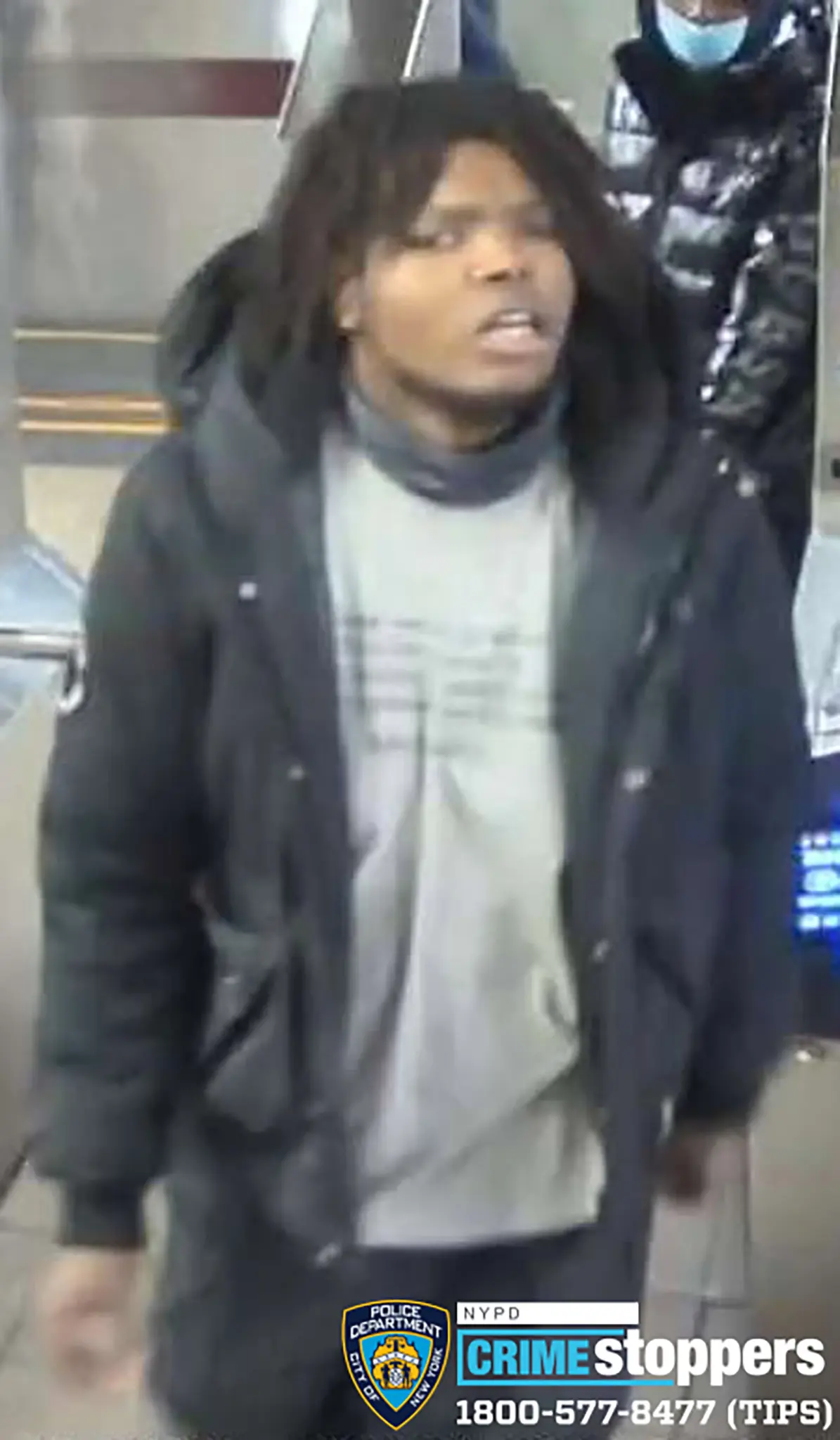 "This whole group comes and gang-rushes me, jumps on me and just starts beating me and kicking me," Klotz recalled in a Monday night interview with Fox News host Tucker Carlson. "I hear, 'Put him to sleep, put him to sleep, put him to sleep, put him to sleep.' They wanted to knock me out.
"And my goal at that point — it's just like, cover my head, because once you're unconscious, who knows what's going to happen?" added the weatherman, whose face was still bruised from the attack. "And I was able to avoid that, but I got kicked up and down the side, kind of stomped on. They got their licks in for sure."
Klotz said the mayhem began as he headed home from watching the Giants game at a bar with friends.
He felt compelled to intervene, he said, when he witnessed the crew setting a senior's hair on fire.
"A group of I'd say like seven teens, one started to light up a joint, and with the lighter still in his hand, just put a live lighter in an elderly man's hair and it blew up like a matchbook," Klotz said. "His entire head was on fire. And the guy's knocking out his [hair]."
"I was just sitting right there watching it and how can you not [intervene]?" Klotz recalled. "[I said], 'Whoa, guys, you can't do that.' And then they just did not want to be told what they could or couldn't do. So then suddenly the focus was on me."
The suspects asked him if he had a problem before Klotz repeated, "You can't do that," he said.
One of them sneered, "Try to stop me," according to the weatherman.
"So I caught a left, a pretty good left [that] kind of put my head back into the wall," Klotz said.
Klotz said he moved to another car — thinking the worst was over — but the same group found him and attacked him again a short time later.
The three young thugs who have already been released with "juvenile reports" could only face charges if Klotz files a complaint with the city Department of Probation, which would then decide if it would refer the case to the Law Department, officials said Sunday.
The juvenile reports they were given are handed to youngsters who allegedly commit an act that would constitute an offense if perpetrated by an adult.
However, police said Monday they're interviewing the elderly man who was allegedly accosted by the teens first — and could still lodge charges against the rowdy crew.
"The decision was to get all the information before we move forward," NYPD Deputy Chief Kevin Maloney told The Post. "The decision was made to release them to their parents and make efforts to identify the other victim, which we did."
"We're talking to him now to see if there are appropriate charges," Maloney said. "They could be issued appearance tickets to appear in family court."
Asked on "Fox & Friends" earlier Monday if he would pursue charges, Klotz was noncommittal.
"I want someone to be held responsible, but really what I want is some sort of change. I don't want this to happen to somebody else, and I don't think necessarily just these kids getting in trouble," he said. "Like, where's the structural things?"
"I want [Mayor] Eric Adams to do something more long-term that this won't happen to somebody else, more than me just getting some sort of revenge in the short term," he said.

⬇️ Top Picks for You ⬇️
'Where's Doug?' — Biden Repeatedly Calls Dem Pol by Wrong Name in Echo of 'Where's Jackie?' Gaffe
President Biden called Rep. Don Beyer (D-Va.) by the name "Doug" four times Thursday during a gaffe-filled visit to the congressman's district.
"Where's Doug? Congressman?" the 80-year-old president asked while giving a speech on the economy.
"He's around here somewhere," Biden said as he searched the crowd. "Oh, there you are. Doug, thanks for the passport into town. Doug and I have something in common, we both married way above our station."
Biden is the oldest-ever president, and his mental acuity is frequently a matter of debate as he prepares to launch a 2024 re-election campaign.
The uncomfortable moment recalled the infamous September exchange when Biden asked "Where's Jackie?" as he searched for the late Rep. Jackie Walorski (R-Ind.) in a crowd, despite publicly mourning her death and even calling her family to offer his condolences in August.
About five minutes into his remarks Thursday, Biden appeared to recognize his error when he called Beyer "Doug" for a fourth time and seemed to grasp for his actual name.
"Doug knows, Do —," Biden said haltingly, before launching into an attack on House Republicans, claiming: "Look, here's the deal … They want to cut your Social Security and Medicare. Now, this is the God's truth. It's almost unbelievable."
Contrary to Biden's remark, House Speaker Kevin McCarthy (R-Calif.) said repeatedly this week he doesn't want to cut the social safety nets.
Beyer, a House member since 2015, is a wealthy car dealership owner who became a popular Democratic designate for proxy votes during the COVID-19 pandemic because his urban northern Virginia district abuts DC.
White House press secretary Karine Jean-Pierre said Wednesday that Biden would receive his annual physical before Feb. 1. It's unclear if the exam will feature a cognitive test.
Biden stumbled at other points in his remarks Thursday, including when he said that a train tunnel in Baltimore goes under the Potomac River although the body of water is about a one-hour drive from Maryland's largest city.
"Next week, I'm visiting Baltimore and New York. We're going to replace a 150-year-old tunnel, the Baltimore Potomac Tunnel, under the Potomac River, which will allow rail traffic to move up and down the East Coast," Biden said.
The president appeared to be confused about the physical location of the tunnel because of its name, a legacy of its construction in the 1870s by the Baltimore and Potomac Railroad.
"I'm probably the only non-rail guy who's walked that tunnel," Biden added. "No, I'm not joking … last time I walked it, they still had lights that were on a string hanging down, leaks in the roof — folks, 150 years old, nothing has been done to it. Everything has to slow down. And there's a great worry that part of it could collapse."
Biden also claimed in his remarks that COVID-19 vaccinations were mass-deployed by his administration and not by former President Donald Trump "because the other guy and the other team didn't think it mattered a whole lot" — despite the Trump administration overseeing the rapid development and initial month of deployment of vaccines.
The point of Biden's speech was to promote his economic agenda amid a standoff with House Republicans on increasing the national debt ceiling.
Biden said that "a distinct minority of 30 to 40%" of Republicans were "determined to be the party of chaos and catastrophe."
Although the White House has thus far refused to negotiate in the debt ceiling standoff, Biden appeared to hint he was open to talks.
"Look," he said. "I'm ready to work with Republicans, and I've demonstrated — to the chagrin sometimes of my Democratic friends who want to make progress for the American people — I'm ready to compromise if there's something good we want to deal with."