Police released a photo of a fourth suspect in the wild subway beatdown of Fox News meteorologist Adam Klotz — who revealed in a new interview how members of the violent crew egged each other on to "put him to sleep."
The surveillance image, released by the NYPD Monday night, shows a young-looking man in a black jacket and light sweater. The suspect is still on the loose and believed to be connected to the brutal early Saturday attack on Klotz, 37, on a southbound No. 1 train near 18th Street.
Three of the suspects — two 15-year-olds and a 17-year-old — were arrested soon after the attack and then released, cops said.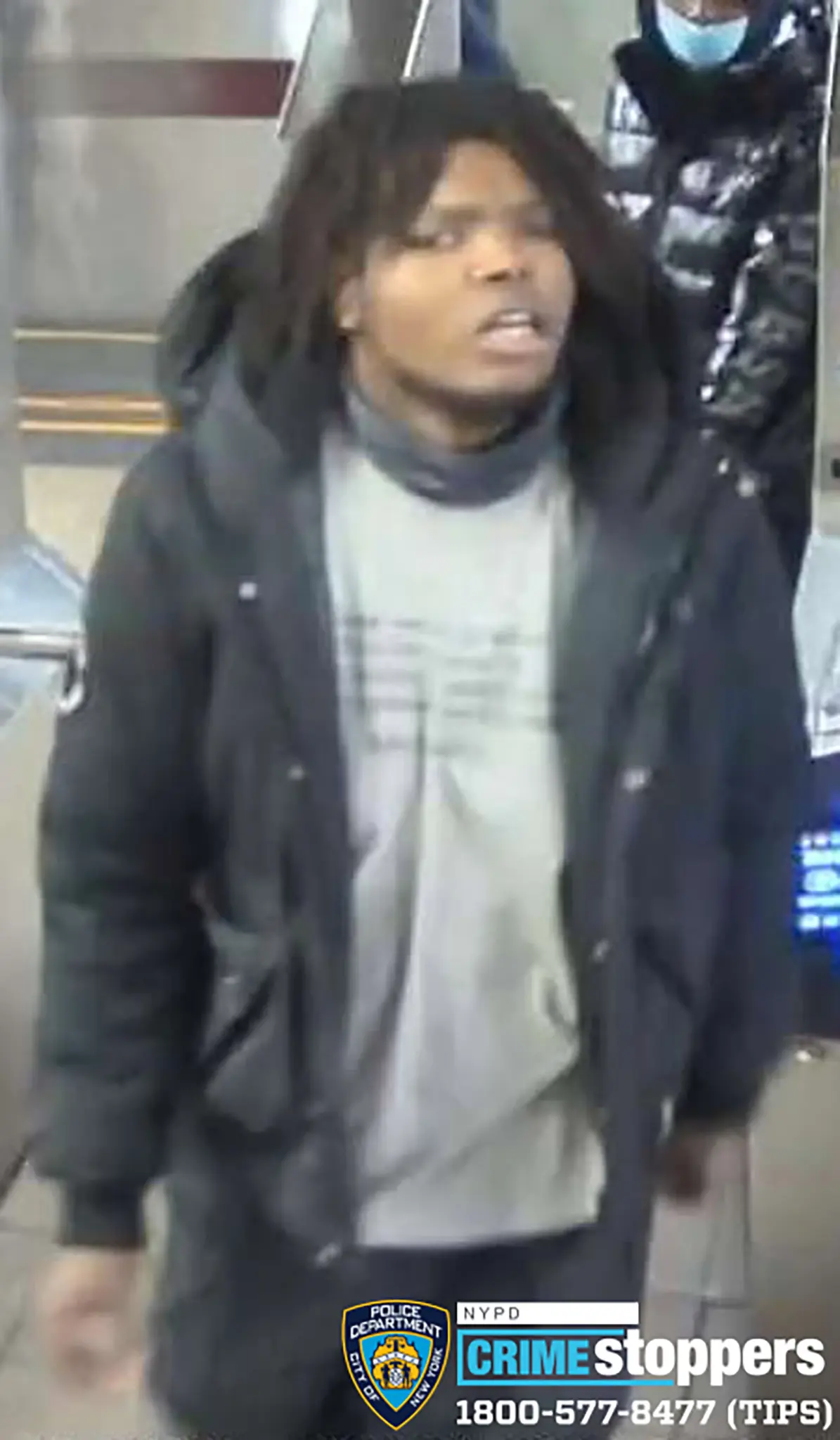 "This whole group comes and gang-rushes me, jumps on me and just starts beating me and kicking me," Klotz recalled in a Monday night interview with Fox News host Tucker Carlson. "I hear, 'Put him to sleep, put him to sleep, put him to sleep, put him to sleep.' They wanted to knock me out.
"And my goal at that point — it's just like, cover my head, because once you're unconscious, who knows what's going to happen?" added the weatherman, whose face was still bruised from the attack. "And I was able to avoid that, but I got kicked up and down the side, kind of stomped on. They got their licks in for sure."
Klotz said the mayhem began as he headed home from watching the Giants game at a bar with friends.
He felt compelled to intervene, he said, when he witnessed the crew setting a senior's hair on fire.
"A group of I'd say like seven teens, one started to light up a joint, and with the lighter still in his hand, just put a live lighter in an elderly man's hair and it blew up like a matchbook," Klotz said. "His entire head was on fire. And the guy's knocking out his [hair]."
"I was just sitting right there watching it and how can you not [intervene]?" Klotz recalled. "[I said], 'Whoa, guys, you can't do that.' And then they just did not want to be told what they could or couldn't do. So then suddenly the focus was on me."
The suspects asked him if he had a problem before Klotz repeated, "You can't do that," he said.
One of them sneered, "Try to stop me," according to the weatherman.
"So I caught a left, a pretty good left [that] kind of put my head back into the wall," Klotz said.
Klotz said he moved to another car — thinking the worst was over — but the same group found him and attacked him again a short time later.
The three young thugs who have already been released with "juvenile reports" could only face charges if Klotz files a complaint with the city Department of Probation, which would then decide if it would refer the case to the Law Department, officials said Sunday.
The juvenile reports they were given are handed to youngsters who allegedly commit an act that would constitute an offense if perpetrated by an adult.
However, police said Monday they're interviewing the elderly man who was allegedly accosted by the teens first — and could still lodge charges against the rowdy crew.
"The decision was to get all the information before we move forward," NYPD Deputy Chief Kevin Maloney told The Post. "The decision was made to release them to their parents and make efforts to identify the other victim, which we did."
"We're talking to him now to see if there are appropriate charges," Maloney said. "They could be issued appearance tickets to appear in family court."
Asked on "Fox & Friends" earlier Monday if he would pursue charges, Klotz was noncommittal.
"I want someone to be held responsible, but really what I want is some sort of change. I don't want this to happen to somebody else, and I don't think necessarily just these kids getting in trouble," he said. "Like, where's the structural things?"
"I want [Mayor] Eric Adams to do something more long-term that this won't happen to somebody else, more than me just getting some sort of revenge in the short term," he said.

⬇️ Top Picks for You ⬇️
The 9 U.S Cities Where Home Owners Are Losing Thousands on Their House Values
The US housing market is currently in the midst of an unprecedented decline in home prices – with properties in some cities selling for hundreds of thousands of dollars less than they were just a year ago.
The concerning data was revealed last week by Redfin, and marks a significant shift in the American real estate landscape following a historic surge seen during the Covid-19 pandemic.
Two cities in the Bay Area – Oakland and San Francisco – are among the worst offenders when it comes to decline by dollar amount, a phenomenon researched said is fueled in part by diminishing demand and the looming possibility of a recession.
Other notable declines occurred in major metros like Austin, Boise, Salt Lake City, Seattle, and Los Angeles – all of which saw their median home price shed at least $60,000 since April of last year.
San Francisco and Oakland both saw price drops into six figures with the median value decreasing by $220,000 and $174,000 respectively.
'Pandemic boomtowns and pricey coastal markets are seeing historic home-price declines,' the report published on May 22 discerned, before noting nationwide, the median home sale price has dropped nearly $18,000 – the most since January 2012.
In addition, researchers who looked at more than 91 American metro areas with populations of at least 750,00 observed the decline marked the third month of declines following roughly a decade of increases.
The steepest declines, though, were recorded in California markets commonly thought to be expensive – as well as towns that experienced an uptick in demand during the pandemic.
Such towns, including prime pandemic hotspot Austin, recorded dramatic losses that also neared the six-figures – with the Texas town where Elon Musk's Tesla's recently relocated to losing $85,000 in value since April.
In terms of percentages, the decrease amounted to 15.3 percent – equity that researchers revealed said has all but evaporated over the past year.
When taking into account overall he drop was the second most pronounced out of all the metropolitan areas analyzed by the real estate firm – bested only by Oakland, whose decrease erased 16.1% of listed homes' overall median value.
The city sporting the third worst reduction rate was Boise, Idaho, are selling for $80,000 less than they were this time last year.
The percentage drop also came as nearly identical to the one associated with the Texas capital, at 15.1 percent. Both sport average listing prices around $500,000 – a number well under the half the average price of homes on the West Coast.
Last year, an analysis determined that both cities had the most overpriced real estate in the country, propelled by post pandemic demand.
Pricing history for the locales showed 2022 median homes should cost around $299,202 in Boise, but were still selling for 72 percent higher at $516,548.
Austin homes, meanwhile were 67.70 percent overpriced, the study from Florida Atlantic University found.
Researchers' polling efforts found the historically costly locale surrounding San Francisco sported the fourth-worst rate for its mean sale price – despite its drop being by far the most pronounced when measured in dollars.
The distinction of fifth-most rapid percent decline was achieved by Salt Lake City, a locale whose downtown has seen a 40 percent spike in activity since February 2020, according to a May report.
As is the case with other pandemic boomtowns, that increase led to higher housing demand and, ultimately, more costly homes.
Per the new data from Redfin, it appears those prices are now coming back to earth – with it now costing $60,000 on average to purchase a home in the rising Utah city.
Other metropolitan areas to record decreases over the past year according to Redfin included Seattle, Los Angeles, Philadelphia, and Washington, DC – all of which boast a cost of living well above the national average.
Another characteristic the lived-in districts share is a high rate of crime – rates that worsened in double-digits during the pandemic and, in most cases, have continued to persist.
Higher mortgage rates have also played a part in the decreases seen in these heavily populated areas – as they continue to deter both buyers and sellers from moving forward with potential transactions.
As a result, new listings, on average, dropped 26.1 percent year over year – the largest decline on record aside from April 2020, when the onset of the pandemic effectively brought the housing market to a standstill.