The Los Angeles County medical examiner-coroner announced on Friday that Black Lives Matter (BLM) co-founder Patrisse Cullors' cousin Keenan Anderson's death occurred due to the effects of an enlarged heart and cocaine use.
"The Los Angeles County Department of Medical Examiner-Coroner determined the cause of death for 31-year-old Keenan Darnell Anderson as effects of cardiomyopathy (enlarged heart) and cocaine use (death determined hours after restraint and conducted energy device [CED] use); the manner of death is undetermined," the group announced in a news release.
Anderson's family filed a $50 million lawsuit against the city of Los Angeles for wrongful death and civil rights violations. According to NPR, the family said they still plan to continue with the lawsuit after the findings were released.
"An unarmed Black man, in obvious mental distress, was savagely attacked and repeatedly tased, in clear violation of LAPD policy by several trained officers," they claimed, adding that "the innocent life of a little five-year-old boy will be forever changed as a result."
Cullors responded to the report by saying, "My cousin was alive when he flagged the police. And after his interaction with the police, he was dead," she continued, "This idea that the coroner is unable to determine how he died is unacceptable. And to point to the substances and point to the enlarged heart and not to the tasers is very, very disturbing."
Los Angeles Mayor Karen Bass said in a statement, "Keenan Anderson was a father, a son, a brother, a cousin, and an educator of young people. He was loved and he is missed." She added, "I remain committed to expanding the public safety system to include health professionals and to ensuring LAPD officers receive the best possible training to assist people in crisis."
"The coroner raises questions that still must be answered and I await the result of the investigation already underway. I know that in this time of pain it sometimes feels like there is no hope, but we must turn the pain into concrete, substantive change – and we will," Bass concluded.
Anderson died on January 3 after being tased by police as he was being arrested for allegedly committing felony hit & run and attempted auto theft. Toxicology reports showed that he had cocaine and cannabis in his system at the time.
Police showed up to the 31-year-old running in the middle of the street and acting erratically after he caused a car accident. While being arrested he yelled, "They're trying to kill me," and "They're trying to George Floyd me."
Police used a Taser on Anderson, and his activist cousin later blamed the police for his death. "LAPD has killed three people this year," she said. "One of them is my family member. Keenan deserves to be alive right now, his child deserves to be raised by his father. Keenan we will fight for you and for all of our loved ones impacted by state violence."
BLM gained national attention after the death of George Floyd while in police custody, sparking riots in the summer of 2020. Cullors stepped down from the organization in May 2021 after a scandal emerged surrounding a $1.4 million California home she purchased in 2021.

⬇️ Top Picks for You ⬇️
McCarthy to Work with Dems to Pass 45-Day Funding, Avoiding Govt Shutdown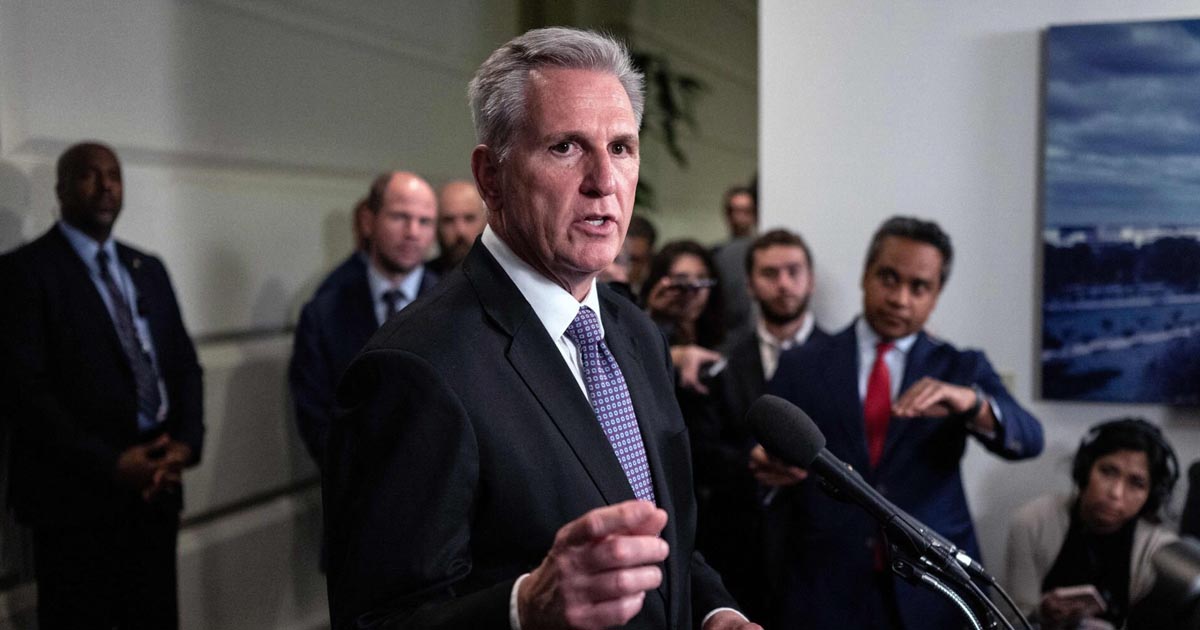 On the brink of a federal government shutdown, Speaker Kevin McCarthy announced a dramatic pivot Saturday, trying to push a 45-day funding bill through the House with Democratic help — a move that could keep government open but most certainly risks his job.
Republican lawmakers met behind closed doors early in the morning with hours to go before the midnight deadline needed to fund government operations or face a disruptive federal closure.
The new approach would leave behind aid to Ukraine, a White House priority opposed by a growing number of GOP lawmakers, but the plan would increase federal disaster assistance by $16 billion, meeting President Joe Biden's full request.
The House was preparing for a quick vote Saturday on the plan, but Democrats hit the brakes, seeking time so they could read the 71-page bill. Across the Capitol, the Senate was opening a rare weekend session and hoping to advance its own stopgap plan, but with money for Ukraine.
"We're going to do our job," McCarthy said after the morning meeting. "We're going to be adults in the room. And we're going to keep government open."
With no deal in place before Sunday, federal workers will face furloughs, more than 2 million active-duty and reserve military troops will work without pay and programs and services that Americans rely on from coast to coast will begin to face shutdown disruptions.
The sudden House action would fund government at current 2023 levels for 45 days, through Nov. 17. It would move closer to the bipartisan approach underway in the Senate, which also would fund the government through that period, while adding $6 billion for Ukraine to fight the war against Russia and $6 billion for U.S. disaster relief.
"A bipartisan, a bicameral solution is the only way forward," said Rep. Rosa DeLauro, the top Democrat on the House Appropriations Committee. She and other Democrats decried cutting Ukraine aid.
McCarthy, R-Calif., will be forced to rely on Democrats for passage because the speaker's hard-right flank has said it will oppose any short-term measure. McCarthy was setting up a process for voting that will require a two-thirds supermajority, about 290 votes in the 435-member House for passage. Republicans hold a 221-212 majority, with two vacancies.
Relying on Democratic votes and leaving his right-flank behind is something that the hard-right lawmakers have warned will risk McCarthy's job as speaker. They are almost certain to quickly file a motion to try to remove McCarthy from that office, though it is not at all certain there would be enough votes to topple the speaker.
"If somebody wants to remove me because I want to be the adult in the room, go ahead and try," McCarthy said of the threat to oust him. "But I think this country is too important."
The quick pivot comes after the collapse Friday of McCarthy's earlier plan to pass a Republican-only bill with steep spending cuts up to 30% to most government agencies that the White House and Democrats rejected as too extreme.
"Our options are slipping away every minute," said one senior Republican, Rep. Mario Diaz-Balart of Florida.
Meanwhile, the Senate was marching ahead on its package with support from both Democrats and Republicans.
"Congress has only one option to avoid a shutdown — bipartisanship," said Senate Majority Leader Chuck Schumer, D-N.Y.
Senate Republican leader Mitch McConnell of Kentucky echoed the sentiment, warning his own hard-right colleagues there is nothing to gain by shutting down the federal government.
"It heaps unnecessary hardships on the American people, as well as the brave men and women who keep us safe," McConnell said.
The federal government is heading straight into a shutdown that poses grave uncertainty for federal workers in states all across America and the people who depend on them — from troops to border control agents to office workers, scientists and others.
Families that rely on Head Start for children, food benefits and countless other programs large and small are confronting potential interruptions or outright closures. At the airports, Transportation Security Administration officers and air traffic controllers are expected to work without pay, but travelers could face delays in updating their U.S. passports or other travel documents.
An earlier McCarthy plan to keep the government open collapsed Friday due to opposition from a faction of 21 hard-right holdouts despite steep spending cuts of nearly 30% to many agencies and severe border security provisions.
The White House has brushed aside McCarthy's overtures to meet with Biden after the speaker walked away from the debt deal they brokered earlier this year that set budget levels.
Catering to his hard-right flank, McCarthy had returned to the spending limits the conservatives demanded back in January as part of the deal-making to help him become the House speaker.
After Friday's vote, McCarthy's chief Republican critic, Rep. Matt Gaetz of Florida, said the speaker's bill "went down in flames as I've told you all week it would."