The woman behind the now-infamous "motherf—r in back is not real" video was identified last week as a 38-year-old marketing executive from Dallas, Texas.
The viral clip, which has garnered millions of views on social media platforms, shows a frantic woman yelling while standing in the aisle on the airplane.
"I'm getting the f*ck off. And there's a reason why," she says, pointing down the aisle to the back of the plane. "I am telling you right now, that motherf*cker, that motherf*cker back there is NOT REAL!"
At that point, many of the passengers turn their heads to look down the aisle, where a flight attendant is walking.
"And you can sit on this plane and you can f*cking die with him or not," the woman says. "I'm not going to."
One passenger casually says, "Bye." as the woman leaves.
WATCH:
The way the whole plane looked back lmao pic.twitter.com/bLiUAN8kuk

— Lance🇱🇨 (@Bornakang) July 3, 2023
While the video depicted the woman in a seemingly panic state, making wild allegations about a supposed "not real person" in the backseat, the official police report tells a rather different story.
After a month, the woman in the viral video was earlier identified as Tiffany Gomas, a marketing executive from Dallas, as reported by the Daily Mail.
Today video was released by Tiffany Gomas where she discusses the incident on the plane.
Tiffany Gomas:
Hi everyone, it's me, Tiffany Gomez, probably better known as the crazy plain lady, which is completely warranted. As you know. I have been unwilling to speak on the viral video, but I do finally feel that it's time first and foremost, I want to take full accountability for my actions. They were completely unacceptable. Distressed or not, I should have been in control of my emotions and that was not the case.
My use of profanity was completely unnecessary and I want to apologize to everyone on that plane, especially those that had children aboard. Can't imagine going through that and trying to explain to your kid what in the world just happened.
We all have our bad moments, some far worse than others. And mine happened to be caught on camera for the whole world to see multiple times. Sorry, trying not to sound like Minnie Mouse.
While it has been really comical for everyone and I have highly enjoyed so many of the memes, on the flip side, it is very invasive and unkind and I don't know what I would do without the love and support of my friends and family. They are loyal to a fault and I don't know what I did to deserve them.
Sorry y'all. I hope that I can use this experience and do a little bit of good in the world and that is what I intend to do. I hope that you guys can accept my apology and I can begin to move on with my life.
I apologize and take accountability for my actions, they were uncalled for. My very worst moment was captured on video. Although the memes have been amusing, the flipside has been cruel. I'm thankful for my friends and family for supporting me through this. This experience has… pic.twitter.com/0AfQcaEzj0

— Tiffany Gomas (@Tiffany_Gomas) August 13, 2023
Gomas was aboard on a flight from Fort Worth to Orlando, Florida on July 2, when the incident occurred.
According to the police report, Gomas's unexpected outburst was reportedly instigated by an argument with family members she was traveling with. She accused them of stealing her AirPods.
Following the accusation, Gomas further alarmed passengers and crew by claiming that the aircraft was not safe and wouldn't make it to its destination.
"The female then started claiming the aircraft was unsafe and did not want the aircraft to leave because she believed it would not reach its destination," according to the police documents obtained by Daily Mail.
"Due to the statements the flight attendants felt the aircraft needed to be rescreened. [The airline manager] explained that the passenger was denied boarding and they wanted her escorted to the public side.
"TSA personnel arrived at the scene to conduct a full rescreening of the aircraft," the police report stated.

⬇️ Top Picks for You ⬇️
Senate Democrats Authorize Supreme Court Ethics Subpoenas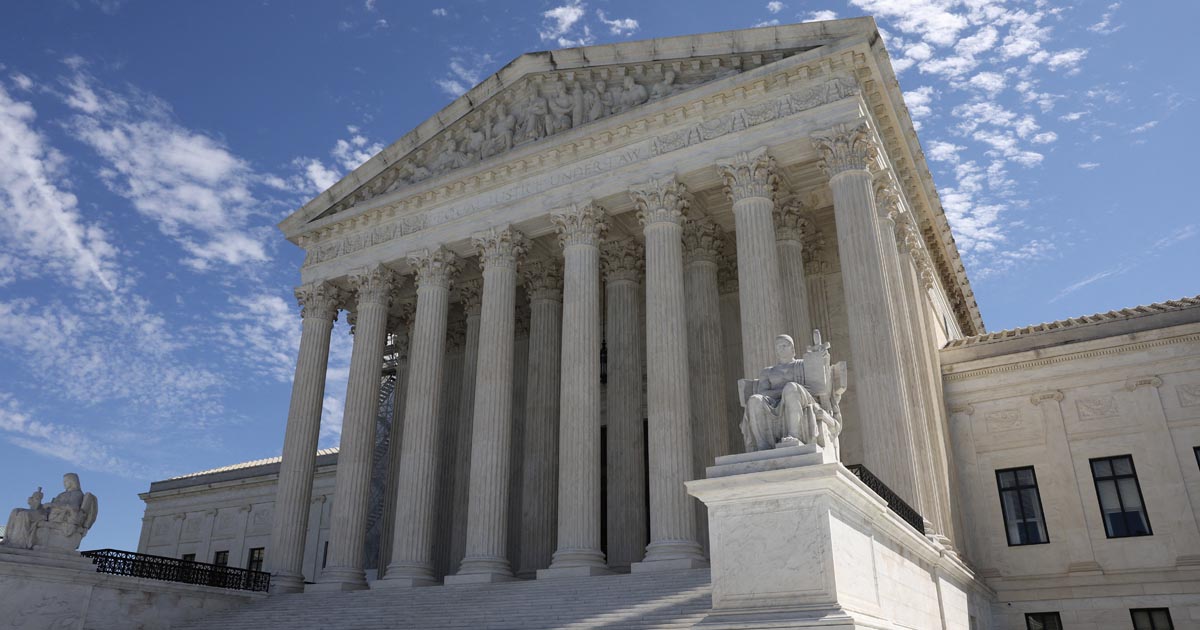 A Democratic-led U.S. Senate panel on Thursday authorized subpoenas to two influential conservatives – Harlan Crow and Leonard Leo – as part of an ethics inquiry spurred by reports of undisclosed largesse directed to some conservative Supreme Court justices.
The Judiciary Committee voted to authorize the subpoenas for Crow, a billionaire Republican donor and benefactor of conservative Justice Clarence Thomas, and Leo, a legal activist who was instrumental in compiling Republican former President Donald Trump's list of potential Supreme Court nominees.
Republican senators walked out of the contentious committee meeting in protest while Democrats cast votes. Some Republicans later questioned the vote's legitimacy, accusing Democrats of violating procedural rules.
"The subpoena clearly wasn't legal," Republican Senator John Kennedy, a committee member, said after the vote.
Senator Dick Durbin, the panel's chairman, said subpoenas were necessary due to the refusal by Crow and Leo for months to voluntarily comply with its previous requests for information. This included itemized lists of all gifts, transportation and lodging provided to any Supreme Court justice.
Durbin also renewed his criticism of a new code of conduct announced by the court on Nov. 13 and promised to continue to pursue the committee's ethics investigation.
"Without an enforcement mechanism, this code of conduct, while a step in a positive direction, cannot restore the public's faith in the court," Durbin said.
Senator Lindsey Graham, the committee's top Republican, told the meeting that Democrats were engaged in a "jihad" against the Supreme Court, whose 6-3 conservative majority has handed major defeats to liberals in recent years on matters including abortion, gun rights and student debt relief.
"When you say you don't want to destroy the Roberts Court, I don't believe you," Graham said, referring to the court under the leadership of conservative Chief Justice John Roberts. "I don't believe a word you're saying."
The committee vote authorized Durbin to issue the subpoenas, which he could do unilaterally, according to a Democratic committee staffer.
If the subpoena recipients fail to comply, Democrats would need 60 votes in the 100-seat Senate to initiate a civil enforcement action, meaning they would need the support of some Republicans. The Democrats also would have the option to make a referral to the U.S. Justice Department, which could choose to pursue criminal contempt proceedings against the subpoena recipients.
Lawyers for Leo and Crow in letters to the committee have criticized the committee's information requests as lacking a proper legal justification. Crow's lawyer had proposed turning over a narrower range of information but Democrats rebuffed that offer, according to the panel's Democratic members.
The news outlet ProPublica reported this year on Thomas's failure to disclose luxury trips and real estate transactions involving Crow, a Texas businessman.
The outlet also reported that Leo helped organize a luxury fishing trip in Alaska attended by conservative Justice Samuel Alito, who failed to disclose taking a private jet provided by billionaire hedge fund manager Paul Singer. Trump chose all three of his appointees to the court from lists of candidates that Leo played a key role in drawing up.
Thomas has said he believed the Crow-funded trips were "personal hospitality" and thus exempt from disclosure requirements, and that his omission of the real estate transaction was inadvertent.
Alito, regarding the flight, said that Singer had "allowed me to occupy what would have otherwise been an unoccupied seat."