A statute allowing food producers to incorporate cricket powder into flour-based products will go into effect on Tuesday in the European Union.
The decision follows a review launched three years ago by the European Food Safety Authority regarding the use of partially defatted house cricket powder; the agency found that mass market consumption of the material is "safe under the proposed conditions" of use levels.
Cricket powder will now be permitted in a number of food products, such as multigrain bread, crackers, cereal bars, biscuits, beer-like beverages, chocolates, sauces, whey powder, soups, and other items "intended for the general population," according to the new regulation. Cricket One, a company that asserts that the insects are "nutritionally more efficient" and serve as a more reliable "source of alternative protein" than livestock, submitted the original application.
The regulation also referenced "limited published evidence on food allergy related to insects in general" and connected Acheta domesticus, the species of house cricket in question, to several "anaphylaxis events." The European Food Safety Authority concluded that "consumption of this novel food may trigger sensitisation" to the insect's proteins and recommended further study.
Because evidence linking cricket powder to allergic reactions is "inconclusive," the European Commission decided that no specific labeling requirements should be included in the EU list of authorized novel foods, according to the regulation.
The New York Allergy and Sinus Centers has nevertheless found that "several allergic reactions to crickets" have been reported in the past two years. Individuals allergic to shellfish such as shrimp, crabs, and lobsters "may develop an allergy to crickets" because the species share many of the same proteins. "While crickets are considered safe and healthy to eat, for those who are allergic, they pose a serious threat," the group said. "When ingested, crickets can cause anaphylaxis and other serious reactions."
Proposals for the increased consumption of crickets and other insects occur as many policymakers voice concern about the impact of meat production on climate change. Amanda Little, a professor at Vanderbilt University, asserted that the acceptance of insect consumption in the EU would not "translate to bugs in your burgers and mealworms in your macaroni," but rather allow them to become a feedstock for other protein sources.
The World Economic Forum has frequently raised the possibility of finding alternative food sources to decrease carbon emissions.
"Insects are a credible and efficient alternative protein source requiring fewer resources than conventional breeding," said one article from the organization. "Studies suggest that for the same amount of protein produced, insects, mealworms in particular, require much less land than other sources of animal proteins. A study on crickets suggests they are twice as efficient in converting feed to meat as chicken."
Another article from the World Economic Forum claimed that the "demand for protein will exceed our ability to procure it" by 2050, even though similar claims from environmentalists have been repeatedly disproven over the past several decades.
"For our long-term survival, we're going to need to increase our food output and decrease our carbon emissions at the same time," the group said. "The answer requires real innovation about food production and what we think about food."

⬇️ Top Picks for You ⬇️
Trump Indicted in Classified Docs Probe — Here's Everything We Know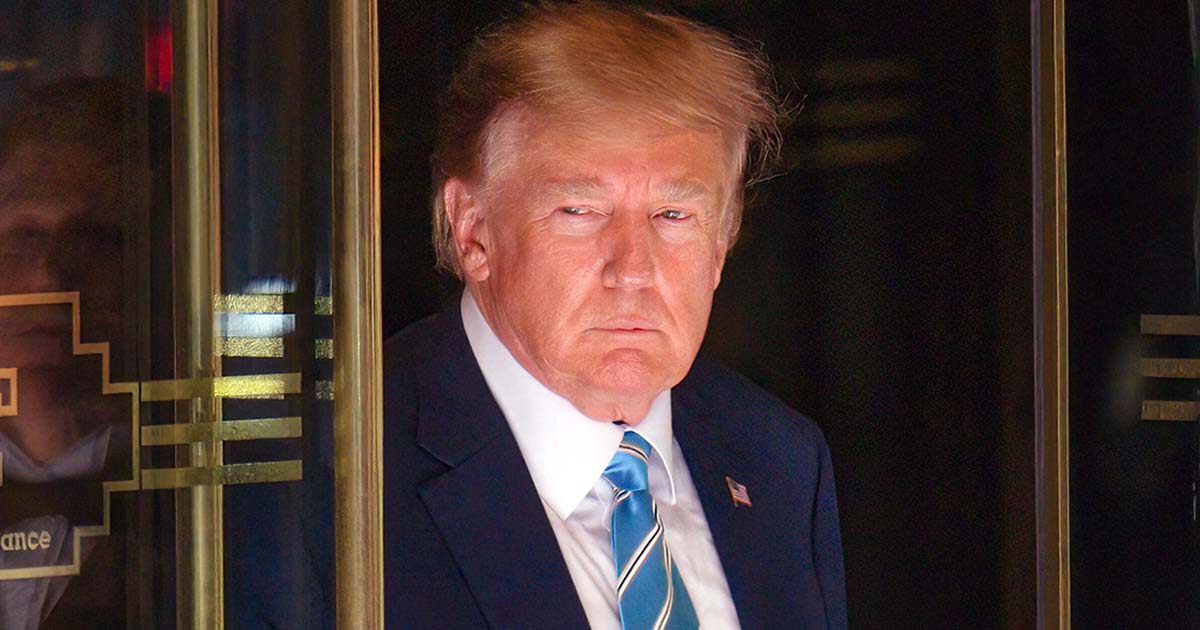 Former President Donald Trump said Thursday that his legal team has been told he's been indicted in an investigation into his handling of classified documents. Trump has been summoned to appear in federal court in Miami on Tuesday afternoon.
TRUMP STATEMENT:
The corrupt Biden Administration has informed my attorneys that I have been Indicted, seemingly over the Boxes Hoax, even though Joe Biden has 1850 Boxes at the University of Delaware, additional Boxes in Chinatown, D.C., with even more Boxes at the University of Pennsylvania, and documents strewn all over his garage floor where he parks his Corvette, and which is "secured" by only a garage door that is paper thin, and open much of the time.
I have been summoned to appear at the Federal Courthouse in Miami on Tuesday, at 3 PM. I never thought it possible that such a thing could happen to a former President of the United States, who received far more votes than any sitting President in the History of our Country, and is currently leading, by far, all Candidates, both Democrat and Republican, in Polls of the 2024 Presidential Election. I AM AN INNOCENT MAN!
This is indeed a DARK DAY for the United States of America. We are a Country in serious and rapid Decline, but together we will Make America Great Again!
7 CHARGES:
Trump has been charged with seven counts in the indictment, according to another source familiar with the matter.
"We're learning from our sources that there appears to be at least seven counts here. This ranges from everything from the willful retention of national defense information to conspiracy to a scheme to conceal to false statements and representations," ABC News' Katherine Faulders reported during a special report on the network.
MEDIA SWARMS MIAMI COURTHOUSE
Earlier today, dozens of out-of-town reporters, photographers and TV camera crews gathered in front of the downtown federal courthouse in hopes of getting a morsel of news from a secret grand jury which has been reviewing evidence in the Justice Department's probe into Trump's handling of classified materials at his Mar-a-Lago estate in Palm Beach.
THE BACKSTORY:
Special counsel Jack Smith has been overseeing the investigation into Trump's handling of classified documents since he was appointed to the role in November.
Trump's attorneys met earlier this week with Justice Department officials, including Smith. Experts widely viewed the meeting as a sign that Smith's investigation was winding down.
On May 6, 2021, the National Archives first alerted Trump that it was seeking approximately two dozen boxes of records be returned to it as required by the Presidential Records Act. The National Archives warned Trump in late 2021 that they could escalate the issue to prosecutors or Congress if he continued to refuse to hand over the documents. He was also warned by former Trump White House lawyer Eric Herschmann that he could face serious legal jeopardy if he did not comply.
In January 2022, about 15 of the boxes were returned, at which time officials discovered there were hundreds of pages of classified material in the boxes. Federal law enforcement was notified of the discovery and later came to believe that there were more materials that had not been turned over, and a criminal investigation was subsequently launched.
In May 2022, a federal grand jury issued a subpoena seeking additional classified documents and, a few weeks later, the DOJ visited Mar-a-Lago and Trump's legal team signed a written statement claiming that all the classified material had been returned. Over the course of the summer, investigators interviewed members of Trump's staff and subpoenaed surveillance footage from the property.
On August 8, the FBI raided Mar-a-Lago recovered 27 boxes, 11 of which contained classified documents. Four sets were marked "Top Secret," the highest level of classification the government can give information; three were marked "Secret," the second-highest level, while another three were marked "Confidential," the lowest classification level.  The remaining set was marked "Various classified/TS/SCI documents," which is the abbreviation for "top secret/sensitive compartmented information," a special category meant to protect the nation's most important secrets — which if revealed publicly would harm US interests.