The New York City bodega clerk who had murder charges dropped after video showed he acted in self-defense is suing District Attorney Alvin Bragg and NYPD for civil rights violations.
Jose Alba, an ex-bodega worker who was attacked behind the counter on July 1, 2022, by 35-year-old Austin Simon and his girlfriend, Tina Lee, filed a lawsuit in the Southern District of New York on Friday alleging he was wrongfully prosecuted because of the Manhattan district attorney's "racial equity" policies. The complaint names Bragg, NYPD Detective William Garcia, and unidentified arresting officers and detectives of the NYPD as defendants in the case.
"New York County District Attorney Alvin Bragg and/or his subordinates, following Bragg's policy to achieve 'racial equity' in the Manhattan criminal justice system, charged Plaintiff with murder in the second degree and asked for high bail at Plaintiff's arraignment," the complaint states.
"Despite the fact that Simon and Lee were the initial aggressors, it was Plaintiff who was arrested, incarcerated, and wrongfully prosecuted. While in theory, Bragg's 'racial equity' policies are a well-intentioned attempt by him to implement even-handed justice, the means and methods employed by Bragg have instead had an opposite effect and resulted in discrimination against certain defendants based on race."
The lawsuit also names Department of Corrections Commissioner Louis Molina and other DOC officials as defendants "responsible for the unconstitutional conditions of confinement and inadequate medical care at Rikers Island."
Alba's attorney, Richard Cardinale, told Fox News Digital Alba is seeking justice and compensatory and punitive damages against the city.
New York City's Law Department said the city will review the case when serve and respond accordingly.
Read the Lawsuit Here.
Alba's case grabbed national headlines for months after he was charged with second-degree murder for killing Simon, who was seen on surveillance video first coming behind the cashier's desk at the Blue Moon convenience store in Manhattan and attacking him. Despite claiming self-defense, Alba was sent to Riker's Island prison and initially given $250,000 bail, outraging the city's Dominican community.
"After the video of Simon and Lee's attack on Plaintiff was shown by the news media, and Plaintiff's arrest, prosecution and incarceration at Rikers Island Correctional Facility became a national story, there was widespread outrage against Bragg and his office for charging a law-abiding, older working man for lawfully defending himself during the crime wave in New York City, caused in part by the massive resignations of New York City Police Officers, and legislation and policies that frustrate the ability for law enforcement to combat crime," the complaint states.
"Defensively, Bragg responded that he was still investigating the incident, while Plaintiff, who could not pay the high bail for murder in the second degree, suffered at Rikers Island, unaware whether he was facing a long prison sentence for lawful self-defense."
Bragg's office faced widespread condemnation for bringing charges against Alba, as footage strongly suggested that the bodega worker grabbed a knife and fatally stabbed his assailant only after he had been attacked first.
Among many other supporters, New York City Mayor Eric Adams and former NYPD Commissioner Bill Bratton had publicly decried the initial charging decision, saying Alba acted in self-defense to thwart what appeared to be either an attempt on his own life or a robbery in progress.
Under intense public pressure, the district attorney dropped the murder charge on July 19, 2022.
Alba had declared his intention to sue the city in February, but the case was delayed while his attorney negotiated a pre-lawsuit settlement with the city. However, the parties could not reach an agreement, Cardinale told Fox News.
"The case is strong because it relies on defendants' own documents and statements and papers filed in the criminal case," Cardinale said. "This is not a case based on a lawyer or client's unsupported speculation."
As a candidate for district attorney, Bragg said racial equity must be a priority and stated his belief that thievery should not be prosecuted because it was a "crime of poverty."
"I grew up with friends disappearing over charges like that (theft) and even if there is an alternative [to incarceration, such as diversion programs, there is a] consequence of disruption for the family. We need to asking, 'Does something make us safer?' And prosecuting a young person, even if it doesn't end in incarceration [such as in diversion programs], in my view does not make us safer," Bragg said. "I think we need to move away from what I would call a crime of poverty."
Bragg was speaking to a group from Young New Yorkers in May 2021. The organization "applies a racial justice framework to… all levels of operations" as it diverts individuals facing charges under the age of 25 from the criminal justice system.
Bragg said his overall intention was to "Shrin[k] the footprint" of the criminal justice system.
He has since been criticized for taking a soft-on-crime approach as Manhattan's top prosecutor.

⬇️ Top Picks for You ⬇️
Biden Got Recurring $1,380 Payment from Hunter's Firm Starting in 2018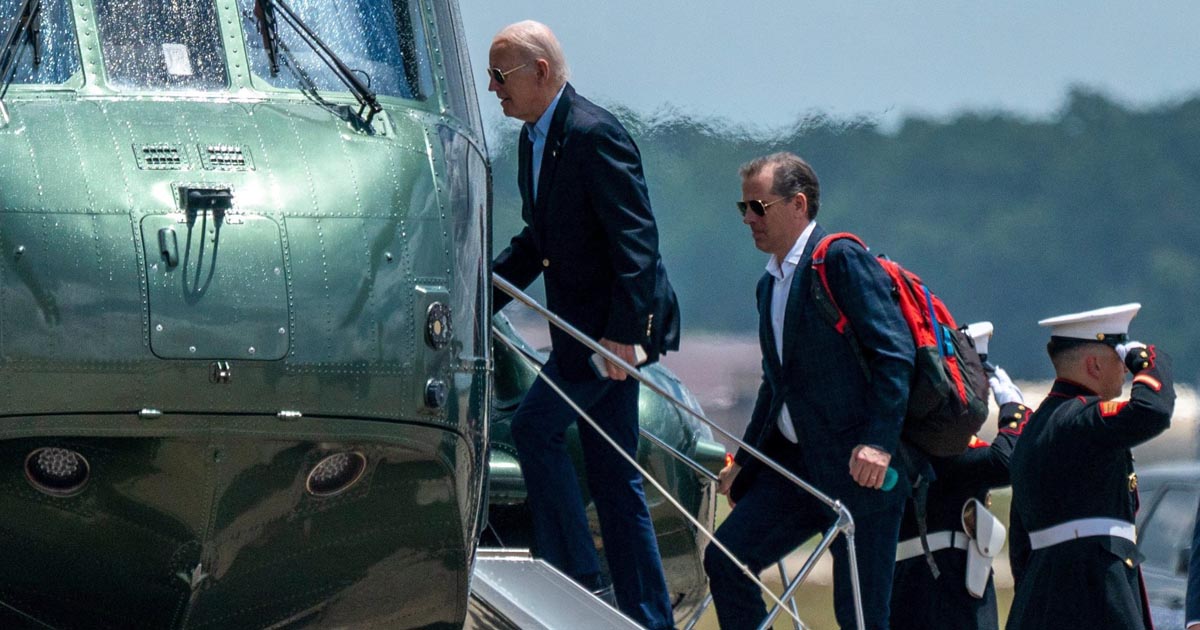 President Biden received a recurring payment of $1,380 from his son Hunter's law firm beginning in late 2018 shortly after a bank money laundering officer warned that the same account was receiving millions of dollars in Chinese government-linked funds without "any services rendered."
A bank order shows that Owasco PC set up a "monthly" transfer to then-former Vice President Joseph R. Biden Jr., with a voided check for the future president included in the documentation, which was released Monday by the House Oversight Committee.
A source told The Post that at least three recurring payments were made — on Sept. 17, Oct. 15 and Nov. 15, 2018 — totaling $4,140 to the elder Biden from Owasco PC, according to the bank records of the firm.
"President Biden and his family must be held accountable for this blatant corruption," Oversight Committee Chairman James Comer (R-Ky.) said in a video release.
"Today, the House Oversight Committee is releasing subpoenaed bank records that show Hunter Biden's business entity, Owasco PC, made direct monthly payments to Joe Biden. This wasn't a payment from Hunter Biden's personal account but an account for his corporation that received payments from China and other shady corners of the world," Comer said.
"At this moment, Hunter Biden is under an investigation by the Department of Justice for using Owasco PC for tax evasion and other serious crimes. And based on whistleblower testimony, we know the Justice Department made a concerted effort to prevent investigators from asking questions about Joe Biden. I wonder why?"
Earlier that year, a January 2019 email from assistant Katie Dodge to Hunter Biden annotated various expenses including "Ford Raptor — Reimbursement to JRB — $1380."
The provenance of the funds is unclear, however, and additional records show that Hunter Biden was knee-deep in two of his most controversial business relationships at the time, with Ukraine's Burisma Holdings and CEFC China Energy.
The evidence emerged as House Republicans prepare to question first brother James Biden on Wednesday and Hunter next week about the president's role in his family's dealings in countries such as China and Ukraine — with a possible floor vote to authorize the ongoing impeachment inquiry this month.
While a presidential candidate, Joe Biden denied that he ever discussed business with his relatives, but evidence has since shown that he met with his relatives' associates from both the Burisma and CEFC ventures.
Documents from the first son's abandoned laptop show that Burisma board adviser Vadym Pozharskyi sought "bank reference" information on Sept. 14, 2018 — one day before the initial transfer to Joe Biden was sought. However, the transaction was not executed for another two days, apparently due to a later-than-expected form submission.
Joe Biden met Pozharskyi at an April 17, 2015, dinner at DC's Café Milano. An unproven FBI informant tip said that Burisma owner Mykola Zlochevsky claimed in 2016 he was "coerced" into paying $10 million in bribes to the Bidens for their assistance in ousting prosecutor Viktor Shokin.
Hunter also was on the tail end of disbursing millions of dollars received from CEFC China Energy — one of two major Biden family dealings with Chinese government-linked firms.
On June 26, 2018 — less than three months before Joe Biden began to receive the monthly transfers — an internal Bank Secrecy Act expert warned colleagues that the institution should reconsider its relationship with Hunter as a result of Owasco PC seeming to receive Chinese funds without "any services rendered."
CEFC transferred $5 million to another Biden family-linked entity, Hudson West III, in August 2017 after Hunter warned a China-based associate of his father's wrath if a business deal was aborted. Much of the large transfer later went to Hunter's Owasco PC.
Prior bank records released by the Oversight Committee indicate that Joe Biden received payments of $40,000 and $200,000 from his brother James, who also was involved in the CEFC venture and other foreign-focused enterprises.
Comer alleged that the $40,000 transferred to Joe Biden's bank account on Sept 3, 2017, was from "laundered" Chinese funds.
James Biden paid Joe Biden $200,000 on March 1, 2018 — the same day that James received a $200,000 transfer from troubled rural hospital company Americore after pledging to use his political connections to secure a Middle Eastern investor, according to bankruptcy filings.
The White House says there's evidence that both transfers were loan repayments, but Republicans argue they have not seen loan agreement documents and note that the funds distributed to James came from a law firm, rather than Joe Biden himself, further clouding the picture.