A rising Republican star tipped by many to be Donald Trump's running mate should he win the presidential nomination has been involved in a clandestine affair for years, multiple sources told DailyMail.
Married South Dakota governor Kristi Noem, 51 – who stresses her belief in 'family values' – and Trump advisor Corey Lewandowski, who is also married, began carrying on in 2019, if not before.
DailyMail investigation has uncovered extensive evidence of the couple's romantic relationship: Dozens of trips that mixed business with pleasure, flights on donors' private planes, and stays at luxury resorts where their intimacy was observed and noted.
Former Trump operative Charles Johnson wrote in a Substack post that he had seen them acting 'in a very flirtatious manner' at the August 2020 meeting of the Republican Attorneys General Association (RAGA) at The Cloister resort on Sea Island, Georgia.
Johnson told DailyMail.com he had seen Noem discreetly take Lewandowski's hand and put it in her lap. Lewandowski put his arm on her back at the same time.
The pair 'seemed to be dating despite being married to other people', Johnson wrote on Substack.
Two other sources who were at the RAGA event were surprised by the obvious affection between Noem and Lewandowski.
'A lot of people were talking about it,' says one, a conservative political strategist who saw the two as they were headed off for a long walk on the beach.
Event organizers were happy to have Noem on hand because of her star quality, but her presence was unexpected as South Dakota's then-attorney general, Jason Ravnsborg, was there to represent the state.
Noem and Lewandowski have often traveled together – frequently on private planes provided by Republican power brokers.
'We often had no idea where she was, or even if she was in state or out of state, she would simply disappear,' one staffer in Pierre, the South Dakota capital, told DailyMail.com.
He allegedly had an affair with campaign press secretary Hope Hicks, and in the run-up to the 2016 election he was arrested for manhandling Breitbart News reporter Michelle Fields at a press conference in Florida. Charges were later dropped.
After Trump's election, Lewandowski gained a reputation for being a loose cannon.
'Corey was always running his mouth off, and after a few drinks you could see the pin starting to fall out of the grenade,' a defense contractor who knew him said.
Following a party at the Trump International Hotel in Washington, singer Joy Villa filed a police report against Lewandowski for sexual assault, saying he 'smacked my ass really hard', and that it was 'almost violent in nature'.
By 2019 he was a key advisor to Noem and the pair went on a deep-sea fishing trip hosted by the late conservative billionaire and GOP mega-donor Foster Friess, who along with his wife, Lynn, ranked among Noem's top political and financial supporters.
In October 2019, when her state was blanketed by an early snowstorm, the governor, accompanied by Lewandowski, embarked on at least a week of travel that included stops at three political events.
Noem's appearance at these affairs doesn't seem to have been essential, especially as she had been in office for only 10 months at that point and was already drawing criticism over the time and money she was spending on out-of-state travel.
On October 5, the duo attended the Denim & Diamonds Gala fundraiser in Carmel, Indiana, which raises money for the agricultural industry.
Four days later, they were at another fundraiser, in Lake Charles, Louisiana, for a conservative website called The Hayride.
From there they traveled to AmpFest, a regular gathering of the MAGA hard core held at a Trump property in Miami.
Noem's appearance at AmpFest, which stretched over parts of at least two days, seems particularly superfluous.
Her presence wasn't even announced and a source who was also there reported she spent much of her time leisurely accompanying Lewandowski on his rounds and sharing food, drink and other VIP perks.
'It was not an A-tier event,' says the source, a Trump Administration official. 'It was weird to see a governor from the other side of the country be there.'
The two spent so much time at AmpFest cozily secluded, the official concluded that they were a couple happily in love.
He spotted them several times when he drove a golf cart to a remote building on the property where Lewandowski and other VIPs were lodged.
'I had met Corey a few times, but that was the first time I saw Kristi,' he recalled. 'I told Corey it was nice to meet his wife.
'He looked at me and said, 'That's not my wife'.'
In the months leading up to the 2020 election, Noem and Lewandowski became virtually inseparable companions on the Trump campaign trail.
By then, their relationship was an open secret at the White House and among high-level GOP lobbyists and political consultants.
'It became a joke,' says the Trump Administration employee who had first seen them at AMPFest.
'Every time someone said something about how Kristi would be a savior to the conservative movement, someone else would say, 'Right, the savior that's f**king Corey Lewandowski'.'
In summer 2021, Noem and Lewandowski were at the Republican Governors Association event at the St. Regis in Aspen, Colorado.
According to sources on hand or who heard directly about what transpired from multiple people that were, Noem missed several events she was expected to attend.
The reason, said one, was she was 'holed up' with her companion, who had been given a room at the nearby Hotel Jerome, much to Noem's annoyance.
'She raised a stink about it with event organizers and succeeded in getting Lewandowski transferred to a room at the St. Regis near hers,' another source said.
In September that year Lewandowski and Noem were off again, this time to a Las Vegas fundraiser for an organization that fights substance abuse.
Noem was the keynote speaker at the event, which was held at a Benihana restaurant – Lewandowski officially attended in his capacity as head of the super-PAC Trump had appointed him to the prior year.
According to published accounts, after quickly getting drunk, Lewandowski was escorted to a banquet table where he joined dignitaries including Trashelle Odom, wife of a major Trump donor, construction executive John Odom.
Lewandowski propositioned Odom after disclosing that he had once stabbed two people to death, that his penis was way longer than normal, and showed her his hotel key.
In a complaint to police, Odom said Lewandowski's 'statements, demeanor and aggressive behavior' made her 'intimidated and frightened and fearful for my safety and that of my family members.'
When Odom tried to change the subject by asking Lewandowski about his wife, he told her he satisfied his sexual needs 'elsewhere'.
He also shared that he found Governor Noem 'hot'.
Odom fled the table after Lewandowski touched her behind, but he chased after her, threw a drink at her, and called her 'stupid'.
Trump immediately fired him from his super-PAC post and Noem announced she was axing him too from his role as her senior political advisor.
Yet Noem didn't sever the relationship.
In fact, the morning after the Benihana incident, the two flew on a private plane, provided by a donor, to Santa Barbara, California, where Noem spoke at a Young America's Foundation event at Rancho del Cielo, President Reagan's vacation home.
'When Las Vegas happened, she fired him without really firing him,' a source revealed. 'He never left.'
Noem didn't want word to leak that Lewandowski was still working for her and that they continued to spend after-hours time together, especially to her family.
'Her husband would have lost his mind,' the source said, so Noem 'only told staffers that needed to know'.
The source described Lewandowski's Las Vegas clownery as par for the course at the governor's office as well.
He'd make comments about Noem's appearance – 'that she was hot or had a nice ass', said the source.
'Kristi would make excuses for his behavior and apologize to staffers for him.'
Six months after the Vegas incident, Noem and Lewandowski made plans to book a hotel room together in Seattle while there for an event to raise money for Republican candidate Jesse Jensen, an informed source said.
Then in April 2022 they went together to a Houston fundraiser for GOP candidate Greg Travis.
Travis posted a photograph on Twitter of himself and his wife standing with the couple. Lewandowski was beaming. Noem did not look so happy.The following month, Politico reported that the governor had officially brought Lewandowski back as a political adviser.
Noem then implemented additional procedures – including instructing staffers not to share her private schedule with her husband – in hopes of minimizing more information seeping out about the scope of his role or their personal relationship, two former staffers told DailyMail.com.

⬇️ Top Picks for You ⬇️
El Paso, Texas at Breaking Point as Migrants Flood Border, Mayor Says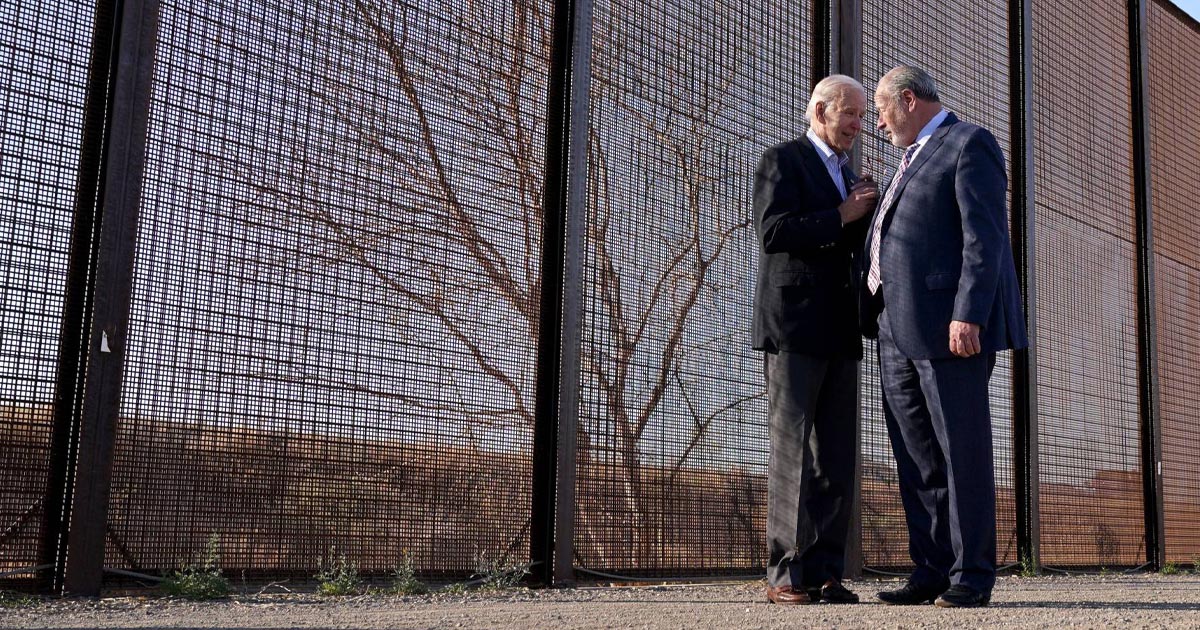 The dramatic increase in illegal migrants crossing the U.S. border from Mexico has pushed the city of El Paso, Texas, to "a breaking point," with more than 2,000 people per day seeking asylum, exceeding shelter capacity and straining resources, its mayor said on Saturday.
"The city of El Paso only has so many resources and we have come to … a breaking point right now," Mayor Oscar Leeser said at a news conference.
The arrival of largely Venezuelan asylum seekers is part of a larger swell of immigrants who traveled dangerous routes on buses and cargo trains to Mexican border towns near San Diego, California, and the Texas cities of El Paso and Eagle Pass.
Lesser said El Paso plans to open a new shelter, and on Saturday chartered five buses to take migrants to New York, Chicago and Denver.
Republican governors in Texas and Florida have been criticized for sending migrants to cities perceived as liberal such as New York and Sacramento. But Leeser, a Democrat, said all of the migrants on the El Paso buses were going voluntarily to the cities of their choice.
Many migrants from Venezuela, he said, lacked transportation to their desired destinations, while El Paso's current shelter houses only 400 people, and must also be available to help the homeless.
As recently as six weeks ago, about 350 to 400 people were crossing into El Paso per day, but the past few days have brought 2,000 or more.
Over the past 10 days, the city has worked with the U.S. Border Patrol to provide shelter for 6,500 people, Leeser said.
About two-thirds of those crossing into El Paso currently are single men, he said. About 32% are families and just 2% are unaccompanied children.
"I think it's really important to note that we have a broken immigration system," he said. "It's the same thing over and over again."
Reassigning agents
Customs and Border Protection announced it was reassigning agents this week in El Paso and Eagle Pass to attend to the latest surge at the cost of shutting down commercial traffic lanes and slowing trade between both countries.
El Paso County Judge Ricardo Samaniego said he's had several conversations in the past week with top officials of Homeland Security to prepare for the latest wave.
"We expected this increase in the fall, so we're not surprised," Samaniego said. "As long as you don't have immigration reform, we will see these spikes. We're doing everything we can to meet the needs with a humanitarian approach, not as a crisis, but as a challenge that El Paso, our border community, is prepared to meet."
Samaniego said Congress has unwittingly outsourced a broken immigration system to organized crime, resulting in a boom industry for smugglers who are increasingly more involved in the lucrative movement of migrants headed for the U.S.
In a statement, Landon Hutchens, a public affairs officer with the U.S. Customs and Border Protection, said: "CBP is aware of reports that criminal organizations in the [El Paso and Juárez] areas are spreading falsehoods and putting migrants' lives at risk for their own financial gain. These rumors are absolutely false and yet another dangerous example of bad actors sharing bad information. The border is not open to illegal migration."
One U.S. official based in Mexico estimated the human smuggling industry at "well over" $7.5 billion annually — so lucrative that the goal of criminal groups is to gain "total control" of the business. That is a dramatic increase from the $6.6 billion estimate from a 2008 study by the United Nations examining human smuggling from Latin America to the U.S.
Oscar Hagelsieb, a former assistant special agent in charge of the U.S. Homeland Security Investigations unit in El Paso and most recently in Ciudad Juárez, explained: "You need some sort of collateral, because when that shipment of meth or fentanyl gets confiscated, it's gone.
"With humans," he said, "you just try again, or you use them for other illicit purposes like extortions." That approach includes kidnapping migrants and calling relatives either in Latin America or the U.S. and demanding ransom.
New technology to detect fentanyl also plays a role in decisions by criminal groups, said Hagelsieb, president of Hagelsieb Strategic Investigations, a security consultant firm in El Paso.
For instance, as of Sept. 1, vehicles now drive through a scanning machine known as a "low-energy portal," which creates black-and-white resonance images. Inspectors once referred only a handful of vehicles for cargo screening — using powerful scanning equipment — to check for illegal drugs.
"Any action on our side is met with a response" on the part of Mexican criminal organizations, said Hagelsieb.
Shootouts in recent weeks
One Chihuahua state official pointed to incidents over the summer involving the Hotel San Miguel, popular with migrants. Shootouts have been reported in recent weeks as rival cartel groups fight over migrants. In one incident, a criminal group had just brought some migrants to the hotel. Shortly afterward, a rival group showed up and took the migrants away, leading to gun fights across the city.
"These are criminal groups who are fighting [over] the sale of illicit drugs and migrant routes," said César Omar Muñoz Morales, Juárez's police chief.
The Juárez Cartel has long been the dominant criminal group in this border city, using the major corridor for smuggling of illicit drugs and now humans. Their enforcement unit, known as La Linea, has often forged alliances with local gangs like Barrio Azteca, Mexicles and Artists Assassins. Their key rival is the Sinaloa Cartel.
In August, there were more than 110 homicides in Juárez, the kind of violence not seen since the late 2000s, when Juárez was dubbed one of the most dangerous cities in the world. In one day alone, Aug. 14, 15 people were killed. The day was dubbed "Black Monday."
"These numbers are high," said Molly Molloy, a retired librarian and Latin American specialist at New Mexico State University who has tracked the homicide rate in Juárez for years. "They are not the highest ever seen in Juárez by a long shot, but any day with 15 homicides is a pretty bad day."
The city is poised to surpass 1,000 homicides this year, meaning the rate would be "about 72 murders per 100,000. That is higher" than most U.S. cities, she said, citing statistics from the U.S. Census Bureau and Uniform Crime Reports provided by the FBI.
The Mexican National Guard said an estimated 3,000 troops have been deployed to this city.
Nightly, hundreds of migrants arrive on top of trains in Juarez and communities like Piedras Negras, across the border from Eagle Pass. Recently, outside Gomez Palacio, Durango, a train packed with migrants was seen plowing toward Ciudad Juárez.
This week, Mexican railroad train company Ferromex announced it was temporarily suspending 60 train routes headed for border states, citing the "rising risk" of injured migrants and deaths resulting from riding atop their trains and falling.