Some Democrats are leaking their disdain for Vice President Kamala Harris to the press, with a few political bigwigs arguing openly that Harris is a major liability for 2024.
Harris is struggling to "define her vice presidency. Even her allies are tired of waiting," the New York Times headlined in an article Monday.
That's because one of the few issues that some Democrats are in agreement on — whether they're allies of the vice president or not — is that she is a disappointment at best, the Times reported.
"But the painful reality for Ms. Harris is that in private conversations over the last few months, dozens of Democrats in the White House, on Capitol Hill and around the nation — including some who helped put her on the party's 2020 ticket — said she had not risen to the challenge of proving herself as a future leader of the party, much less the country."
Even some Democrats who were supposed to be supporters of Harris "confided privately that they had lost hope in her," according to the Times.
Democratic fundraiser John Morgan was one of the few voices to speak out on the record against Harris, arguing that her weakness as vice president will be "one of the most hard-hitting arguments against Biden."
The argument only becomes stronger because of the president's age, Morgan said.
"It doesn't take a genius to say, 'Look, with his age, we have to really think about this,'" he argued.
Joe Biden is already the oldest president ever to serve in office at 80 years old.
Morgan also took aim at Harris' record of achievement as vice president.
"I can't think of one thing she's done except stay out of the way and stand beside him at certain ceremonies," he said.
Multiple polls reflect Harris' general unpopularity with voters, with roughly 39% of Americans saying they approve of the vice president's job performance, according to polling site FiveThirtyEight.
Harris has gained a reputation for flubbing speeches and speaking vaguely. One recent speech that Harris gave in honor of two former NASA astronauts was savaged on social media for sounding "like a 5-year-old" wrote it.
"They strapped into their seats and waited as the tanks beneath filled with tens of thousands of gallons of fuel," Harris told the audience.
"And then they launched. Yeah, they did," she added with a laugh.
Harris was similarly roasted for a video she put out last year of her telling children about space.
"You're going to literally see the craters on the moon with your own eyes," Harris said.
"With your own eyes. I'm telling you, it is going to be unbelievable."

⬇️ Top Picks for You ⬇️
Biden Dog Bites Another Secret Service Agent; 11th Incident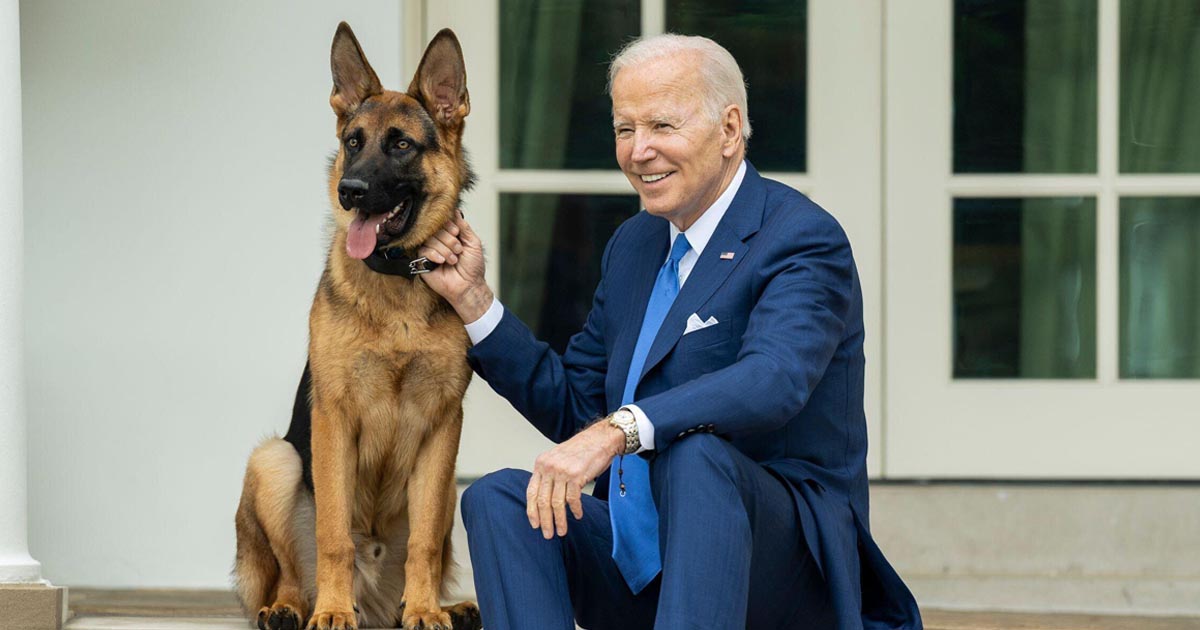 President Joe Biden's younger dog, Commander, bit another US Secret Service agent at the White House Monday evening, CNN has learned, the 11th known biting incident involving the 2-year-old German Shepherd.
"Yesterday around 8 p.m., a Secret Service Uniformed Division police officer came in contact with a First Family pet and was bitten. The officer was treated by medical personnel on complex," USSS chief of communications Anthony Guglielmi told CNN in a statement.
The injured officer spoke with Secret Service Uniformed Division Chief Alfonso M. Dyson Sr. on Tuesday and is doing OK, Guglielmi said.
Commander has been involved in at least 11 biting incidents at the White House and in Delaware, according to CNN reporting and US Secret Service email correspondence, including a November 2022 incident where an officer was hospitalized after the dog clamped down on their arms and thighs.
White House officials said in July that the Bidens were working through new training and leashing protocols for the family pet following the incidents.
Asked by CNN whether the new training had taken place or if any further action would be sought, Elizabeth Alexander, communications director for the first lady, said in a statement that "the First Family continues to work on ways to help Commander handle the often unpredictable nature of the White House grounds."
"The President and First Lady are incredibly grateful to the Secret Service and Executive Residence staff for all they do to keep them, their family, and the country safe," she continued.
Another of Biden's dogs, Major, was involved in biting incidents at the White House. The German Shepherd later moved out of the White House, and Commander arrived at the White House in 2021.
The July email correspondence, obtained through Freedom of Information Act requests by the conservative group Judicial Watch, reflected 10 incidents.
In one incident in October, first lady Dr. Jill Biden "couldn't regain control" of the dog as it charged a member of Secret Service staff.
"I believe it's only a matter of time before an agent/officer is attacked or bit," the staff member warned in an email.
While Secret Service agents are not responsible for the handling of the first family's pets, they can come into frequent contact with the animals.
"This isn't a Secret Service thing. This is a this is a workplace safety issue," CNN contributor and former USSS agent Jonathan Wackrow told CNN.
"There's uniqueness here where it's the residence of the president of the United States, but it's also the workplace for hundreds, thousands of people. And you can't bring a hazard into the workplace. And that's what is essentially happening with this dog. One time you can say it's an accident, but now multiple incidents, it's a serious issue," he added.
Wackrow called it a "significant hazard" for agents on duty at the White House residence.
"I'm sure that the Bidens love the dog. I'm sure that it's a member of the family like every dog is, but you're creating a significant hazard to those who support you – support the office of the president," he said.