House Democrats on Wednesday elected New York Rep. Hakeem Jeffries — who has repeatedly painted conservatives as racists — as their leader, making him the successor to Nancy Pelosi, who led the House Democrats for decades and served as speaker when her party was in the majority.
Jeffries' leftist rhetoric over the years has included saying of Kyle Rittenhouse, "Lock up Kyle Rittenhouse and throw away the key," prompting Rep. Dan Crenshaw (R-TX) to fire back, "If this isn't proof that the Democrat Party has largely departed from American principles of neutrally applied justice and the right of self-defense, then I don't know what is."
If this isn't proof that the Democrat Party has largely departed from American principles of neutrally applied justice and the right of self-defense, then I don't know what is. https://t.co/WYsTAw3PeU

— Dan Crenshaw (@DanCrenshawTX) November 11, 2021
In July 2021, Jeffries, who was named one of seven impeachment managers by Pelosi in the Senate impeachment trial of former President Trump, ripped Republicans for their efforts to restore election integrity across the nation while branding them as racists, tweeting, "The Civil War ended in 1865 and the racists lost. Get over it."
Crenshaw fired back on Twitter with a blunt reminder of exactly which party had the history of racism, snapping, "You're right, the Democrats lost."
You're right, the Democrats lost. https://t.co/fapklELoeh

— Dan Crenshaw (@DanCrenshawTX) July 14, 2021
Appearing on Spectrum News NY1, Jeffries was asked if President Biden had exaggerated when he called measures such as voter ID and tighter control of mail-in ballots "the most significant test of our democracy since the Civil War."
"He's not exaggerating at all," Jeffries replied. "The Republican party has adopted voter suppression as an electoral strategy. Which is a shame because the modern history here in America post the enactment of the Voting Rights Act of 1965 has largely been — this was a settled question. The right to vote was a sacred thing, an important part of our democracy."
Jeffries implied that Republican efforts stemmed from racist reaction to the election of Barack Obama, calling the GOP efforts part of a "voter suppression epidemic."
In February 2022, Jeffries attacked the legitimacy of the conservative members of the Supreme Court.
"Supreme Court majority has zero legitimacy," he tweeted. "Ghosts of the confederacy are alive and well."
The Supreme Court majority has zero legitimacy.

Ghosts of the confederacy are alive and well.

— Hakeem Jeffries (@RepJeffries) February 8, 2022
In September, Jeffries claimed that Florida Governor Ron DeSantis and fellow Republican and Texas Governor Greg Abbott were "behaving like human traffickers" after DeSantis sent 50 illegal immigrants to Martha's Vineyard.
DeSantis, who served three terms in Congress before becoming the Sunshine State's governor, fired back at his former House colleague, noting that the Biden administration has been moving illegal immigrants around the country since coming to power.
"When Biden is flying these people all over the fruited plain in the middle of the night, I didn't hear a peep out of those people," DeSantis said.

⬇️ Top Picks for You ⬇️
Trump Indicted in Classified Docs Probe — Here's Everything We Know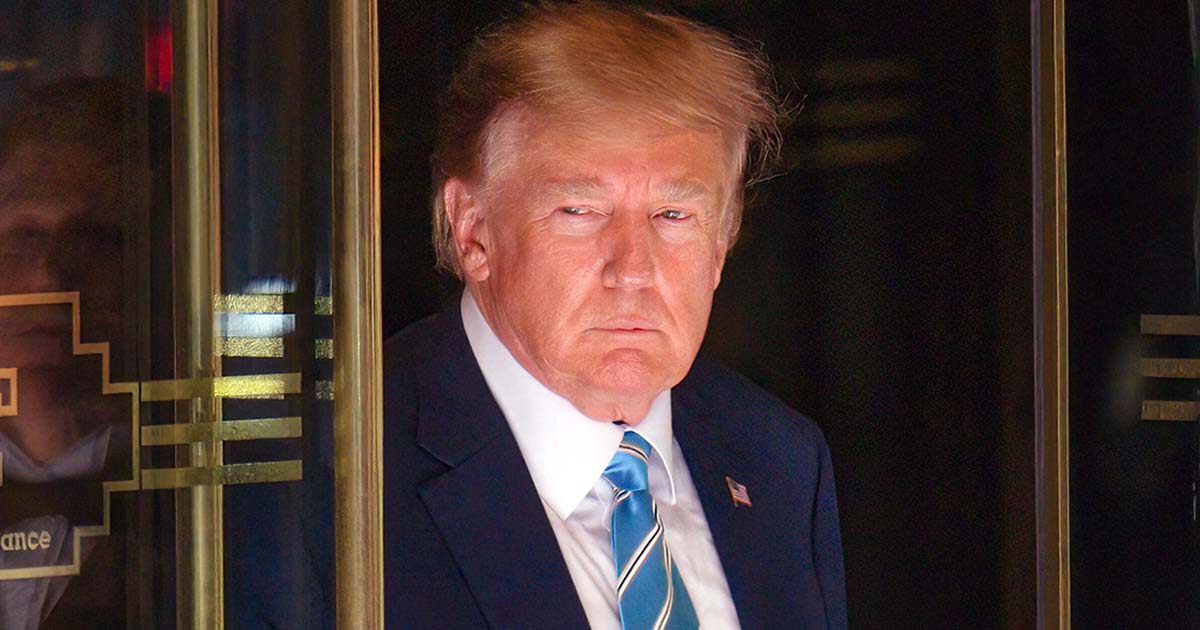 Former President Donald Trump said Thursday that his legal team has been told he's been indicted in an investigation into his handling of classified documents. Trump has been summoned to appear in federal court in Miami on Tuesday afternoon.
TRUMP STATEMENT:
The corrupt Biden Administration has informed my attorneys that I have been Indicted, seemingly over the Boxes Hoax, even though Joe Biden has 1850 Boxes at the University of Delaware, additional Boxes in Chinatown, D.C., with even more Boxes at the University of Pennsylvania, and documents strewn all over his garage floor where he parks his Corvette, and which is "secured" by only a garage door that is paper thin, and open much of the time.
I have been summoned to appear at the Federal Courthouse in Miami on Tuesday, at 3 PM. I never thought it possible that such a thing could happen to a former President of the United States, who received far more votes than any sitting President in the History of our Country, and is currently leading, by far, all Candidates, both Democrat and Republican, in Polls of the 2024 Presidential Election. I AM AN INNOCENT MAN!
This is indeed a DARK DAY for the United States of America. We are a Country in serious and rapid Decline, but together we will Make America Great Again!
7 CHARGES:
Trump has been charged with seven counts in the indictment, according to another source familiar with the matter.
"We're learning from our sources that there appears to be at least seven counts here. This ranges from everything from the willful retention of national defense information to conspiracy to a scheme to conceal to false statements and representations," ABC News' Katherine Faulders reported during a special report on the network.
MEDIA SWARMS MIAMI COURTHOUSE
Earlier today, dozens of out-of-town reporters, photographers and TV camera crews gathered in front of the downtown federal courthouse in hopes of getting a morsel of news from a secret grand jury which has been reviewing evidence in the Justice Department's probe into Trump's handling of classified materials at his Mar-a-Lago estate in Palm Beach.
THE BACKSTORY:
Special counsel Jack Smith has been overseeing the investigation into Trump's handling of classified documents since he was appointed to the role in November.
Trump's attorneys met earlier this week with Justice Department officials, including Smith. Experts widely viewed the meeting as a sign that Smith's investigation was winding down.
On May 6, 2021, the National Archives first alerted Trump that it was seeking approximately two dozen boxes of records be returned to it as required by the Presidential Records Act. The National Archives warned Trump in late 2021 that they could escalate the issue to prosecutors or Congress if he continued to refuse to hand over the documents. He was also warned by former Trump White House lawyer Eric Herschmann that he could face serious legal jeopardy if he did not comply.
In January 2022, about 15 of the boxes were returned, at which time officials discovered there were hundreds of pages of classified material in the boxes. Federal law enforcement was notified of the discovery and later came to believe that there were more materials that had not been turned over, and a criminal investigation was subsequently launched.
In May 2022, a federal grand jury issued a subpoena seeking additional classified documents and, a few weeks later, the DOJ visited Mar-a-Lago and Trump's legal team signed a written statement claiming that all the classified material had been returned. Over the course of the summer, investigators interviewed members of Trump's staff and subpoenaed surveillance footage from the property.
On August 8, the FBI raided Mar-a-Lago recovered 27 boxes, 11 of which contained classified documents. Four sets were marked "Top Secret," the highest level of classification the government can give information; three were marked "Secret," the second-highest level, while another three were marked "Confidential," the lowest classification level.  The remaining set was marked "Various classified/TS/SCI documents," which is the abbreviation for "top secret/sensitive compartmented information," a special category meant to protect the nation's most important secrets — which if revealed publicly would harm US interests.