Florida Governor Ron DeSantis announced Wednesday evening that he is running for President of the United States.
DeSantis filed paperwork with the Federal Election Commission earlier in the afternoon and released his official launch video at 6 p.m. EST on the platform.
"Our border is a disaster. Crime infests our cities. The federal government makes it harder for families to make ends meet. And the president flounders," DeSantis said in the video. "But decline is a choice. Success is attainable. And freedom is worth fighting for."
"Righting the ship requires restoring sanity to our society, normalcy to our communities, and integrity to our institutions. Truth must be our foundation — and common sense can no longer be an uncommon virtue. In Florida, we proved that it can be done," he continued. "We chose facts over fear, education over indoctrination, law and order over rioting and disorder. We held the line when freedom hung in the balance."
"We showed that we can — and must — revitalize America. We need the courage to lead and the strength to win," he concluded. "I'm Ron DeSantis, and I'm running for president to lead our Great American Comeback."
WATCH:
I'm running for president to lead our Great American Comeback. pic.twitter.com/YmkWkLaVDg

— Ron DeSantis (@RonDeSantis) May 24, 2023
DeSantis also joined a special event on Twitter with the platform's owner, Elon Musk, which received such intense interest that it crashed the event due to the servers being overloaded.
"The servers are straining somewhat," Musk said at one point as 700,000+ people logged into the event.
BREAKING: Twitter experiencing severe slowness as large number of users attempt to join Florida Governor Ron DeSantis' presidential announcement Space pic.twitter.com/PkjepGsX8e

— Intel Point Alert (@IntelPointAlert) May 24, 2023
DeSantis' campaign is expected to be largely centered around the enormous achievements that he has secured as governor for the state of Florida, dubbed the "Florida Blueprint," and on how he can transfer those successes to the national level as President of the United States.
The governor's rise to the top of the Republican Party was cemented by his handling of the COVID pandemic, which included bucking Dr. Anthony Fauci, the public health official whom the previous administration repeatedly took advice from throughout the course of the pandemic, and resisting draconian measures that impeded the freedoms of people in his state. As a result, the state led the country in net-in migration over the last couple of years.
Due to the governor's overwhelming popularity in the state — which was made clear last year with his 19-point blowout victory during his re-election — the state's legislature largely does what he says in implementing his agenda.
Some of the key legislative victories that he has secured this year alone include:
Protecting Florida's children from permanent mutilating surgical procedures, gender identity politics in schools; protecting them from attending sexually explicit adult performances; and protecting them from woke pronoun usage in schools.
Prohibiting institutions from spending federal or state dollars on discriminatory initiatives, such as so-called "diversity, equity, and inclusion (DEI)" programs, and banning political loyalty tests.
Combatting human trafficking by strengthens criminal penalties against traffickers and creating civil actions that victims can take to recover damages and attorney's fees from adult entertainment establishments.
Sending more than 1,100 assists to the help secure the U.S. southern border from the illegal immigration crisis caused by President Joe Biden's policies.
Banning federally adopted central bank digital currency (CBDC) by excluding it from the definition of money within Florida's Uniform Commercial Code and banning foreign-issued CBDC to protect consumers against globalist efforts to adopt a worldwide digital currency.
Protecting Floridians from medical mandates and prohibiting dangerous gain-of-function research.
Signing the strongest anti-illegal immigration legislation in the country into law.
Cracking down on Chinese Communist Party influence in the state by banning their ability to purchase agriculture land and land near military bases and critical infrastructure, protecting digital data from Chinese spies, and stopping their influence in the education system.
Protecting Floridians from the corporatist environmental, social, and corporate governance (ESG) movement — a worldwide effort to inject woke political ideology across the financial sector, placing politics above the fiduciary duty to make the best financial decisions for beneficiaries.
Signing into law his third consecutive anti-crime, pro-public safety legislative package that strengthens pre-trial detention and pushes back against "bail reform" efforts, increases sentences for drug traffickers that target children, and subjects child rapists to the death penalty.
Strengthening Floridians' Second Amendment rights by allowing Floridians to carry concealed weapons without a government-issued permit.
Expanding available school choice options for all students in Florida by eliminating financial eligibility restrictions and the current enrollment cap.
Ending Disney's self-governing status and special privileges — which no other company in the state had — and forcing them to play by the same rules as everyone else.
Protecting unborn babies by signing a heartbeat bill into law that bans abortion the moment that a heartbeat can be detected.
Of the 113 Republicans in the Florida legislature, 99 of them endorsed DeSantis for president last week while only one — state sen. Joe Gruters — endorsed the former president.
But even Gruters could not deny the overwhelming impact that DeSantis has had on advancing the conservative agenda in the state.
"We've had conservative leadership in Florida for the past 23 years, but we've passed more conservative bills in the past two years than the previous 20, and more this year than the past 22," Gruters said. "It's a rocket ship, a steam engine."
James Uthmeier, a former official in the Trump administration who now serves as DeSantis' chief-of-staff, said he's never seen someone get as hands-on as DeSantis when it comes to crafting legislation and getting it passed.
"He sits and talks through the nitty-gritty of policy and the budget," Uthmeier said. "He's ingrained in the process in a way I haven't seen working in the Trump Administration or with other public officials."

⬇️ Top Picks for You ⬇️
Tucker Carlson Returns With New Show: 'Tucker on Twitter'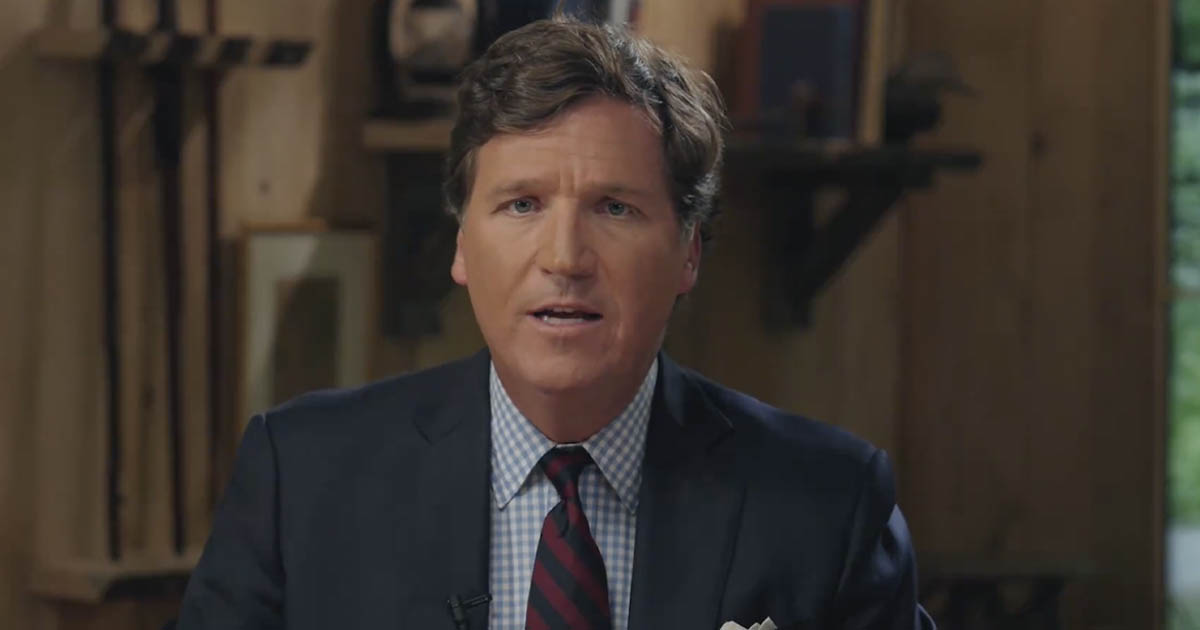 Former Fox News host and Daily Caller co-founder Tucker Carlson brought his show to Twitter for the first time Tuesday by posting a monologue about the Ukraine war and how the media is covering it.
Carlson spoke about the latest developments in the Russian war against Ukraine, beginning with a major dam explosion inside Russian-occupied territory Tuesday morning.
"This morning, it looks like somebody blew up the Kakhovka Dam in southern Ukraine. The rushing wall of water wiped out entire villages, destroyed a critical hydropower plant, and as of tonight, puts the largest nuclear reactor in Europe in danger of melting down. So, if this was intentional, it was not a military tactic — it was an act of terrorism," Carlson began.
The Ukrainian and Russian governments accused each other of intentionally destroying the dam as an act of sabotage, according to The Washington Post.
"Blowing up the dam may be bad for Ukraine, but it hurts Russia more. And for precisely that reason, the Ukrainian government has considered destroying it. In December, The Washington Post quoted a Ukrainian general saying his men had fired American-made rockets at the dam's floodgate, as a test strike," Carlson stated.
Carlson transitioned to discussing The Washington Post's story showing the U.S. knew about Ukrainian plans to attack the Nord Stream 2 gas pipeline months before it was destroyed. The Post's story was based on an intelligence leak on social media platform Discord.
"So, really, once the facts start coming in, it becomes much less of a mystery what might have happened to the dam. Any fair person would conclude that the Ukrainians probably blew it up — just as you would assume they blew up Nord Stream, the Russian natural gas pipeline, last fall. And in fact, the Ukrainians did do that, as we now know. It's not like Vladimir Putin is anxious to wage war on himself," he said.
Carlson proceeded to mock the corporate media's coverage of the Nordstream 2 explosion for immediately blaming Russia for the attack without considering whether Ukraine blew up the pipeline.
"Oh, but that's where you're wrong, Mr. and Mrs. Cable News Consumer. Vladimir Putin is exactly that sort of man — the sort of man who'd shoot himself to death in order to annoy you. We know this from the American media, which wasted no time this morning in accusing the Russians of sabotaging their own infrastructure," Carlson remarked.
"No one who's paid to cover these things seemed to entertain even the possibility it could have been the Ukrainians who did it. No chance of that. Ukraine, as you may have heard, is led by a man called Zelensky, and we can say for a dead certain fact that he was not involved. He couldn't have been. Zelensky is too decent for terrorism," Carlson added.
He followed up by ridiculing Republican South Carolina Sen. Lindsey Graham and Republican Presidential candidate Nikki Haley because of their unwavering support for Ukrainian President Volodymyr Zelenskyy and his country. Afterwards, he broadened his media criticism beyond the scope of the Ukraine war to other issues where narratives must never be questioned.
"But mostly they just ignore the stories that matter. What's happened to the hundreds of billions of US dollars we've sent to Ukraine? No clue. Who organized those BLM riots three years ago? No one's gotten to the bottom of that. What exactly happened on 9/11? Well, it's still classified. How did Jeffrey Epstein make all that money? How did he die? How about JFK? And so endlessly on. Not only are the media not interested in any of this, they're actively hostile to anybody who is. In journalism, curiosity is the gravest crime," Carlson said.
Carlson pointed to the intelligence officer who blew the whistle Monday on alleged UFOs possessed by the U.S. government as a recent example of the pressing stories the media ignores.
"So if you're wondering why our country seems so dysfunctional, this is a big part of the reason. Nobody knows what's happening. A small group of people control accesses to all relevant information. And the rest of us don't know. We're allowed to yap all we want about racism, but go ahead and talk about something that really matters and see what happens. If you keep it up, they'll make you be quiet. Trust us. That's how they maintain control," he continued.
Carlson concluded his monologue with a teaser about future Twitter broadcasts if the platform maintains its commitment to free speech under owner Elon Musk.
"That's how most of us now live here in the United States — manipulated by lies, silenced by taboos. It is unhealthy and is dehumanizing, and we're tired of it. As of today, we've come to Twitter, which we hope will be the shortwave radio under the blankets. We're told there are no gatekeepers here. If that turns out to be false, we'll leave. But in the meantime, we are grateful to be here. We'll be back with much more very soon."
Watch:
Ep. 1 pic.twitter.com/O7CdPjF830

— Tucker Carlson (@TuckerCarlson) June 6, 2023