DeSantis Proposes Bill Making Child Rapists Face Life in Prison or Death Penalty, Cracking Down on Drug Crime
Florida Governor Ron DeSantis announced legislation this week that will dramatically increase the punishments faced by child rapists and drug criminals.
The governor's new legislative proposal is aimed at improving Florida's "50-year record low crime rate" through a variety of measures that take on woke initiatives like abolishing cash bail and increasing the penalties for serious crimes, especially those that target children.
"Other states endanger their citizens by making it easier to put criminals back on the street," DeSantis said. "Here in Florida, we will to continue to support and enact policies to protect our communities and keep Floridians safe. Florida will remain the law and order state."
Among the top items included in DeSantis' agenda are reducing the number of jurors required to sentence a person to death, punishing fentanyl traffickers with mandatory life sentences for targeting children, strengthening Florida's bail laws, making child rapists face either life in prison or the death penalty, and increasing penalties against those who attempt sex crimes.
The state released the following information highlighting what is in the agenda:
Reforming Florida's death penalty statute to ensure that those convicted of the most heinous crimes are punished accordingly. Current law requires a unanimous jury recommendation to impose a death sentence. This proposal reduces the number of jurors required for a recommendation of death from unanimity to a supermajority jury recommendation.
Addressing the ongoing fentanyl crisis that is plaguing our country by imposing additional penalties on fentanyl and other drug-related crimes when the drug's appearance resembles a piece of candy, including making it a first degree felony to possess, sell, or manufacture fentanyl and other controlled substances that resemble candy and adding a mandatory life sentence and $1 million penalty for trafficking such substances that target children. Additionally, Governor DeSantis is allocating $20 million in local support funding for law enforcement agencies to increase efforts to interdict and apprehend the illicit sale and trafficking of fentanyl. This builds upon last year's increase in fentanyl trafficking mandatory minimums and will protect vulnerable children who might be deceived by what has been dubbed "rainbow fentanyl."
Strengthening Florida's bail laws by limiting who is eligible for release prior to first appearance, making sure that a judge is the ultimate decision maker when it comes to detention, and requiring a detention hearing be held prior to trial for dangerous crimes.
Petitioning the Florida Supreme Court to establish a uniform bond schedule that all state courts must follow.
Requiring convicted child rapists to serve at least life in prison and exploring options to make them eligible for the death penalty.
Toughening penalties for sex criminals by expanding the list of crimes ineligible for gain time by adding all inchoate offenses (attempted crimes) of sexual misconduct, such as attempted sexual battery.
Requiring law enforcement to report missing persons to the National Missing and Unidentified Person's System. Currently, they are only required to report it to the Florida Crime Information Center and the National Crime Information Center.
Dedicating $5 million in the upcoming budget recommendations to continue the successful interdictions by the strike force announced last year. To date, these interdictions have resulted in more than 200 felony charges, nearly 40 human smuggling charges, 66 drug charges, and more than $625,000 worth of illicit drugs seized.
Attorney General Ashley Moody responded to DeSantis' agenda by saying that Florida was going in the opposite direction of woke states that are going soft on crime.
"While some states are adopting soft-on-crime policies that increase lawlessness and decrease public safety, in Florida, we strive to strengthen our laws, keep violent criminals behind bars and take proactive steps to keep our communities safe," Moody said. "I want to thank Governor DeSantis for always standing up for the rule of law and taking action to fortify public safety measures to ensure we continue to be the best state in the nation to pursue the American dream."

⬇️ Top Picks for You ⬇️
Trump Suggests Manhattan DA Bragg 'Dropped' Case Against Him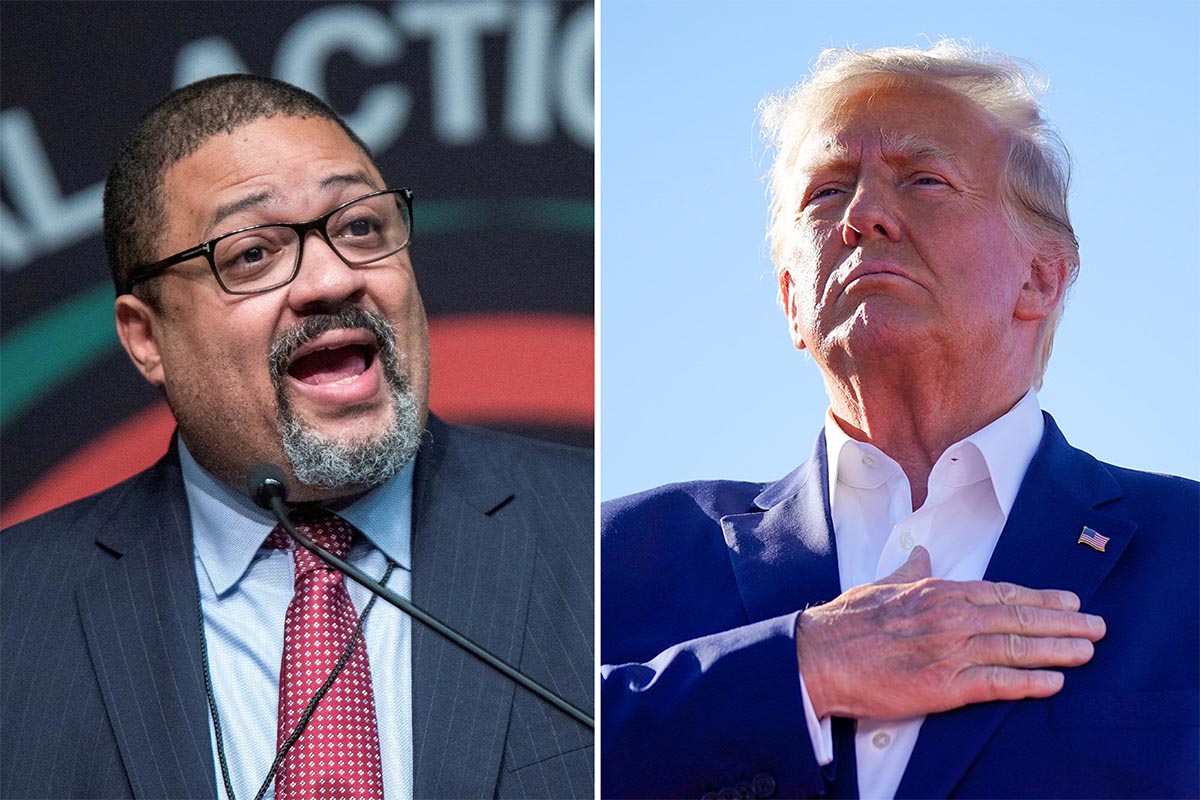 Former President Donald Trump is now suggesting Manhattan District Attorney Alvin Bragg may have dropped his case against him, about a week after he claimed he would be arrested.
After a rally in Waco, Texas, on Saturday, Trump told reporters on his plane, "I think they've already dropped the case … they have absolutely nothing." Trump did not provide evidence for his assertion Saturday.
"It's a fake case. Some fake cases, they have absolutely nothing," the former president said. Trump also reiterated his criticism of Michael Cohen, a former Trump lawyer who has testified against him in the Manhattan grand jury case and previously served time in federal prison on tax fraud and other charges.
Trump also denied mainstream media reports that suggested he was trying to incite violence with his Truth Social posts that criticized Bragg's investigation: "No, I don't like violence and I'm not for violence. But a lot of people are upset."
On Truth Social, the former president made a similar statement regarding his belief Bragg's case is "DEAD." He wrote that the "Witch Hunt against me is DEAD, no evidence at all, & it has been conclusively proven that I did nothing wrong." He dismissed Cohen as a "disbarred lawyer & convicted Felon."
Last week, an attorney in Trump's circle, Robert Costello, told media outlets that he testified before the grand jury and sought to denigrate Cohen's testimony against the 45th president in the investigation, which reportedly is connected to so-called hush money payments that were given to adult performer Stormy Daniels during the 2016 presidential campaign. A lawyer for Cohen, when reached for comment, declined to issue a statement, although Cohen told MSNBC last week that Costello never represented him and disputed his testimony.
Bragg's has not returned a request for comment, and The Epoch Times cannot verify the authenticity of Trump's claims. Previous Epoch Times requests for comment from the DA's office have gone unanswered.
Over the past week, Bragg's office has issued one public statement on the case, and that came in response to a House Republican letter seeking testimony and information about the DA's case or whether his office would arrest Trump. A letter sent by his general counsel said that it was Trump who created a "false expectation" he would be indicted last week, although he provided no other details.
Responding to the House GOP's letter, Bragg's counsel wrote that it "only came after Donald Trump created a false expectation that he would be arrested the next day, and his lawyers reportedly urged you to intervene. Neither fact is a legitimate basis for congressional inquiry."
During the Waco rally, Trump declared that his "enemies are desperate to stop us" and that "our opponents have done everything they can to crush our spirit and to break our will," and that the Manhattan district attorney was investigating him "for something that is not a crime, not a misdemeanor, not an affair."
He added: "But they failed. They've only made us stronger. And 2024 is the final battle, it's going to be the big one. You put me back in the White House, their reign will be over and America will be a free nation once again."
Trump did not make any direct references in his speech to Waco's history, telling the crowd of thousands that he told Lt. Gov Dan Patrick he wanted to hold his rally in a place with overwhelming support, not "one of those 50-50 areas," and said he told Texas officials, "Let's go right into the heart of it."
At several points, Trump criticized Florida Gov. Ron DeSantis, who, despite not announcing it, has long been expected to run for president in 2024 and is seen as Trump's strongest potential challenger for the GOP nomination. Trump called his onetime ally disloyal and said he was "dropping like a rock" in the polls.
In addition to the Manhattan case, Trump is also facing an investigation in Georgia as well as federal investigations into his handling of allegedly classified documents and possible obstruction, as well as statements he made on Jan. 6, 2021. The former president has denied wrongdoing in those instances.