A woman in Ontario who identified as transgender and underwent hormone therapy, a bilateral mastectomy, and a hysterectomy filed the first lawsuit in Canada against her healthcare providers for facilitating her transition.
Michelle Zacchigna, a 34-year-old woman from Orillia, Ontario, recently announced a lawsuit she filed against the eight doctors and mental health professionals who treated her over the years, alleging that they failed to address her complex mental health needs and instead allowed her to self-diagnose as transgender and undergo irreversible procedures that she now regrets.
"I've been holding this card close to my chest for a while, and I'm ready to show it," said Zacchigna on Tuesday. "In November 2022, I commenced legal action against the Canadian health care providers that facilitated my medical transition in Ontario."
Zacchigna's story began in 2009 when she was 21, after having spent years dealing with depression, anxiety, self-harm, and a suicide attempt, when she discovered the concept of "gender identity" online. She became convinced that all her problems were due to being transgender, a belief that was never challenged by healthcare providers.
In spring 2010, Zacchigna attended a support group in Toronto called "Gender Journeys," where she met a doctor who referred her for male hormone therapy after a single hour-long appointment. Zacchigna's regular therapist also recommended hormone therapy, despite being aware of her long history of serious mental health issues. After three appointments with another doctor, Zacchigna was prescribed testosterone.
In 2012, a surgeon in Florida removed Zacchigna's breasts after she received a letter from her doctors recommending her for a bilateral mastectomy. In 2017, Zacchigna underwent a hysterectomy after being referred by another doctor. By 2019, Zacchigna made the decision to detransition after realizing that her mental health diagnoses and developmental disabilities explained the problems she was experiencing "much more succinctly than identifying as transgender ever had." She now deeply regrets the irreversible procedures that she underwent.
"I will live the rest of my life without breasts, with a deepened voice and male-pattern balding, and without the ability to get pregnant. Removing my completely healthy uterus is my greatest regret," Zacchigna wrote in a blog post for Lighthouse Forum.
Zacchigna's lawsuit claims that the healthcare providers who treated her failed to address her serious mental health issues and developmental disabilities and instead offered her irreversible medical interventions.
"The Defendants permitted Michelle to self-diagnose as transgender and prescribe her own treatment without providing a differential diagnosis or proposing alternative treatments," reads the Statement of Claim filed to the Ontario Superior Court of Justice.
Zacchigna alleges that her desire to become transgender was never challenged, and that she was not provided adequate counseling or therapy. She believes that the "affirmative" model of gender care is to blame, in which clinicians "affirm" a patient's self-diagnosis of being transgender and provide them with medical interventions instead of psychological therapy that explores the underlying reasons why individuals might experience distress over their bodies.
Zacchigna's experience highlights the lack of inquiry into patients' mental health, well-being, and reasons for seeking "gender-affirming" healthcare. Despite her longstanding history of mental health struggles and no indication of gender-related distress in adolescence or childhood, Zacchigna was still allowed to proceed with irreversible procedures that have lifelong effects.
Zacchigna is among a group of detransitioned individuals taking legal action against gender-affirming healthcare providers, claiming that they failed to address their underlying mental health needs and caused them harm. Francis Shapiro Munn is representing Zacchigna on a contingency basis, but she is also crowdfunding to cover expenses such as obtaining medical records and hiring experts.
"Through this action I am not only seeking justice for myself but also hoping to raise awareness about the reckless nature of 'gender-affirming' health care," Zacchigna said.
"Concerns about it have been raised internationally, with several countries altering their approach in response to systematic reviews of the evidence. However, here in Canada, discussion about it has barely gotten off the ground. I hope to start the conversation," she added.
Sweden, England, and Finland have conducted systematic reviews of the available evidence on pediatric medical transition, as has Florida's Boards of Medicine, with each concluding that the risks far outweigh any purported benefits. This resulted in the closure of prominent gender clinics, strict restrictions on the use of cross-sex hormones, and banning gender-related surgeries for minors. Italy, Australia, and Spain's medical bodies have also recently raised similar concerns.
In the US, Chloe Cole and Camille Kiefel are also suing healthcare providers for facilitating their medical transition. Kiefel and Zacchigna both claim that they were vulnerable adults suffering from mental illness at the time they consented to irreversible medical interventions, and Cole was only 13 years old when she began her transition.

⬇️ Top Picks for You ⬇️
Senate Democrats Authorize Supreme Court Ethics Subpoenas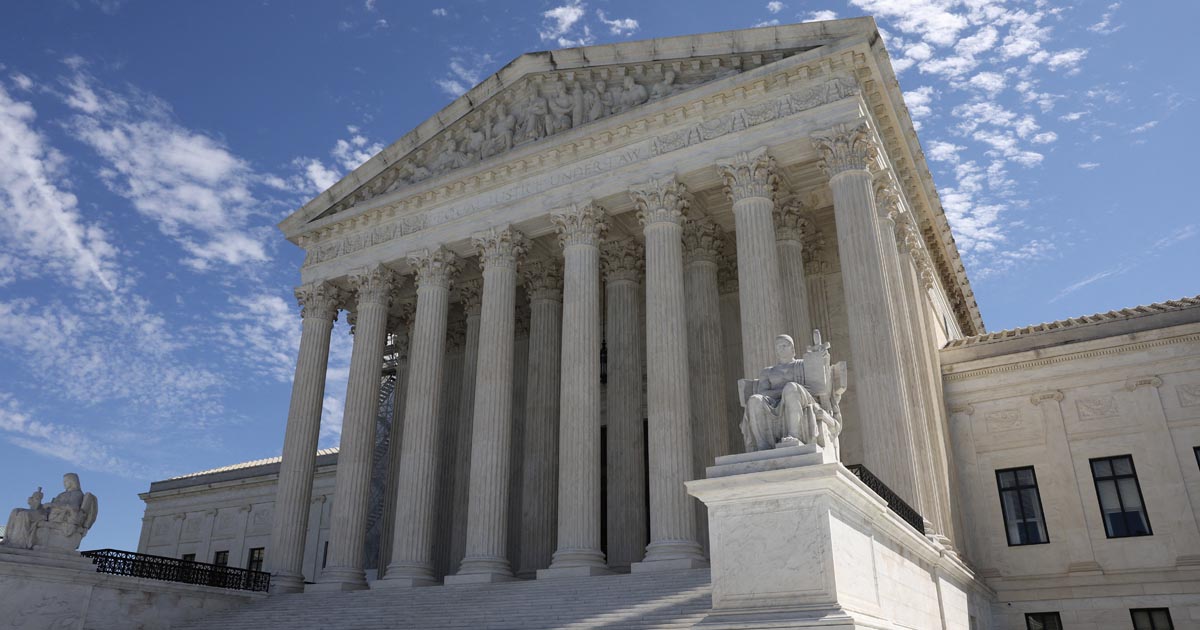 A Democratic-led U.S. Senate panel on Thursday authorized subpoenas to two influential conservatives – Harlan Crow and Leonard Leo – as part of an ethics inquiry spurred by reports of undisclosed largesse directed to some conservative Supreme Court justices.
The Judiciary Committee voted to authorize the subpoenas for Crow, a billionaire Republican donor and benefactor of conservative Justice Clarence Thomas, and Leo, a legal activist who was instrumental in compiling Republican former President Donald Trump's list of potential Supreme Court nominees.
Republican senators walked out of the contentious committee meeting in protest while Democrats cast votes. Some Republicans later questioned the vote's legitimacy, accusing Democrats of violating procedural rules.
"The subpoena clearly wasn't legal," Republican Senator John Kennedy, a committee member, said after the vote.
Senator Dick Durbin, the panel's chairman, said subpoenas were necessary due to the refusal by Crow and Leo for months to voluntarily comply with its previous requests for information. This included itemized lists of all gifts, transportation and lodging provided to any Supreme Court justice.
Durbin also renewed his criticism of a new code of conduct announced by the court on Nov. 13 and promised to continue to pursue the committee's ethics investigation.
"Without an enforcement mechanism, this code of conduct, while a step in a positive direction, cannot restore the public's faith in the court," Durbin said.
Senator Lindsey Graham, the committee's top Republican, told the meeting that Democrats were engaged in a "jihad" against the Supreme Court, whose 6-3 conservative majority has handed major defeats to liberals in recent years on matters including abortion, gun rights and student debt relief.
"When you say you don't want to destroy the Roberts Court, I don't believe you," Graham said, referring to the court under the leadership of conservative Chief Justice John Roberts. "I don't believe a word you're saying."
The committee vote authorized Durbin to issue the subpoenas, which he could do unilaterally, according to a Democratic committee staffer.
If the subpoena recipients fail to comply, Democrats would need 60 votes in the 100-seat Senate to initiate a civil enforcement action, meaning they would need the support of some Republicans. The Democrats also would have the option to make a referral to the U.S. Justice Department, which could choose to pursue criminal contempt proceedings against the subpoena recipients.
Lawyers for Leo and Crow in letters to the committee have criticized the committee's information requests as lacking a proper legal justification. Crow's lawyer had proposed turning over a narrower range of information but Democrats rebuffed that offer, according to the panel's Democratic members.
The news outlet ProPublica reported this year on Thomas's failure to disclose luxury trips and real estate transactions involving Crow, a Texas businessman.
The outlet also reported that Leo helped organize a luxury fishing trip in Alaska attended by conservative Justice Samuel Alito, who failed to disclose taking a private jet provided by billionaire hedge fund manager Paul Singer. Trump chose all three of his appointees to the court from lists of candidates that Leo played a key role in drawing up.
Thomas has said he believed the Crow-funded trips were "personal hospitality" and thus exempt from disclosure requirements, and that his omission of the real estate transaction was inadvertent.
Alito, regarding the flight, said that Singer had "allowed me to occupy what would have otherwise been an unoccupied seat."