Israeli professor Dr. Gal Luft, a key Biden whistleblower who was "missing" for several weeks, has been indicted by the Department of Justice just days after releasing a video in which he accused the Biden family of accepting bribes and assisting the Chinese government.
Luft has been accused of failing to register as a foreign agent while working to advance the interests of China in the United States. In addition to Foreign Agents Registration Act (FARA), the eight-count federal indictment includes charges of , arms trafficking, Iranian sanctions violations, and making false statements to federal agents.
"As alleged, Gal Luft, a dual U.S.-Israeli citizen and co-head of a Maryland think tank, engaged in multiple, serious criminal schemes. He subverted foreign agent registration laws in the United States to seek to promote Chinese policies by acting through a former high-ranking U.S. Government official; he acted as a broker in deals for dangerous weapons and Iranian oil; and he told multiple lies about his crimes to law enforcement," said U.S. Attorney Damian Williams.
More on the indictment from Fox News:
BREAKING: Gal Luft has been indicted by the DOJ just days after coming forward to detail allegations against the Biden Family. pic.twitter.com/FVfVSyb7iQ

— ALX 🇺🇸 (@alx) July 10, 2023
The indictment also alleges the following:
First, LUFT conspired with others in an effort to act within the United States to advance the interests of the People's Republic of China ("China") as agents of China-based principals, without registering as foreign agents as required under U.S. law.
As part of this scheme, while serving as the co-director of a Maryland-based non-profit think tank, LUFT agreed to covertly recruit and pay, on behalf of principals based in China, a former high-ranking U.S. Government official ("Individual-1"), including in 2016 while the former official was an adviser to the then-President-elect, to publicly support certain policies with respect to China without LUFT or Individual-1 filing a registration statement as an agent of a foreign principal with the Attorney General of the United States, in violation of FARA.
Among other things, in the weeks before the 2016 U.S. presidential election, LUFT and a co-conspirator ("CC-1"), who is a Chinese national and worked for a Chinese nongovernmental organization affiliated with a Chinese energy company, created a written "dialogue" between CC-1 and Individual-1, in which LUFT wrote Individual-1's responses and included information that was favorable to China.
The dialogue was then published in a Chinese newspaper online and sent to, among others, individuals in the United States, including a journalist and professors at multiple U.S. universities. When LUFT was writing the dialogue, CC-1 told LUFT that "[i]n these articles, we do not want to spill all the beans yet, just enough to let 'people' know he [i.e., Individual-1] is in the corridor of power to be. Just broad stroke policy consideration that leaves plenty of room for interpretation and imagination to be filled in later."
After the purported "conversations" were published, LUFT told CC-1 that certain information, favorable to China, had been "tucked between the lines." Shortly after the 2016 election, LUFT and CC-1 also discussed possible roles Individual-1 might have in the incoming U.S. administration and discussed Individual-1 taking a "silent trip" to China. LUFT responded that "[w]e are debating about his role in the new admin. There are all kinds of considerations . . .We should talk ftf [i.e., face-to-face] as there can be a supremely unique opportunity for china."
Last week, Luft uploaded a video from an "undisclosed location" in which he claimed he was being detained in order to prevent his scheduled testimony before the House Oversight Committee. The professor asserts that the Biden family received payments from individuals with alleged ties to Chinese military intelligence, further alleging the existence of an FBI mole who leaked classified information to China-controlled energy company CEFC.
"I, who volunteered to inform the US government about a potential security breach and about compromising information about a man vying to be the next president, am now being hunted by the very same people who I informed — and may have to live on the run for the rest of my life on the run …," Luft said.
"I'm not a Republican. I'm not a Democrat. I have no political motive or agenda … I did it out of deep concern that if the Bidens were to come to power, the country would be facing the same traumatic Russia collusion scandal — only this time with China. Sadly, because of the DOJ's cover-up, this is exactly what happened," he continued.
House Oversight Chair James Comer (R-KY) recently told Newsmax that Luft was in talks with the committee and would soon be testifying. Comer described Luft as "highly credible," adding that, "this is a credible witness that the FBI flew all the way to Brussels to interview and sent several agents to interview. This is someone who knew about CEFC in detail long before the laptop ever became public."

⬇️ Top Picks for You ⬇️
Biden Got Recurring $1,380 Payment from Hunter's Firm Starting in 2018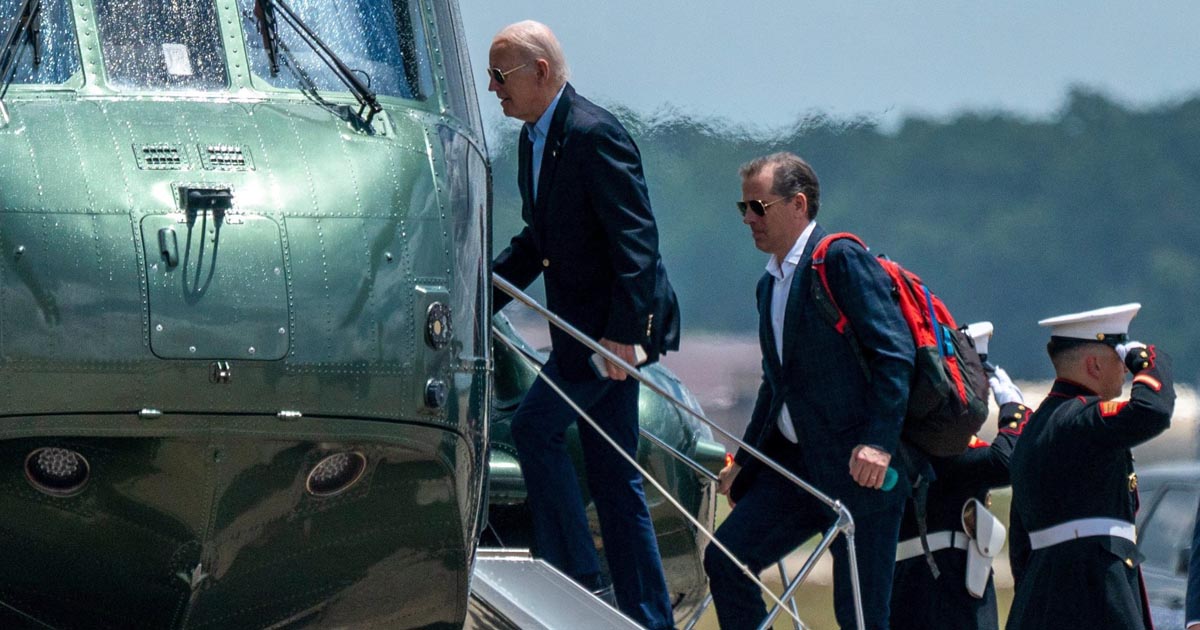 President Biden received a recurring payment of $1,380 from his son Hunter's law firm beginning in late 2018 shortly after a bank money laundering officer warned that the same account was receiving millions of dollars in Chinese government-linked funds without "any services rendered."
A bank order shows that Owasco PC set up a "monthly" transfer to then-former Vice President Joseph R. Biden Jr., with a voided check for the future president included in the documentation, which was released Monday by the House Oversight Committee.
A source told The Post that at least three recurring payments were made — on Sept. 17, Oct. 15 and Nov. 15, 2018 — totaling $4,140 to the elder Biden from Owasco PC, according to the bank records of the firm.
"President Biden and his family must be held accountable for this blatant corruption," Oversight Committee Chairman James Comer (R-Ky.) said in a video release.
"Today, the House Oversight Committee is releasing subpoenaed bank records that show Hunter Biden's business entity, Owasco PC, made direct monthly payments to Joe Biden. This wasn't a payment from Hunter Biden's personal account but an account for his corporation that received payments from China and other shady corners of the world," Comer said.
"At this moment, Hunter Biden is under an investigation by the Department of Justice for using Owasco PC for tax evasion and other serious crimes. And based on whistleblower testimony, we know the Justice Department made a concerted effort to prevent investigators from asking questions about Joe Biden. I wonder why?"
Earlier that year, a January 2019 email from assistant Katie Dodge to Hunter Biden annotated various expenses including "Ford Raptor — Reimbursement to JRB — $1380."
The provenance of the funds is unclear, however, and additional records show that Hunter Biden was knee-deep in two of his most controversial business relationships at the time, with Ukraine's Burisma Holdings and CEFC China Energy.
The evidence emerged as House Republicans prepare to question first brother James Biden on Wednesday and Hunter next week about the president's role in his family's dealings in countries such as China and Ukraine — with a possible floor vote to authorize the ongoing impeachment inquiry this month.
While a presidential candidate, Joe Biden denied that he ever discussed business with his relatives, but evidence has since shown that he met with his relatives' associates from both the Burisma and CEFC ventures.
Documents from the first son's abandoned laptop show that Burisma board adviser Vadym Pozharskyi sought "bank reference" information on Sept. 14, 2018 — one day before the initial transfer to Joe Biden was sought. However, the transaction was not executed for another two days, apparently due to a later-than-expected form submission.
Joe Biden met Pozharskyi at an April 17, 2015, dinner at DC's Café Milano. An unproven FBI informant tip said that Burisma owner Mykola Zlochevsky claimed in 2016 he was "coerced" into paying $10 million in bribes to the Bidens for their assistance in ousting prosecutor Viktor Shokin.
Hunter also was on the tail end of disbursing millions of dollars received from CEFC China Energy — one of two major Biden family dealings with Chinese government-linked firms.
On June 26, 2018 — less than three months before Joe Biden began to receive the monthly transfers — an internal Bank Secrecy Act expert warned colleagues that the institution should reconsider its relationship with Hunter as a result of Owasco PC seeming to receive Chinese funds without "any services rendered."
CEFC transferred $5 million to another Biden family-linked entity, Hudson West III, in August 2017 after Hunter warned a China-based associate of his father's wrath if a business deal was aborted. Much of the large transfer later went to Hunter's Owasco PC.
Prior bank records released by the Oversight Committee indicate that Joe Biden received payments of $40,000 and $200,000 from his brother James, who also was involved in the CEFC venture and other foreign-focused enterprises.
Comer alleged that the $40,000 transferred to Joe Biden's bank account on Sept 3, 2017, was from "laundered" Chinese funds.
James Biden paid Joe Biden $200,000 on March 1, 2018 — the same day that James received a $200,000 transfer from troubled rural hospital company Americore after pledging to use his political connections to secure a Middle Eastern investor, according to bankruptcy filings.
The White House says there's evidence that both transfers were loan repayments, but Republicans argue they have not seen loan agreement documents and note that the funds distributed to James came from a law firm, rather than Joe Biden himself, further clouding the picture.