The Justice Department rejected the House Judiciary Committee's demand for records about the investigation into President Joe Biden's handling of classified materials.
Assistant Attorney General Carlos Felipe Uriarte issued the agency's response to a January 13 letter sent by Chairman Jim Jordan (R-OH) and Rep. Mike Johnson (R-LA), who sought documents and communications underlying the inquiry, including the appointment of a special counsel the lawmakers said had raised "fundamental oversight questions" that are "routinely" examined by their panel.
Citing "longstanding policy," Uriarte said the Justice Department is averse to sharing "non-public information" central to an ongoing investigation because doing so "could violate statutory requirements or court orders, reveal roadmaps for our investigations, and interfere with the Department's ability to gather facts, interview witnesses and bring criminal prosecutions where warranted."
Disclosures from active investigations "risk jeopardizing those investigations and creating the appearance that Congress may be exerting improper political pressure or attempting to influence Department decisions in certain cases," Uriarte added. "Judgments about whether and how to pursue a matter are, and must remain, the exclusive responsibility of the Department."
All that really was explained in detail in the new letter was an already-established timeline of events on steps taken after classified materials were first found in November at Biden's think tank office in Washington, D.C., and later his Wilmington, Delaware, residence. That includes an initial review by U.S. Attorney John Lausch, and, at his recommendation, Attorney General Merrick Garland appointing former U.S. Attorney Robert Hur as special counsel to examine whether "any person or entity violated the law in connection with this matter."
The letter, published in full Monday by the Washington Examiner, refrained from directly addressing particular records about the run-up to the special counsel investigation or various records from the Justice Department, FBI, or the White House also sought by Jordan and Johnson. Uriarte said the Justice Department would abide by regulations he cited as reasons for the agency's limited ability to report to Congress, but he encouraged the GOP lawmakers to contact his office for further assistance.
"Our Members are rightly concerned about the Justice Department's double standard here. After all, some of the Biden documents were found at a think tank that has received funds from communist China," Jordan spokesman Russell Dye said in a statement. "It's concerning, to say the least, that the Department is more interested in playing politics than cooperating."
It remains to be seen whether Republicans in control of the House will escalate the showdown as they gear up for multiple investigations into the Biden administration. Jordan told CNN last week lawmakers are "definitely looking at asking for documents via subpoena." Among the concerns raised by Jordan and others are the prospect of unauthorized possession of classified materials dating back to Biden's time as a senator and vice president.
Frustrations have also been mounting on the Senate side even as Biden's team insists they are cooperating with the National Archives and Justice Department. Democrats and Republicans on the Senate Intelligence Committee left a classified briefing last week in an uproar, with leaders of the panel arguing they were being prevented from performing their congressional oversight duties because the U.S intelligence community refused to show records at the center of the Biden documents scandal as well as records at the heart of a separate special counsel inquiry into former President Donald Trump's handling of documents.
Uriarte sent a response to Senate Intelligence Chairman Mark Warner (D-VA) and Vice Chairman Marco Rubio (R-FL) over the weekend. In that letter, reported by CBS News, Uriarte assured the senators the Justice Department was "working with the Office of the Director of National Intelligence to support the provision of information that will satisfy the Committee's responsibilities without harming the ongoing Special Counsel investigations."

⬇️ Top Picks for You ⬇️
Alvin Bragg Grand Jury Is Done for Next Month — No Indictment for at Least 30 Days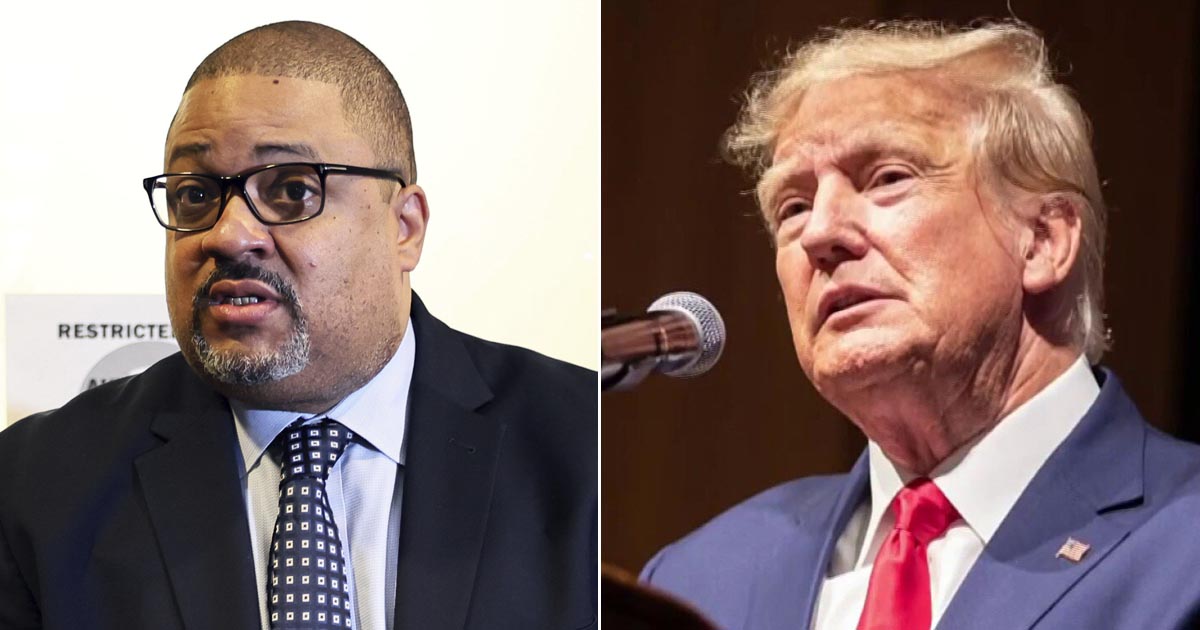 The Manhattan grand jury deciding whether or not to indict former President Donald Trump will break for another month, delaying the sluggish case even further.
Manhattan DA Alvin Bragg had referred the case to a grand jury earlier this month in the hope of indicting Trump on campaign finance violations.
They have been tasked with considering whether Trump broke the law when his attorney Michael Cohen gave $130,000 to porn star Stormy Daniels to keep quiet about claims she had slept with Trump in 2016.
It was supposed to remain a secret, allowing the jurors to consider the evidence in privacy.
The grand jury normally meets on Mondays, Wednesdays and Thursdays.
But they are not meeting today and tomorrow, they will hear details on another case.
They won't hear evidence on Trump's case tomorrow, either, then the jury will go on a scheduled 'hiatus' that has been planned since January.
The Manhattan DA's Office did not immediately respond to inquiries on Wednesday afternoon.
Earlier, he delayed the jurors for taking their time, writing on Truth Social: 'I have gained such respect for this grand jury, and perhaps even the grand jury system as a whole.
'The evidence is so overwhelming in my favor, and so ridiculously bad for the highly partisan and hateful district attorney, that the grand jury is saying, hold on, we are not a rubber stamp, which most grand juries are branded as being, we are not going to vote against a preponderance of evidence or against large numbers of legal scholars all saying there is no case here.
'Drop this sick witch hunt, now!'
Republicans have slammed the prosecution, many of which think will only help Trump's campaign and will never lead to a conviction.
'The way it comes across is very political. Like this guy is a very political guy. It is just, it appears to be not fair. They don't put out good information on it.
'That's why I always say about law enforcement: tell people what's going on. Don't be a black hole. Give people good information, so people don't think badly,' Sen. Rick Scott told DailyMail.com on Wednesday, shortly after the delay was announced.
Trump's Response