A man who prosecutors say ordered the 1996 killing of rapper Tupac Shakur was arrested and charged with murder Friday in a long-awaited breakthrough in one of hip-hop's most enduring mysteries.
Duane "Keffe D" Davis has long been known to investigators as one of four suspects identified early in the investigation. He isn't the accused gunman but was described as the group's ringleader by authorities Friday at a news conference and in court. In Nevada you can be charged with a crime, including murder, if you help someone commit the crime.
"Duane Davis was the shot caller for this group of individuals that committed this crime," said Las Vegas police homicide Lt. Jason Johansson, "and he orchestrated the plan that was carried out."
Davis himself has admitted in interviews and in his 2019 tell-all memoir, "Compton Street Legend," that he provided the gun used in the drive-by shooting.
Authorities said Friday that Davis' own public comments revived the investigation.
Davis, now 60, was arrested early Friday while on a walk near his home on the outskirts of Las Vegas, hours before prosecutors announced in court that a Nevada grand jury had indicted the self-described "gangster" on one count of murder with a deadly weapon. He is due in court next week.
The grand jury also voted to add a sentencing enhancement to the murder charge for gang activity that could add up to 20 additional years if he's convicted.
Hundreds of pages of transcripts released Friday provide a view into the first month of grand jury proceedings, which began in late July with testimony from former associates of Davis, friends of Shakur and a slate of retired police officers involved in the case early on. Their testimony painted a picture for the jurors of a deep, escalating rift between Shakur's music label Death Row Records and Bad Boy Records, which had ties to Davis and represented Shakur's rap rival, Biggie Smalls.
"It started the whole West Coast/East Coast" rivalry that primarily defined the hip-hop scene during the mid-1990s, one of Davis' former associates testified.
The first-ever arrest in the case came after Las Vegas police in mid-July raided Davis' home in the nearby city of Henderson for items they described at the time as "concerning the murder of Tupac Shakur."
Davis denied an interview request Friday from jail, and court records don't list an attorney who can comment on his behalf. Phone and text messages to Davis and his wife on Friday and in the months since the July 17 search weren't returned.
In a statement Friday, Sekyiwa "Set" Shakur, the rapper's sister, described the arrest as a victory.
"This is no doubt a pivotal moment. The silence of the past 27 years surrounding this case has spoken loudly in our community," she said. "It's important to me that the world, the country, the justice system, and our people acknowledge the gravity of the passing of this man, my brother, my mother's son, my father's son."
On the night of Sept. 7, 1996, Shakur was in a BMW driven by Death Row Records founder Marion "Suge" Knight. They were waiting at a red light near the Las Vegas Strip when a white Cadillac pulled up next to them and gunfire erupted.
Shakur was shot multiple times and died a week later at the age of 25.
Davis, in his memoir, said he was in the front passenger seat of the Cadillac and had slipped a gun into the back seat, from where he said the shots were fired.
He implicated his nephew, Orlando "Baby Lane" Anderson, saying he was one of two people in the backseat. Anderson, a known rival of Shakur, had been involved in a casino brawl with the rapper shortly before the shooting.
"Little did anyone know that this incident right here would ultimately lead to the retaliatory shooting and death of Tupac Shakur," said Johansson, the police lieutenant.
Anderson died two years later. He denied any involvement in Shakur's death.
Emails seeking comment from two lawyers who have previously represented Knight were not immediately returned. Knight was grazed by a bullet fragment in the shooting but had only minor injuries. He is serving a 28-year prison sentence in California for an unrelated voluntary manslaughter charge.
On the night of July 17, Las Vegas police quietly surrounded the home where Davis lives with his wife, Paula Clemons. Police lapel video obtained by The Associated Press showed SWAT officers detaining a man and his wife outside the home lit up by a swirl of red and blue lights after announcing their presence on a bullhorn. The couple's faces are blurred in the videos.
Police reported collecting multiple computers, a cellphone and hard drive, a Vibe magazine that featured Shakur, several .40-caliber bullets, two "tubs containing photographs" and a copy of Davis' memoir.
Greg Kading, a retired Los Angeles police detective who spent years investigating the Shakur killing and wrote a book about it, said he's not surprised by Davis' arrest.
"He put himself squarely in the middle of the conspiracy," Kading said, adding that Davis himself gave Las Vegas police "the ammunition and leverage to move forward."
Kading said he had also anticipated the murder charge, because Davis' public comments showed the crime was premeditated.
"All the other direct conspirators or participants are all dead," Kading said. "Keefe D is the last man standing among the individuals that conspired to kill Tupac."
The rapper's death came as his fourth solo album, "All Eyez on Me," remained on the charts, with some 5 million copies sold. Nominated six times for a Grammy Award, Shakur is still largely considered one of the most influential and versatile rappers of all time.

⬇️ Top Picks for You ⬇️
Biden Got Recurring $1,380 Payment from Hunter's Firm Starting in 2018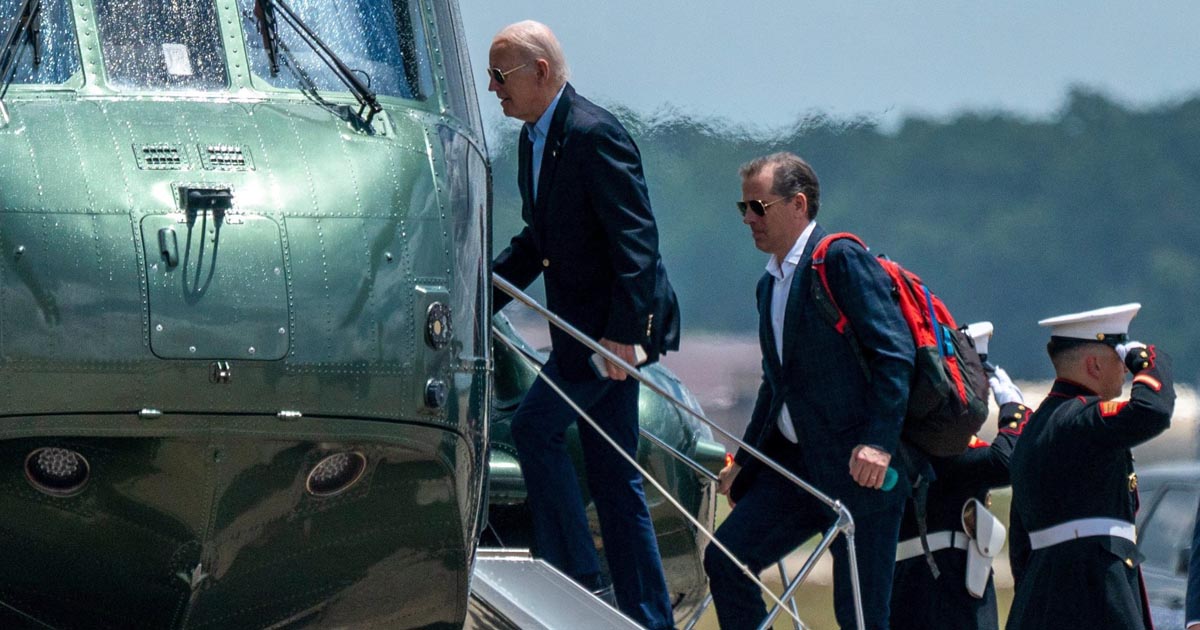 President Biden received a recurring payment of $1,380 from his son Hunter's law firm beginning in late 2018 shortly after a bank money laundering officer warned that the same account was receiving millions of dollars in Chinese government-linked funds without "any services rendered."
A bank order shows that Owasco PC set up a "monthly" transfer to then-former Vice President Joseph R. Biden Jr., with a voided check for the future president included in the documentation, which was released Monday by the House Oversight Committee.
A source told The Post that at least three recurring payments were made — on Sept. 17, Oct. 15 and Nov. 15, 2018 — totaling $4,140 to the elder Biden from Owasco PC, according to the bank records of the firm.
"President Biden and his family must be held accountable for this blatant corruption," Oversight Committee Chairman James Comer (R-Ky.) said in a video release.
"Today, the House Oversight Committee is releasing subpoenaed bank records that show Hunter Biden's business entity, Owasco PC, made direct monthly payments to Joe Biden. This wasn't a payment from Hunter Biden's personal account but an account for his corporation that received payments from China and other shady corners of the world," Comer said.
"At this moment, Hunter Biden is under an investigation by the Department of Justice for using Owasco PC for tax evasion and other serious crimes. And based on whistleblower testimony, we know the Justice Department made a concerted effort to prevent investigators from asking questions about Joe Biden. I wonder why?"
Earlier that year, a January 2019 email from assistant Katie Dodge to Hunter Biden annotated various expenses including "Ford Raptor — Reimbursement to JRB — $1380."
The provenance of the funds is unclear, however, and additional records show that Hunter Biden was knee-deep in two of his most controversial business relationships at the time, with Ukraine's Burisma Holdings and CEFC China Energy.
The evidence emerged as House Republicans prepare to question first brother James Biden on Wednesday and Hunter next week about the president's role in his family's dealings in countries such as China and Ukraine — with a possible floor vote to authorize the ongoing impeachment inquiry this month.
While a presidential candidate, Joe Biden denied that he ever discussed business with his relatives, but evidence has since shown that he met with his relatives' associates from both the Burisma and CEFC ventures.
Documents from the first son's abandoned laptop show that Burisma board adviser Vadym Pozharskyi sought "bank reference" information on Sept. 14, 2018 — one day before the initial transfer to Joe Biden was sought. However, the transaction was not executed for another two days, apparently due to a later-than-expected form submission.
Joe Biden met Pozharskyi at an April 17, 2015, dinner at DC's Café Milano. An unproven FBI informant tip said that Burisma owner Mykola Zlochevsky claimed in 2016 he was "coerced" into paying $10 million in bribes to the Bidens for their assistance in ousting prosecutor Viktor Shokin.
Hunter also was on the tail end of disbursing millions of dollars received from CEFC China Energy — one of two major Biden family dealings with Chinese government-linked firms.
On June 26, 2018 — less than three months before Joe Biden began to receive the monthly transfers — an internal Bank Secrecy Act expert warned colleagues that the institution should reconsider its relationship with Hunter as a result of Owasco PC seeming to receive Chinese funds without "any services rendered."
CEFC transferred $5 million to another Biden family-linked entity, Hudson West III, in August 2017 after Hunter warned a China-based associate of his father's wrath if a business deal was aborted. Much of the large transfer later went to Hunter's Owasco PC.
Prior bank records released by the Oversight Committee indicate that Joe Biden received payments of $40,000 and $200,000 from his brother James, who also was involved in the CEFC venture and other foreign-focused enterprises.
Comer alleged that the $40,000 transferred to Joe Biden's bank account on Sept 3, 2017, was from "laundered" Chinese funds.
James Biden paid Joe Biden $200,000 on March 1, 2018 — the same day that James received a $200,000 transfer from troubled rural hospital company Americore after pledging to use his political connections to secure a Middle Eastern investor, according to bankruptcy filings.
The White House says there's evidence that both transfers were loan repayments, but Republicans argue they have not seen loan agreement documents and note that the funds distributed to James came from a law firm, rather than Joe Biden himself, further clouding the picture.