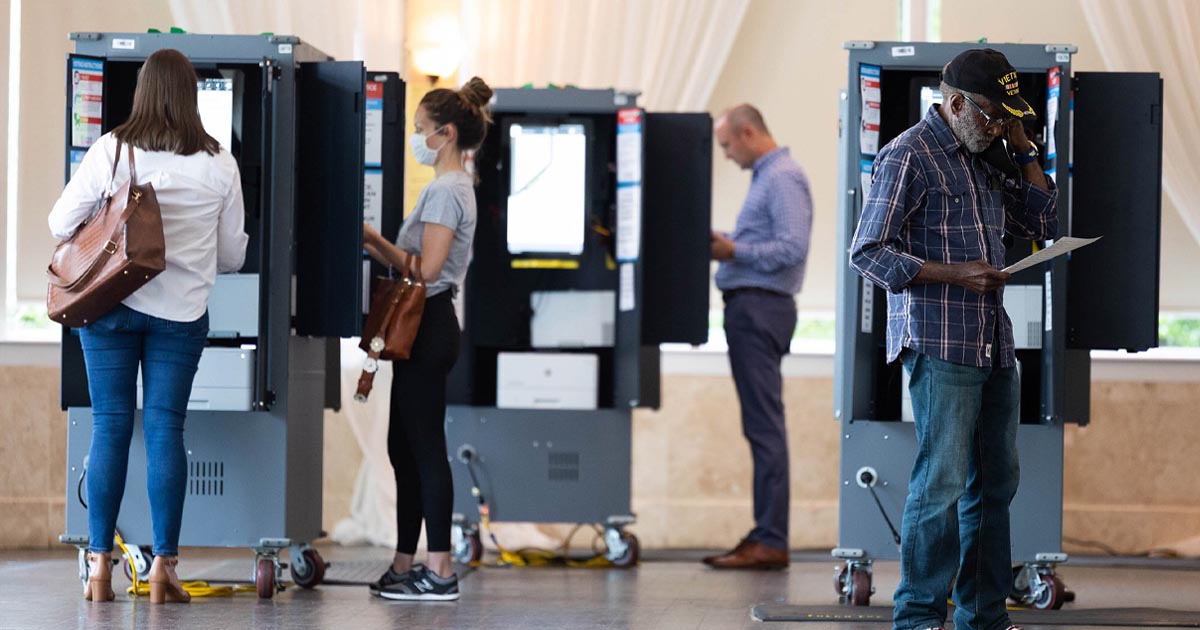 Eagle AI to Help Republicans Clean Up Georgia Voter Rolls — 191,000 Inactive Voters Kicked Off Rolls
A private company called EagleAI, with the support of Republican "election integrity" activists, is attempting to sell software to Georgia election officials and residents that would enable them to aggressively cancel voter registrations.
The company's software could be used by local governments as well as individuals who have challenged the eligibility of tens of thousands of voters since the 2020 presidential election.
Georgia is already planning to cancel 191,000 inactive voter registrations this moth, but an EagleAI presentation alleges the state's voter rolls are bloated with people who have died or moved away. Secretary of State Brad Raffensperger disagrees, saying Georgia's voter lists are "the cleanest in the nation."
EagleAI (pronounced Eagle Eye) touts itself as a potential replacement for the Electronic Registration Information Center, a voter registration information sharing organization that currently includes 25 states, including Georgia. The bipartisan collaboration has been attacked by conservatives who believe it's biased and ineffective. Nine Republican-led states have withdrawn from ERIC.
Eagle AI CEO Rick Richards, a self-described "serial entrepreneur," said the company's software excludes party information, and he said it's also supported by Democrats and independents as well as Republicans.
EagleAI, a company incorporated in Evans near Augusta, is negotiating with Columbia County's election board and has discussed working with a dozen more Georgia counties, according to emails obtained by The Atlanta Journal-Constitution under the the state's open records law.
The company asked the secretary of state's office to bid on a contract for statewide voter registration management, though no such contract exists, according to the emails.
"EagleAI data offers zero additional value to Georgia's existing list maintenance procedures," said Mike Hassinger, a spokesman for the secretary of state's office. "We already utilize the most accurate death data through our Department of Public Health and the Social Security death master list. We already check for duplicates."
Richards said EagleAI's software relies on publicly available data such as voter registrations, Postal Service information and death records to identify potentially ineligible voters.
EagleAI alleges there are more registered voters than residents in several Georgia counties, but Hassinger said his analysis is flawed because it includes voters who are already designated as "inactive," meaning they'll lose their registrations if they decline to vote in the next two general elections, according to federal election laws.
There are currently 8 million registered voters in Georgia, including 7.2 million active voters, in a state with an estimated voting-age population of 8.4 million, according to the state's voter list and the U.S. Elections Project at the University of Florida.
Richards said EagleAI would help the public file challenges to voters' eligibility and make it easier for election officials to evaluate them.
"EagleAI NETwork simply points out voter registrations that need to be reviewed by the election officials, and provides an easy-to-use interface for engaging with the government's own data," Richards wrote in a statement Sunday. "… EagleAI NETwork is a tool where citizens concerned with this issue can log in, see the data, easily review the data against publicly available data, and with a click send the data to their local election officials."
The voting rights group Fair Fight said it opposes privatizing voter registration management and empowering challenges to voters' eligibility. Under Georgia's 2021 voting law, any voter can challenge an unlimited number of voters, forcing county election boards to hold hearings and decide on voters' qualifications.
"Efforts by conspiracy theorists and anti-voter extremists to strip eligible voters from the rolls through mass voter challenges and aggressive voter purges are one of the biggest threats to our democracy as we look ahead to 2024," Fair Fight spokeswoman Xakota Espinoza said. These efforts are part of a broader nationwide strategy to make administering elections more difficult while intimidating and harassing voters the GOP deems undesirable."
Columbia County is reviewing EagleAI's proposal and hasn't yet implemented it, said Larry Wiggins, a Democratic Party member of the county's election board.
Wiggins said EagleAI's software could be a useful tool for election workers when they check the accuracy of activists' voter eligibility challenges. Authority over voter registrations would remain under the government's control, and voters would still receive mailed notifications before their registrations are canceled.
"It doesn't change anything we do as far as the physical contact with the voter and verification," Wiggins said. "It works the other way, too: It can verify that a voter is legitimate. It's not a tool to get people off the rolls. It's just to verify both ways."
State Election Board Chairman Bill Duffey warned Columbia County's election board that it still must comply with Georgia voter registration laws if it decides to work with EagleAI.
A state law passed this year prohibits private donations or giving anything of value to county election officials, meaning EagleAI couldn't allow Columbia County to use its software for free as a test market, Duffey wrote in a May letter. State laws also prohibit counties from sharing voter registration forms, and counties must protect private information such as complete dates of birth and Social Security numbers.
Eagle AI, LLC, which doesn't have a public website, was founded in July 2022, according to state business records. The full name of the company's product is EagleAI NETwork because EagleAI is trademarked by another company, Richards said.
Greater Georgia, a voter mobilization group led by former Republican U.S. Sen. Kelly Loeffler, is conducting its own program for challenging potentially invalid voter registrations, including people registered at business addresses, felons, the deceased and residents who have moved.
The organization said it considered a proposal from EagleAI but never moved forward with it. Greater Georgia isn't using EagleAI's software and hasn't given any money to the business.
"Greater Georgia's Election Integrity Defenders program is actively working to verify voter rolls in 159 counties," Loeffler said. "That means ensuring only registered, eligible citizens are voting. It's a goal everyone who cares about fair elections should support."
EagleAI says it plans to start its voter registration list efforts in Georgia, then expand to other states, including Florida, Illinois, Iowa, Nevada, North Carolina and Texas.

⬇️ Top Picks for You ⬇️
Ryan O'Neal, Love Story and Paper Moon Star, Dies at 82
Ryan O'Neal, the prolific, Oscar-nominated actor for his role in 1970's "Love Story" and two-time Golden Globe nominee, has died. He was 82.
His son, 56-year-old actor Patrick O'Neal, confirmed the news on his Instagram account Friday.
"So this is the toughest thing I've ever had to say but here we go. My dad passed away peacefully today, with his loving team by his side supporting him and loving him as he would us," he wrote.
"My father Ryan O'Neal has always been my hero. I looked up to him and he was always bigger than life," he continued. "As a human being, my father was as generous as they come. And the funniest person in any room. And the most handsome clearly, but also the most charming. Lethal combo. He loved to make people laugh. It's pretty much his goal. Didn't matter the situation, if there was a joke to be found, he nailed it. He really wanted us laughing. And we did all laugh. Every time. We had fun. Fun in the sun."
"As my father, he was second to none. The best and most loving and supportive dad, and I am just so lucky to have had him," he continued. "We loved playing/watching sports together. Some great frisbee throws on the beach that would last all weekend long. For years. That was our bond."
O'Neal was diagnosed with leukemia in 2001 and with prostate cancer in 2012. He initially stated it was Stage 4 cancer before later clarifying it was Stage 2. He underwent back surgery in 2017 and famously suffered from alcoholism and drug abuse over the years. His cause of death is still unknown.
Born Charles Patrick Ryan O'Neal in LA on April 20, 1941, O'Neal was the son of actress Patricia Ruth Olga and novelist/screenwriter Charles O'Neal.
Before he got into acting, O'Neal trained to become a professional boxer, competing in two Golden Gloves championships in LA in the 1950s. His amateur fighting record is 18 wins to four losses, with 13 knockouts.
His family moved to Germany for his dad's job when O'Neal was in high school. He struggled at his new Munich school, so he became an extra and stuntman on a local show, sparking his interest in acting.
O'Neal returned to the States to pursue performing and landed several roles on TV shows, including "The Many Loves of Dobie Gillis," "The Untouchables," "Leave It To Beaver" and "The Virginian." He regularly appeared on NBC's Western series "Empire" from 1962 to 1963.
His first big acting break came in 1964 as Rodney Harrington in the TV drama "Peyton Place." That led to several movie credits, including his first leading film role in 1969's "The Big Bounce."
O'Neal became a household name when he starred in 1970's "Love Story" opposite Ali MacGraw. He earned an Academy Award nomination for Best Actor in a Leading Role playing Oliver, who made us believe that "Love means never having to say you're sorry."
"We didn't have to build chemistry," O'Neal told the Hollywood Reporter in 2000 in celebration of the film's 50th anniversary. "It was there, built in."
The film went on to earn $136.4 million globally ($915.7 million today) and garnered seven total Oscar nominations.
"Knowing very well the events that were going on in the world — anti-Vietnam and worrying about all kinds of stuff — I think people may have been ready for something sentimental," added MacGraw.
O'Neal also starred in the third highest grossing film in 1972, "What's Up, Doc?," opposite Barbra Streisand.
"I learned more about comedy from Barbara than anyone," he told The Hollywood Reporter 50 years after the film debuted. "I only wish Peter was here to celebrate the 50th year with us. May he rest in peace."
His other notable works include "Paper Moon," "Barry Lyndon," "A Bridge Too Far" and "The Main Event."
O'Neal's final TV appearances came on 24 episodes of "Bones," ending in 2017. He and his only daughter, Tatum O'Neal, also invited cameras to watch as they tried to repair their father/daughter relationship on "Ryan and Tatum: The O'Neals" in 2011.
His final film, a horror movie titled "The Waste Lands," is in development, according to IMDb.
O'Neal was also well-known for his high-profile romances. He was married to Joanna Moore from 1963 to 1967. They had two children: Tatum and Griffin. He wed Leigh-Taylor Young in 1967, and they had a son, Patrick. The couple divorced in 1971.
He and Farrah Fawcett, meanwhile, famously had a tumultuous on-and-off relationship, first from 1979 to 1997, and then from 2001 until her death in 2009. They had one son together, Redmond, now 35, in 1985. They never married.
The relationship between O'Neal and the "Charlie's Angels" actress was reportedly ruined by his infidelity and hot temper. The couple called it quits the first time after Fawcett found O'Neal in bed with actress Leslie Stefanson.
"I got married at 21, and I was not a real mature 21," O'Neal told Vanity Fair in 2009 about his cheating ways. "My first child was born when I was 22. I was a man's man; I didn't discover women until I was married, and then it was too late."
The late actor often made headlines for his troubled relationship with Fawcett and his estrangement from his children.
His drug abuse caused a rift from his three oldest kids for several years. Tatum and Griffin have spoken about how O'Neal's struggles affected their family, and Griffin even claimed that his dad gave him cocaine when he was 11 and "insisted" he take it.
"He was a very abusive, narcissistic psychopath. He gets so mad he can't control anything he's doing," Griffin added in Vanity Fair.
"I'm a hopeless father. I don't know why," O'Neal admitted to the mag in 2009. "I don't think I was supposed to be a father. Just look around at my work — they're either in jail or they should be."
"I have nice grandchildren, though," he added.
O'Neal was arrested in 2007 for shooting at Griffin, which he claimed was self-defense. The charges were dropped, but O'Neal still refused to let Griffin attend Fawcett's 2009 funeral after she died on June 25, 2009, at age 62 of anal cancer.
"I came from a not-so-nice kind of a world," Griffin said of Fawcett on "Larry King Live" that same year. "We were a kind of a battling and kind of crazy family. And she was so nice … And the crazy, sad part was that she stayed nice all the way to the end."
"It broke my heart when I was not allowed in to say goodbye to her."
Ten years after the death of Fawcett, O'Neal reflected on his longtime love to People. "There was never a day I didn't love her," he said.
A few weeks before she died, O'Neal proposed to her.
"He never left her side, especially those last few months," Fawcett's close friend Alana Stewart said at the time. "I think they would've married if she had made it because he asked her to marry him in the hospital and she said yes. But she took a turn for the worse. This was just a few weeks before the end, so perhaps it wasn't realistic. The two of them had a deep bond and deep love. No matter what they went through, the ups and downs, he was the one she wanted by her side."
O'Neal famously hit on Tatum by accident at the funeral.
"I had just put the casket in the hearse and I was watching it drive away when a beautiful blonde woman comes up and embraces me … I said to her, 'You have a drink on you? You have a car?' She said 'Daddy, it's me — Tatum!' I was just trying to be funny with a strange Swedish woman, and it's my daughter. It's so sick," O'Neal recalled to Vanity Fair.
"That's our relationship in a nutshell," Tatum explained to the publication. "You make of it what you will. It had been a few years since we'd seen each other and he was always a ladies' man, a bon vivant."
Griffin and Tatum both struggled with drug addiction but have since gotten their lives back on a healthy track. Tatum wrote in her 2001 memoir, "A Paper Life," that the children's troubled ways developed from their father's mental and physical abuse in their youth.
"When your parents are off getting drunk or high, they are not watching what happens to their children. I suffered years of abuse, both emotional and sexual," she said of O'Neal and Moore.
O'Neal and Redmond, meanwhile, were arrested for possession of what authorities believed to be methamphetamine at the actor's Malibu home in 2008. They were held and released at a local sheriff's station after each posting $10,000 bonds.
Redmond is in the Patton State Psychiatric Hospital in San Bernardino after a string of charges in Southern California in 2018, according to online court records.
In May 2018, he allegedly attacked and stabbed five men in unprovoked confrontations, leaving one in a pool of blood. Days later, he was arrested for attempted murder, robbery, assault and drug possession for allegedly robbing a 7-11 store at knifepoint.
He, too, blamed his parents for his troubles in a 2018 interview with RadarOnline from jail.
"It's not the drugs that have been a problem, it's the psychological trauma of my entire life — my whole life experiences have affected me the most," he insisted.
"Fighting with my father, being kicked out and living on the streets, going to jail, being put in a psychiatric ward, being embarrassed all the time, just because of who my parents are."
"The pressure that came with that set off a time-bomb in my head. I never asked for any of this, I never wanted any attention," Redmond told the outlet.
O'Neal turned 82 on April 20. Tatum and Patrick shared separate photos celebrating with their dad via Instagram.
"Happy birthday dad I love you," Tatum wrote. Patrick, for his part, wrote: "Honor and a privilege to share time with my dad on his 82nd birthday. 4/20 whoop whoop!!"
O'Neal is survived by his four children and five grandchildren.