Shocking emails reveal Hunter Biden helped coordinate a plan with Democrat strategists to 'close down any cases' against the owner of allegedly corrupt Ukrainian gas firm Burisma and 'gain intelligence' on the country's top prosecutor's office.
The emails bolster claims by ex-Ukrainian Prosecutor General Viktor Shokin that the First Son and his then-Vice President dad conspired to kill Shokin's criminal investigation of Burisma.
Last weekend Fox News broadcast an interview with Shokin, where he repeated his previous allegations that Joe Biden got him fired over his Burisma probe.
Emails obtained by DailyMail.com from Hunter's abandoned laptop lay bare how the First Son was involved in Burisma's attempts to thwart law enforcement looking into its alleged corruption.
On May 12, 2014, the day before Hunter's $1million-per-year appointment to Burisma's board was publicly announced, executive Vadym Pozharskyi emailed the then-VP's son from his personal Gmail account, warning that the firm's owner Mykola Zlochevsky was likely under criminal investigation in Ukraine.
'We urgently need your advice on how you could use your influence to convey a message / signal, etc to stop what we consider to be politically motivated actions,' Pozharskyi wrote.
The Burisma executive said the company was the victim of blackmail.
'In case we don't cooperate i.e. provide money in cash the gas production business of [Zlochevsky] would be stopped,' he wrote.
'After unsuccessful attempts to receive funds from our side, they proceeded with concrete actions.'
But at the time Zlochevsky was the subject of a legitimate money laundering investigation by the FBI and British intelligence services, for allegedly awarding his own companies lucrative gas contracts while he served as Ukraine's environment minister and squirreling away $23million abroad.
Hunter got a partner at his then-law firm, Boies, Schiller, & Flexner, to devise a response for Burisma and also pitched in with advice on gaining 'intelligence' on new staff at the Prosecutor General's office using investigative agency Nardello & Co.
'It would be helpful to gain intelligence on who is leading the restructuring the individuals being considered for those posts,' he wrote.
'Agreed – that is part of what their human intel sources are seeking to learn,' the Boies partner, Heather King, replied.
A senior US diplomat in Ukraine, George Kent, testified to Congress that a deputy in the Ukrainian prosecutor's office told him Zlochevsky ended up paying a $7million bribe to Ukrainian justice officials in December 2014 to sabotage the US-UK probe.
There is no evidence on Hunter's laptop that the First Son was involved in such an alleged bribe.
But when Shokin took over as the new Prosecutor General in 2015, Burisma faced fresh scrutiny, and again turned to Hunter for help.
Shokin had launched new investigations into the gas firm, took legal action against one of his staff for the alleged sabotage of Zlochevsky's $23million money laundering case, and even got a court to temporarily freeze the Ukrainian oligarch's assets.
Hunter hooked Burisma up with Washington DC consultancy Blue Star Strategies, run by former Clinton administration officials, and Pozharsky spelt out their role in a November 2, 2015 email.
He wrote the 'ultimate purpose' of their work was 'to close down for any cases/pursuits against [Zlochevsky] in Ukraine.'
Pozharsky was unimpressed that Blue Star's written proposal for the job didn't include a promise to lobby top American diplomats – which would have required the firm to register with the US Justice Department as a foreign agent.
But Hunter and his partners indicated that the firm just didn't want to put it in writing.
'I would tell Vadym that this is definitely done deliberately to be on the safe and cautious side and that Sally [Painter, Blue Star COO] and company understand the scope and deliverables,' Hunter's business partner Eric Schwerin wrote privately to Hunter.
Pozharsky wrote: 'If you and Devon [Archer, Hunter's friend and fellow board member] feel comfortable that they will deliver what in real terms we are talking about, we should disregard the wording of the scope and move further with signing and starting actual work.'
'Devon and I do feel comfortable with BS [Blue Star] and the ability of Sally & Karen [Tramontano, CEO] to deliver,' Hunter replied on November 5, 2015.
The ex-Clinton staffers were hired and set about lobbying State Department officials on Burisma's behalf.
They were later investigated by federal law enforcement for failing to file under the Foreign Agents Registration Act, and belatedly lodged paperwork in 2021 to avoid prosecution.
According to Congressional testimony by Archer, Hunter also allegedly called his Vice President father to help deal with the Ukraine prosecutor's investigation at Zlochevsky's behest after a board meeting at the Four Seasons in Dubai around December 4 2015.
'I think they were getting pressure and they requested Hunter help them with some of that pressure,' Archer said.
'The request is like, 'Can DC help?' he added. 'There weren't specific, you know, 'Can the Big Guy help?' It was always this amorphous, 'Can we get help in DC?'
Archer said Pozharskyi told him Hunter 'called his dad' – though clarified the word the Burisma executive used was 'DC'.
'I just know that there was a call that happened there and I was not privy to it,' he said.
Three days later then-VP Joe visited Kiev and met with President Petro Poroshenko, part of his role in leading relations with Ukraine for the Obama White House.
His National Security Adviser Colin Kahl told the Washington Post that behind the scenes, Biden threatened to withhold $1billion in US aid to Ukraine if Shokin was not fired, among other reforms.
The next day, December 8 2015, Joe gave a speech to the Ukrainian parliament, noting 'the Office of the General Prosecutor desperately needs reform.'
In the eight days before Shokin's eventual sacking in March 2016, Biden phoned Ukrainian president Petro Poroshenko four times to hammer home the $1 billion threat, Biden's former aides told the LA Times in 2019.
Shokin claims Joe ensured his firing not to tackle corruption, but to aid Burisma for Hunter.
'Poroshenko fired me at the insistence of the then-Vice President Biden because I was investigating Burisma,' he told Fox.

⬇️ Top Picks for You ⬇️
McCarthy to Work with Dems to Pass 45-Day Funding, Avoiding Govt Shutdown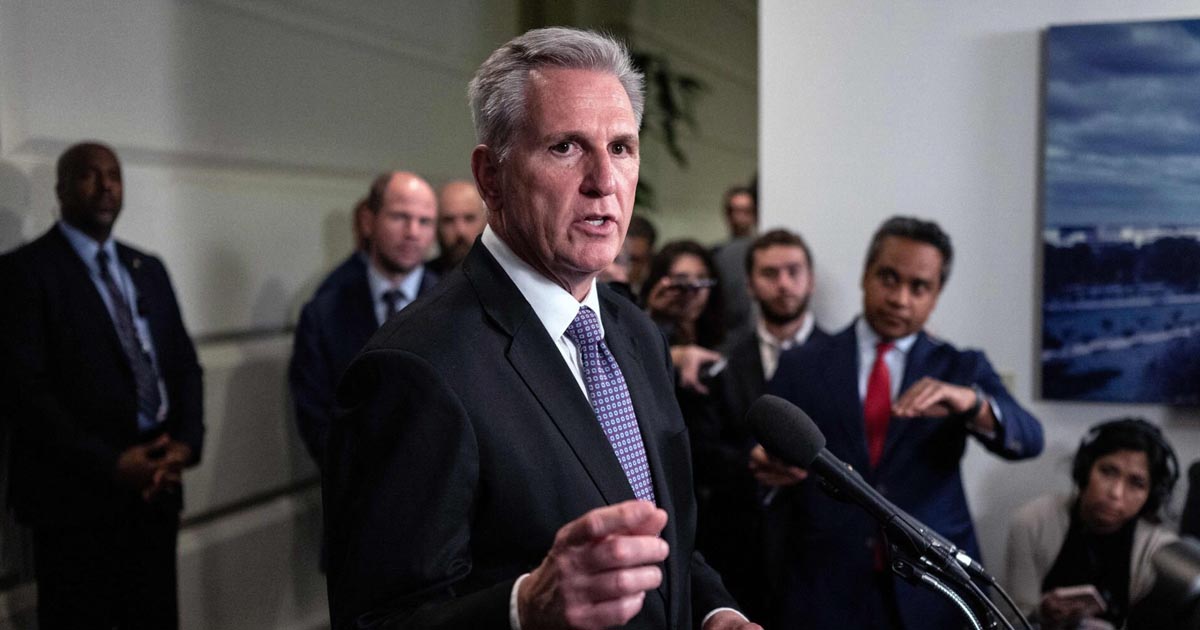 On the brink of a federal government shutdown, Speaker Kevin McCarthy announced a dramatic pivot Saturday, trying to push a 45-day funding bill through the House with Democratic help — a move that could keep government open but most certainly risks his job.
Republican lawmakers met behind closed doors early in the morning with hours to go before the midnight deadline needed to fund government operations or face a disruptive federal closure.
The new approach would leave behind aid to Ukraine, a White House priority opposed by a growing number of GOP lawmakers, but the plan would increase federal disaster assistance by $16 billion, meeting President Joe Biden's full request.
The House was preparing for a quick vote Saturday on the plan, but Democrats hit the brakes, seeking time so they could read the 71-page bill. Across the Capitol, the Senate was opening a rare weekend session and hoping to advance its own stopgap plan, but with money for Ukraine.
"We're going to do our job," McCarthy said after the morning meeting. "We're going to be adults in the room. And we're going to keep government open."
With no deal in place before Sunday, federal workers will face furloughs, more than 2 million active-duty and reserve military troops will work without pay and programs and services that Americans rely on from coast to coast will begin to face shutdown disruptions.
The sudden House action would fund government at current 2023 levels for 45 days, through Nov. 17. It would move closer to the bipartisan approach underway in the Senate, which also would fund the government through that period, while adding $6 billion for Ukraine to fight the war against Russia and $6 billion for U.S. disaster relief.
"A bipartisan, a bicameral solution is the only way forward," said Rep. Rosa DeLauro, the top Democrat on the House Appropriations Committee. She and other Democrats decried cutting Ukraine aid.
McCarthy, R-Calif., will be forced to rely on Democrats for passage because the speaker's hard-right flank has said it will oppose any short-term measure. McCarthy was setting up a process for voting that will require a two-thirds supermajority, about 290 votes in the 435-member House for passage. Republicans hold a 221-212 majority, with two vacancies.
Relying on Democratic votes and leaving his right-flank behind is something that the hard-right lawmakers have warned will risk McCarthy's job as speaker. They are almost certain to quickly file a motion to try to remove McCarthy from that office, though it is not at all certain there would be enough votes to topple the speaker.
"If somebody wants to remove me because I want to be the adult in the room, go ahead and try," McCarthy said of the threat to oust him. "But I think this country is too important."
The quick pivot comes after the collapse Friday of McCarthy's earlier plan to pass a Republican-only bill with steep spending cuts up to 30% to most government agencies that the White House and Democrats rejected as too extreme.
"Our options are slipping away every minute," said one senior Republican, Rep. Mario Diaz-Balart of Florida.
Meanwhile, the Senate was marching ahead on its package with support from both Democrats and Republicans.
"Congress has only one option to avoid a shutdown — bipartisanship," said Senate Majority Leader Chuck Schumer, D-N.Y.
Senate Republican leader Mitch McConnell of Kentucky echoed the sentiment, warning his own hard-right colleagues there is nothing to gain by shutting down the federal government.
"It heaps unnecessary hardships on the American people, as well as the brave men and women who keep us safe," McConnell said.
The federal government is heading straight into a shutdown that poses grave uncertainty for federal workers in states all across America and the people who depend on them — from troops to border control agents to office workers, scientists and others.
Families that rely on Head Start for children, food benefits and countless other programs large and small are confronting potential interruptions or outright closures. At the airports, Transportation Security Administration officers and air traffic controllers are expected to work without pay, but travelers could face delays in updating their U.S. passports or other travel documents.
An earlier McCarthy plan to keep the government open collapsed Friday due to opposition from a faction of 21 hard-right holdouts despite steep spending cuts of nearly 30% to many agencies and severe border security provisions.
The White House has brushed aside McCarthy's overtures to meet with Biden after the speaker walked away from the debt deal they brokered earlier this year that set budget levels.
Catering to his hard-right flank, McCarthy had returned to the spending limits the conservatives demanded back in January as part of the deal-making to help him become the House speaker.
After Friday's vote, McCarthy's chief Republican critic, Rep. Matt Gaetz of Florida, said the speaker's bill "went down in flames as I've told you all week it would."