In the midst of the Biden administration's disastrous military withdrawal from Afghanistan, top Pentagon officials were working to get the Secretary of Defense to sign a major climate change initiative, according to emails obtained by The Daily Wire.
In the two weeks between the fall of Kabul to the Taliban on August 15, 2021, and the final U.S. military flight out of Afghanistan on August 30, Pentagon officials were scrambling with the White House to finalize the Department of Defense Climate Adaptation Plan, a document that declares climate change a major national security risk.
The emails indicate frustration from climate change-focused Pentagon officials at the difficulty of getting the plan signed — but that ultimately their determination to focus on climate change even during the Afghanistan withdrawal paid off. Secretary of Defense Lloyd Austin signed the climate initiative on September 1, just six days after 13 Americans were killed by a Taliban suicide bomber.
James Fitzpatrick, a member of the U.S. Army Reserve who obtained the emails through his organization, the Center to Advance Security in America, says the emails show military leadership was being "hounded" by climate activists within the government as it was trying to navigate withdrawal.
"While the Biden Administration was in the middle of a disastrous and deadly Afghanistan withdrawal, our top military leaders were being hounded by DoD climate activists to fast track a plan to transform the Department by forcing politically charged climate change discussions into every decision the DoD makes," Fitzpatrick said.
At the center of the push were two senior Pentagon officials: Joe Bryan, the Senior Advisor to the Secretary of Defense for Climate, and Richard Kidd, the Deputy Assistant Secretary of Defense for Environment & Energy Resilience. The pair traded emails throughout the Afghanistan crisis on the Climate Adaptation Plan, strategizing on how to get it signed by Austin.
"I think it's a tough lift to get [Secretary of Defense] to sign the CAP this week. He's not looking at much that isn't Afghanistan-related," wrote Bryan on August 17, a day after President Joe Biden addressed the nation about the ongoing crisis in Kabul. Bryan suggested escalating the issue to a White House official named Andrew Mayock, who was appointed Biden's Chief Sustainability Officer.
Kidd responded the next morning that this was a "good idea," because Mayock "gets it" and could give a "must have" deadline from the White House.
The pair appears to have grown frustrated in the days that followed. The frustration was not that the mission in Afghanistan had devolved into a full-fledged crisis with people falling off planes as they departed the airport, nearly 200 murdered by terrorists as they flooded the airport in hopes of evacuation, and a botched military drone strike that killed civilians rather than terrorist targets. It was that Austin had failed to sign the climate plan.
On August 30, the final day of the frantic withdrawal, Kidd expressed frustration after Bryan informs him that the plan "hasn't been signed yet."
"Uhm, ok will keep standing by," Kidd wrote.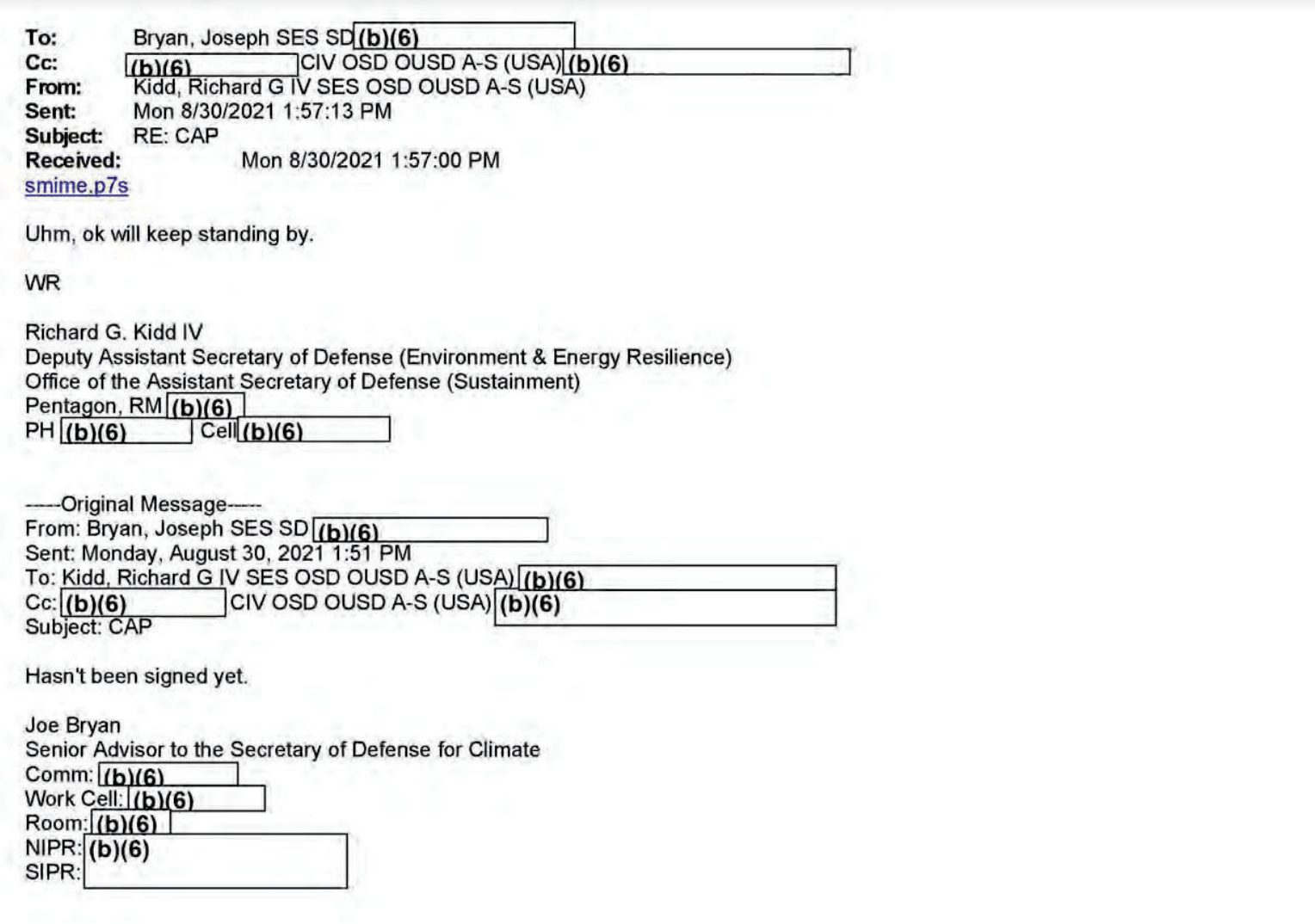 He had to stand by for just two more days. On September 1, Kidd was informed that the Climate Adaptation plan had been signed and was ready to be sent to Mayock, the White House official.
"Sir, The SECDEF has signed the CAP," wrote a member of Kidd's staff whose name was redacted from the documents. "Congratulations!!!!!"
The full Climate Adaptation Plan, dated September 1, 2021, can be viewed here. In a foreword to the document, Austin states that recognizing the "national security risk posed by climate change" is an "essential step … to defend the nation."
The Pentagon confirmed to The Daily Wire that Austin spent time during the withdrawal effort to review the Climate Adaptation Plan, but said his priority was Afghanistan.
"On any given day, the DoD and service members worldwide are focused concurrently on multiple lines of effort in support of national security, which is a testament to America's Armed Forces and civilian workforce," Pentagon press secretary Pat Ryder said in a statement. "When it comes to the Afghanistan withdrawal in 2021, Secretary Austin and DoD leaders absolutely prioritized providing leadership and support to U.S. forces and operations in Afghanistan, while also ensuring the other business of the Department of Defense remained on track."
It is unclear how much time Austin spent on the document, but emails indicate that there was a long review process before getting his approval.
Kidd on May 7, 2021 warned Mayock that it could be a long wait. "If it is not a real crisis with people dying, it takes at least 30 days to get anything signed by Sec Def," Kidd wrote in the email, attaching a draft of the climate plan.
The Afghanistan withdrawal is considered one of the biggest U.S. military failures in history. More than 800 Americans were left behind, as well as thousands of Afghan allies who feared they would be killed by the Taliban for assisting the United States.
James Hasson and Jerry Dunleavy, the authors of a just-released book on the Afghanistan withdrawal, say it was not uncommon for the administration's political priorities to interfere with its military operations — their book, for example, says coronavirus vaccine requirements kept some key personnel on the sidelines.
"Our book details several episodes where the administration's political priorities interfered with military necessities during the withdrawal, and this incident is consistent with that theme," Hasson and Dunleavy told The Daily Wire. "When thousands of American citizens are stranded in a war zone and the lives of American troops are hanging in the balance, that has to be the Pentagon's sole focus."
"It's unlikely that political appointees focused on climate change could have helped much, but they should have at least stayed out of the way," the authors added.
Fitzpatrick said it's "appalling" to see "politically charged climate change discussions" were distracting military leaders during the Afghanistan withdrawal.
"To think that American military and political leadership turned their attention to finalize a so-called 'Climate Action Plan' in the midst of a Taliban terrorist attack and while Americans and our allies were facing such clear and present danger," Fitzpatrick said. "God bless the Gold Star families who have to live with this reality."
Families of the 13 Americans killed in the terrorist attack at the Kabul airport testified to Congress on Tuesday to demand accountability from the Biden administration for the failures of the withdrawal. One Gold Star father who lost his son in the bombing complained that Austin still has a job.
"Everyone who held a key position in the military still has that position or has been promoted," the father said. "Not a single person has been held accountable."

⬇️ Top Picks for You ⬇️
McCarthy to Work with Dems to Pass 45-Day Funding, Avoiding Govt Shutdown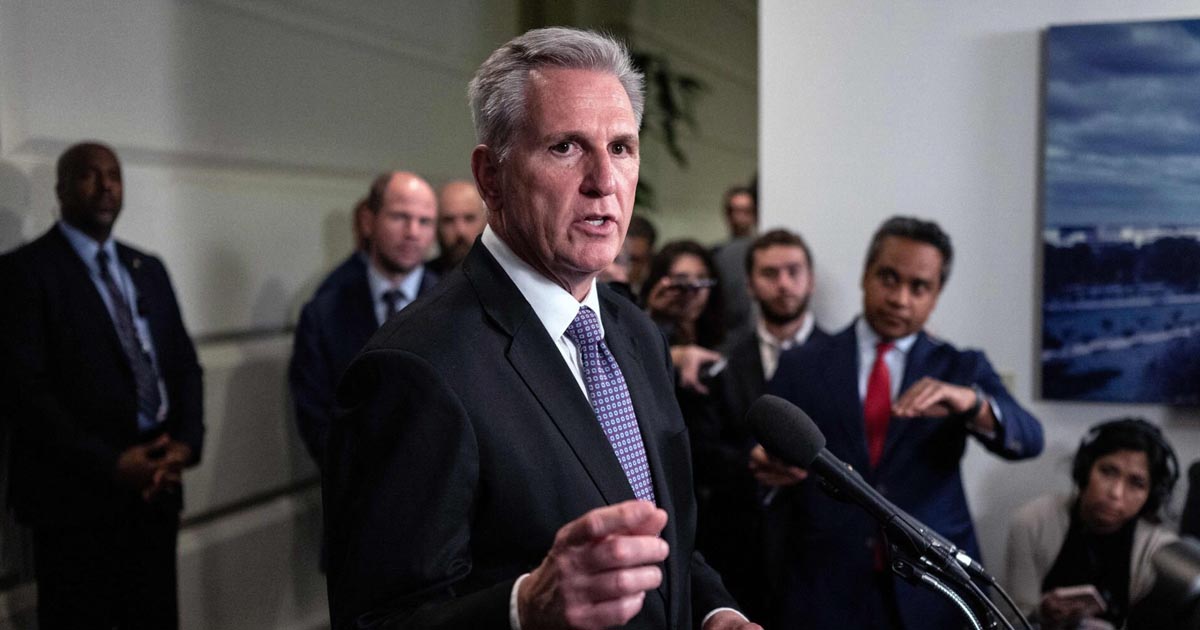 On the brink of a federal government shutdown, Speaker Kevin McCarthy announced a dramatic pivot Saturday, trying to push a 45-day funding bill through the House with Democratic help — a move that could keep government open but most certainly risks his job.
Republican lawmakers met behind closed doors early in the morning with hours to go before the midnight deadline needed to fund government operations or face a disruptive federal closure.
The new approach would leave behind aid to Ukraine, a White House priority opposed by a growing number of GOP lawmakers, but the plan would increase federal disaster assistance by $16 billion, meeting President Joe Biden's full request.
The House was preparing for a quick vote Saturday on the plan, but Democrats hit the brakes, seeking time so they could read the 71-page bill. Across the Capitol, the Senate was opening a rare weekend session and hoping to advance its own stopgap plan, but with money for Ukraine.
"We're going to do our job," McCarthy said after the morning meeting. "We're going to be adults in the room. And we're going to keep government open."
With no deal in place before Sunday, federal workers will face furloughs, more than 2 million active-duty and reserve military troops will work without pay and programs and services that Americans rely on from coast to coast will begin to face shutdown disruptions.
The sudden House action would fund government at current 2023 levels for 45 days, through Nov. 17. It would move closer to the bipartisan approach underway in the Senate, which also would fund the government through that period, while adding $6 billion for Ukraine to fight the war against Russia and $6 billion for U.S. disaster relief.
"A bipartisan, a bicameral solution is the only way forward," said Rep. Rosa DeLauro, the top Democrat on the House Appropriations Committee. She and other Democrats decried cutting Ukraine aid.
McCarthy, R-Calif., will be forced to rely on Democrats for passage because the speaker's hard-right flank has said it will oppose any short-term measure. McCarthy was setting up a process for voting that will require a two-thirds supermajority, about 290 votes in the 435-member House for passage. Republicans hold a 221-212 majority, with two vacancies.
Relying on Democratic votes and leaving his right-flank behind is something that the hard-right lawmakers have warned will risk McCarthy's job as speaker. They are almost certain to quickly file a motion to try to remove McCarthy from that office, though it is not at all certain there would be enough votes to topple the speaker.
"If somebody wants to remove me because I want to be the adult in the room, go ahead and try," McCarthy said of the threat to oust him. "But I think this country is too important."
The quick pivot comes after the collapse Friday of McCarthy's earlier plan to pass a Republican-only bill with steep spending cuts up to 30% to most government agencies that the White House and Democrats rejected as too extreme.
"Our options are slipping away every minute," said one senior Republican, Rep. Mario Diaz-Balart of Florida.
Meanwhile, the Senate was marching ahead on its package with support from both Democrats and Republicans.
"Congress has only one option to avoid a shutdown — bipartisanship," said Senate Majority Leader Chuck Schumer, D-N.Y.
Senate Republican leader Mitch McConnell of Kentucky echoed the sentiment, warning his own hard-right colleagues there is nothing to gain by shutting down the federal government.
"It heaps unnecessary hardships on the American people, as well as the brave men and women who keep us safe," McConnell said.
The federal government is heading straight into a shutdown that poses grave uncertainty for federal workers in states all across America and the people who depend on them — from troops to border control agents to office workers, scientists and others.
Families that rely on Head Start for children, food benefits and countless other programs large and small are confronting potential interruptions or outright closures. At the airports, Transportation Security Administration officers and air traffic controllers are expected to work without pay, but travelers could face delays in updating their U.S. passports or other travel documents.
An earlier McCarthy plan to keep the government open collapsed Friday due to opposition from a faction of 21 hard-right holdouts despite steep spending cuts of nearly 30% to many agencies and severe border security provisions.
The White House has brushed aside McCarthy's overtures to meet with Biden after the speaker walked away from the debt deal they brokered earlier this year that set budget levels.
Catering to his hard-right flank, McCarthy had returned to the spending limits the conservatives demanded back in January as part of the deal-making to help him become the House speaker.
After Friday's vote, McCarthy's chief Republican critic, Rep. Matt Gaetz of Florida, said the speaker's bill "went down in flames as I've told you all week it would."