Former Stormy Daniels lawyer Michael Avenatti raised doubts about the Manhattan district attorney's case against former President Donald Trump.
A staunch critic of Trump, Avenatti highlighted the unreliability of star witness Michael Cohen. He argued that the former president's legal team will tear through his testimony in a hypothetical trial and likely put any indictment reliant on Cohen in jeopardy.
"I have been consistent for 5 yrs: NEVER underestimate the ability of Michael Cohen to screw something up by engaging in stupidity, lies, and sheer f***ery. NEVER. #zeronothero," Avenatti tweeted.
"Rule: If you have to meet with a witness over 20 times to get to the alleged 'facts' and the 'truth,' RUN!!! Because you've got yourself a terrible witness who can't be trusted and might just crater your career and your reputation," he added.
I have been consistent for 5 yrs: NEVER underestimate the ability of Michael Cohen to screw something up by engaging in stupidity, lies, and sheer fuckery. NEVER. #zeronothero

— Michael Avenatti (@MichaelAvenatti) March 24, 2023
Cohen was Trump's personal lawyer and fixer from 2006 to 2018. During the tail-end of the 2016 election cycle, Cohen took out a home equity line of credit and then wired $130,000 via a shell company named Essential Consultants LLC to Daniels's attorney, according to court records. Daniels is also known as Stephanie Gregory Clifford.
The money was transferred in exchange for Daniels's agreement to sign a nondisclosure agreement to keep quiet about an alleged affair with Trump roughly a decade prior.
In March 2018, Avenatti worked on a lawsuit on behalf of Daniels against Trump and Essential Consultants LLC to nix the NDA. He waged a massive public relations campaign, railing against both Trump and Cohen in a flurry of TV interviews to great fanfare at the time by Trump critics. About a month later in April, the FBI raided Cohen's home and office.
By August 2018, Cohen pleaded guilty to a litany of federal charges, including campaign finance violations connected to the Daniels payment. Later that month, reports indicated that the Manhattan District Attorney's Office was investigating the case and was scrutinizing Trump's business empire in connection with the Daniels payment.
Recently, numerous reports have indicated that Manhattan DA is mulling charges against Trump for falsification of documents related to the reimbursement of Cohen paired with a campaign finance violation. Several legal experts told the Washington Examiner that the rumored case against Trump is novel and untested.
Avenatti previously cast aspersions on the case.
"There are many critical facts and pieces of evidence (texts, emails, etc.) relating to the hush money scandal that have yet to see the light of day. And they will unfortunately be very damaging to the prosecution if Trump stands trial. At this point, you simply can't build a case on the testimony of Cohen & Daniels," he tweeted.
There are many critical facts and pieces of evidence (texts, emails, etc.) relating to the hush money scandal that have yet to see the light of day. And they will unfortunately be very damaging to the prosecution if Trump stands trial. At this point, you simply can't build a case…

— Michael Avenatti (@MichaelAvenatti) March 17, 2023
In March 2019, Daniels cut ties with Avenatti. She later recalled how she "began witnessing his lies and dishonesty until I realized I too became his victim."
Avenatti was sentenced to four years behind bars for defrauding Daniels in June 2022. Avenatti was also slapped with prison time over a guilty plea for embezzling millions from several clients, bringing his total sentencing to over 20 years in prison.
Both Cohen and Avenatti were disbarred in New York. Avenatti was also disbarred in California.
Cohen has reportedly met with prosecutors and a special grand jury in the case multiple times. Daniels has met with investigators as well. He has publicly maintained that Trump directed him to pay Daniels. Trump has heartily denied wrongdoing in the case.
Earlier this week, the special grand jury reportedly heard from lawyer Robert Costello, who consulted with Cohen before his guilty plea. Costello dubbed Cohen a "serial liar" and drew attention to his guilty plea to perjury for lying before Congress in 2018.
"Atty Joe Tacopina is no Rudy Giuliani/Sydney Powell. The guy knows his way around a criminal courtroom. He will destroy Michael 'Dumb as a Box of Rocks' Cohen on the stand, esp. seeing as Cohen publicly lied for 15 mos. and now won't stop talking on TV. #terriblewitness," Avenatti added.
Trump's attorney in the case, Joe Tacopina, had prior communications with Daniels that were subsequently turned over to the Manhattan District Attorney's Office and could complicate his ability to represent Trump and cross-examine Daniels, CNN reported. Precise details of those communications remain somewhat murky, but Tacopina has insisted it's not a conflict.
Trump dubiously claimed that he would be "arrested on Tuesday" of this week, but that never came to fruition. His campaign enjoyed a fundraising boom amid speculation that an arrest was imminent. The special grand jury in the case has been meeting Monday, Wednesday, and Thursday, per CBS.
Should an indictment come down, it will mark the first time in U.S. history a former president is indicted. President Ulysses S. Grant was arrested in 1872 for speeding.

⬇️ Top Picks for You ⬇️
Republicans Launch Contempt Process Against FBI Director After Viewing Biden 'Bribery' Document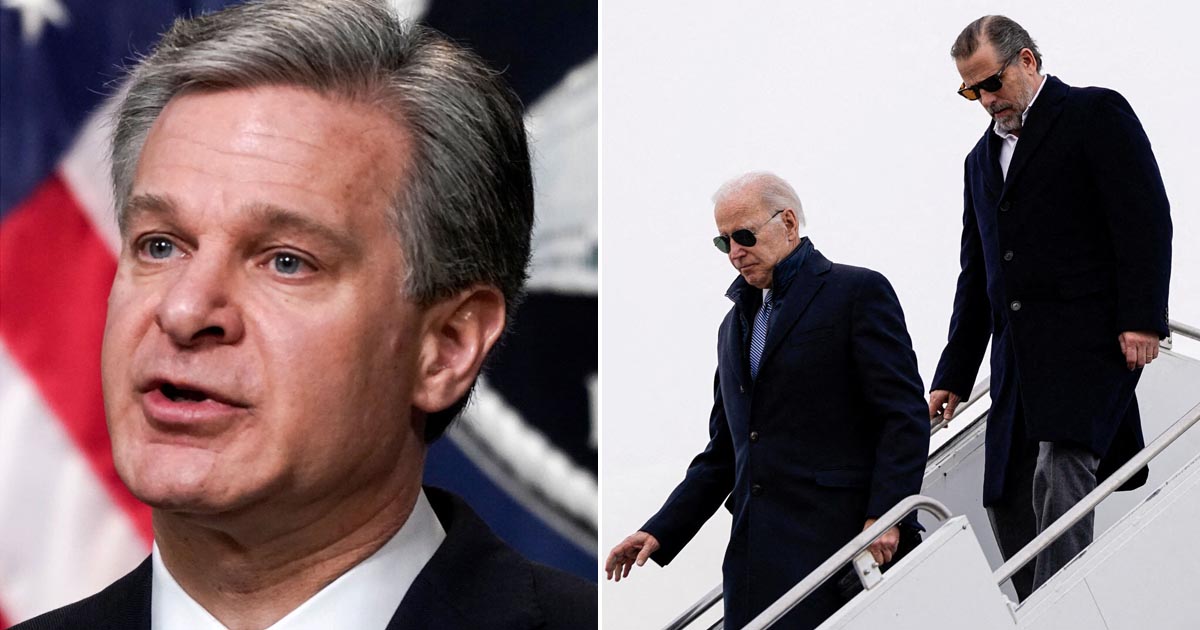 House Republicans are officially starting contempt of Congress charges against FBI Director Chris Wray for failing to turn over Biden 'bribery' document they claim shows then-Vice President Joe Biden was involved in a $5 million 'criminal' scheme with a foreign national.
The escalation comes after the Republican and Democratic leaders of the House Oversight Committee were granted access by the FBI Monday to view the FD-1023 form in a secure facility within the Capitol. The document apparently details an 'arrangement' for an exchange of money for policy decisions.
The Republicans issued a subpoena for the FD-1023 form last month and FBI Director Chris Wray was given a hard deadline of May 30 to hand over the unclassified document, which he did not comply with.
After reviewing the document Monday, Comer told reporters the accusations contained in the form 'suggests a pattern of bribery' consistent with findings the committee has put out publicly.
It's called 'money laundering,' he said, saying it fits within the pattern of over $1 million in Romanian-linked payments to the Biden family revealed last month.
In early May, Republicans released a report digging in on over $10 million received by Biden family members from foreign actors, including previously undisclosed $1 million in Romanian-linked payments, and a 'web' of 20 companies created while President Joe Biden was vice president and pushing anti-corruption efforts abroad.
He also said the FBI record was 'not disproven' and is currently being used in an ongoing investigation that is being conducted by the Department of Justice in Delaware into Hunter Biden's finances.
The 'confidential human source' is a 'trusted, highly credible informant' who has been used by the FBI for over 10 years and has been paid over six figures, continued Comer.
The chairman added that contempt proceedings will begin this Thursday.
'At the briefing, the FBI again refused to hand over the unclassified record to the custody of the House Oversight Committee, and we will now initiate contempt of Congress hearings this Thursday.'
Last week, Comer and Sen. Chuck Grassley, R-Iowa, spoke with Wray by phone and the FBI director offered to let them and Ranking Member Rep. Jamie Raskin, D-Md., view the documents at the FBI headquarters in an attempt to stave off the contempt threat.
'During today's call, Director Wray offered to provide the Committee's Chairman and Ranking Member an opportunity to review information responsive to the subpoena in a secure manner to accommodate the committee, while protecting the confidentiality and safety of sources and important investigative sensitivities,' said the FBI in a statement.
'The FBI has continually demonstrated its commitment to working with the Committee to accommodate its request, from scheduling briefings and calls to now allowing the Chair to review information in person. The FBI remains committed to cooperating with the Committee in good faith.'
Comer also informed Wray that he was also narrowing the breadth of the subpoena for the document by providing two additional terms that may be referenced in the record: 'June 30, 2020' and 'five million.'
Raskin blasted the Republicans' handling of the document in a reporter gaggle following Monday's briefing, calling it 'second-hand hearsay.'
He said former U.S. Attorney Scott Brady for the Western District of Pennsylvania and then-Attorney General Bill Barr did not find any reason to escalate the investigation into all 'allegations related to Ukraine' based on the FD-1023 form.
'I am just surprised that my colleagues want to try to litigate this in public, much less hold the Director of the Federal Bureau of Investigation in contempt for complying with the request when there was a whole process that was undertaken, and that process came to its natural end as I understand it,' Raskin said.
He would not directly confirm that the foreign national alleged in the memo being sought by Republicans is from Ukraine.
Raskin did agree with his Republican colleagues that the whistleblower is considered 'credible.'
The White House has also pushed back, calling the Republican-led investigation 'unfounded' and 'politically motivated.'