A former investigative journalist with ABC News and father-of-two girls has been sentenced to six years in jail after he was found guilty of possessing child porn.
James Gordon Meek, 53, was sentenced to 72 months in prison after he was caught sending and receiving sexually explicit content involving prepubescent minors while visiting South Carolina in 2020.
Federal prosecutors had initially pushed for the disgraced journalist to receive between 12 and a half and 15 years.
Meek joined ABC News' Washington bureau as an investigative producer in 2013 and was based in Virginia returned to Virginia with an iPhone containing the child sex abuse material (CSAM).
Officials with the U.S. Attorney's Office for the Eastern District of Virginia explained how Meek possessed several electronic devices containing images and videos of minors engaged in sexually explicit content.
Earlier this year, he was charged with possessing and transporting child photography following an FBI raid on his Arlington penthouse in April 2022.
In court papers filed last Friday, prosecutors revealed Meek's actions in detail.
In them, prosecutors Zoe Bedell and Whitney Kramer wrote: 'He clearly sought out individuals across the internet for the specific purpose of sharing (and expanding) his [Child Sexual Abuse Material] collection for his sexual gratification.'
Bedell and Kramer noted how Meek both sent and received pornography of 'infants and toddlers' together with content 'depicting sadistic and masochistic abuse of prepubescent children.'
Meek, who is divorced, would solicit lewd images from underage individuals and even pose 'as a minor himself.'
An FBI affidavit told how evidence was also seized showing Meek using Snapchat and other apps to pressure minors into sending him sexually explicit images.
In some of those communications, Meek portrayed himself as a girl.
Text messages were found by police that saw Meek conversing with two girls, aged 14 and 15, who sent him pictures of their breasts, according to the court documents.
In other messages including videos he could be seen 'naked and holding his penis in his hand.'
Another included one showing the sexual abuse of an infant in a chat with two other people.
FBI agents found the content dated back almost a decade to 2014.
Meek's lawyer, Eugene Gorokhov said his client should receive no more than the minimum sentence arguing that prosecutors' recommendations were 'excessive.'
'Meek's criminal conduct in this case is completely at odds with his proven personal values,' Gorokhov added.
He appealed to the defendant being a dad and suggested that Meek's coverage of the war on terror in the Middle East had affected 'his mental health.'
The investigation into Meek began last year when the FBI was tipped off that videos involving the sexual abuse of children was connected to the embattled former journalist.
His penthouse apartment in Arlington, Virginia was then raided by law enforcement.
Agents found dozens of images of child pornography that he had been collecting since 2014.
Following the dawn raid, he resigned from ABC News and went into hiding, taking refuge at his elderly mom's townhouse in McLean, Virginia, 15 minutes outside Washington, D.C.
Meek was arrested on charges of transportation of images of child sex abuse in January.
Until his career came to an abrupt end, Meek had served as senior counterterrorism adviser and investigator for the U.S. House Committee on Homeland Security.
Meek had built up a reputation for trailblazing journalism, which had exposed shocking military cover-ups, friendly fire deaths, and foiled terror plots.
His news coverage of shooting at Orlando's Pulse nightclub received an Emmy Award in 2017. He had previously worked for the New York Daily News.

⬇️ Top Picks for You ⬇️
Biden Got Recurring $1,380 Payment from Hunter's Firm Starting in 2018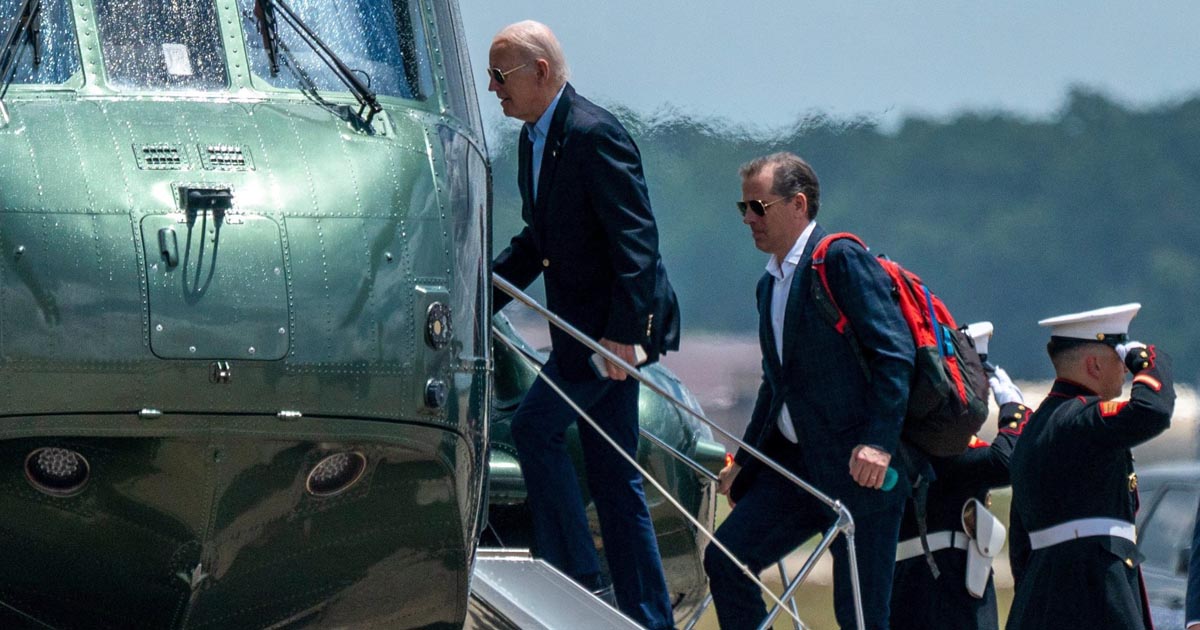 President Biden received a recurring payment of $1,380 from his son Hunter's law firm beginning in late 2018 shortly after a bank money laundering officer warned that the same account was receiving millions of dollars in Chinese government-linked funds without "any services rendered."
A bank order shows that Owasco PC set up a "monthly" transfer to then-former Vice President Joseph R. Biden Jr., with a voided check for the future president included in the documentation, which was released Monday by the House Oversight Committee.
A source told The Post that at least three recurring payments were made — on Sept. 17, Oct. 15 and Nov. 15, 2018 — totaling $4,140 to the elder Biden from Owasco PC, according to the bank records of the firm.
"President Biden and his family must be held accountable for this blatant corruption," Oversight Committee Chairman James Comer (R-Ky.) said in a video release.
"Today, the House Oversight Committee is releasing subpoenaed bank records that show Hunter Biden's business entity, Owasco PC, made direct monthly payments to Joe Biden. This wasn't a payment from Hunter Biden's personal account but an account for his corporation that received payments from China and other shady corners of the world," Comer said.
"At this moment, Hunter Biden is under an investigation by the Department of Justice for using Owasco PC for tax evasion and other serious crimes. And based on whistleblower testimony, we know the Justice Department made a concerted effort to prevent investigators from asking questions about Joe Biden. I wonder why?"
Earlier that year, a January 2019 email from assistant Katie Dodge to Hunter Biden annotated various expenses including "Ford Raptor — Reimbursement to JRB — $1380."
The provenance of the funds is unclear, however, and additional records show that Hunter Biden was knee-deep in two of his most controversial business relationships at the time, with Ukraine's Burisma Holdings and CEFC China Energy.
The evidence emerged as House Republicans prepare to question first brother James Biden on Wednesday and Hunter next week about the president's role in his family's dealings in countries such as China and Ukraine — with a possible floor vote to authorize the ongoing impeachment inquiry this month.
While a presidential candidate, Joe Biden denied that he ever discussed business with his relatives, but evidence has since shown that he met with his relatives' associates from both the Burisma and CEFC ventures.
Documents from the first son's abandoned laptop show that Burisma board adviser Vadym Pozharskyi sought "bank reference" information on Sept. 14, 2018 — one day before the initial transfer to Joe Biden was sought. However, the transaction was not executed for another two days, apparently due to a later-than-expected form submission.
Joe Biden met Pozharskyi at an April 17, 2015, dinner at DC's Café Milano. An unproven FBI informant tip said that Burisma owner Mykola Zlochevsky claimed in 2016 he was "coerced" into paying $10 million in bribes to the Bidens for their assistance in ousting prosecutor Viktor Shokin.
Hunter also was on the tail end of disbursing millions of dollars received from CEFC China Energy — one of two major Biden family dealings with Chinese government-linked firms.
On June 26, 2018 — less than three months before Joe Biden began to receive the monthly transfers — an internal Bank Secrecy Act expert warned colleagues that the institution should reconsider its relationship with Hunter as a result of Owasco PC seeming to receive Chinese funds without "any services rendered."
CEFC transferred $5 million to another Biden family-linked entity, Hudson West III, in August 2017 after Hunter warned a China-based associate of his father's wrath if a business deal was aborted. Much of the large transfer later went to Hunter's Owasco PC.
Prior bank records released by the Oversight Committee indicate that Joe Biden received payments of $40,000 and $200,000 from his brother James, who also was involved in the CEFC venture and other foreign-focused enterprises.
Comer alleged that the $40,000 transferred to Joe Biden's bank account on Sept 3, 2017, was from "laundered" Chinese funds.
James Biden paid Joe Biden $200,000 on March 1, 2018 — the same day that James received a $200,000 transfer from troubled rural hospital company Americore after pledging to use his political connections to secure a Middle Eastern investor, according to bankruptcy filings.
The White House says there's evidence that both transfers were loan repayments, but Republicans argue they have not seen loan agreement documents and note that the funds distributed to James came from a law firm, rather than Joe Biden himself, further clouding the picture.