The former first lady who dedicated her life to mental health and human rights advocacy died at her Plains, Georgia, home on Sunday afternoon, two days after entering hospice care
Rosalynn Carter, a lifelong advocate for mental health and human rights, died surrounded by family on Sunday afternoon, two days after she entered hospice care following a dementia diagnosis in May. She was 96.
Rosalynn was married to the nation's 39th president, Jimmy Carter, for 77 years, and served as the first lady during his tenure from 1977 to 1981. She is survived by their four children and numerous grandchildren and great-children. Jimmy, who terminated medical intervention in February amid his own health challenges at the age of 99, remains in hospice care at home.
Born Eleanor Rosalynn Smith in Plains, Georgia, on Aug. 18, 1927, the future first lady was the oldest of four children, and took on many of the family responsibilities after her father died of leukemia when she was just 13.
After graduating high school, she attended Georgia Southwestern College in nearby Americus. It was after her freshman year in 1945 that she met the former president, who was back home in Plains from the U.S. Naval Academy. They were wed the following year.
Throughout the early years of their marriage, the Carters traveled while Jimmy was stationed with the Navy around the country — from Virginia to Hawaii to Connecticut.
In 1953, they returned back to Plains, when Jimmy left the Navy to take over his father's peanut and fertilizer business with Rosalynn's help.
Rosalynn was a driving force behind her husband's initial forays into politics, helping him eventually get elected as governor of Georgia in 1970.
As first lady during Jimmy's eventual tenure as president, she served as the honorary chair of the President's Commission on Mental Health, eventually helping usher through the 1980 passage of the Mental Health Systems Act. She was also a champion of arts and arts programs and a frequent adviser to her husband.
After leaving the White House, the Carters started nonprofit institution The Carter Center, a health and human rights organization. Rosalynn chaired the center's Mental Health Task Force and served as a member of the Carter Center Board of Trustees.
She also served as a distinguished centennial lecturer at Agnes Scott College in Decatur, Georgia, from 1988 to 1992.
On the humanitarian front, Rosalynn was perhaps most visible for her and Jimmy's partnership with Habitat for Humanity, called the Carter Work Project, which began in the '80s and still operates.
"For anybody who wants to get involved with an organization, there is nothing that they could do that would give them such a life-changing experience as Habitat," Rosalynn once said. "This is something that brings together people who have everything they need and those who don't have so many things we take for granted."
Until recent years, Jimmy and Rosalynn were known to continue showing up to construction projects and helping out with hands-on work.
In 1991, Rosalynn began serving on the Policy Advisory Board of The Atlanta Project, working to address poverty in the state capital.
The same year, she launched Every Child By Two, a campaign geared toward raising awareness of the importance of timely infant immunizations.
Rosalynn wrote five books throughout her life, and was the recipient of numerous honors from organizations like the National Organization of Women and the National Mental Health Association.
President Bill Clinton awarded Rosalynn the Presidential Medal of Freedom alongside her husband in 1999, remarking, "Just as Eleanor Roosevelt will be remembered for her work on human rights, Rosalynn Carter will always be remembered as a pioneer on mental health and a champion of our children. … Thanks to her work, I believe we will see the day not too long away when mental illnesses are treated just like any other illnesses and covered just like any other illnesses."
The former first lady was also inducted into the National Women's Hall of Fame in 2001.
In 2014, the Carters sat down with PEOPLE to reflect on their life together, revealing one of the secrets of their enduring romance: They still read to each other every night in bed.
Said the former president, "We started 40 years ago, and we've never missed a night, I don't think."

⬇️ Top Picks for You ⬇️
Biden Got Recurring $1,380 Payment from Hunter's Firm Starting in 2018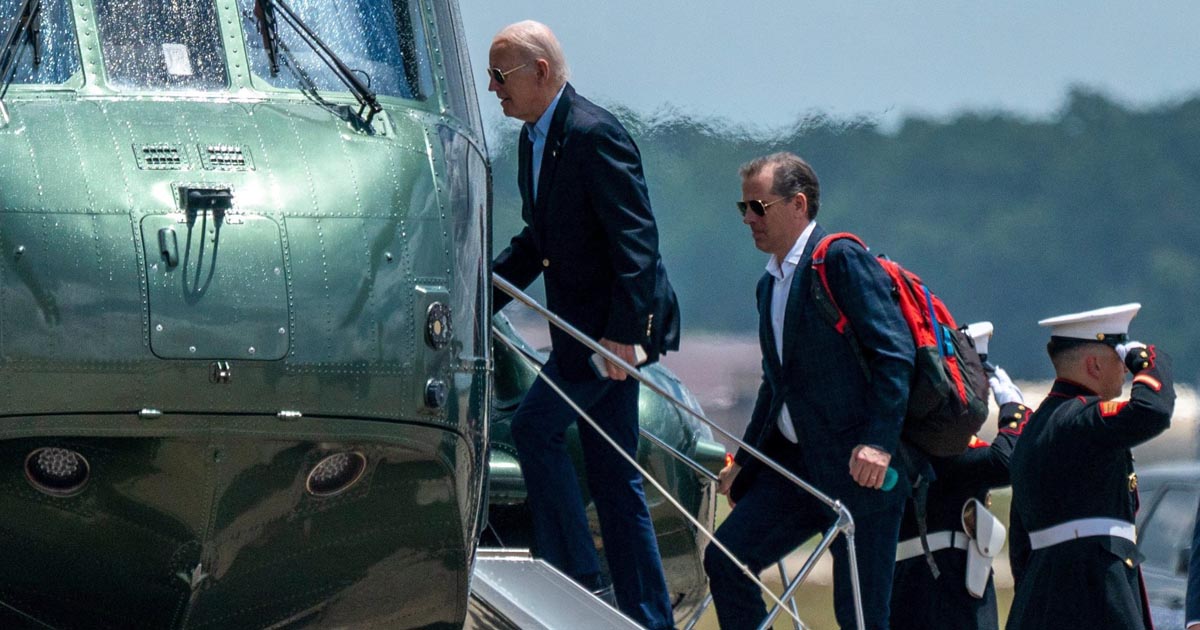 President Biden received a recurring payment of $1,380 from his son Hunter's law firm beginning in late 2018 shortly after a bank money laundering officer warned that the same account was receiving millions of dollars in Chinese government-linked funds without "any services rendered."
A bank order shows that Owasco PC set up a "monthly" transfer to then-former Vice President Joseph R. Biden Jr., with a voided check for the future president included in the documentation, which was released Monday by the House Oversight Committee.
A source told The Post that at least three recurring payments were made — on Sept. 17, Oct. 15 and Nov. 15, 2018 — totaling $4,140 to the elder Biden from Owasco PC, according to the bank records of the firm.
"President Biden and his family must be held accountable for this blatant corruption," Oversight Committee Chairman James Comer (R-Ky.) said in a video release.
"Today, the House Oversight Committee is releasing subpoenaed bank records that show Hunter Biden's business entity, Owasco PC, made direct monthly payments to Joe Biden. This wasn't a payment from Hunter Biden's personal account but an account for his corporation that received payments from China and other shady corners of the world," Comer said.
"At this moment, Hunter Biden is under an investigation by the Department of Justice for using Owasco PC for tax evasion and other serious crimes. And based on whistleblower testimony, we know the Justice Department made a concerted effort to prevent investigators from asking questions about Joe Biden. I wonder why?"
Earlier that year, a January 2019 email from assistant Katie Dodge to Hunter Biden annotated various expenses including "Ford Raptor — Reimbursement to JRB — $1380."
The provenance of the funds is unclear, however, and additional records show that Hunter Biden was knee-deep in two of his most controversial business relationships at the time, with Ukraine's Burisma Holdings and CEFC China Energy.
The evidence emerged as House Republicans prepare to question first brother James Biden on Wednesday and Hunter next week about the president's role in his family's dealings in countries such as China and Ukraine — with a possible floor vote to authorize the ongoing impeachment inquiry this month.
While a presidential candidate, Joe Biden denied that he ever discussed business with his relatives, but evidence has since shown that he met with his relatives' associates from both the Burisma and CEFC ventures.
Documents from the first son's abandoned laptop show that Burisma board adviser Vadym Pozharskyi sought "bank reference" information on Sept. 14, 2018 — one day before the initial transfer to Joe Biden was sought. However, the transaction was not executed for another two days, apparently due to a later-than-expected form submission.
Joe Biden met Pozharskyi at an April 17, 2015, dinner at DC's Café Milano. An unproven FBI informant tip said that Burisma owner Mykola Zlochevsky claimed in 2016 he was "coerced" into paying $10 million in bribes to the Bidens for their assistance in ousting prosecutor Viktor Shokin.
Hunter also was on the tail end of disbursing millions of dollars received from CEFC China Energy — one of two major Biden family dealings with Chinese government-linked firms.
On June 26, 2018 — less than three months before Joe Biden began to receive the monthly transfers — an internal Bank Secrecy Act expert warned colleagues that the institution should reconsider its relationship with Hunter as a result of Owasco PC seeming to receive Chinese funds without "any services rendered."
CEFC transferred $5 million to another Biden family-linked entity, Hudson West III, in August 2017 after Hunter warned a China-based associate of his father's wrath if a business deal was aborted. Much of the large transfer later went to Hunter's Owasco PC.
Prior bank records released by the Oversight Committee indicate that Joe Biden received payments of $40,000 and $200,000 from his brother James, who also was involved in the CEFC venture and other foreign-focused enterprises.
Comer alleged that the $40,000 transferred to Joe Biden's bank account on Sept 3, 2017, was from "laundered" Chinese funds.
James Biden paid Joe Biden $200,000 on March 1, 2018 — the same day that James received a $200,000 transfer from troubled rural hospital company Americore after pledging to use his political connections to secure a Middle Eastern investor, according to bankruptcy filings.
The White House says there's evidence that both transfers were loan repayments, but Republicans argue they have not seen loan agreement documents and note that the funds distributed to James came from a law firm, rather than Joe Biden himself, further clouding the picture.